MLB
2021 farm system rankings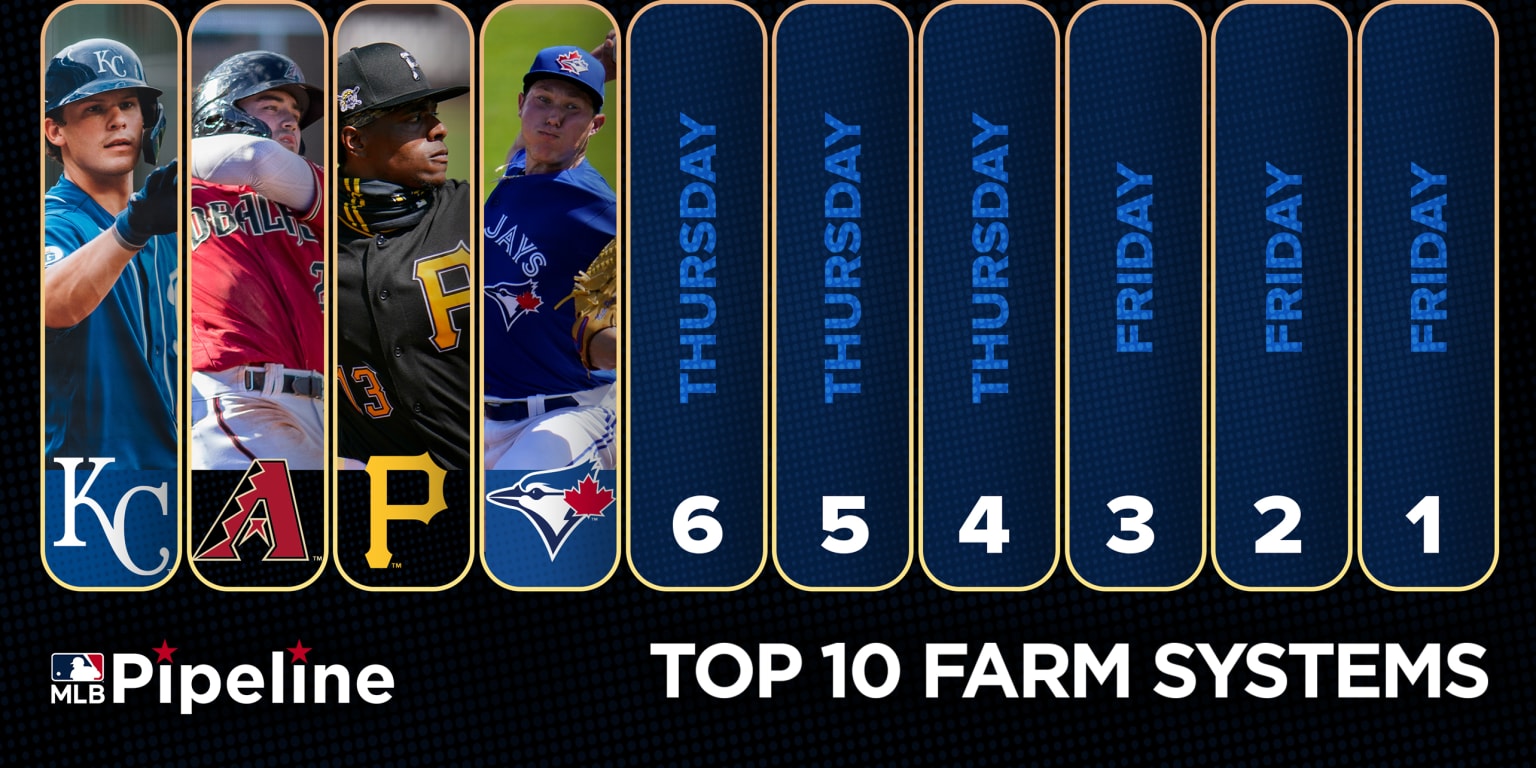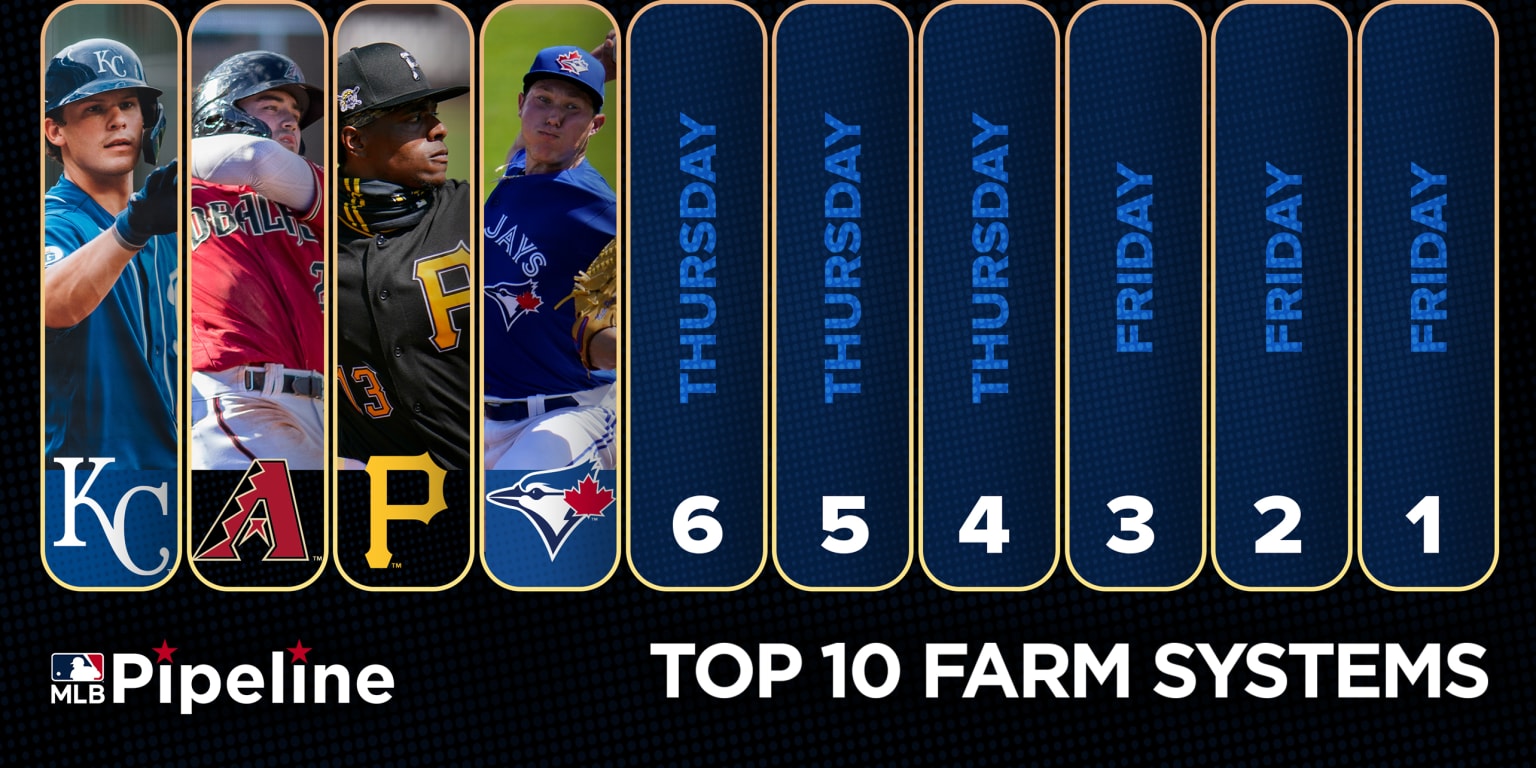 There are many roads to the Commissioner's Trophy. But so many of them start at the farm.
Dating back to 2015, MLB Pipeline's semiannual ranking of the top farm systems has provided a solid map of which clubs could find Major League success in short order.
The top 2015 organizations – Cubs (preseason) and Red Sox (midseason) – both captured World Series titles within three seasons of claiming their farm-system crowns. The Dodgers (2016 preseason) were in the midst of eight straight NL West titles when they first moved into the top spot and finally won a Fall Classic of their own last year. The Brewers (2016 midseason), Braves (2017 preseason) and White Sox (2017 midseason) each made the playoffs in 2020 and should be right back in contention this summer.
The Padres, who sat atop the pre- and midseason rankings in 2018 and 2019, have used their young talent to sharpen the Major League roster into one of the most exciting in baseball, and fresh off the club's first postseason appearance since 2006, San Diego has a real chance to break Los Angeles' divisional run. Last year's top preseason and midseason farms belonged to the Rays, who showed the entire sport what they can do when relying on homegrown prospects during their own run to the 2020 World Series.
In short, impressive farm systems don't just provide the Major League club with fresh, exciting talent. Such system depth affords the entire organization opportunities to swing blockbuster deals necessary to build an annually competitive club.
After unveiling new Top 30 rankings for 20 clubs, MLB Pipeline turns to the best of the best, counting down the Top 10 farm systems in baseball. The list — which includes the Blue Jays, D-backs, Mariners, Marlins, Orioles, Padres, Pirates, Rays, Royals and Tigers — will be updated throughout the week, culminating with the reveal of the Top 3 on Friday.
When ranking the farm systems, both the quality and quantity of each team's top prospects are taken into account. These evaluations are based on factors like potential impact talent, depth, proximity to the big leagues and balance between position players and pitchers as well as ceilings and floors.
For the second straight year, shortstop phenom Bobby Witt Jr. headlines the Royals' Top 30. Every player in the Top 10 is homegrown, with nine coming via the Draft and one coming via international signing. More »
9. Arizona Diamondbacks
2020 midseason rank: 9
2020 preseason rank: 6
Top 100 Prospects: Corbin Carroll (No. 47), Kristian Robinson (No. 55), Geraldo Perdomo (No. 79), Alek Thomas (No. 81)
The D-backs hold steady at No. 9 as the farm system continues to become more balanced on both sides of the ball. While the organization's top four prospects are position players, the next six are pitchers. More »
8. Pittsburgh Pirates
2020 midseason rank: 16
2020 preseason rank: 15
Top 100 Prospects: Ke'Bryan Hayes (No. 9), Nick Gonzales (No. 43), Quinn Priester (No. 52), Oneil Cruz (No. 64)
Eleven of the players on Pittsburgh's Top 30 Prospects list were acquired by trade, more than any other organization this year. But the top three on the list were all first-round picks of the Pirates. The system is ranked among MLB's Top 10 for the first time since 2017. More »
7. Toronto Blue Jays
2020 midseason rank: 7
2020 preseason rank: 16
Top 100 Prospects: Nate Pearson (No. 10), Austin Martin (No. 22), Jordan Groshans (No. 46), Simeon Woods Richardson (No. 87)
The Blue Jays are No. 7 despite graduating the likes of Vladimir Guerrero Jr., Bo Bichette and Cavan Biggio in recent years. While Toronto landed star power in George Springer and Marcus Semien via free agency, they did so without touching their top-end prospects. More »
Source link