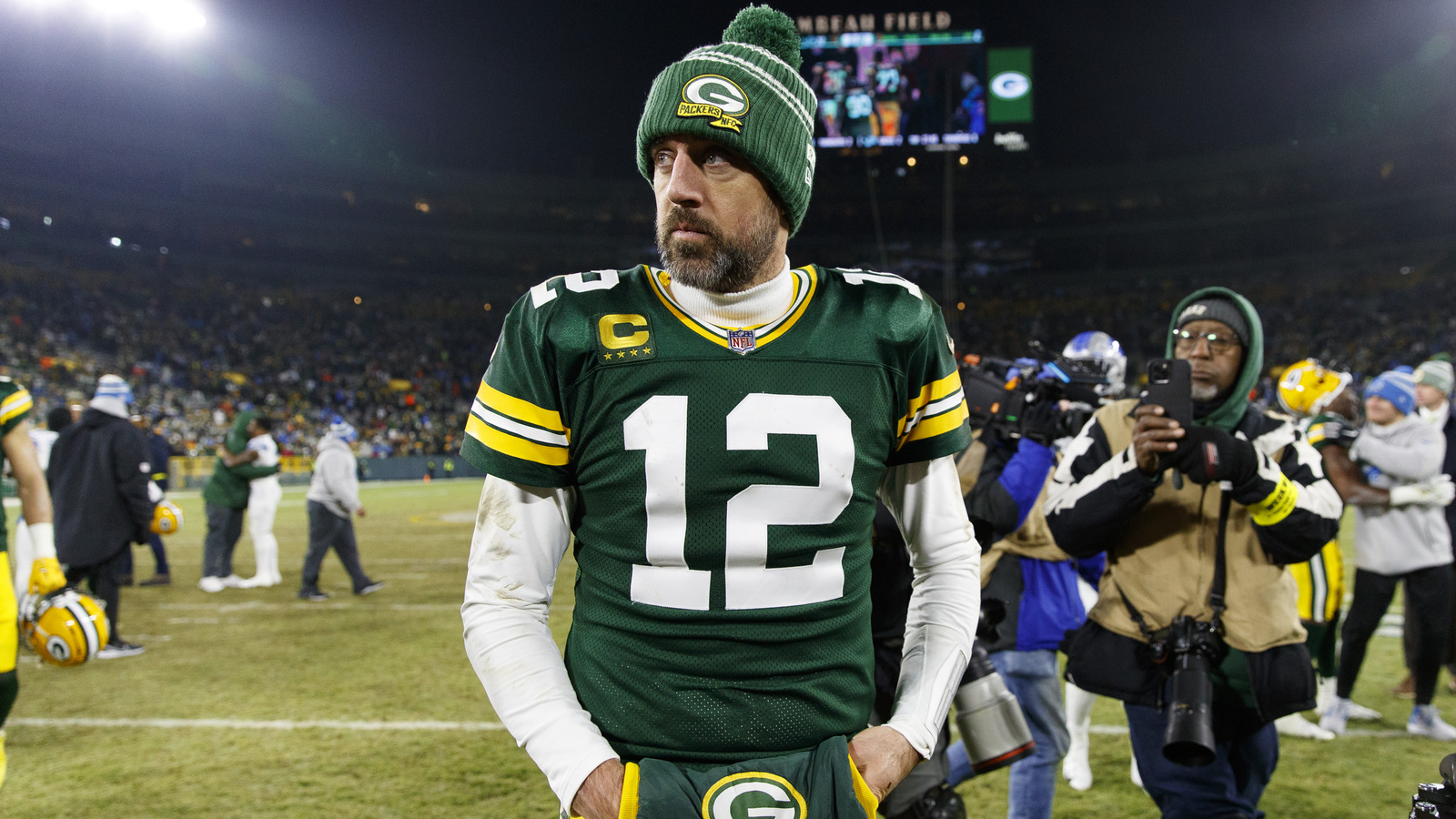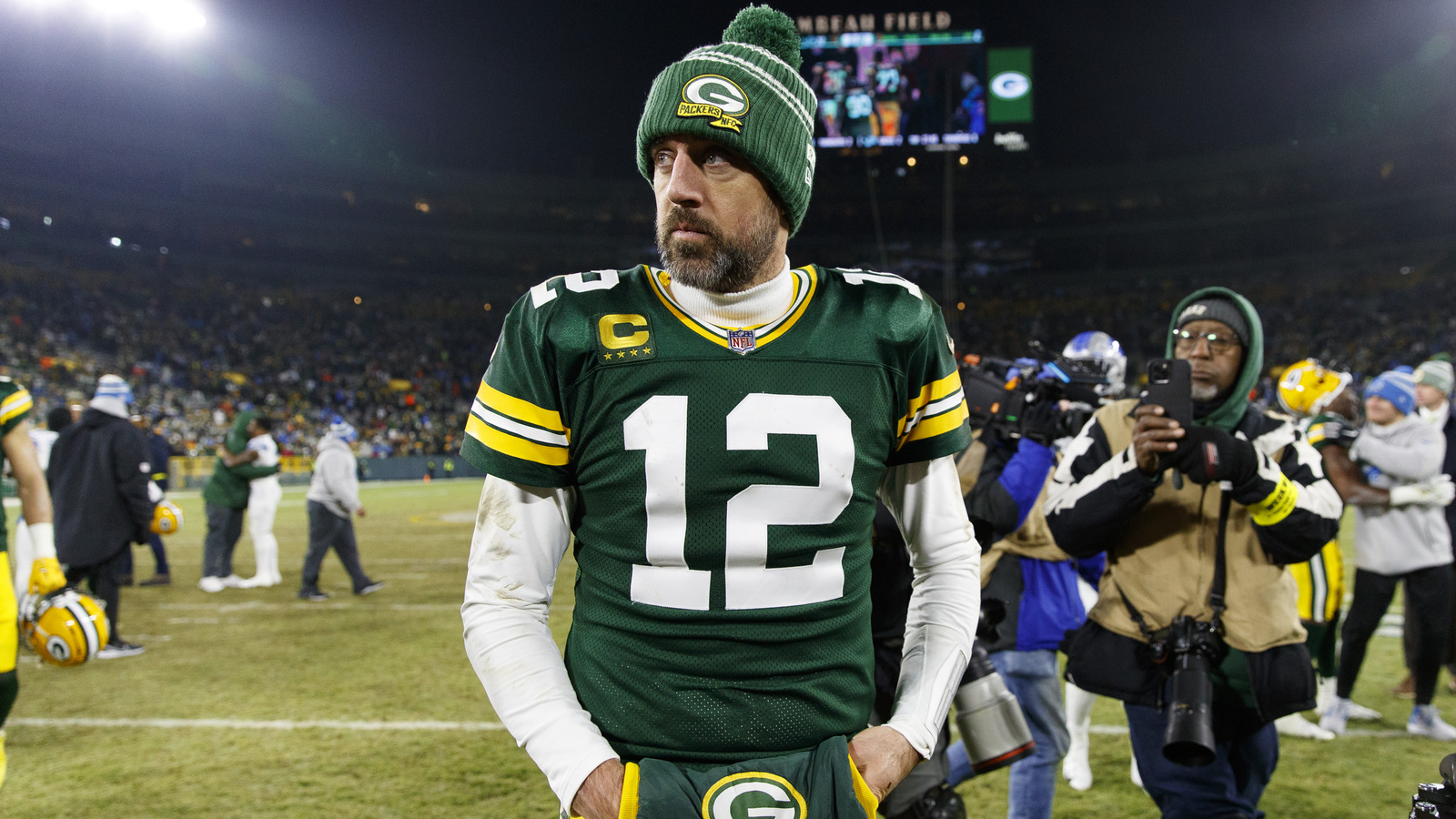 Wednesday marked another milestone in the 2023 version of Aaron Rodgers' decision-making process with respect to his playing future. During his latest appearance on the "Pat McAfee Show," a number of important updates were provided. One of them was the four-time MVP confirming his intention to play for the Jets.
Rodgers elaborated on the darkness retreat he went on at the end of last month and the shift that took place in terms of his intentions. While prefacing a lengthy breakdown of his thought process, he said that a firm decision has already been made on his part (Twitter link via NFL Network's Mike Giardi). Not long after that, he added that Friday marked the point at which he told the Packers of his desire to be traded to the Jets (Twitter link via Giardi's colleague Tom Pelissero).
The 39-year-old admitted that he was "90 percent" leaning toward retirement upon beginning his darkness retreat. Once it concluded, however, his reaction to the Packers' openness to trading him (before he confirmed he would continue his career) spurred a change of course (Twitter
links via NFL Network's Mike Garafolo). Now, attention will shift to the matter of trade compensation between the Packers and Jets.
On that point, Pelissero reports (via Twitter) that negotiations are still ongoing. He adds that Green Bay is not seeking multiple first-round picks in return for Rodgers, as recent blockbuster deals involving Matthew Stafford and Russell Wilson have. The latter two passers were younger at the time of their respective acquisitions, though they did not have the pedigree of the 10-time Pro Bowler. Matt Schneidman of The Athletic tweets that Rodgers has not yet formally made a trade request to Packers GM Brian Gutekunst, though it is surely a mere formality at this point.
The Packers have been left waiting to find out Rodgers' intentions with a number of salary-cap-related moves to be made and a backup in Jordan Love the team (and several of its players) is comfortable elevating to the No. 1 role. They have thus unsurprisingly been open to the notion of trading the longest-tenured player in franchise history, a move that has long been expected to send him to the Jets. Rodgers mentioned that the team delayed communicating that line of thinking until well after the season (Twitter link via ESPN's Rich Cimini).
New York has been one of several teams adamant it would aggressively pursue an upgrade under center this offseason. The Jets eyed veterans Derek Carr and Jimmy Garoppolo as potential free-agent signings, but they landed in New Orleans and Las Vegas, respectively. Their top priority, signaled as early as their decision to hire Nathaniel Hackett as offensive coordinator, has remained Rodgers.
In the opening days of the free-agent period, it was reported that the four-time All-Pro submitted a wish list of pass-catchers for New York to add. That included former Packer Allen Lazard, who agreed to terms on a four-year, $44M pact with the Jets. When asked about the presence of such as list, Rodgers called the notion "ridiculous" (Twitter link via NFL Network's James Palmer). It will nevertheless be interesting to see what further steps the Jets take in adding players tied to Rodgers if/when a trade is in place.
Rodgers also said that teams other than the Jets showed interest in him (Twitter link via Cimini). Schneidman's colleague Jeff Howe tweets that the Raiders were one of them, which comes as little surprise given their need at QB before signing Garoppolo and the presence of Davante Adams. They moved in a different direction, though, as will Rodgers and the Packers.
Rodgers thanked the Packers organization on numerous occasions during Wednesday's remarks. However, the next major element of his legacy appears to now be in place, and his career is all but assured to shift to New York. The Jets are set to land a massive addition at the quarterback position, while the Packers will fully commit to only their second transition at the position in the 21st century.