Lifestyle
Aaron Sorkin and Troye Sivan headline Vivid's 'big and bold' return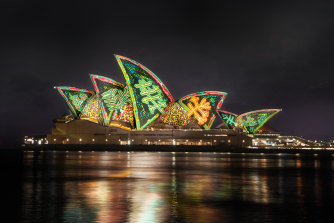 Best of Vivid 2022
Talking points
More than 200 events and artworks including 111 music performances and 50 light installations and 3D immersive experiences 
Light Walk will extend 8km from Opera House to Central Station
 Colour saturated images by Ken Done are to be projected onto Customs House and those by Martu artists of the Sandy Desert onto the sails of the Opera House  
First Vivid dinner to be hosted at the Ivy Ballroom 
West Wing creator Aaron Sorkin, pop singer Troye Sivan and balladeer Paul Kelly will headline a series of talks and concerts for Vivid Festival on its light-filled Sydney comeback after a two-year hiatus caused by pandemic lockdowns.
The 2022 program for the NSW government's winter festival of light, music and ideas features more than 200 events and artworks, most notably dancing Bellagio-style light fountains and a Ken Done animated projection onto Customs House.
Vivid's Light Walk will extend eight kilometres from the Sydney Opera House, via the Walsh Bay Arts Precinct, Darling Harbour's Tumbalong Park and run along the Goods Line to the concourse of Central Station, activating the southern CBD for the first time.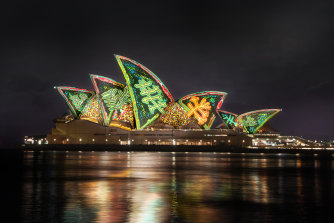 Yarrkalpa – Hunting Ground by the Martu Artists will light up the sails of the Sydney Opera House for 2022 Vivid Festival.Credit:Destination NSW
Cancelled in 2021 and 2020, Vivid attracted 2.4 million visitors when it was last staged in 2019, according to Destination NSW.
One of the festival's biggest crowd-pleasers is expected to be Sydney Infinity at Cockle Bay. Billed as Australia's largest water laser light show, 12 jets will shoot water 80 metres high to create the effect of dancing fountains, enhanced by dramatic lighting and a soundtrack. At Walsh Bay visitors will be invited to walk under more than 200 giant, bubble-like spheres hovering eight metres in the air.
For Mandylights' Our Connected City more than 200 searchlights will beam across Sydney Harbour, from CBD rooftops and the Cahill Expressway, coordinated for maximum effect.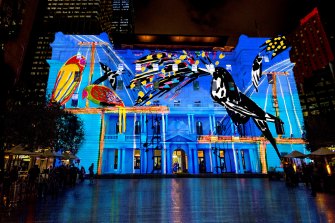 Ken Done projections on Customs House.
Festival director Gill Minervini has used the two-year layover to hit the reset button and broaden the festival's appeal across all age groups, almost doubling the size of the festival while spreading events more evenly across the CBD to avoid crowding of the foreshore.
With international travel back, Sorkin and Gretchen Carlson, who in 2016 sued the head of Fox News Roger Ailes for sexual harassment, will headline this year's expanded talks program that sits alongside the festival's program of music and public light installations.
Also speaking on stage at Sydney Town Hall will be former YouTuber-turned-actor and singer Troye Sivan, who will discuss Sivan's creative life and new models of masculinity, non-conformity, being young and queer.
Paul Kelly and his band will join Indigenous singer-songwriter Thelma Plum to headline the Sydney Opera House's program of more than 70 artists, put together from two years of cancelled festivals. Curator Ben Marshall has honoured the Opera House's commitments to its Australian artists.
"It's clear that Sydney isn't the same city it was in 2019, or 2020, or even last year," Marshall said. "In 2022, we are all feeling the deep communal need to experience art and live concerts together.
"It's an honour to be staging the world premiere of Nils Frahm's new performance, and Hermitude will finally let rip outside on the harbour. Vivid LIVE will herald the Opera House debuts of sublime new artists like Masego, RVG and Miiesha, while we welcome back the mighty Moses Sumney and hand the Opera House over to Sydney's multifaceted music communities."
Marcia Hines will perform a series of gospel performances at St Stephen's Uniting Church and Vivid will host its first dinner at the Ivy Ballroom.
Tumbalong Park at Darling Harbour will host evening family shows, and the Frank Gehry-designed Dr Chau Chak Wing Building at the University of Technology is to be lit from the inside.
Also new to the festival is Vivid House, near the Chinese Gardens, where visitors can experience a 360-degree immersive sound and video experience featuring six works, including one by Elliot Routledge – better known as the street artist Numskull.
The centrepiece of last year's cancelled festival has been carried forward, with the sails of the Sydney Opera House to be lit with the art of eight female Indigenous artists from the Pilbara. The looped 15-minute Opera House projection is inspired by the iconic artwork and voices of the Martu artists of the Sandy and Gibson Deserts of Western Australia.
A compilation of Ken Done's signature colour-saturated postcard images will be projected onto Customs House showing a day in the life of Sydney and titled For Sydney with Love.
The Harbour Bridge's 90th birthday will be marked by projections on its pylons including those designed by the festival's youngest-ever artist participant, Luca French.
Contingencies are in place in case of the reintroduction of pandemic-driven public health restrictions but organisers believe they are in a much better place than 2021 with most of the population at least double vaccinated.
Minervini is promising more artist-driven and Indigenous works including First Light, a Welcome to Country ceremony at Camp Cove which will open the festival, and be relayed on screens every night thereafter. She hopes the return of Vivid will bolster the confidence of artists as well as struggling businesses and give visitors the excuse to stay on in the city.
Vivid Sydney is owned, managed and produced by Destination NSW, the NSW government's tourism and major events agency.
Vivid runs from May 27 to June 18, vividsydney.com
A cultural guide to going out and loving your city. Sign up to our Culture Fix newsletter here.
Most Viewed in Culture
From our partners
Source: Read Full Article
Source link