India
After a spate of resignations, Puducherry assembly to hold floor test today: Highlights | India News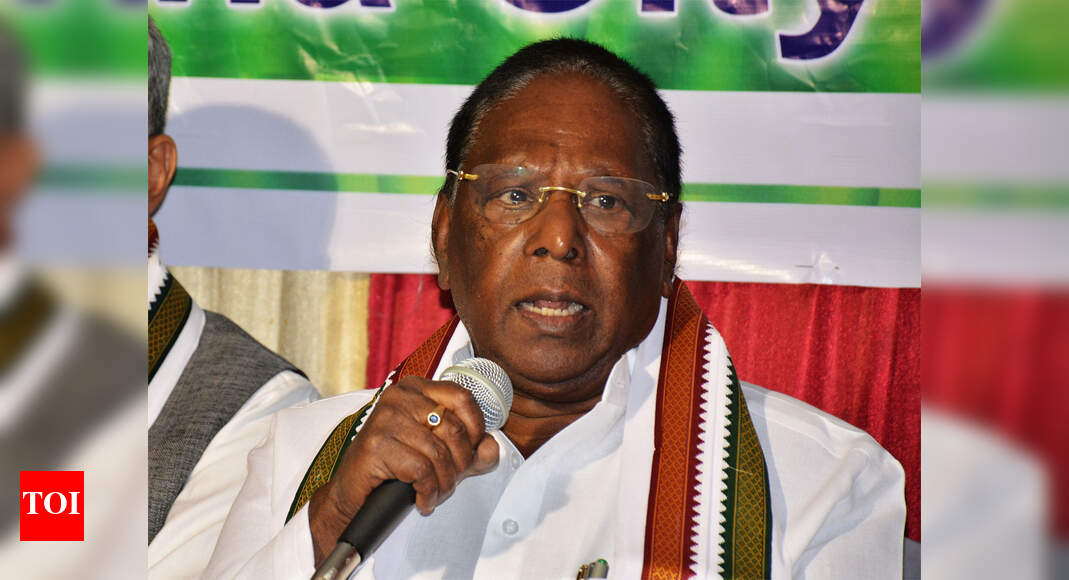 NEW DELHI: Puducherry is set to hold a floor test on Monday after a spate of resignations over the past week brought down the ruling Congress government strength down to 12 in the 30-member legislative assembly.
In a major setback for chief minister V Narayanasamy the latest resignations came on the eve of the floor test on Sunday after a Congress MLA and an MLA of its ally, the DMK, tendered their resignations.
Cong MLAs' meet before vote today
A Congress MLAs'meet convened by CM Narayanasamy on Sunday evening to evolve a strategy to save the government ended without arriving at a consensus. "We will meet again and take a final decision before the House convenes at10am on Monday." Narayanasamy said.
Two more MLAs resign on floor test eve
Chief minister's parliamentary secretary K Lakshminarayanan and DMK MLA K Venkatesan submitted their resignation letters to the speaker of the legislative assembly V P Sivakozhundhu on Sunday afternoon.
Lakshminarayanan said he decided to quit as he was not given due recognition in the government and the party. Venkatesan said he could not undertake any development work in the last two years in the constituency as the MLA funds were not released.
Five Congress MLAs resigned in 30 days
Five Congress MLAs and a DMK MLA have resigned in the last 30 days while a Congress MLA N Danavelu was disqualified last year.
House strength now stands at 26
The strength of the House now is 26 with seven seats falling vacant. The ruling Congress has nine seats. It has the support of DMK (two) and an independent MLA. On the opposition side, All India NR Congress has seven seats and AIADMK four. Three BJP functionaries have been nominated as MLAs. While the Congress and ally stands at 12 seats, the opposition alliance has 14.
Puducherry LG directs government to prove majority
Lieutenant governor Tamilisai Soundararajan, who took additional charge of Puducherry last week, directed the Narayanasamy government to prove its majority on the floor of the assembly before 5 pm on February 22. This was after the opposition parties submitted a memorandum claiming that the government had lost its majority following a spate of resignations of Congress MLAs. Sounderarjan replaced Kiran Bedi, who was relieved on February 16.
Can Congress win floor test
Congress sources are hopeful that two or three AINRC MLAs who recently turned against the party leadership will skip the floor test to help the government. Among other possibilities, the ruling Congress party may raise a point of order and urge the speaker to disqualify the three nominated members who were labelled BJP MLAs by Tamilisai Soundararajan who holds additional charge as lieutenant-governor.
Source link