Space
Astronauts head outside space station to prep for new solar arrays – Spaceflight Now
Astronauts Kayla Barron and Raja Chari floated out of the International Space Station airlock for a spacewalk Tuesday to install brackets and struts to support new solar arrays to upgrade the research lab's power system.
The two NASA astronauts planned to spend about six-and-a-half hours outside the space station Tuesday, working on the starboard side, or right side, of the lab's huge power truss, which stretches as long as a football field.
Barron and Chari put on their NASA spacesuits early Tuesday, depressurized the station's Quest airlock, and opened the hatch to venture outside the complex. The spacewalk officially began at 8:11 a.m. EDT (1211 GMT), when the astronauts switched their suits to battery power.
The astronauts planned to gather equipment and tools before heading out to the space station's starboard truss for their work.
Barron is the lead spacewalker, designated EV1, and wears a suit marked with red stripes. Chari, designated EV2, wears a spacesuit with no stripes.
After making their way to the work site, the astronauts will assemble and install brackets and struts to accommodate new solar arrays to be delivered to the space station on a future SpaceX Dragon cargo mission. The spacewalkers will construct the triangular fixture, called a modification kit and made of individual struts, to provide a mounting location for one six new roll-out solar array wings to enhance the station's power generation capability.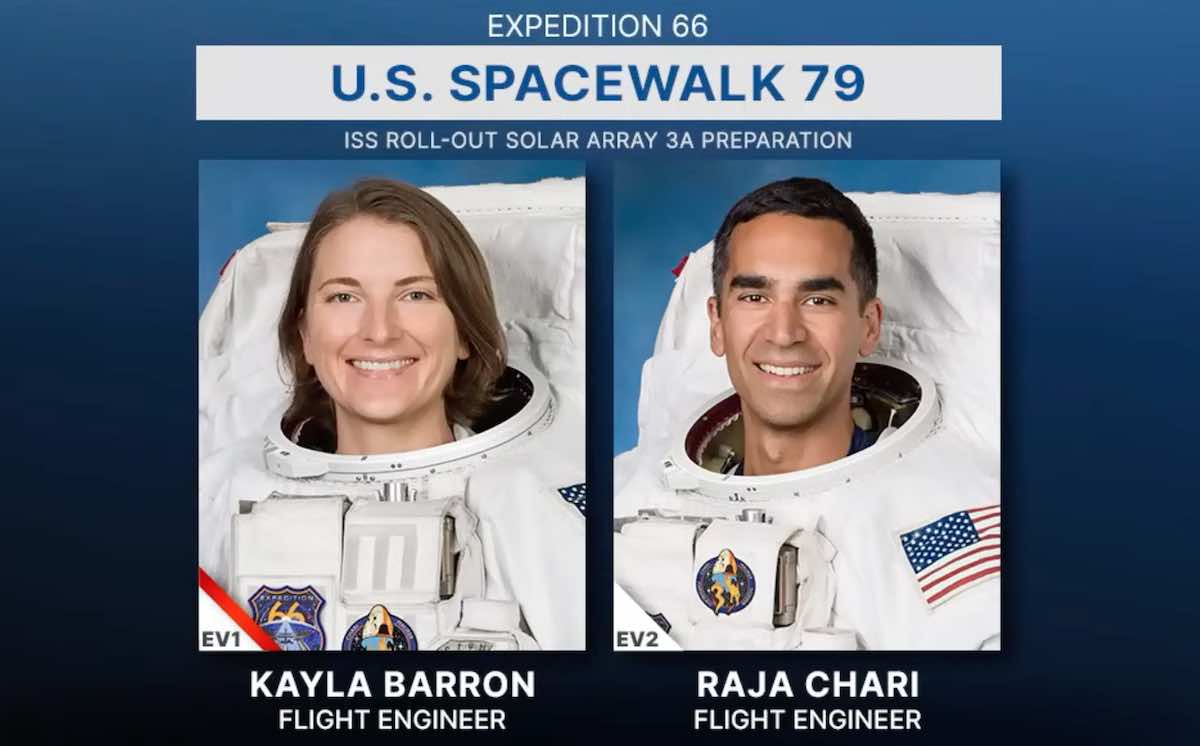 Two of the station's new roll-out solar arrays, or iROSAs, were delivered on a SpaceX resupply mission last June and installed on the outboard port-side, or left-hand, truss . The next two are scheduled to arrive on a SpaceX flight in October, and another pair will be hauled up to the station later.
The new arrays are designed to cover up portions of the space station's older solar arrays, which have degraded over time.
The work by Barron and Chari on Tuesday will focus on the solar array modification kit for the inboard starboard truss.
Assuming the astronauts finish up the work with the solar array struts, they will move out to the end of the starboard truss and open insulation covering a battery charge/discharge unit, providing access for the station's robotics system for future replacement work.
Barron and Chari, both on their first flights to space, arrived at the space station in November on SpaceX's Crew Dragon Endurance spacecraft. The spacewalk Tuesday is the second of Barron's career, following an excursion in December. It's the first for Chari.
The spacewalk is the 247th in support of International Space Station assembly and maintenance.
Email the author.
Follow Stephen Clark on Twitter: @StephenClark1.