MLB
Best players in 2022 World Series, ranked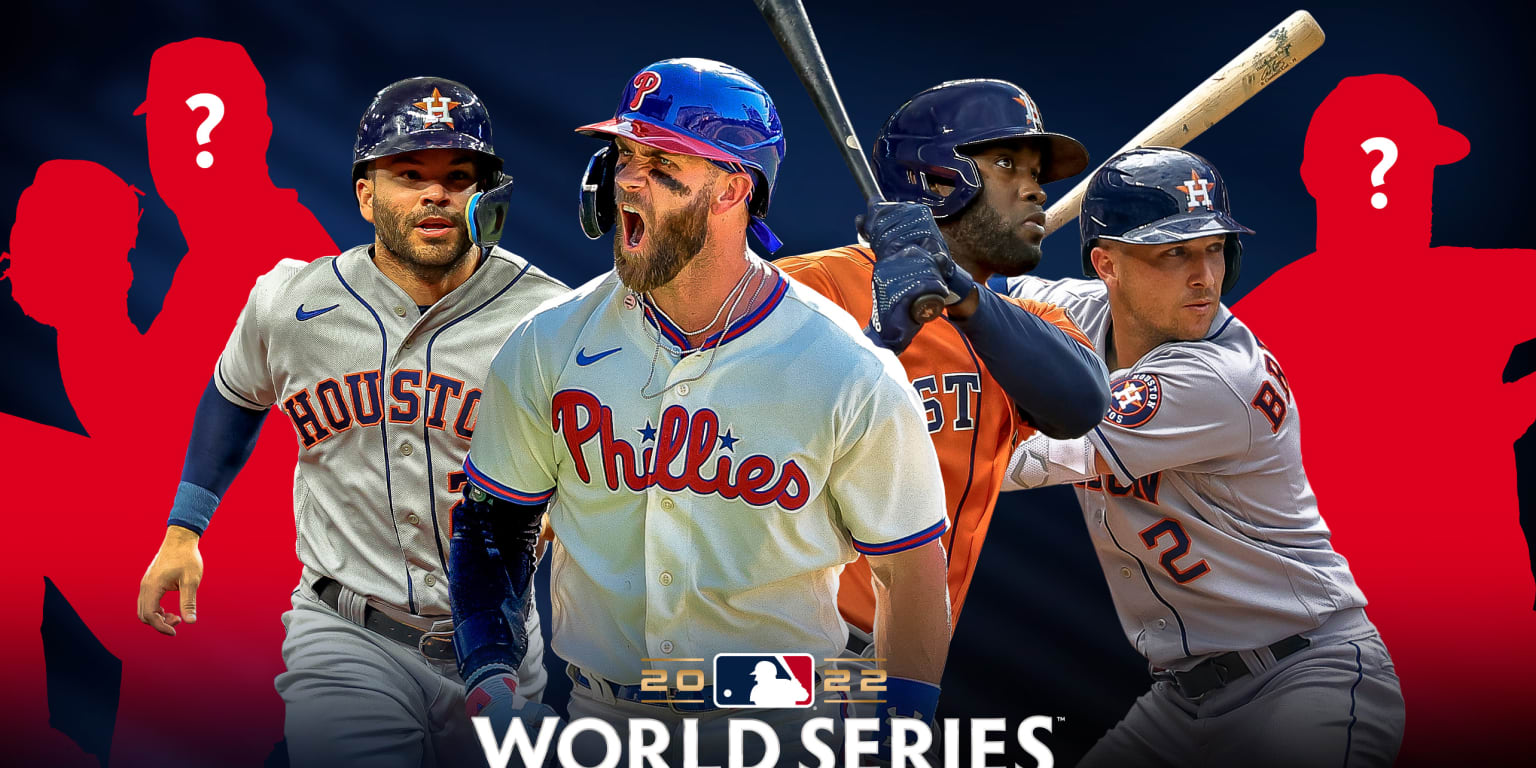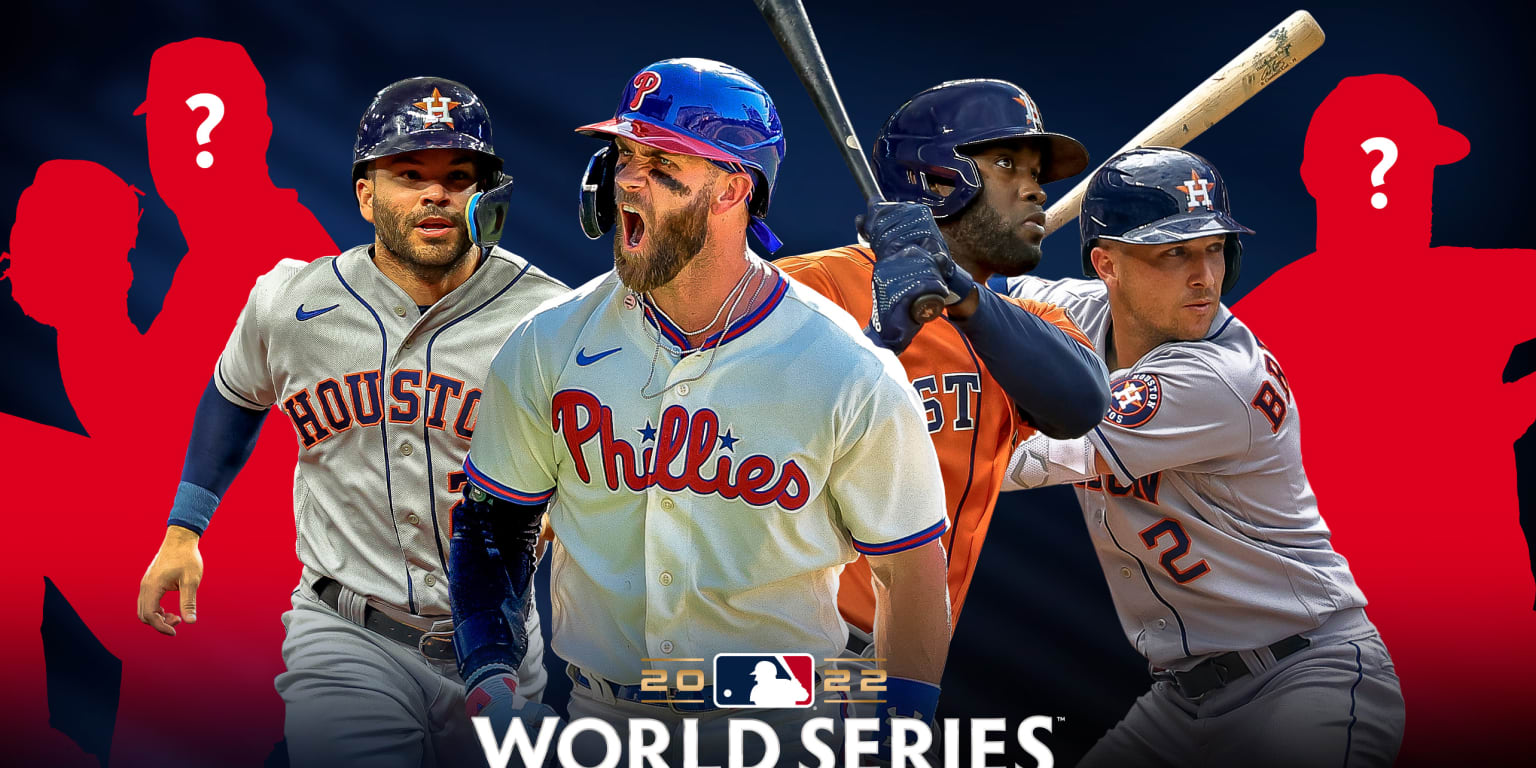 Two teams in the World Series. Fifty-two players available. Which ones do you want? As they've done in the past, MLB.com's Will Leitch and Mike Petriello came together to do a draft of the players in the Fall Classic, but this time, with a twist. Instead of trying to fill out a roster — ensuring each team has a catcher, enough pitchers, etc. — we'll dispense with the team aspect entirely. This time, it's all about the players, drafted 1-30 on an extremely subjective ranking of talent. Thirty players, it turns out, was both too much and not enough. It is the World Series, after all. There are so many good players.
It would seem silly to pick a designated hitter here. It would seem particularly silly to pick a DH who had a .615 OPS over the final month-plus of the season. It would seem extremely silly to pick a DH who has a right elbow injury and not long ago returned from a fractured left thumb. But gee whiz: Do you want to face this guy right now? That Game 5 homer was one of those all-timers, an almost psychologically violent blast … the sort of thing we'll be watching for years. We'll see a better version of Harper at some point — you know, one who can play the field.
But of every player in this World Series — with the possible exception of Justin Verlander, and even then I'm not certain — he's the one we're most likely to be talking about in awe in 20 years. And he's never been hotter.
Silly to pick another DH this high, you say? At least my guy can throw. (Surprisingly well, actually.) Alvarez has had something of a weird postseason, posting a monster first two games of the American League Division Series (.500/.556/1.375, including one of the best games anyone has had), then being surprisingly quiet in the next five games (.143/.308/.191). And he does have something of a history of no-showing postseason series, like the '19 AL Championship Series and the '21 World Series.
OK, so maybe he didn't get off to the most electrifying postseason start. But it really hasn't been appreciated just how fantastic Altuve was this year. Do you realize he put up the same OPS+ this year as he did in his MVP season of 2017? If he can get going — and why wouldn't he be able to get going? — he could win a World Series that no reasonable person could possibly deny him. (Not that they will not still try.)
There are some elite starting pitchers here, likely Hall of Famers, true aces, and it makes me extremely uncomfortable to have not selected one yet. But those guys will pitch in one game, perhaps two. Bregman and his hitting friends will be out there every single night. In a short series, give me every night, and Bregman is well suited to make an impact here.
Despite being a power bat, Bregman isn't really a powerful bat, ranking in the mere 36th percentile in hard-hit rate. But what he does have is a swing specifically geared for the Crawford Boxes in left field in Houston, where potentially four of the seven Series games would be played. The other three? Philadelphia's cozy Citizens Bank Park … which, in 2022, rated as the fifth-best home run park for right-handed hitters. It's not like we've never seen Bregman come up big in the postseason before, but this particular Series is especially geared for his brand of 380-foot home runs.
His struggles against the Mariners in Game 1 of the AL Wild Card Series seem like they happened 20 years ago; are we sure he wasn't playing for the Tigers when that happened? He dominated the Yankees in Game 1 of the ALCS, striking out 11 (including six in a row) in a performance that set the tone for that whole series. You don't think he might just do the same thing when he likely takes the ball in Game 1 of the Fall Classic? World Series MVP is one of the few awards he hasn't won yet. Maybe now's the time.
I'm not 100 percent certain Wheeler is Philadelphia's best starter, because Aaron Nola is really, really, really good, and I guess that's a pretty nice problem for manager Rob Thomson to have. Wheeler has managed to move past any concerns over a late-season arm injury by allowing only one run in his final 15 regular-season innings and destroying postseason hitters to the tune of a 25/3 strikeout-to-walk ratio and a .118/.176/.153 slash line in four starts.
Yeah, I'll take the other guy. I'm curious how his relentless strike throwing — he had the lowest walks-per-nine rate in the National League and the best K/BB rate in all of baseball — plays against a team as selective as the Astros, but we know he steps up in big games. You remember one of those big games? It was on Oct. 3 at Minute Maid Park, with the Phillies trying to clinch an NL Wild Card spot against these Astros. How did he do? Well, he was perfect through 6 2/3 innings, before eventually giving up a hit to Alvarez.
Realmuto is the consensus best all-around catcher in the game, reliably putting up a 20-ish homer/115 OPS+ kind of season, as he's done for half a decade now. While that sounds "pretty good" from, say, a right fielder, it is outstanding from a catcher. He also threw out 44 percent of the runners foolish enough to try to steal on him, which was the best mark in MLB.
I'll admit, it feels strange to see Tucker's name there without the obligatory "The Perpetually Underrated Kyle Tucker" right next to it. (Tucker's middle name is actually Daniel.) Tucker has had a rather slow postseason so far — he's got six hits, four walks and a homer in 32 plate appearances — but he certainly has all sorts of October experience. He's only 25 and this will be his third World Series. Tucker can be as valuable on defense as he is at the plate, but it sure feels like he has a big postseason moment in him. I'd like to see one, if so we can just stop underrating him so darned much.
I'm supposed to be "the stats guy" here, so I'm supposed to be talking about sample size, pitch shapes, on-base percentage and defensive metrics, and I believe in all of that and it's all so important, and yet: Man, remember that time that Schwarber blew out his left knee, missed basically the entire season, and then showed up in the World Series to get on base 10 times in 20 plate appearances? Wasn't that extremely cool? And remember how the year before, he hit five postseason homers as a rookie? And how he just hit three homers in the NLCS, including an absolutely massive 488-foot blast?
Do you remember? I remember. It's enough to focus on the things he can do, and not the things he can't.
First off, you're going to have to try to forget what happened during last year's World Series if you're going to be this high on Valdez. It was not quite as bad as a 19.29 ERA made it look, but that I had to use the phrase "not quite as bad" in a sentence with "19.29 ERA" in it tells you all you need to know. But Valdez has ever-so-quietly become a stealthy ace on this staff, leading the AL in innings pitched (which won't matter as much in the World Series) and home runs allowed per nine innings (which definitely will). I'll just say he's a much better matchup against Nola in Game 2 than it might look.
It's hard to believe it's been 4 1/2 years since the Astros swiped Pressly from the Twins and immediately made him better, as just about everyone in the baseball universe predicted they would. (And boy, did they ever.) But what everyone might not have seen coming is that he would still be this good all these years later, because if there's a way to "quietly dominate, regularly and consistently," Pressly has found it. Did you even notice that he's struck out 40 percent of the batters he's faced this postseason? As the cast keeps changing around him, Pressly remains, continually dominating.
At the beginning of the season, Peña looked like he'd not only more than fill in for Carlos Correa, it looked like he'd make Astros fans forget Correa existed. Peña slowed down a little midseason, but he sure was a star in the ALCS, including that monster homer off Nestor Cortes that made it clear no Yankees comeback would be happening. Time to bring up Correa again, though: Correa had a real knack for big postseason homers, including three in the World Series. The way Peña's going, he may match that over the next week.
I know it's odd to pick a starter who wasn't even part of the regular postseason rotation when there are bigger starting-pitcher names yet on the board, including on his own team, but I just like what Javier does so much, and we're going for talent here, right? Is ending the season with a 25 1/3-inning scoreless streak not talent? Is having the third-highest strikeout rate in baseball (min. 140 innings) behind only Carlos Rodón and Shohei Ohtani not talent? Is outdueling Gerrit Cole in your first postseason start not talent? I'm not even 100 percent certain that Javier will get a World Series start, and I'm taking him here. That's how in I am.
Harper's homer in Game 5 of the NLCS was the Phillies moment this postseason — for now — but Hoskins' NLDS Game 3 blast off the Braves' Spencer Strider may have been even more important. It not only gave the Phils a lead in that series that they'd never relinquish, but it got Hoskins going. I'd be up for another bat spike as he launches one into a crowd of lunatic Citizens Bank Park faithful.
The perpetual Astro. Only Altuve has been around Houston longer than McCullers has, although a number of arm injuries over the years have hardly made it smooth sailing. (Plus, and we can't believe we have to confirm this is real, a champagne injury.) McCullers was quite good in eight post-injury starts this year (2.27 ERA), then he threw 6 scoreless innings in an ALDS start against Seattle. It's hard to find a pitcher with more impressive postseason experience than McCullers — who has appeared in a Game 7 in both an ALCS and a World Series — and it will never, ever not be funny that he once threw 24 consecutive curveballs to finish out the ALCS in 2017. Here's hoping that if the Astros take this year's Series, he's throwing 25 straight curves.
Recency bias? Well, yes, but this whole Phillies team is a recency bias. And recently, Dominguez — who, it should be said, was also really good for the much-maligned Philadelphia bullpen all year — has been incredible, the one guy the Phils absolutely know they can count on. He has faced 26 hitters this postseason and struck out 15 of them. The real question is how often Thomson will go to him. Zach Eflin may be the "closer" (and he might not even be that), but this is the escape hatch for the Phillies.
As I said when looking at the Astros' endless wealth of pitching talent, Abreu is the least famous pitcher on this staff … but even the guy you don't know can show up with a 1.94 ERA over 60 1/3 innings, striking out 36 percent of the batters he's faced. (It's even higher in the postseason: 42 percent.) It helps to average 97.2 mph on his fastball, as he does, and to pair it with a slider that has six inches more break than average at his velocity, which he does, and maybe also to be a little anonymous? When you're a hitter, game-planning for the Astros' bullpen, how many names do you have to get past to get to Abreu on your list? I'm thinking that after this postseason is over, he's going to be a little more prominent.
I have to say, I'm not necessarily doing backflips that, faced with all the seemingly endless supply of fantastic Astros bullpen arms, I keep picking Phillies relievers. But at least I've got the two best ones. Alvarado is a bit of a boom-or-bust guy: He's either whistling high 101 mph fastballs at you — he's like evolutionary Billy Wagner — or he's walking your entire roster. Fortunately, you (and Thomson) will know pretty quick which Alvarado has shown up. How many times does he face Alvarez this series? Three times? Four? Every game?
I need a little fielding in my life, and gestures wildly at the Philadelphia roster it's mostly not on the red-and-white side here. McCormick has been part of (at times) a four-headed center-field monster, along with Jake Meyers, utilityman Mauricio Dubón and the since-traded Jose Siri. It's McCormick who's taken over the primary job in the postseason, though, and he's hit two pretty big home runs. Quietly, he's an above-average hitter — 14 home runs in each of the past two seasons to go with a 109 OPS+ — and he's been one of the better defensive outfielders in the game, too. If there's always a non-star who shows up to make a huge play in a big moment in the World Series, give me the guy who might be able to do that on both sides of the ball.
He's also, um, maybe the best short-burst reliever in baseball?
Here's the boring description of Segura: An average-to-slightly-above-average bat, with competent middle-infield defense, who can pop a homer now and then (10 this year) and steal a base if needed (13). He's probably the best Phillies defender, and he's definitely their best "make contact" bat. Those statements are all accurate, and yet, you have learned nothing about the experience of actually watching Segura play. Previously the active leader in games played before a postseason appearance (1,328), Segura's style of play can generally be described as "frenetic."
For example, this passage from MLB.com's Todd Zolecki, regarding Game 3 of the NLCS: "In the fourth, Segura became the first player in postseason history to do the following in one inning: commit an error, record an RBI and get picked off a base." Later in the same game, Segura made a fantastic defensive play, so: Yes. All of that. All of it and more.
Castellanos hasn't homered since August and has obviously been a bit of disappointment for the Phillies this year, though, all told, he hasn't been that bad. He was better than, say, Yuli Gurriel this year, and one of us will probably end up drafting him by the time we get to 30. More to the point: Castellanos was 12th in NL MVP Award voting last year, so the hitter he has been most of his career (and particularly the past few years) has to be in there somewhere. (The Phillies certainly hope so: He's signed through 2026.) Is there a blast at a big moment in this Series? If so, when that happens, uh, Twitter will be fun. (That's a joke: Twitter is never fun.)
The Phillies haven't completely tamed their defensive issues. If anything, there have been some high-profile miscues already this October, and the looming specter of more will hang over them in the World Series. But on the other hand, there's Suárez, maybe the best defensive pitcher in the game (albeit one who got robbed out of a Gold Glove Award by the eligibility requirements). If Trent Grisham's ninth-inning bunt in the NLCS wasn't confounding enough by itself, then the fact that he did it with Suárez on the mound added some extra confusion. Oh, and he can pitch a little, too. You'll take a 3.65 ERA from your third starter most any day.
Am I picking him because he absolutely is going to shut down the Phillies in a huge moment, causing every Philadelphia fan to remember how frustrating he was for them for eight years and thus throw something blunt and heavy across the room? Yes. Yes I am.
Brown made his Major League debut all of seven weeks ago. We absolutely cannot stop thinking of what catcher Martín Maldonado said after Brown's debut: "He reminded me of [Verlander] back in the day — a young J.V. — when J.V. was still doing his thing." Setting aside the question of when Verlander's "day" was, given that he's probably winning the 2022 AL Cy Young Award, but Brown is the team's No. 1 prospect per MLB Pipeline, and he throws the hardest slider in baseball. It is always one of my favorite quirks when a guy comes up late in the year, does something incredible to make his name and then people get all shocked that he's still rookie-eligible the next season — I am definitely talking about Randy Arozarena here — and Brown is that guy.
Yep, the guy who ended up picking him was me. For the sake of this exercise, I'm going to pretend the 2022 regular season never happened. If you do that, and just look at Gurriel's career stats, his big postseason moments in the past and his solid postseason so far this year — wow, what a steal I'm getting with the 27th pick!
A trick! Taylor did not appear in the ALDS or the ALCS. I do not know if he will be on Houston's World Series roster, either. There's definitely the case to "not fix it if it ain't broken," and hoo boy, the Astros' pitching ain't broken. But if there is a soft spot, it's that they don't have a lefty reliever, and the two most dangerous Phillies bats each hit lefty. Taylor, in parts of three seasons in the bigs, has held his fellow lefties to a mere .159/.260/.258 slash line. That's a real talent, and talent is what we're after. Even if the real Astros choose not to use him.
That's a good pull: I was going to try to sneak Taylor with my last pick! Alas, I will go with the pitcher who is, um, the polar opposite of Taylor in just about every way. I have to say, Robertson has had quite a journey the past few years: He missed a year, struggled for the White Sox, fought his way back to closing for the Cubs (and becoming a handy Trade Deadline acquisition), got to pitch in the game that sent the Phillies to the World Series, was the closer for both the most recent Team USA World Baseball Classic team and the most recent Team USA Olympics team … and now he gets to appear in his first World Series since 2009, for the team that he threw 2 1/3 scoreless innings against with the Yankees then. I desperately want him to throw the last out of the World Series now.
Maldonado is not here for his bat. Remember what he was most famous for in last year's World Series? Walking up to the plate with the explicit instructions not to swing under any circumstances, which he did not. This year, he slashed all of .186/.248/.352, which was somehow an improvement over what he'd done in 2021. If I wanted a bat here, I'd have taken Alec Bohm, Trey Mancini or Aledmys Díaz, or possibly even Noah Syndergaard. But the Astros aren't fools, and they don't have one of the all-time-great pitching staffs by accident. We know that there's tons of what a catcher does that we can't quantify, and there's no way Houston would suffer the total lack of offense if Maldonado wasn't bringing all of that extra magic stuff. I may not know what it is, but I want it. Now, I have it.