Lifestyle
Bill Murray investigated for 'inappropriate behaviour' on set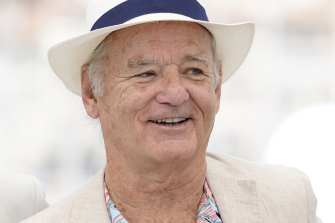 Production has been suspended on the film Being Mortal following a complaint lodged against Bill Murray for 'inappropriate behaviour'.
The film, based on Atul Gawande's book Being Mortal: Medicine and What Matters in the End, was to be directed by Aziz Ansari, who was also set to star alongside Murray and Seth Rogen.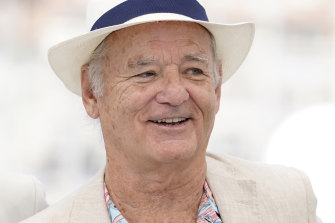 The 71-year-old actor is reportedly being investigated for "inappropriate behaviour" on set of Being Mortal.Credit:AP
Neither Ansari nor Rogen have been named in the complaint.
Deadline was the first to report news, explaining that the complaint was filed last week, leading to the suspension of production this week. According to Deadline, a letter was sent out to the cast and crew by Searchlight Pictures on Monday informing them about the incident.
"Late last week, we were made aware of a complaint, and we immediately looked into it," read the letter. "After reviewing the circumstances, it has been decided that production cannot continue at this time."
Details regarding the alleged inappropriate behaviour have been scant, though it is not the first time the 71-year-old has been the subject of concerns regarding his on-set conduct.
Bill Murray and the late Harold Ramis in Ghostbusters.Credit:Columbia Pictures
Murray famously fell out with Ghostbusters co-star Harold Ramis while shooting Groundhog Day in 1993.
"At times, Bill was just really irrationally mean and unavailable; he was constantly late on set," Ramis told The New Yorker in 2004. "What I'd want to say to him is just what we tell our children: 'You don't have to throw tantrums to get what you want. Just say what you want'."
Murray was also called out by Charlie's Angels co-star Lucy Liu for an incident that occurred on set during the production of the 2000 film.
Appearing on the Los Angeles Times podcast Asian Enough last year, Liu recalled that Murray took offence to a scene being rewritten and started "hurl insults" at her. Liu claimed the language used by Murray "was inexcusable and unacceptable."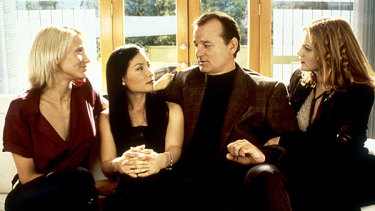 Lucy Liu, second from left, clashed with Bill Murray on the set of Charlie's Angels.
"I stood up for myself, and I don't regret it," she said. "Because no matter how low on the totem pole you may be or wherever you came from, there's no need to condescend or to put other people down."
As well as aggravated on-set behaviour, Murray has previously been accused of domestic abuse and violence by his ex-wife, Jennifer Butler.
The pair had four children together before divorcing in 2008. In court documents following the split, Butler detailed a 2007 confrontation in her home, claiming the Oscar-nominated star struck her face and "told her she was 'lucky he didn't kill her.'"
Being Mortal was slated for release in 2023; it remains to be seen how the suspension will impact production. Searchlight Pictures has described the investigation as ongoing.
Find out the next TV, streaming series and movies to add to your must-sees. Get The Watchlist delivered every Thursday.
Most Viewed in Culture
From our partners
Source: Read Full Article
Source link