MLB
Blue Jays' pitching is finally living up to the offense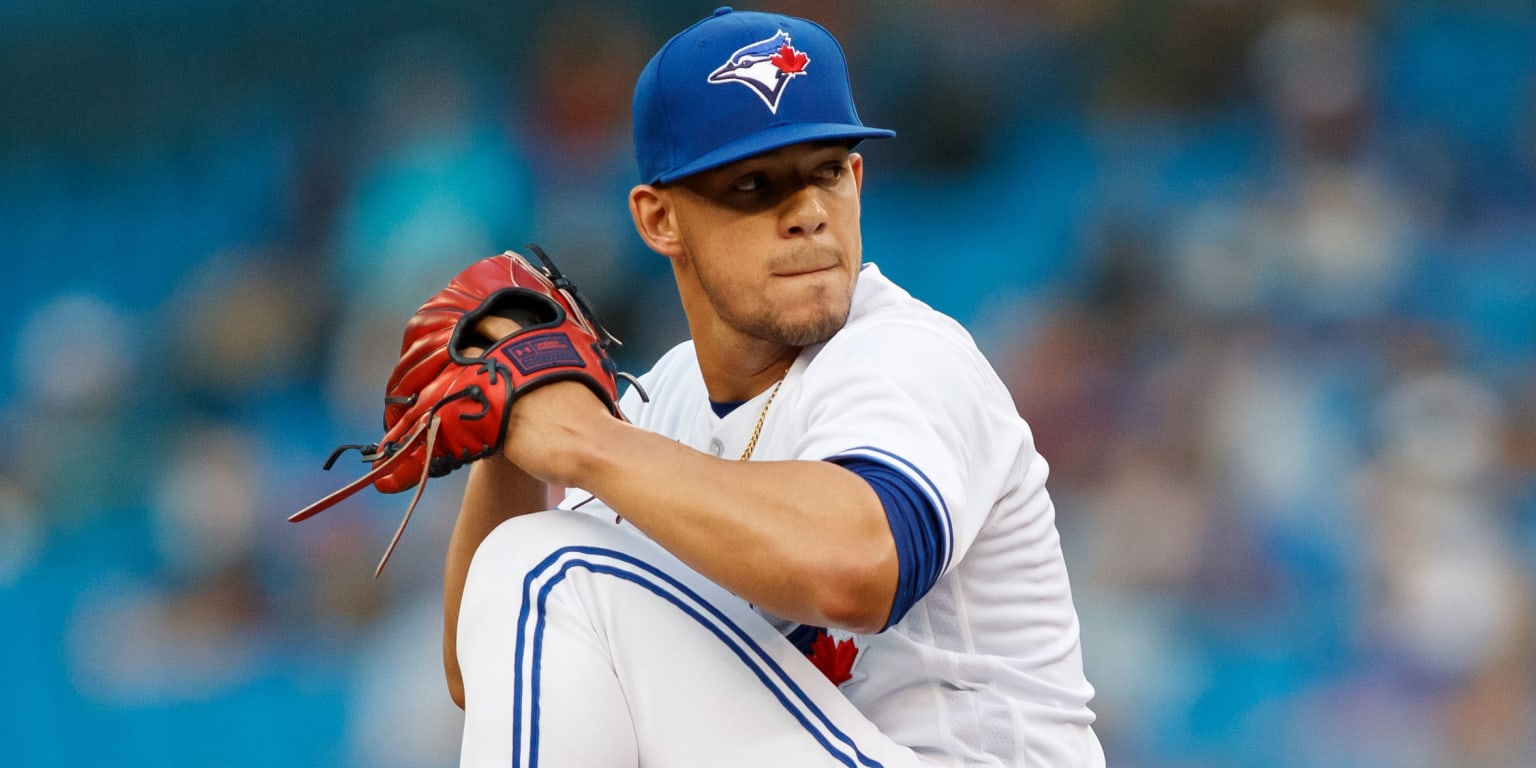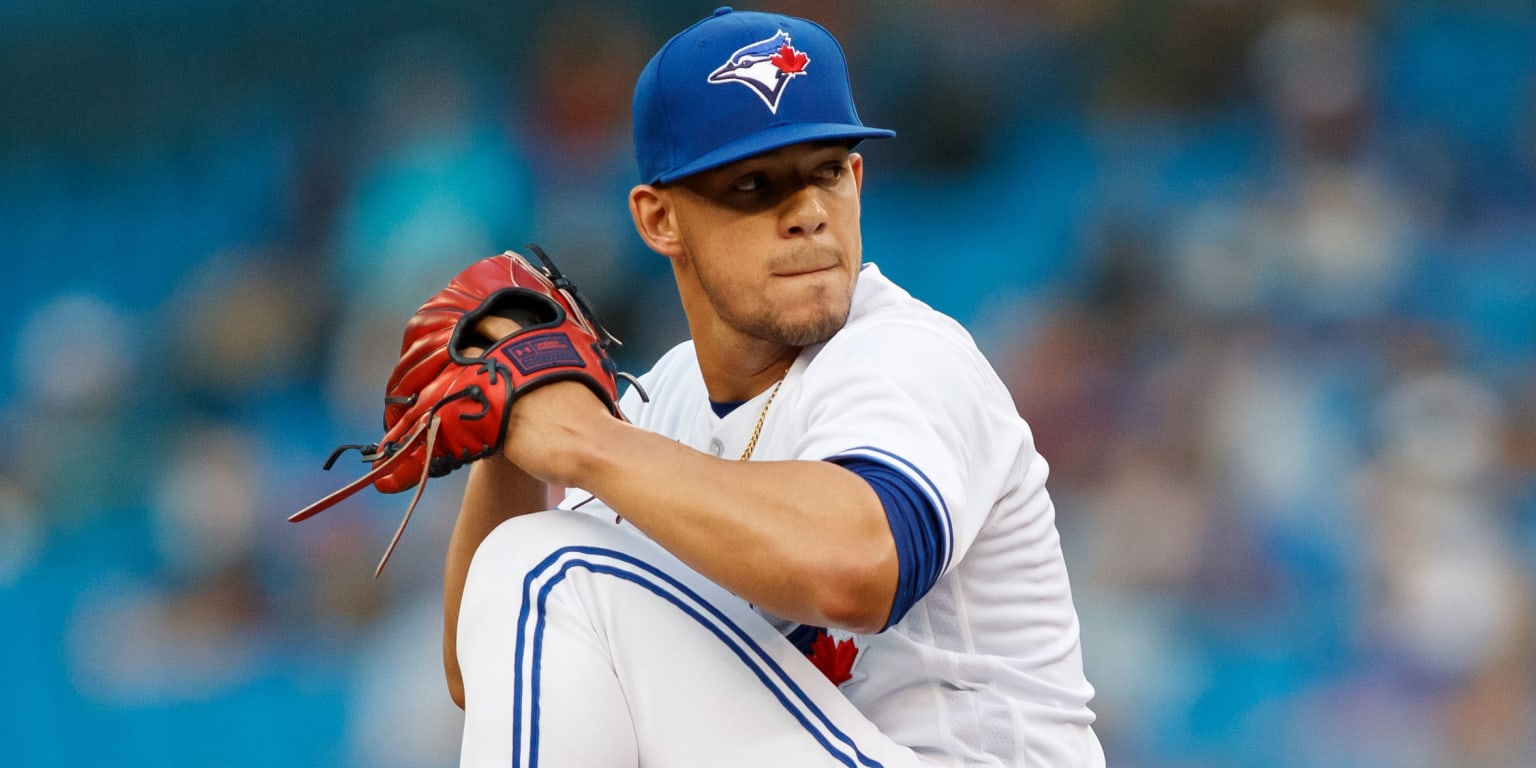 For nearly two years, the Blue Jays were best known as baseball's nomads. Calling Dunedin, Fla., and Buffalo, N.Y., home while the Canadian border was closed, and thanks to a handful of 2020 split doubleheaders where they were the "home" team in someone else's park, the Jays have had six different "home fields" in the last two seasons. (A number that will rise to seven when they do it again in Anaheim on Tuesday.)
For the last two months, they've been something far different. Since June 19, they're 27-15, the best record in the American League. Only four teams in the AL have a weaker remaining strength of schedule than the Blue Jays, who are done with the Red Sox but still have 17 more to play against the Orioles and decimated Twins.
The Blue Jays might be in fourth place in their own division, but they're just one game out in the loss column from a Wild Card spot, and only two from the first Wild Card spot. All year, the non-travel story of their season has been "run differential," in that they've played like one of baseball's best teams, yet not had the record to show for it, thanks largely to repeated bullpen meltdowns. Finally, finally, they're getting the results to go with those impressive numbers, and it's not too late to find them boosted into October because of it.
Here's how the Blue Jays have made it back to this point — and what they need to do in order to keep it going.
Let's start with two charts. The first one is just for fun. This is the win probability chart of Sunday's wild 9-8 comeback win over Boston, which shows you in visual form just how stunning of a victory it was. Springer's go-ahead three-run homer in the eighth inning was the single biggest play of the season for Toronto.
The second is the important one. All year long, we've talked about their run differential, in that they score many more runs than their opponents do, yet haven't had the results to show for it. On July 1, for example, Toronto had outscored its opponents by 64 runs, the seventh-largest figure in baseball. The six teams ahead of the Blue Jays were over .500 by at least 15 games. Toronto, meanwhile, was merely 41-38.
As things stand today, the Blue Jays have outscored their opponents by 123 runs, the most in the AL East, and the fourth-most in baseball behind only the Dodgers, Giants and Astros. But more importantly, look at the trend. It was good to start. It's improved each and every month.
Sometimes there's a hard-to-find secret to how teams or players turn their seasons around. Maybe it's a new pitch or swing or team-wide change in approach. And sometimes, it's pretty simple. This is one of those cases:
The pitching stopped being terrible.
That's it! That's the entire trick. Look, it's not the offense, which is all but tied with the Dodgers as baseball's second-best run scoring unit behind Houston; after a decent start, Toronto's offense has been consistently very good.
April: 4.46 runs/game, 11th
May: 5.50 runs/game, 6th
June: 5.46 runs/game, 3rd
July: 5.22 runs/game, 5th
So far in August, they're holding steady, at 5.33 runs/game.
(If that consistency is surprising, given that George Springer missed almost all of the first three months of the season and has been red-hot in the second half — entering Sunday, he was batting .353/.411/.776 since the All-Star Game, then singled and homered against the Red Sox — it's because his performance is making up for disappointing second-half lines from Randal Grichuk and Cavan Biggio, as well as the fact that Vladimir Guerrero Jr. has been more "pretty good" than "all-world" as he was in the first half.)
It's not the defense, which was very bad to start, got a little better, but has generally been consistently unimpressive. We'll use Statcast's Outs Above Average metric for this look; overall, the Jays are 23rd in MLB here.
April: -10, tied 30th
May: +4, 10th
June: -3, 21st
July: -7, 27th
It is the run prevention, which in most cases is "pitching+defense," but as we just showed, it's not really the fielding that's showing up in Toronto.
April: 3.75 runs allowed/game, 8th
May: 4.61 runs allowed/game, 17th
June: 4.42 runs allowed/game, 13th
July: 3.73 runs allowed/game, 4th
So far in August: Just 3.11 runs allowed/game.
This is, overwhelmingly, it, though it's maybe not the it you think it's going to be, because if you're a Blue Jays fan, or even a baseball fan who has watched at least one Toronto game this year, you know what the team's primary weakness has been: the bullpen. There was the time Tyler Chatwood walked five as the Blue Jays blew a 4-0 lead to Cleveland. There was the time that Anthony Castro entered with a 5-3 lead and proceeded to go homer, double, wild pitch, strikeout, wild pitch, as they lost 6-5 to the Yankees. There were so many times.
"No one's panicking," manager Charlie Montoyo said after relievers Patrick Murphy and Jeremy Beasley allowed five runs in the eighth inning in a loss to Baltimore on June 18, which is definitely a thing managers say when they know everyone is panicking. He was right; note we said above that they have the second-best record in baseball since June 19.
So you might be thinking: "Well, I've seen my team make just a ton of bullpen roster moves, and the pitching staff is allowing far fewer runs, so they finally fixed that leaky bullpen, right?"
Sort of, but not exactly. Let's stipulate that yes, they did make just a ton of moves, understandably, because the April-to-June Toronto bullpen was tied for baseball's second worst in high-leverage spots.
This is where we'd like to show you that in July and August, the bullpen, reinforced by a ton of new faces, has been markedly better in high-leverage situations. We can't. Not because they haven't or haven't been good … because there haven't been high-leverage situations, the kind of plate appearances defined by the right combination of inning, score, outs and runners on base.
April-June Blue Jays bullpen: 198 high-leverage plate appearances (14th most)
July-August Blue Jays bullpen: 17 high-leverage plate appearances (fewest, by a lot)
In 32 games since July 1, the Toronto bullpen has seen all of 17 high-leverage situations, an average of barely one every other game. The next fewest is by Kansas City, with 48; the most is Cincinnati, with a whopping 122 such plate appearances. It's nice, we guess, that the Blue Jays have the second-highest strikeout rate in those spots, but it also doesn't matter, because we're talking 17 high-leverage plate appearances.
That, in large part, is thanks to the improved starting rotation. (And the offense, of course, though that's been good all season). Toronto's rotation was 22nd-best in April, 19th-best in May, and 18th-best in June, as it struggled to find reliable arms around Hyun-Jin Ryu, Robbie Ray, and at times, Steven Matz.
In late May, rookie Alek Manoah arrived, and he's been strong (2.57 ERA in 10 starts). José Berríos was acquired from the Twins on July 30 at high cost, and he's been spectacular (one run allowed in 10 innings.) Ross Stripling, who seemed on the verge of losing his job as his ERA soared past 7.00 in mid-May, has a 3.39 ERA over his last dozen starts. Ryu overcame a June slump, and the July/August rotation has been spectacular: 4th-best FIP, 2nd-best ERA. Blue Jays starters have thrown the 10th-most innings during that span after throwing the fifth-fewest in the first three months.
That's a good way to get past a problem that was crippling your season, anyway; refuse to allow it to happen in the first place.
That's not to say that the bullpen isn't improved, because it is; it would almost have to be, given all the moves they made.
Compare the 14 pitchers on the Opening Day roster to what you have today, and there's overlap of exactly five names: Ryu, Matz, Stripling, Jordan Romano, and Rafael Dolis. Think about all that's happened since.
Tanner Roark, T.J. Zeuch, Joel Payamps and Chatwood, all members of the Opening Day roster, have been designated for assignment, as was early replacement Travis Bergen. Julian Merriweather, so incredibly impressive in early April, has been hurt all year. David Phelps got hurt. A.J. Cole got hurt. Tommy Milone got hurt. Tim Mayza got hurt. Castro got hurt. Nate Pearson made one appearance, then got hurt. Trent Thornton and Ryan Borucki, mainstays of past Toronto staffs, got sent down. We joked after the bad Baltimore loss on June 18 that the Blue Jays needed to completely renovate the bullpen, and they basically did.
Meanwhile, veteran relievers Brad Hand, Joakim Soria, Adam Cimber and Trevor Richards were acquired via trade, and those four have posted a 1.76 combined ERA for Toronto.
But that's not what's fueling this; not right now. It's that the offense has been so good, and the revamped starting rotation (Ryu's clunker on Sunday aside) has been so strong, that even though the bullpen has been almost completely reinvented, the Blue Jays aren't even giving the relievers a chance to break things, and if "avoid the problem" isn't the solution you might have wanted, or would hope to have in October, it's at least working right now.
In their first 10 games back at the Rogers Centre, the Jays went 8-2, capped off by Sunday's monumental comeback. "It felt like a playoff game," said Montoyo. As the Red Sox continue to implode, as the Blue Jays start to soar, maybe in two months Montoyo won't have to rely on things feeling like playoff games. Maybe there will just be playoff games.