Lifestyle
Can knitting be art? Kate Just replies with a powerful 'yes'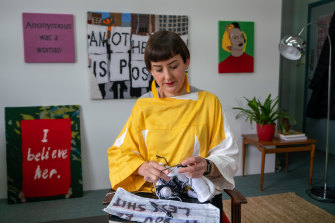 Kate Just's artistic Eureka moment was born in grief.
Just, 47, a queer-identified artist, moved from the US in 1996 with her Australian partner Paula. She was studying painting at the Victorian College of the Arts when, in 2001, her brother Billy died. Back in Connecticut, her mother MaryEllen, whom she had never seen knit, taught her – and they stitched together in their grief.
Kate Just in her studio in December.Credit:Tessa van der Riet
Returning to the VCA, Just began knitting her work instead of painting it – and has ever since. She began with Something for the Ladies, male codpieces in baby blue that reference the body, gender and conformity. She moved onto a life-size sculpture of her father, a former policeman. Uniform [Dad], 2002, honing skills in a medium she finds perfectly suited to her artistic voice.
And her persistence has found reward. After eight years unsuccessfully applying for major grants, Just says her Australia Council for the Arts 2022 fellowship for visual arts vindicates decades of art practice. It is a win for textile arts, particularly knitting, and use of that gendered craft as her art medium.
It demonstrates, says Just, that knitting is a worthy, conceptual artistic practice. "Women doing craft in the art world has not been as valued as men who are doing craft. This is acknowledging the medium, but acknowledging that I have effectively translated its power into my work," she says.
Her recent Anonymous Was a Woman – 140 knitted panels proclaiming "Anonymous was a woman" – was inspired by a quotation from Virginia Woolf's A Room of One's Own, questioning how women's authorship has been judged inferior to men's and rendered invisible (it exhibited at the Museum of Contemporary Art in Sydney last year and a panel from the work will appear in a State Library of Victoria exhibition later this year).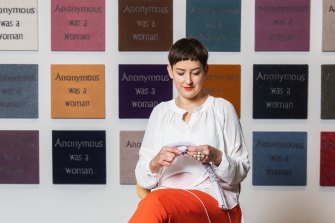 Kate Just's Anonymous Was a Woman (detail), 2019-21, installation view.Credit:Anna Kučera
This followed her acclaimed Feminist Fan series of 40 homages to portraits of female artists. These, from Frida Kahlo to Pussy Riot, were complemented by research and Instagram posts about each artist: social media is integral to Just's work.
Just has quit as head of the VCA's masters in visual arts program. For the $80,000 fellowship's two years she will teach part-time, undertaking exhibitions, residencies and touring, further developing her central themes, including feminism, gender and equality. She wants to "make work that generates hope and change".
At the MCA, Just ran knitting circles discussing gender, racism and sexuality. During the fellowship she plans to build on those at Linden New Art in 2023, to "explore the relationship between craft circles, feminism and community building … saying, 'This is a model for how women can relate to each other' ".
Her latest project, for an exhibition later this year in Adelaide, is knitting protest signs such as "This is what a feminist looks like" and "We'll be less activist if you be less shit". Coming soon: "I will not go back to the 1950s!" and "Nobody asked what my rapist was wearing."
A cultural guide to going out and loving your city. Sign up to our Culture Fix newsletter here.
Most Viewed in Culture
From our partners
Source: Read Full Article
Source link