Movies
Concrete Cowboy Cast & Character Guide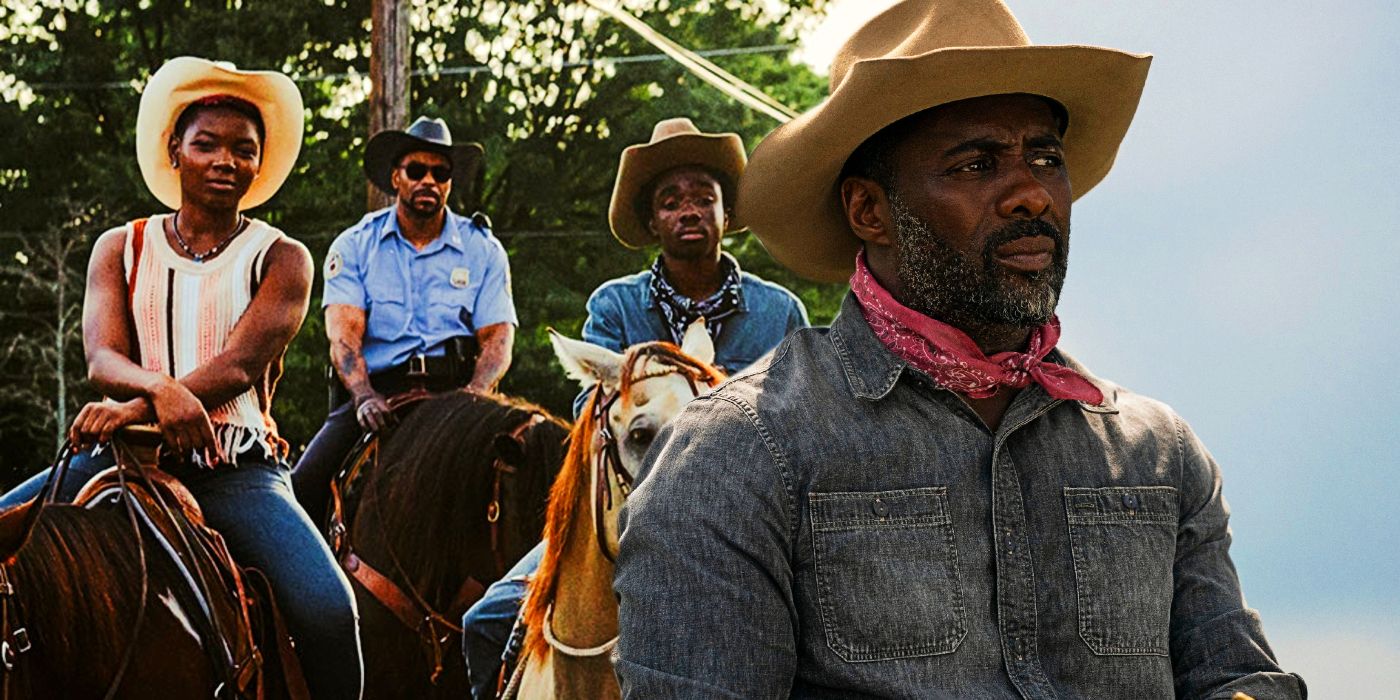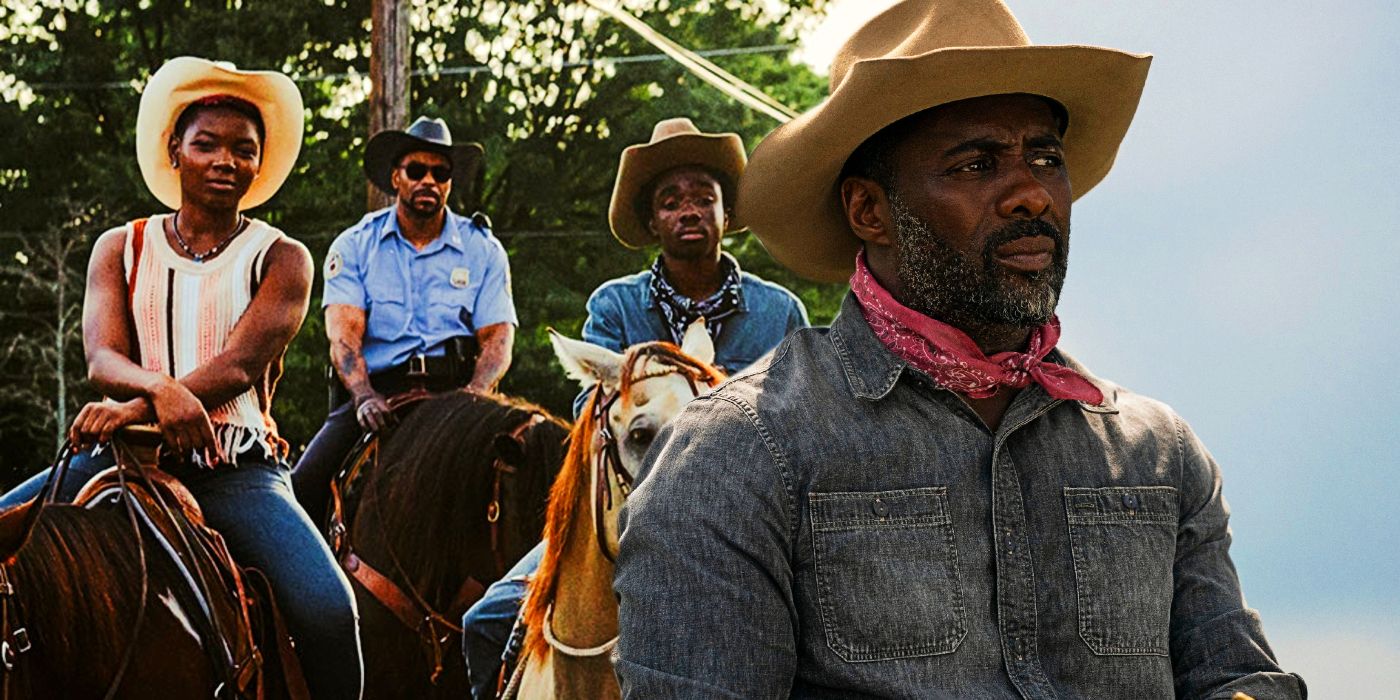 Concrete Cowboy, starring Idris Elba, is now streaming on Netflix. Here's a guide to the cast and characters who appear in the Western.
Concrete Cowboy stars Idris Elba, but who does he play and where do you know the other actors from? The 2021 Netflix movie is based on Greg Neri's 2011 novel Ghetto Cowboy, a tale about a unique North Philadelphia community. Concrete Cowboy includes real-life riders from Fletcher Street Urban Riding Club, and features a Stranger Things actor, Caleb McLaughlin, in one of the primary roles.
In Concrete Cowboy, a 15-year-old named Cole (McLaughlin) gets in trouble at his Detroit high school, and then re-locates to Philadelphia to live with his estranged father, Harp (Elba) – the owner of Fletcher Street Stables. Cole initially struggles to acclimate, and hangs out with his childhood friend, Smush, who is involved in the local drug trade. Harp lives by the mantra "Hard things come before good things," and only decides to help his son when the boy chooses work over play. Concrete Cowboy follows the protagonists and their community peers as they attempt to sustain their preferred way of life.
Continue scrolling to keep reading
Click the button below to start this article in quick view.
Related: The Most Anticipated Movies of 2021
Concrete Cowboy's main cast is led by Elba and McLaughlin, who carry the load for most of the narrative. Various non-professional actors have prominent roles, including a real-life Philadelphia cowboy named Jamil Prattis, who delivers a standout performance as one of Cole's mentors. Here's a cast and character guide to help you identify the main players in Concrete Cowboy on Netflix.
Idris Elba As Harp
Idris Elba stars as Harp, the owner of Fletcher Street Stables who tries to keep his business alive while connecting with his estranged son. Elba portrayed Stringer Bell in The Wire and starred as John Luther in Luther. MCU fans may know him as Heimdall, while DCEU followers might recognize him as Bloodsport from the The Suicide Squad.
Caleb McLaughlin As Cole
Caleb McLaughlin co-stars in Concrete Cowboy as Cole, a troubled youth who turns his life around after learning valuable lessons from his father and other Philadelphia natives. He's lured by the streets but finds peace of mind by working with horses at Harp's stable. McLaughlin portrayed Darius in High Flying Bird and currently appears as Lucas Sinclair in Stranger Things.
Jharrel Jerome As Smush
Jharrel Jerome appears among Concrete Cowboy's cast as Smush, Cole's childhood friend who offers guidance in Philadelphia. He's a charismatic individual, but his ego leads to trouble with a local gangster. Jerome portrayed Jerome Robinson in Mr. Mercedes and Korey Wise in When They See Us.
Lorraine Toussaint As Nessie
Lorraine Toussaint portrays Nessie in Concrete Cowboy, Harp's neighbor. She remembers Cole from his childhood years, and offers advice about being a responsible adult. Toussaint portrayed Amelia Boynton in Selma and Vee Parker in Orange Is the New Black. She currently appears as Vi Marsette in The Equalizer.
Concrete Cowboy's Supporting Cast & Characters
Clifford "Method Man" Smith as Leroy: A police officer who warns Harp about the conditions of his stable. Clifford Smith is a founding member of the the iconic hip-hop group the Wu-Tang Clan. He starred as Silas P. Silas in How High and portrayed Davis McClean in Power Book II: Ghost.
Byron Bowers as Rome: A bearded local who races Harp during a festival. Byron Bowers portrayed Meldrick in The Chi and Percy in Honey Boy.
Liz Priestley as Amahle: Cole's mother who drops him off at Harp's neighborhood at the beginning of the film. Liz Priestley portrayed Crafty in Jessica Jones.
Ivannah-Mercedes as Esha: Harp's female employee who forms an intense bond with Cole. Ivannah-Mercedes makes her movie debut in Concrete Cowboy. She's a real-life Fletcher Street rider.
Devenie Young as Trena: Smush's sister who lives down the street from Harp. She tells Cole that her home isn't an "orphanage." Devenie Young makes her movie debut in Concrete Cowboy.
Jamil Prattis as Paris: A wheelchair user who teaches Cole the ways of Fletcher Street Stables. Jamil Prattis makes his movie debut in Concrete Cowboy. He's a real-life Fletcher Street rider.
Michael Ta'Bon as Jalen: A gangster who attempts to kidnap Smush. Michael Ta'Bon makes his feature movie debut in Concrete Cowboy.
Concrete Cowboy released in April 2021 on Netflix.
More: The 25 Best Films on Netflix Right Now
Doctor Who Villain Missy Returns with Lethal Plan in Comic Sneak Peak
About The Author