India
'Didi significant frontline occupant of anti-BJP space, but let's not decide on a leader right now' | India News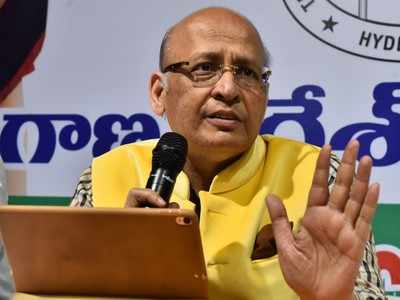 File photo
Discussing the implications of the recent round of assembly polls for the opposition, senior Congress MP Abhishek Singhvi told Subodh Ghildiyal that an anti-BJP front must be built with consensus and calibration. Excerpts from the interview:
Congress fought against Trinamool but now Congress leaders are hailing Mamata Banerjee's victory over an aggressive BJP led by Prime Minister Narendra Modi. Isn't it strange?
Even Mamata's worst enemy must concede that she has won an amazing victory, seemingly with money, logistics, central agencies and carpet bombing through media, all stacked against her. I have no inhibition in hailing her in keeping the anti-BJP secular flag flying high. That does not mean we will not introspect and try to rebuild Congress in West Bengal.
After TMC's sweep, there are calls that Mamata be made the opposition face to take on PM Modi in 2024 polls. What is your opinion?
No one can deny that Mamata necessarily has to be a significant frontline occupant of the anti-BJP opposition space. That space, however, must be built up with consensus and calibration, and should be an exercise of interactive coalition-building and not of persons or egos. 'What and how' have to be diligently worked upon soonest and 'who' as an issue must be relegated to the end.
What was wrong with the Congress strategy for West Bengal elections where the party drew a blank?
Mainly,the electorate generally and those who did not want BJP decided to ensure their vote got maximum impact and therefore voted for the perceived winner TMC, thinking that a Left-Congress vote would be wasted. Candidly, some of us wanted a different alignment but as disciplined soldiers, we went along with the state unit's view of Congress-Left alliance, which may well have also contributed to this defeat.
Did Congress fail in its minority strongholds of Malda-Murshidabad as it targeted Mamata?
The reason of voting for a perceived winner applies even more to these districts. It is not necessary that the electorate was against Congress but a perception gained ground that the only way to defeat BJP was to elect TMC. The alignment could have been different but having once aligned with the Left, some targeting of TMC was inevitable.
What is evident post-2019 is that regional parties have succeeded in thwarting BJP while Congress has been caving in. What is the problem?
While results for Congress are depressing, I don't agree with the 'cave in' phrase. We lost but gave strong fights in Kerala and Assam, and in Tamil Nadu, as an ally, our strike rate was good. The real dismal show was Bengal where there is no alternative but to rebuild from scratch with new local faces at every level.
Many believe leadership alone is not the problem plaguing Congress but the issues run deeper?
The current Congress leadership, including president Sonia Gandhi and Rahul Gandhi, are acutely aware of the need to operationalise a leadership matrix wanted by an overwhelming bulk of Congressmen and it will happen soon. Naturally, leadership issues must go hand in hand with strengthening, reinventing and revitalising Congress bottom up.
FacebookTwitterLinkedinEMail
Source link