Health
Dr. Fauci Just Warned of "Significant Surge" — Eat This Not That
The number of coronavirus cases in the USA just shattered the records set even at the height of the pandemic, nearing half a million per day. Although hospitalizations are not rising in kind—indicating the Omicron strain, while "highly transmissible," may be less severe than Delta—you are still at risk of catching COVID, and very much at risk of illness if you are unvaccinated. How can you stay safe? Dr. Anthony Fauci, the chief medical advisor to the President and the director of the National Institute of Allergy and Infectious Disease, spoke with Gray Television yesterday and shared some life-saving advice. Read on for 5 essential tips—and to ensure your health and the health of others, don't miss these Sure Signs You've Already Had COVID.
"Certainly in the next few weeks, we are gonna continue to see a rather significant surge with this new variant Omicron, which clearly has a very, very high efficiency of transmission. We've seen that in what's happened South Africa and the UK, and it's happening right here in the United States. We're seeing a very large surge of cases…. That's the sober news. The somewhat encouraging news is that it appears certainly from the South African experience and the UK experience, but we're starting to see inklings of that here in the United States, that it looks like it might be less severe, which means that if you look at the ratio of hospitalizations, per number of new cases, it is lower than with Delta. So it is possible. And maybe likely that even though we get more and more cases, the percentage of people that are gonna be hospitalized will be less."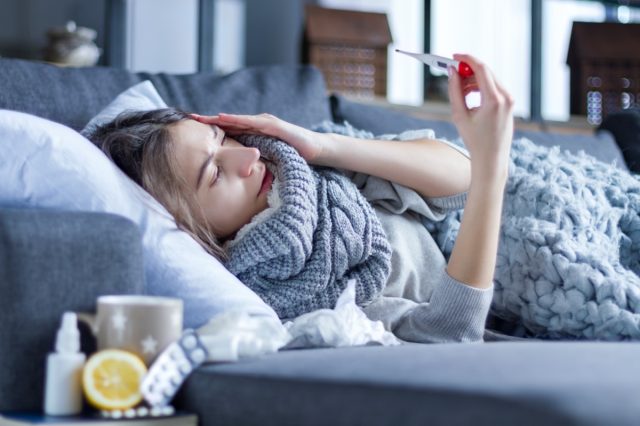 "The symptoms of Omicron are not significantly different than with Delta," said Dr. Fauci. "There are some reports that need to be verified, that there is less of a loss of taste and smell and more of an upper respiratory mild symptom, very reminiscent of an upper respiratory infection. But you see that with other variants, including Delta." The CDC says to watch out for: 
Fever or chills

Cough

Shortness of breath or difficulty breathing

Fatigue

Muscle or body aches

Headache

New loss of taste or smell

Sore throat

Congestion or runny nose

Nausea or vomiting

Diarrhea
RELATED: I'm a Virus Expert and Here's How to Avoid Omicron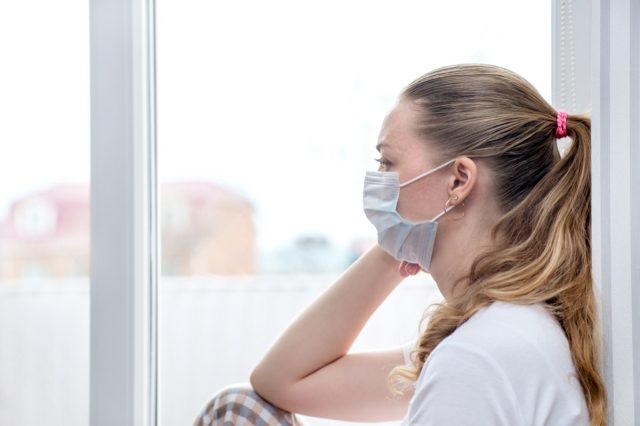 The CDC recently shortened the quarantine time for a COVID infection from 10 days to 5 days, for essential workers. Why? "Well, the rationale for the CDC making the recommendation that if you are infected rather than isolating for 10 full days, you can isolate for five days. And then if you are still without symptoms, you can go back to your normal activities, provided you continually wear a mask," said Dr. Fauci. "And the reason is that given the high degree of transmissibility and the rather enormous volume of cases, we're seeing, there's a concern that rather than shut down the entire country, we can get people back to work, particularly those with critical jobs, firemen, policemen, grocery store, people, people who are responsible for maintaining the infrastructure of society that we can get them back sooner than 10 days and give them an extra five days so long as they wear a man. And so long as they are without symptoms." He said doing a self-test at home to ensure you weren't still contagious wouldn't be entirely effective, which is why it wasn't recommended. "The CDC has felt that given the fact that antigen tests were never designed to determine what your level of transmissibility is, and it's not predictive of whether it is. So since it's not something you would act on, because it could remain positive even after you are no longer transmissible and it could be negative when you are transmissible. So, so as the CDC says, you don't know what to do with the results. So it really doesn't make any sense requiring that the best thing to do is to be really safe and wear a mask."
RELATED: I'm a Doctor and Warn Against Going Here Now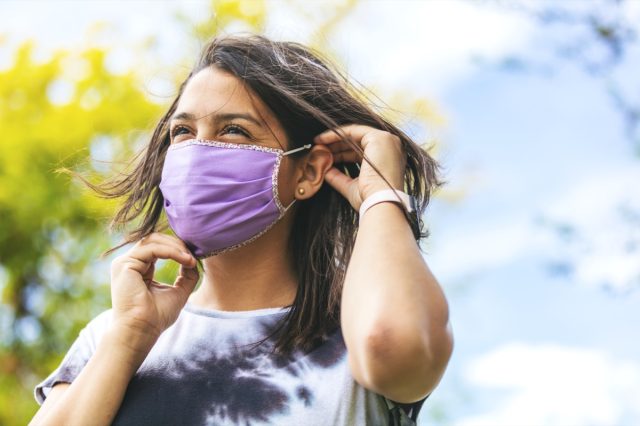 N95 masks are considered the gold standard. But says Fauci: "There's not a requirement for an N95. Any mask, as long as you wear a mask is fine. There's a big difference between wearing a mask and not. So I would have rather have a person wearing any kind of a mask than not wear a mask at all."
RELATED: The Supplements Doctors Say to Stop Taking Now
"Getting a PCR is a different reason than getting an antigen test. If I feel like I'm ill and I may have been exposed, I would want to get a PCR test to determine if I am infected or not," said Dr. Fauci." If I want to do surveillance, like I'm going to a dinner and I'm vaccinated, and I want to make doubly certain that I'm not asymptomatically bringing infection into someone's home, then that's where an antigen test has value. If you do an antigen test serially, like once every several days, you get a really good a sense of whether or not you're infected. If you just do it once, it isn't as sensitive as a PCR, but when done for surveillance, it can be very valuable."
RELATED: The #1 Cause of "Too Much" Visceral Fat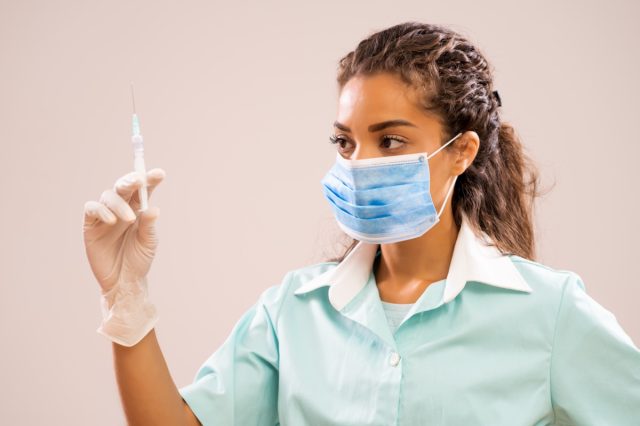 "We want to ultimately get to the point where we can get back to functioning in society the way we were before. I don't think we're going to eradicate COVID," said Dr. Fauci. "We may not even eliminate it. I think that would be aspirational. What we're looking for is a level of very good control where the level of infection and the need for hospitalization is so low that we look upon it as more of a sick, significant upper respiratory cold, rather than something that's life threatening to the population." So get vaccinated and boosted, and to protect your life and the lives of others, don't visit any of these 35 Places You're Most Likely to Catch COVID.
Source link