India
drishti: Tech from Drishti's Bengaluru R&D team aiding firms close a 100-year-old data gap in manufacturing | India News
BENGALURU: Technology developed by Bengaluru-based R&D unit — aimed at addressing a Century-old data gap in manufacturing sector — is being lapped up by global manufacturers like DENSO, Flex, three of the top six global auto OEMs, including Toyota and two of three top electronics contract manufacturers to improve their production.
The Bengaluru centre employing 120 people including contract staff is part of Drishti Technologies, which essentially offers an eye on the factory floor to monitor thousands of workers at once. The technology is also creating a completely new type of data, which is turned into information to help factories increase efficiency or quality.
Drishti's software uses computer vision to digitise human actions by taking real-time video footage, then applying deep learning to assign data points to label different types of manual labour.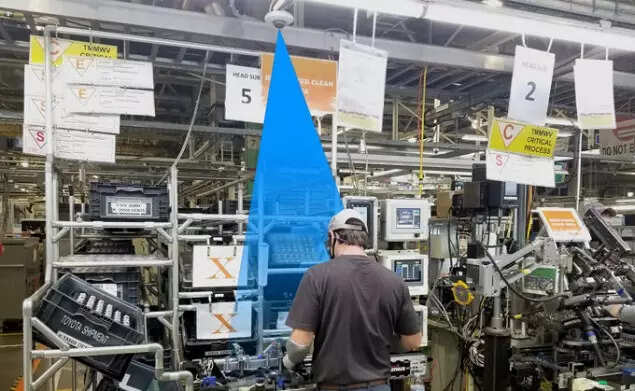 Krishnendu Chaudhary, Drishti co-founder and CTO, told STOI: "Basically, we instal cameras which observe what's happening. They bring back video to our cloud, where our neural networks and AI engine sit. These analyse videos and do two things: One, analyse actions of workers on the floor, which allows us to emit warnings if a certain action was missed. Second, we get statistics on durations which lead to all sorts of efficiency and bottleneck discoveries."
For instance, imagine if someone working on the brake pad at an auto firm forgot to tighten a nut. Drishti's deep learning and AI tools stop this by issuing a warning that allows the worker to correct her/his action immediately.
Drishti CEO Gary Jackson said: "…Another use case of our technology might be training. Our customers like Toyota spend a massive percentage of their labour costs on training and re-training. The difference between someone who can do something in a minute, versus 30 seconds, might be somebody who has been inadequately trained, or might be that someone found a new way to do it that is better than the other way. In any case, being able to focus on the training cycle with our kind of analysis can be a massive dollar value to clients."
Chaudhary explained that use cases also include identifying ways to speed up manufacturing processes or discovering bottlenecks before they halt production. During the Covid-19, the technology has been used to reduce line crowding.
Ramana Tadepalli, head, India operations, while pointing out how the majority of Drishti's workforce is in Bengaluru, said that customer privacy and IP protection was something that was considered seriously when the technology was developed.
"Data generated is customer property and we are extremely sensitive over the fact that it is confidential and a lot of it is asset and IP and takes a lot of effort to make sure that the privacy at all levels is taken care of," Tadepalli said.
Jackson said the firm has so far raised $37.5 million, including a $25 million Series B funding round led by Sozo Ventures. "Other firms included Andreessen Horowitz, Toyota AI Ventures, Emergence Capital and Alpha Intelligence Capital," the firm said.
In the future, Drishti could also look at anonymising data and analysing it in the manner that may be useful for the industries, certain sectors, Tadepalli added.