MLB
Enrique Hernández hit, assist help Red Sox beat Athletics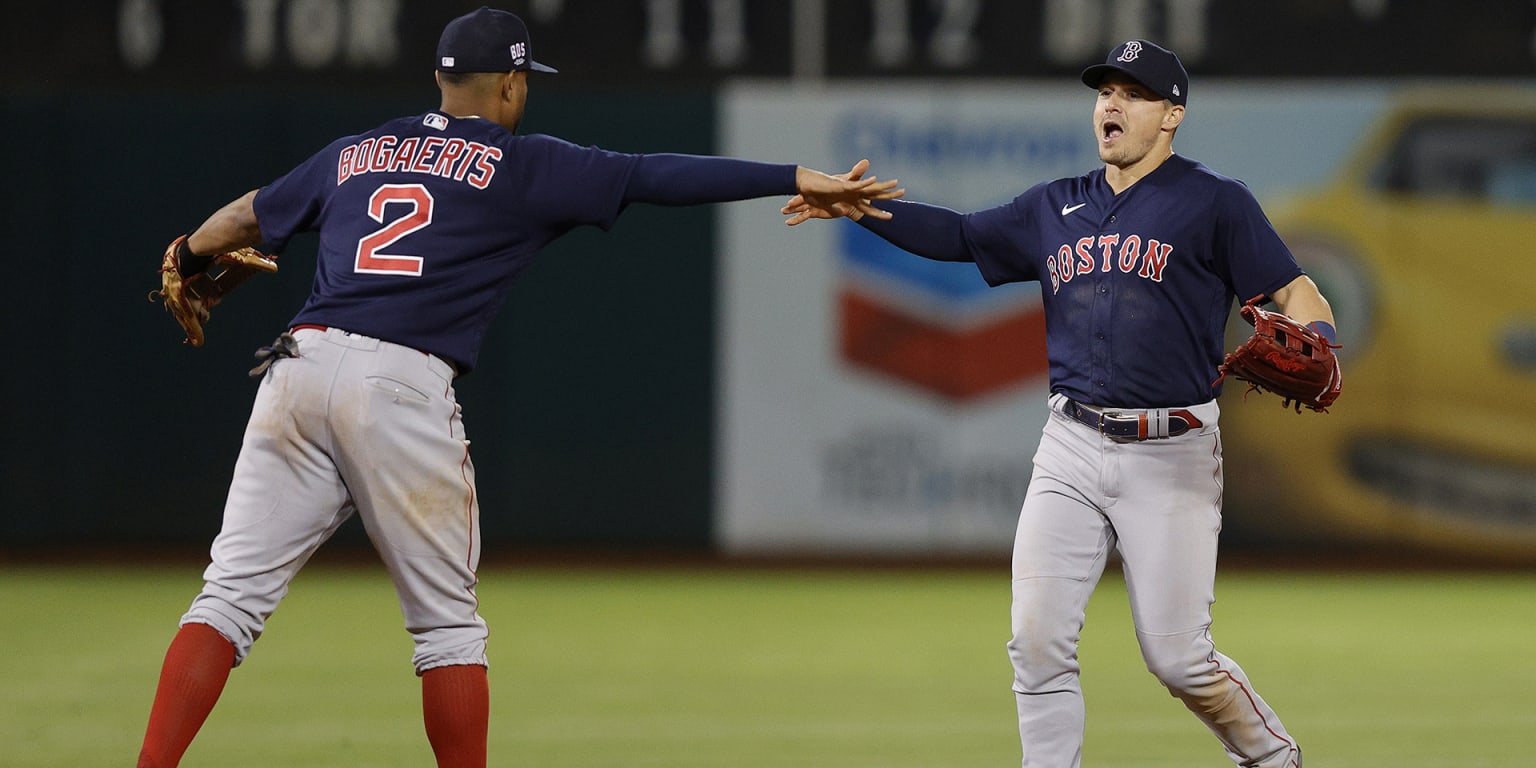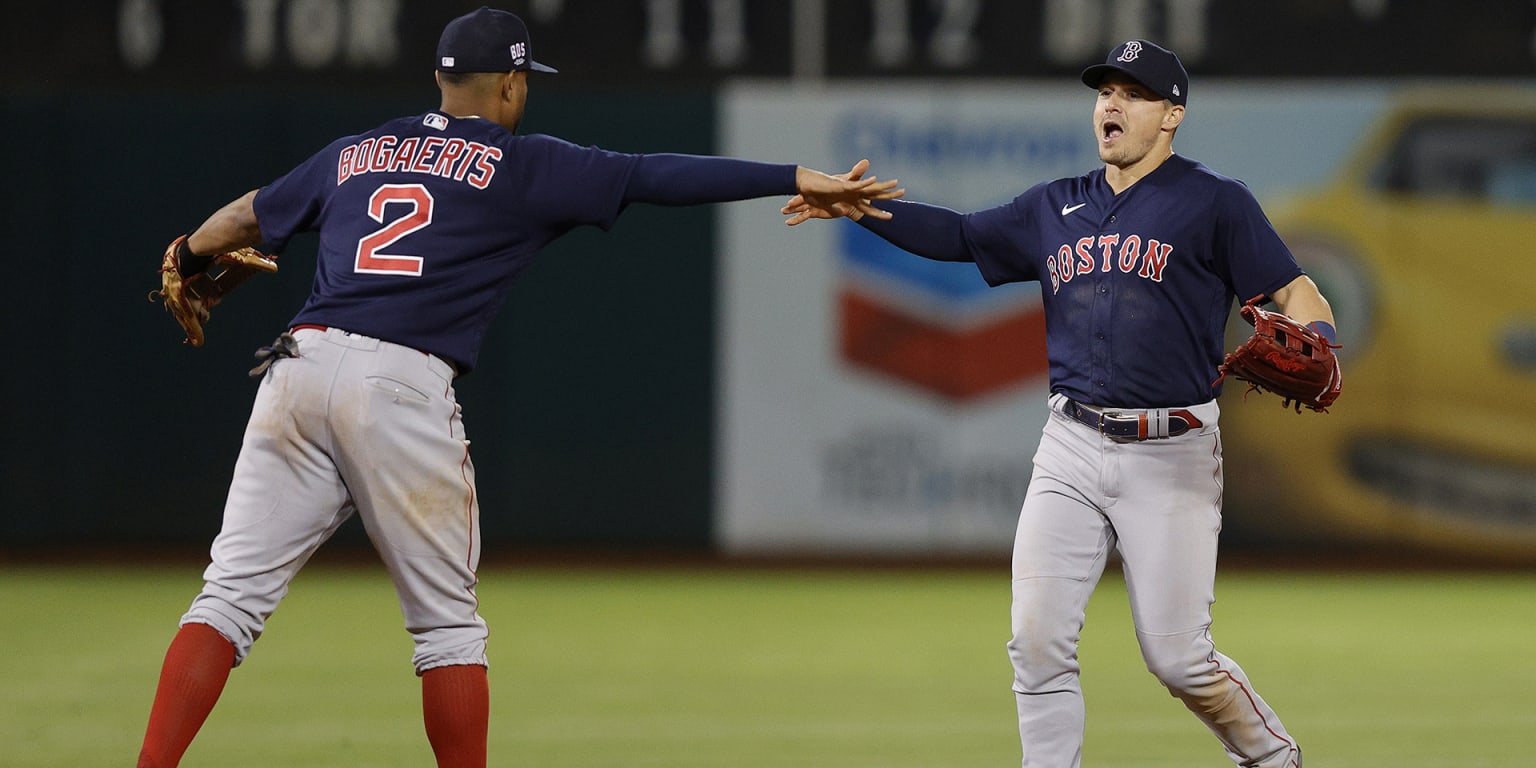 OAKLAND — Kiké Hernandez needed to be perfect … and he was.
Hernández nailed the tying run at home plate in the bottom of the 10th inning with a textbook throw from center field, helping prevent an A's comeback attempt on Friday night at the Coliseum. One routine flyout later, Boston secured a 3-2 win that had Hernández's mark all over it, thanks to some extra-inning heroics.
The throw, nailing Seth Brown as he slid into the plate, was arguably the brightest gem by a Red Sox outfielder this year, one that served as a microcosm for the stellar defense the team's outfield has played all season long.
"I can put my life in front of whatever because I know they're gonna protect my life too," said starter Eduardo Rodriguez of the effort of his teammates. "These guys are amazing. Every time, I get a ground ball, fly ball or whatever, I know they're going to make a good play."
The A's were threatening to walk it off in the bottom of the 10th. Jed Lowrie began the inning with an opposite field single off reliever Adam Ottavino, putting runners at the corners with no one out.
On a 1-2 count, catcher Sean Murphy flailed at one of Ottavino's signature sliders, popping a ball into moderately shallow center field. Hernández raced in, and when he realized he was going to make the catch easily, he geared up. He staggered his feet, preparing to fire home. As the ball came into his glove, he exploded, throwing the ball with such force that he ended up crashing onto the outfield grass.
Brown took off. Hernández, citing his internal baseball clock, didn't think Brown would actually take off, considering how shallow the fly ball was.
Hernández's throw was a perfect one-hopper to catcher Christian Vázquez, whose role in the play shouldn't be lost either. Vázquez got behind the plate, disrupting Brown's forward momentum by forcing him to go from outside the baseline to inside. After snagging the throw, the catcher lunged at Brown and applied the tag.
The end result was Hernández's fourth outfield assist of the season, none of which have been more timely or dramatic. At 93 mph, it was the second-hardest Hernández has thrown a ball this season.
"It wasn't deep enough and him getting behind the ball was the key," manager Alex Cora said. "I was like, 'This guy is going to be out.'"
Hernández's clutch heroics actually began in the top of the frame. After Elvis Andrus tied things up with a solo homer off Matt Barnes — Andrus' first of the season — in the bottom of the ninth, Hernández immediately gave Boston the lead back in the 10th. On the first pitch he saw from Lou Trivino, Hernández muscled a broken-bat single into center field, scoring Michael Chavis from second base.
In a sense, Hernández's masterful throw summed up how strong the Boston outfield has been all season long. Entering play Friday, Boston's outfield combined for 20 defensive runs saved. Only the Rays (25) came into the day with more.
Hernández has played no small part in that success, as have Hunter Renfroe and Alex Verdugo, each of whom rank among the league leaders in defensive runs saved at their primary positions.
"I've played with Dugie before [with the Dodgers] and I don't even have to talk about what Hunter has done in right field this year," Hernández said.
It's far from the same star-studded outfield trio that led the Red Sox to a World Series three years ago, but the combination of Hernández, Verdugo and Renfroe is proving that, when it comes to defense, few trios are as slick, smooth and sharp with the leather.
"The way we play defense in the outfield is elite," Cora said. "I know a lot of people, they had their doubts coming into the season because we didn't have Mookie (Betts), Benny (Andrew Benintendi) and Jackie (Bradley Jr.), but these three guys are playing up there. They're playing elite defense."
Source link