MLB
Free agent match for each MLB team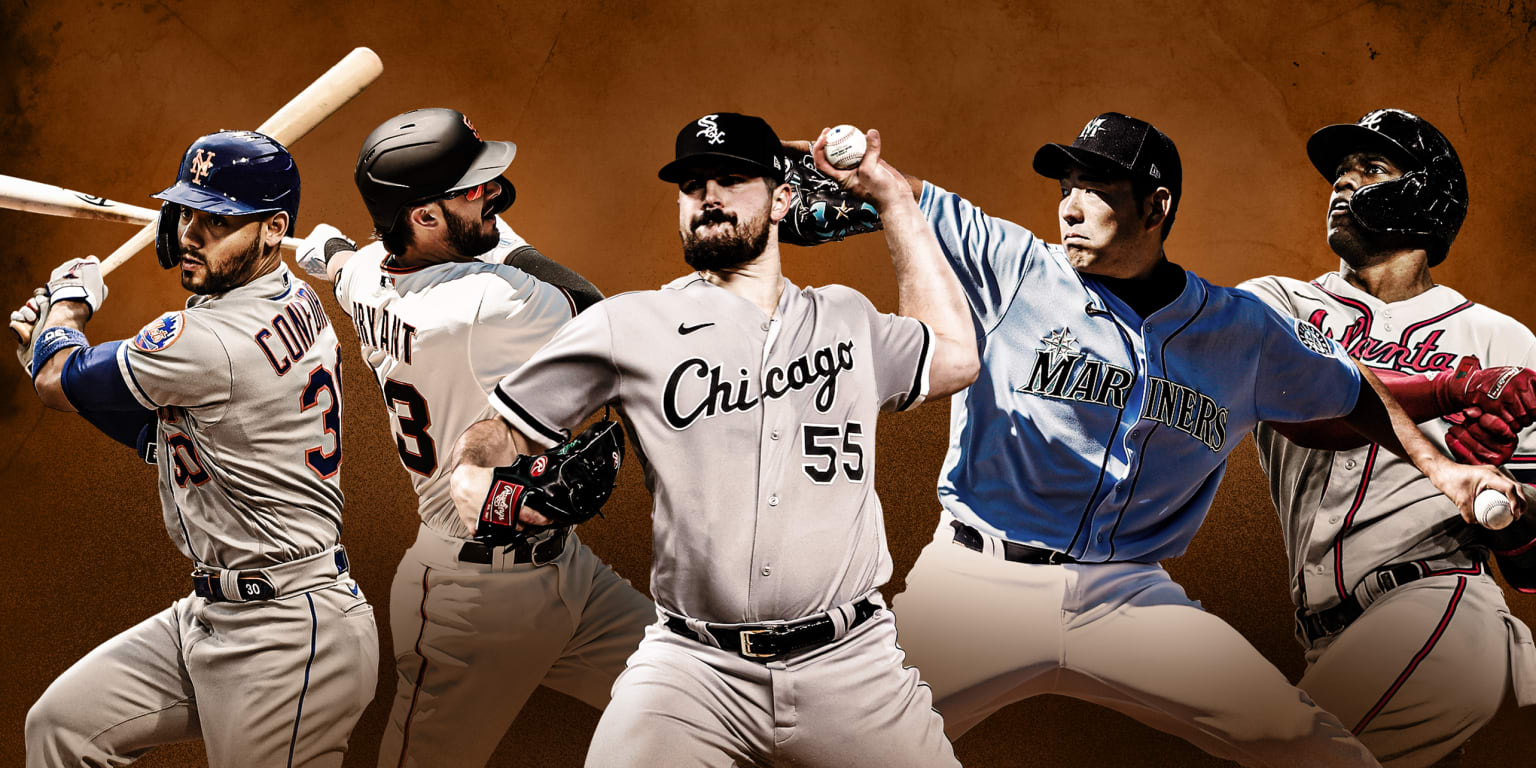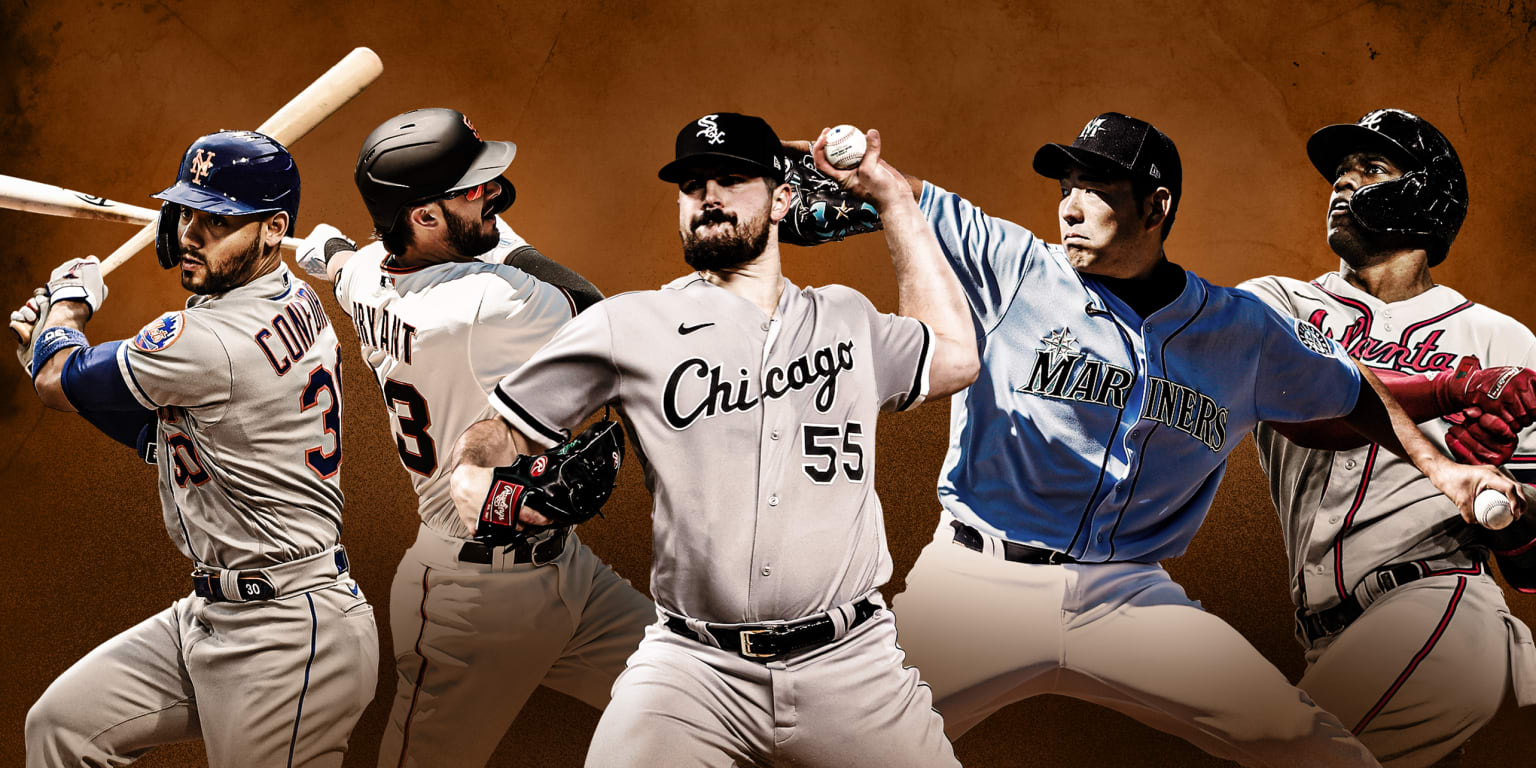 All 30 teams will spend the coming weeks and months looking to fill a number of holes on their roster, but each has one spot that might stand out above the rest. This list isn't meant to serve as a prediction of what's to come this winter, but rather a chance to play free agent matchmaker.
1. Every player has to be from another team (no incumbents).
2. Each player can be on the list only once. Otherwise, Carlos Correa and Robbie Ray might have been attached to a number of teams.
AL EAST
Blue Jays: Kevin Gausman, RHP
Re-signing Ray likely will be the Blue Jays' first priority, but if the left-hander departs for a new club, Toronto will seek another frontline starter to pair with José Berríos atop the rotation. Gausman — a first-time All-Star in 2021 — has excelled in back-to-back seasons, making him one of the better options on the market this offseason. Having accepted a qualifying offer last winter, he also won't cost a Draft pick to sign.
Orioles: Chris Owings, IF/OF
The Orioles have brought in a number of veteran infielders via free agency in recent years including José Iglesias, Freddy Galvis and Maikel Franco. Baltimore will look to add middle infield, catching and pitching help this winter. Owings — a versatile defender who can play three infield positions and all three outfield spots — would fit the bill.
Rays: Corey Kluber, RHP
The Rays pursued Kluber last offseason before he signed with the Yankees. Tampa Bay will look to fill out its rotation this offseason, making Kluber a potential target once again. Kluber pitched well when healthy last season (3.83 ERA in 16 starts), though he threw only 80 innings. The 35-year-old is another year removed from the shoulder injury that sidelined him for most of 2020.
Red Sox: Marcus Semien, SS/2B
The Red Sox have Xander Bogaerts and Rafael Devers manning the left side of the infield, but Semien proved to be a solid second baseman in 2021 with Toronto, so he could easily slot in there for Boston. Semien would strengthen an already-impressive lineup, and at the age of 31, he won't require as many guaranteed years as some of the other free agent shortstops.
Yankees: Corey Seager, SS
General manager Brian Cashman has made no secret of his plan to upgrade the shortstop position this winter, with Seager and Correa seemingly atop the Yankees' wish list. Seager's left-handed bat would appear to be a better fit for New York's right-handed-heavy lineup.
AL CENTRAL
Guardians: Jorge Soler, OF
Cleveland is in dire need of some pop from the outfield, making the reigning World Series Most Valuable Player a nice fit. The Guardians are familiar with Soler from his Royals days in the AL Central, and while he isn't the top outfielder available on the market, he could fall into Cleveland's price range.
Royals: Ryan Tepera, RHP
The Royals will try to bolster their relief corps this offseason, looking at such options as Tepera, Collin McHugh and Yimi García. Tepera had the best season of his career, posting a 2.79 ERA in 65 appearances for the Cubs and White Sox, so he should be in demand with so many teams looking for bullpen upgrades.
Tigers: Carlos Correa, SS
After making strides toward competitiveness last season, the Tigers appear ready to take the next step in 2022. Adding a premier talent such as Correa would go a long way, and A.J. Hinch — Correa's former manager in Houston — will try to sell the shortstop on the team's bright future, though it will likely take an offer in the $340 million range to get a deal done.
Twins: Danny Duffy, LHP
The Twins need to add pitching this winter, but Minnesota seems unlikely to spend on any of the top arms on the market. Duffy threw only 61 innings in 2021 thanks to injuries, but the Twins have seen what the left-hander can do as a solid mid-rotation option during his years with the Royals.
White Sox: Joc Pederson, OF
The White Sox could try Andrew Vaughn and/or Gavin Sheets in right field, but adding a solid bat such as Pederson — a player the Sox have previously expressed interest in — would give manager Tony La Russa more options. Pederson's last great year came in 2019, but he had some big moments during the Braves' World Series run and brings plenty of postseason experience.
AL WEST
Angels: Carlos Rodón, LHP
Despite signing Syndergaard to a one-year, $21 million deal, the Angels still are looking to add another starter to their rotation. Rodón had the breakout year the White Sox have been waiting for since he broke into the Majors in 2015. So while he won't come cheap, the 28-year-old figures to be more affordable than the likes of Ray, Gausman or Marcus Stroman.
Astros: Starling Marte, OF
Having already brought Verlander back into the fold, Houston likely will address its center-field void, where the Astros had minimal production in 2021. Marte is the best free agent at the position, and at age 33, he could sign a three- or four-year deal.
Athletics: Mark Melancon, RHP
Melancon led the Majors with 39 saves, but he'll turn 37 prior to Opening Day, making it likely that he will have to settle on a one-year deal. The Athletics are in rebuilding mode, but someone will need to close games for them. If Melancon — or a pitcher such as Brad Hand or Alex Colomé — can put together a good first half, Oakland might find itself with a valuable commodity to deal before the Trade Deadline.
Mariners: Trevor Story, SS
General manager Jerry Dipoto has said that J.P. Crawford will be the Mariners' shortstop in 2022, but that doesn't mean Seattle won't pursue one of the premier free agent shortstops on the market. Story could play second base, third base or possibly even center field, giving potential suitors plenty to think about.
Rangers: Chris Taylor, IF/OF
The Rangers are planning to spend this winter, and Taylor feels like the perfect fit for a club with a number of holes to fill. Taylor's versatility — he can play pretty much anywhere on the diamond — is the ultimate weapon for a manager, and Rangers skipper Chris Woodward is quite familiar with Taylor from their days together with the Dodgers.
NL EAST
Braves: Michael Conforto, OF
Outfielders Adam Duvall, Pederson, Eddie Rosario and Soler did a fantastic job for the Braves after being acquired prior to the Trade Deadline. Now all but Duvall are free agents, leaving Atlanta in search of outfield help once again. Conforto had a disappointing 2021 season, but the Braves know how good he was during his solid years with the Mets, making him a great bounce-back candidate for next season.
Marlins: Nick Castellanos, OF
Miami needs to add an impact bat to lengthen its lineup, so what better player to pursue than Castellanos, who grew up in South Florida and would fill an outfield need for the club? Other potential targets could include Avisaíl García and Rosario, but Castellanos stands out as the best fit.
Mets: Anthony DeSclafani, RHP
Having already lost Syndergaard to the Angels, the Mets also face the defection of Stroman as a free agent, leaving holes in their rotation. DeSclafani, who grew up in New Jersey, had an excellent year for the Giants in 2021 and should be a popular target for pitching-needy clubs.
Nationals: Eduardo Escobar, INF
The Nationals could decide to go big and pursue Kris Bryant, but Escobar has had the same type of production as the former NL Most Valuable Player and likely will cost less. Escobar's primary position is third base, where the Nationals had a .682 OPS last season, ranking 12th in the NL. He can also play the other three infield spots, which would give Washington options on a daily basis.
Phillies: Raisel Iglesias, RHP
Philadelphia has been trying to solve its bullpen problems for a few years, a trend that will continue this winter. Along with Kenley Jansen, Iglesias is one of the top two closers on the market, having posted 34 saves with a 2.57 ERA for the Angels in 2021 while striking out a career-best 13.2 batters per nine innings.
Brewers: Mark Canha, OF
Canha has been a steady performer for Oakland the past few years, but unlike some of the top free agents, the 32-year-old could fit within the Brewers' payroll limits. Canha has also played first base during his career. Given Milwaukee's need for a right-handed option at that position, his versatility could be put to use.
Cardinals: Steven Matz, LHP
Starting pitching tops the list of needs for the Cardinals this winter. While they might not want to pay up for such top free agents as Max Scherzer, Ray or Gausman, there is plenty of talent available. Matz bounced back from a dreadful 2020 season, going 14-7 with a 3.82 ERA in 29 starts for the Blue Jays, putting him in position to land the multiyear deal he had hoped for a year ago.
Cubs: Yusei Kikuchi, LHP
Kikuchi opted out of the final year and $13 million of his contract with Seattle after the Mariners declined to exercise a four-year, $66 million club option. The 30-year-old posted a 4.41 ERA with 163 strikeouts over 157 innings, ranking in the top half of the league in strikeout percentage, chase rate and swing-and-miss percentage.
Pirates: Mike Foltynewicz, RHP
Foltynewicz has struggled since his 2018 All-Star season. He made 28 appearances (24 starts) this past season for the Rangers and had a 5.44 ERA. Foltynewicz just turned 30, making him a potential bounce-back candidate for a Pirates team looking to fill out its rotation even after a reported agreement with lefty José Quintana.
Reds: Brad Boxberger, RHP
Boxberger had his finest overall season since his 2015 All-Star year, posting a 3.34 ERA for the Brewers in a career-high 71 appearances. The Reds utilized a closer-by-committee approach last season. They may do so again in 2022, and adding a proven veteran would give manager David Bell another late-inning option.
NL WEST
D-backs: Ian Kennedy, RHP
Kennedy and the D-backs discussed a potential reunion last offseason before the right-hander signed with the Rangers, so the idea of him returning to Arizona isn't far-fetched. Kennedy had 26 saves and a 3.20 ERA with the Rangers and Phillies in 2021, showing he can still be an effective closer as he enters his age-37 season.
Dodgers: Kris Bryant, 3B/OF
Bringing back Scherzer and/or Seager figures to be the top priority for the Dodgers, but adding another bat also will be on Los Angeles' offseason agenda. Bryant can play third base or the outfield. Assuming the introduction of the universal designated hitter, Justin Turner can vacate third base if the Dodgers land Bryant.
Giants: Max Scherzer, RHP
The Giants attempted to trade for the ace prior to the Trade Deadline. Given the current state of their rotation — Logan Webb is the only one of their five regular starters from 2021 who is under contract next season — it wouldn't be surprising to see them make a run at Scherzer. Subtracting him from the Dodgers' rotation would be a bonus for San Francisco.
Padres: Marcus Stroman, RHP
The Padres' acquisition of Yu Darvish, Blake Snell and Joe Musgrove last offseason didn't result in a postseason berth, so San Diego likely will try to add to its rotation again. Stroman has posted three strong seasons in a row, pitching to a 3.12 ERA since the start of 2019. He also won't cost his next team a Draft pick, as he was not eligible to receive a qualifying offer this winter after accepting one a year ago.
Rockies: Kyle Schwarber, LF
Schwarber had his best overall season in 2021, hitting 32 home runs with a career-high .928 OPS with the Nationals and Red Sox. He can fill an outfield spot for the Rockies, though the expectation of a universal DH being introduced would give Colorado options for the slugger.
Source link