Lifestyle
Hamilton is here: and this spectacular show is quite simply a must-see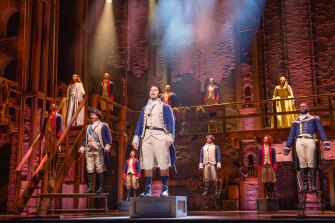 THEATRE
Hamilton
★★★★½
Her Majesty's Theatre, from March 24
Does Hamilton justify the buzz surrounding it? You bet. Even those unattuned to rap's urban poetry will be taken by this surging spectacular, brought to life by an incredibly talented and diverse cast. Even those wary of how the US sees itself, as we should be, will find it hard to resist the appeal to its highest rhetoric and ideals.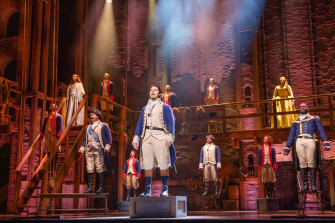 Jason Arrow stars in Hamilton's Australian production.Credit:Daniel Boud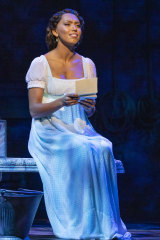 Chloe Zuel as Eliza.Credit:Daniel Boud
Lin-Manuel Miranda's hugely hyped hip-hop musical has won almost every award a musical can win, and the premiere of Broadway's biggest show in Melbourne brings with it a welcome return to normal for a city that – prior to the arrival of COVID and its attendant lockdowns – punched well above its weight on the global musical theatre scene.
The show stands, among other things, as an anthemic ode to US progressivism – one that retells American revolutionary and early constitutional history through modern eyes and ears and reimagines the possibilities of what a Broadway musical can be.
Its novel fusion of hip-hop, R&B, contemporary pop and Broadway choral stylings does take a second listen to fully appreciate the aesthetic achievement.
The show clocks in at an unprecedented 27,000 words – most of them delivered with driving rhythm and bell-like clarity of diction – and the breakneck pace can startle the ear, though true music theatre aficionados won't flinch (and there's a nod to that, too, when George Washington riffs off Gilbert & Sullivan's modern major general, the fastest patter song in the canon).
Rap proves a surprisingly apt mode in which to portray the story of America's unlikeliest founding father.
Alexander Hamilton was a penniless immigrant orphan who rose to become George Washington's right-hand man. His eloquence, courage and political doggedness were instrumental in forging a new federal government, but his self-destructive flaws precipitated a tragic end. Falling from grace after a sex scandal, he ultimately died in a duel with his rival, then US vice president Aaron Burr.
If that sounds melodramatic, it is, and while artistic licence is taken, there's plenty of fact amid the fiction. Indeed, one of Hamilton's chief pleasures is the delight it takes in working the dry-as-dust details of a history lesson into an irreverent, and often comic, musical engagement with the past.
As Hamilton, Jason Arrow wipes the floor with Miranda's performance in the Disney+ version. His energy and vocal zeal are electric, never more than when he's up against the wile and sass of Thomas Jefferson (Victory Ndukwe) in Congressional debate, reworked into a live-mic rap contest quoting hip-hop legend Grandmaster Flash.
Jason Arrow wipes the floor with Miranda's performance in the Disney+ version.Credit:Daniel Boud
Lyndon Watts burns with resentment, ambition and regret in the role of Hamilton's nemesis Burr. He's the starriest kind of triple-threat who pulls out some absolute showstoppers, including The Room Where It Happens, where he takes a smooth jazz groove to being on the political outer and ramps it to a furious crescendo.
The three Schuyler sisters, Angelica, Peggy and Hamilton's wife Eliza (Chloe Zuel), stitch frills of 18th-century romance into the soaring harmonies of an R&B trio. And, performed in pompous caricature, the alarming hilarity of Brent Hill's mad King George III – the real villain of the piece – is sure to be an audience favourite.
The music does occasionally cross a line between catchy melodic phrase and a riff repeated so often it colonises the mind like an advertising jingle, the homage bleeding into a screen memory, rather than an album, of greatest hits. But the numbers come so thick and fast, and the live performance nails so many of them, that it feels like quibbling to say so.
You can't really call yourself a music theatre fan until you've seen Hamilton. It's the kind of game-changer it promises to be and thoroughly deserves its place as the hottest ticket in town.
The reviewer attended the Sydney season and final Melbourne preview performance of Hamilton.
A cultural guide to going out and loving your city. Sign up to our Culture Fix newsletter here.
Most Viewed in Culture
From our partners
Source: Read Full Article
Source link