Movies
How To Get Coconuts in Disney Dreamlight Valley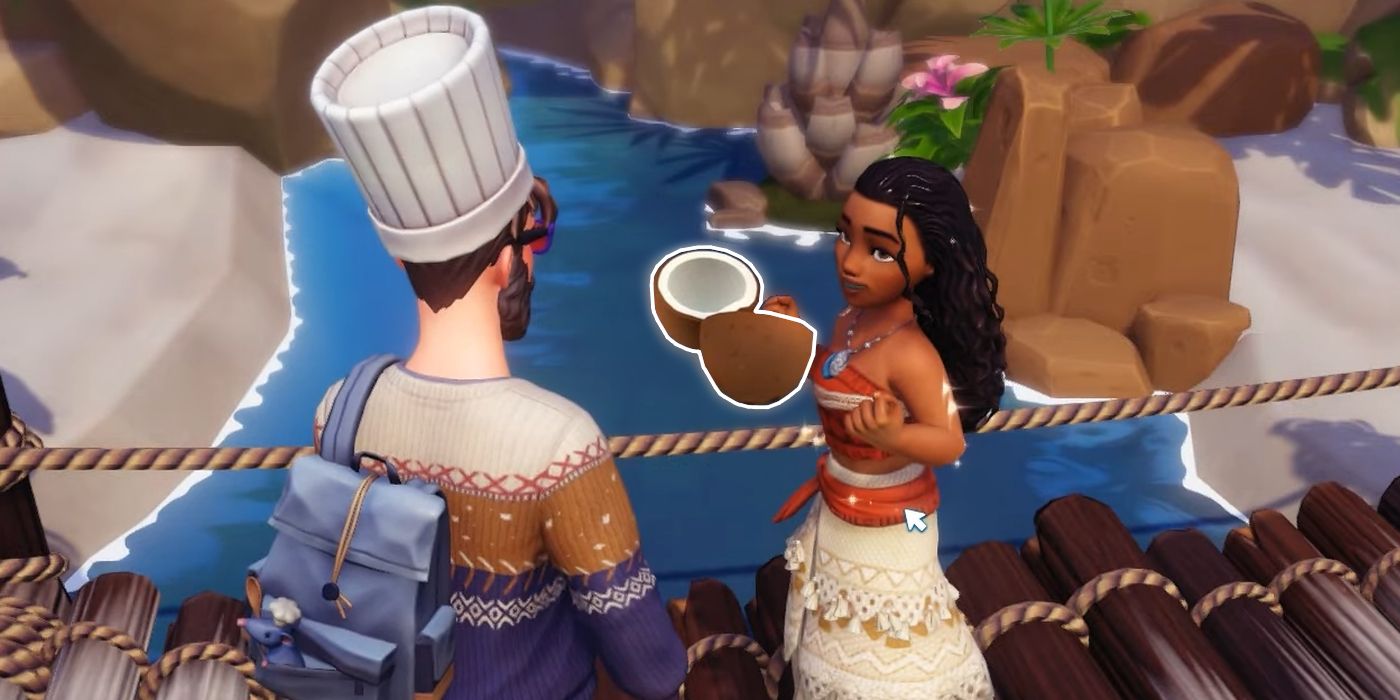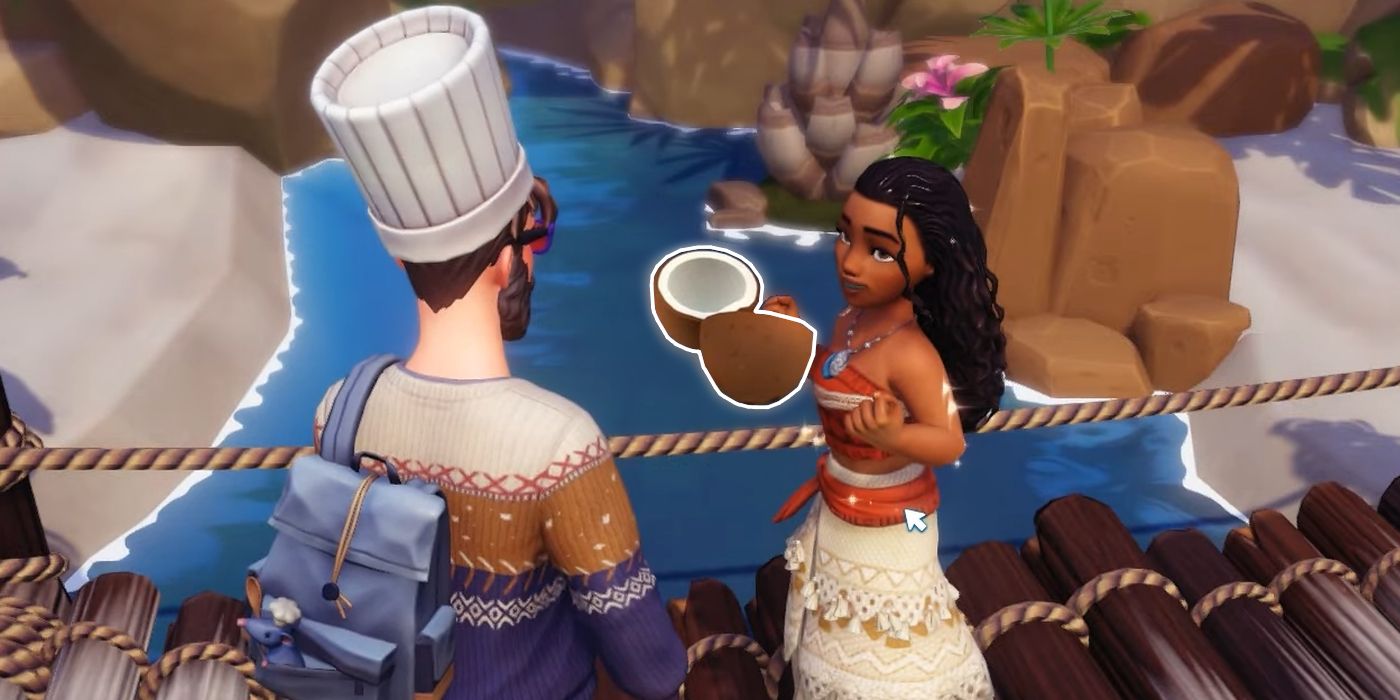 To get Coconuts in Disney Dreamlight Valley, Dreamers must unlock Maui as a Villager and complete his Friendship Quest, "Burying The Eel."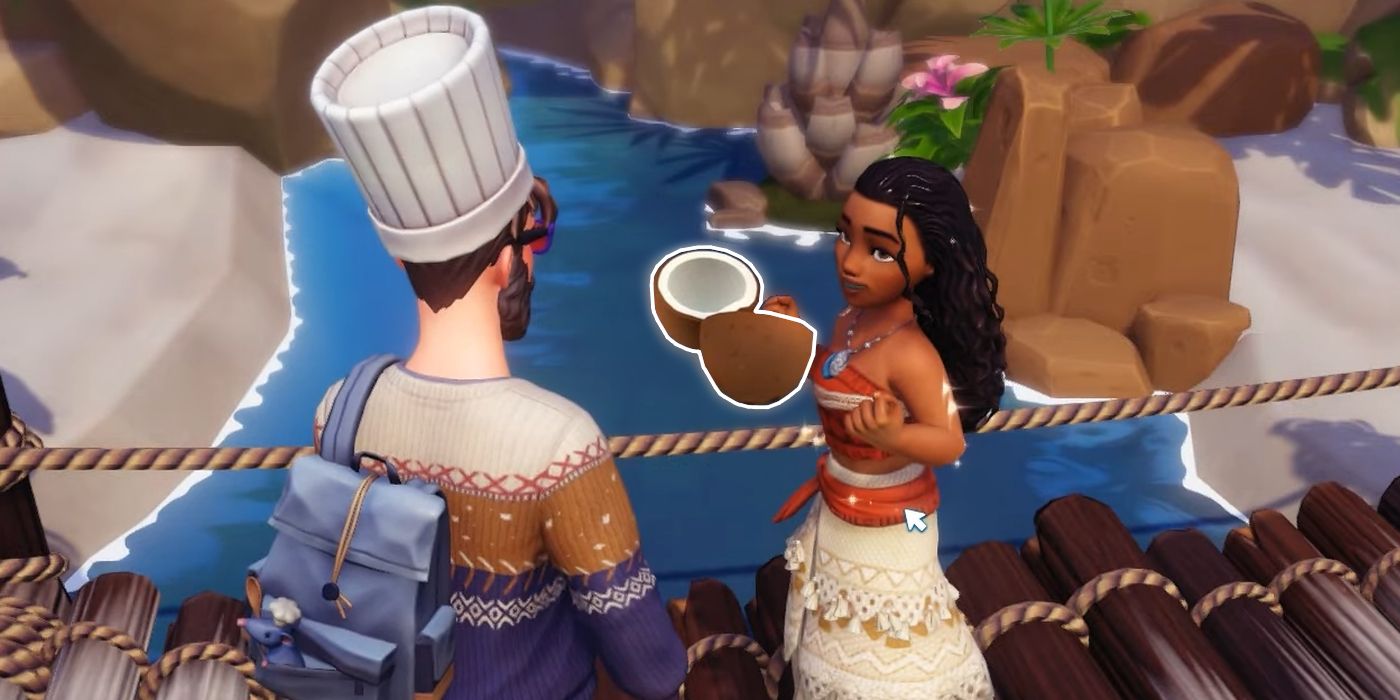 Much like real life, Coconuts in Disney Dreamlight Valley are a tropical fruit used to make scrumptious desserts or as a substitute for other ingredients. Dishes made with Coconuts will eventually be required for completing specific Dreamlight Duties, Star Path Duties, and customer orders within Chez Remy. However, players will encounter an issue: Dreamlight Valley's Coconuts are not available in any of the unlockable biomes or their corresponding Goofy Stalls.
To get Coconuts in Dreamlight Valley, players must first complete all the quests required to bring Moana and Maui to the Valley. This includes unlocking the Moana Realm and completing both "After the Storm" and "How Far You'll Go." After these two quests are complete Moana will come to the player's Valley, and once they establish her house's location players can return to the Moana Realm to begin Maui's missions.
Looking for a quick video walkthrough on how to get Coconuts in Dreamlight Valley? Check out the breakdown from Game Guides Channel on YouTube below!
To make things a bit easier, players should return home and cook as many 3-Star meals as they can before returning to the Moana Realm.
Related: How To Catch Shrimp in Disney Dreamlight Valley
Unlocking Coconut Trees In Dreamlight Valley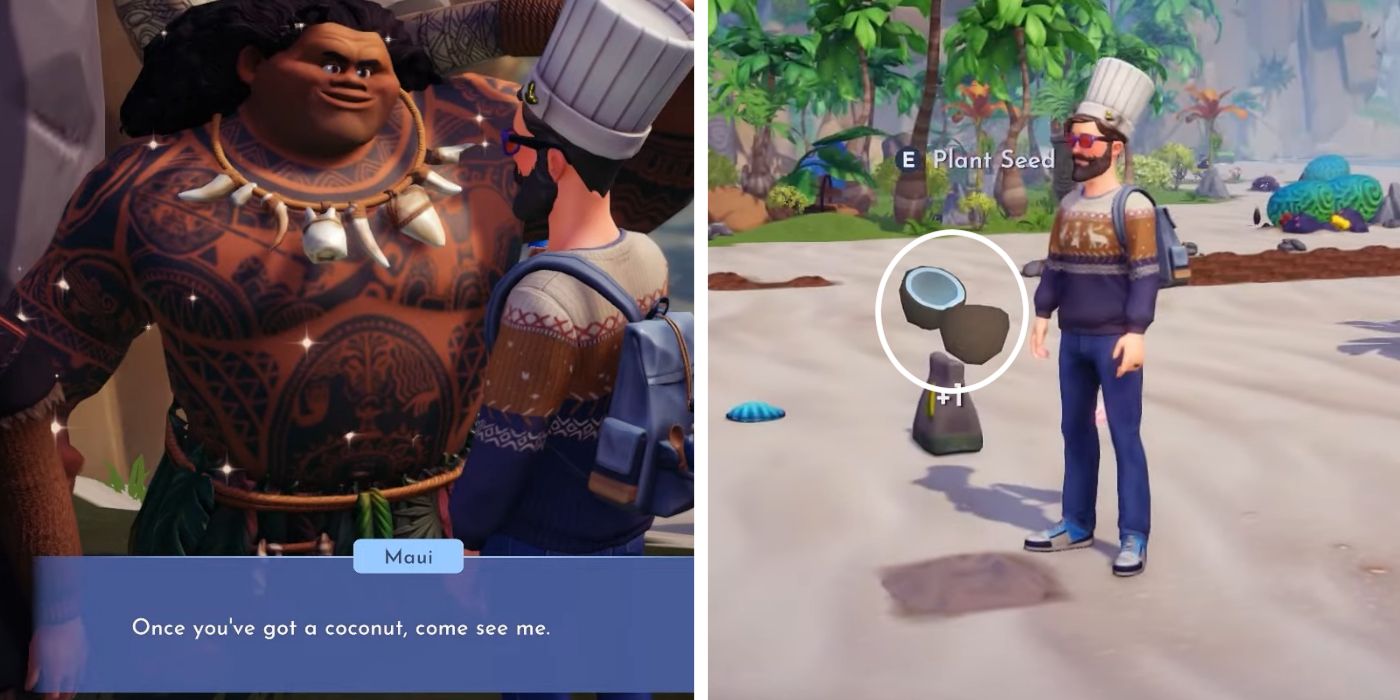 Coconuts in Dreamlight Valley come from Coconut Trees, and players must both bring Maui to their Valley and raise his Friendship Level to 2 before gaining access to the quest which unlocks Coconut Trees. According to Sportskeeda, the first thing players need to do is complete Maui's "A Feast Worth of a Demigod" mission by giving him three 3-Star meals, after which he will agree to become a Villager in Dreamlight Valley.
Once Maui returns with the player and his home has been established, the quest "Burying The Eel" will begin when Maui's Friendship reaches Level 2. Finishing this quest will allow Coconut Trees to begin spawning in Dreamlight Valley, but first players will need to follow the steps below:
| | |
| --- | --- |
| Step One | Bring Maui 3 Worms and 8 Softwood. |
| Step Two | Craft a Fishing Trap using these items. |
| Step Three | Take the Fishing Trap to Dazzle Beach and place it in the ocean to catch an eel. |
| Step Four | Bury the eel on Dazzle Beach and tend to it until it grows into a Coconut Tree. |
To find Worms in Dreamlight Valley, dig around in the large mounds of dirt found in the Peaceful Meadow!
Once these steps have been completed and "Burying The Eel" is finished, Coconut Trees will start appearing on Dazzle Beach. Players will now be able to get Coconuts in Dreamlight Valley as much as they want. Each Coconut Tree will give players three Coconuts, and according to the Disney Dreamlight Valley Wiki it only takes 30 minutes for Coconuts to regrow.
Dreamlight Valley: Coconut Recipes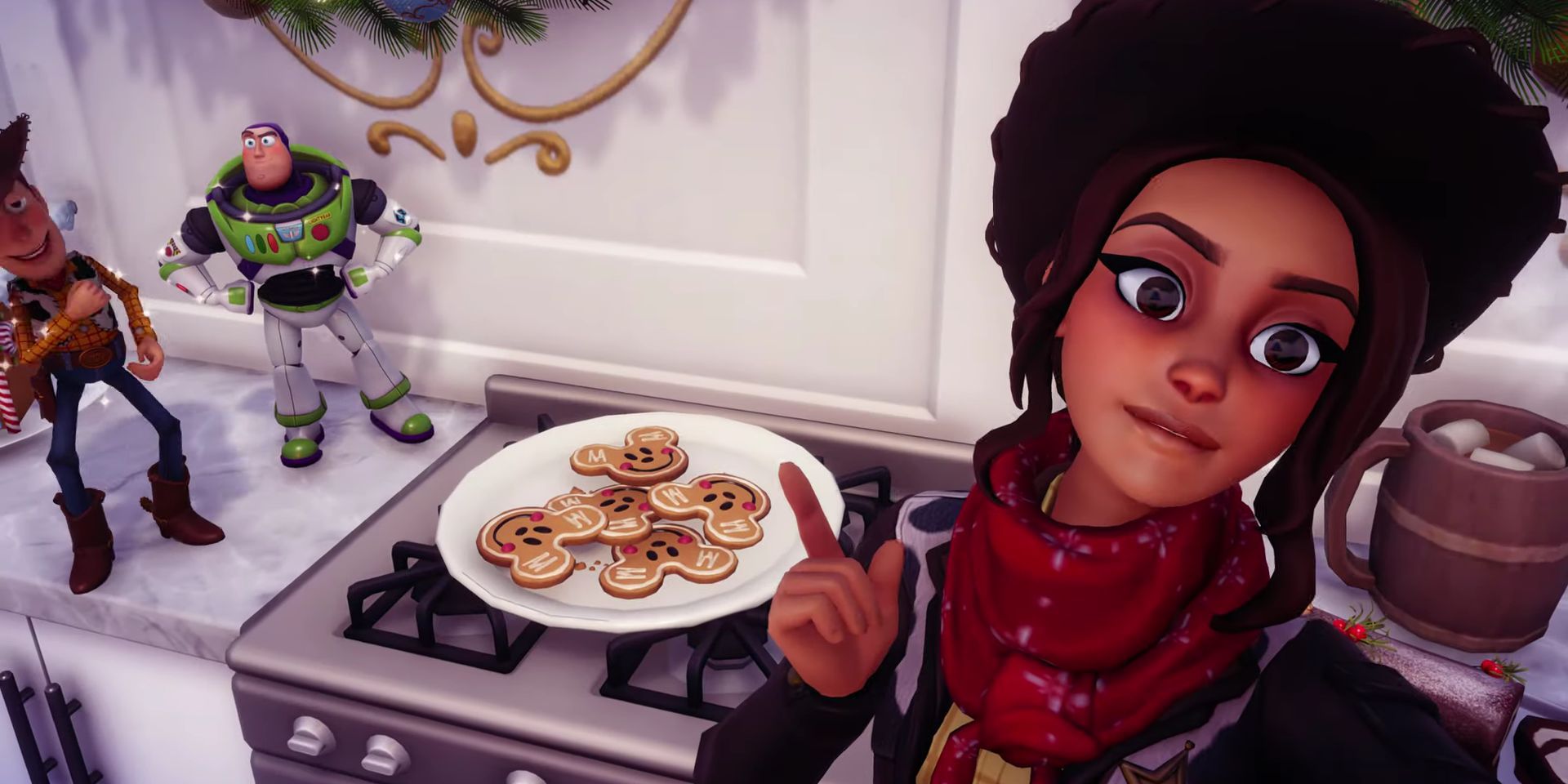 In Disney Dreamlight Valley Coconuts are classified as a Fruit ingredient in recipes. While it can be used as a substitute for any fruit in the game, there are also unique recipes in Dreamlight Valley that can only be cooked with Coconuts. These are:
Coconut Cake

Coconut
Egg
Sugarcane
Wheat

Coconut Ice Cream

Coconut
Milk
Slush Ice
Sugarcane

Tropical Pop

Coconut
Fruit (Any)
Slush Ice
Sugarcane
More: How to Unlock Wall-E's Hidden Requirement in Disney Dreamlight Valley
Sources: Sportskeeda, Game Guides Channel, Disney Dreamlight Valley Wiki
Disney Dreamlight Valley

Platform:

PC, Steam, Microsoft Windows, Nintendo Switch, Xbox One, Xbox Series X/S, PlayStation 5, PlayStation 4, iOS

Original Release Date:

2022-09-06

Developer:

Gameloft

Publisher:

Gameloft

Genre:

Life Simulation, Adventure

ESRB:

E

Summary:

In Disney Dreamlight Valley, players will create their own Disney avatar as they interact with some of the most iconic characters in Disney and Pixar history. The story surrounds the dream castle and the realm it resides in, which is a place where several characters, hero and villain alike, have lived together in harmony. However, an evil force known as the Forgetting consumes the kingdom. It's up to the player to solve puzzles, reunite characters, and embark on feature-rich character storylines to save the Dream realm. Players can build their own Disney neighborhood – plant gardens, go fishing, build residences – or go on adventures in dark caverns, sail the seas, or navigate spooky forests. The choice belongs to the player as they traverse the various Disney worlds in this cozy game that takes notes from mainstays like Animal Crossing and Stardew Valley. Disney Dreamlight Valley was fully released on September 6 2022.
Source link