India
India Russia ink 10-year defence cooperation pact; Rajnath raises China's unprovoked aggression in talks | India News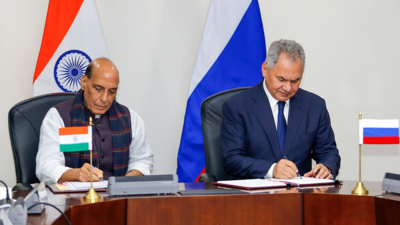 Defence minister Rajnath Singh and Russian defence minister Sergey Shoygu signing the agreements during the bilateral discussion on the Defence Cooperation at the 20th meeting of India-Russia Inter-Governmental Commission on Military and Military-Technical Cooperation (IRIGC-M&MTC), in New Delhi on Monday. (ANI Photo) (ANI)
NEW DELHI: India and Russia on Monday inked a new expansive 10-year pact on military-technical cooperation as well as the deal for AK-203 Kalashnikov rifles, even as defence minister Rajnath Singh raised China's "completely unprovoked aggression" in eastern Ladakh while seeking greater partnership with Moscow across all domains.
Singh's blunt statement came in the backdrop of the deepening partnership between Russia and China, which has also seen Beijing emerge as one of Moscow's top clients in terms of arms imports. Though India still remains the biggest arms importer from Russia, it has increasingly turned to countries like the US, France and Israel to meet its military requirements.
"The pandemic, the extra-ordinary militarization and expansion of armaments in our neighbourhood and the completely unprovoked aggression on our northern border since early summer of 2020 have thrown in several challenges," said Singh, during the inaugural two-plus-two dialogue with Russia.
While noting that New Delhi was confident of overcoming these challenges, Singh said, "Recognizing that its development needs are colossal and that its defence challenges are legitimate, real and immediate, India seeks partners who are sensitive and responsive to India's expectations and requirements."
Expressing the hope that Russia will remain "a major partner" for India in these changing circumstances, Singh called for greater military-technical collaboration, advanced research, co-development and co-production of defence equipment, which can lead to self-reliance in defence production in India. "Separately, we proposed greater engagements in Central Asia and the Indian Ocean region," he said.
Preceding the two-plus-two dialogue, the 20th meeting of India-Russia Inter-Governmental Commission on Military & Military-Technical Cooperation (IRIGC-M&MTC) was held between the delegations led by Singh and his counterpart General Sergey Shoigu. The agreement on the programme for military-technical cooperation from 2021-2031 was inked during the meeting.
Another clear takeaway was the Rs 5,124 crore contract for the procurement of 6,01,427 AK-203 assault rifles through the joint venture called Indo-Russia Rifles Private Limited. As reported by TOI last month, the decks have been cleared for the manufacture of the 7.62×39 mm calibre rifles at the Korwa ordnance factory in Amethi district of UP.
Among the other deals in the pipeline is the $1.5 billion one for the IGLA-S very-short range air defence missile systems (VSHORADS). The deal will involve an initial off-the-shelf purchase of the shoulder-fired anti-aircraft missile systems followed by technology transfer to Bharat Dynamics for subsequent production.
India also plans to ink next year the deals for 21 MiG-29s, along with the upgrade of 59 such fighters already with the IAF, as well as 12 additional Sukhoi-30MKIs, with advanced electronic warfare capabilities, additional supplies and spares. The two deals together will cost over Rs 20,000 crore.
FacebookTwitterLinkedinEMail