MLB
Julio Rodríguez exits game vs. A's with lower back tightness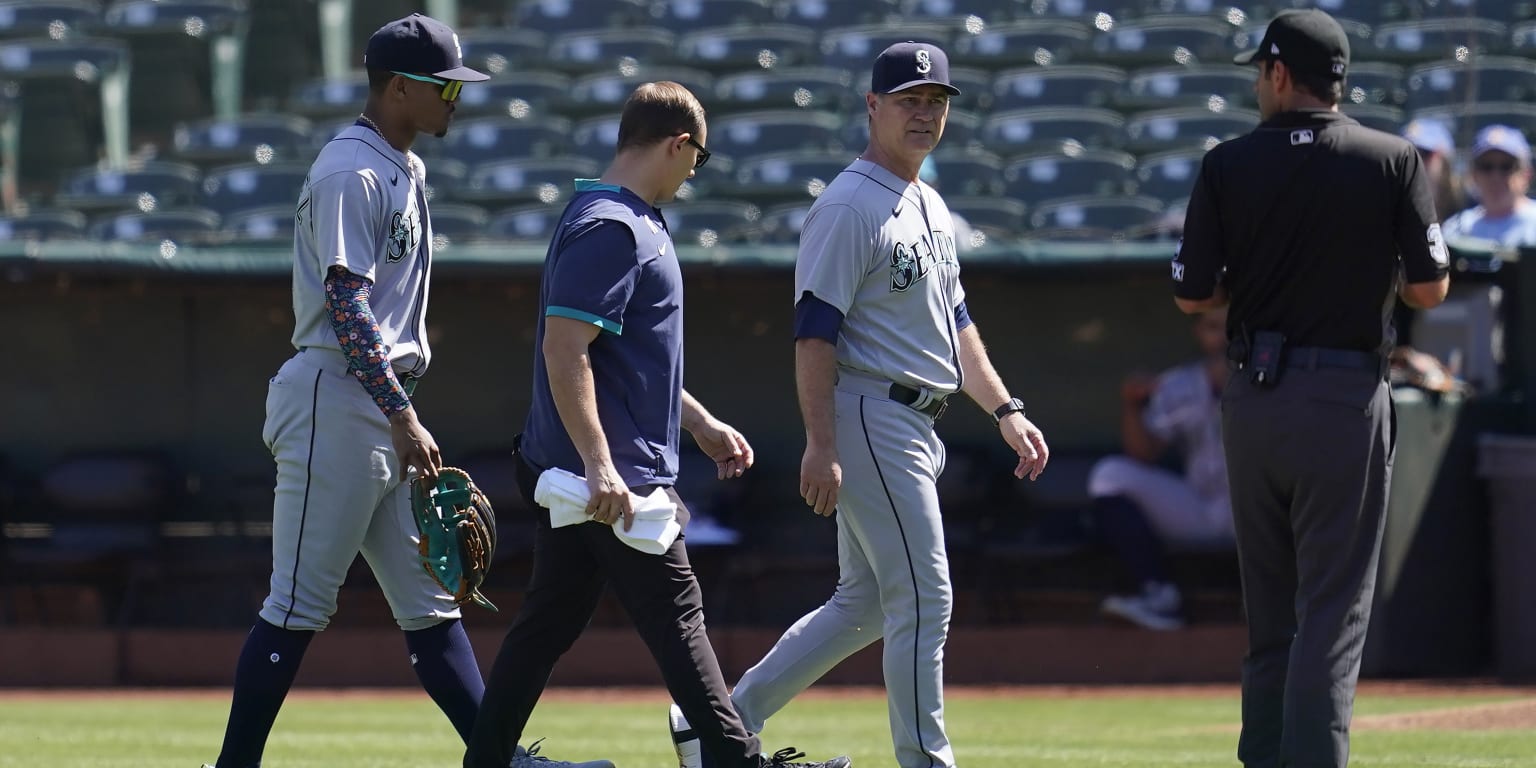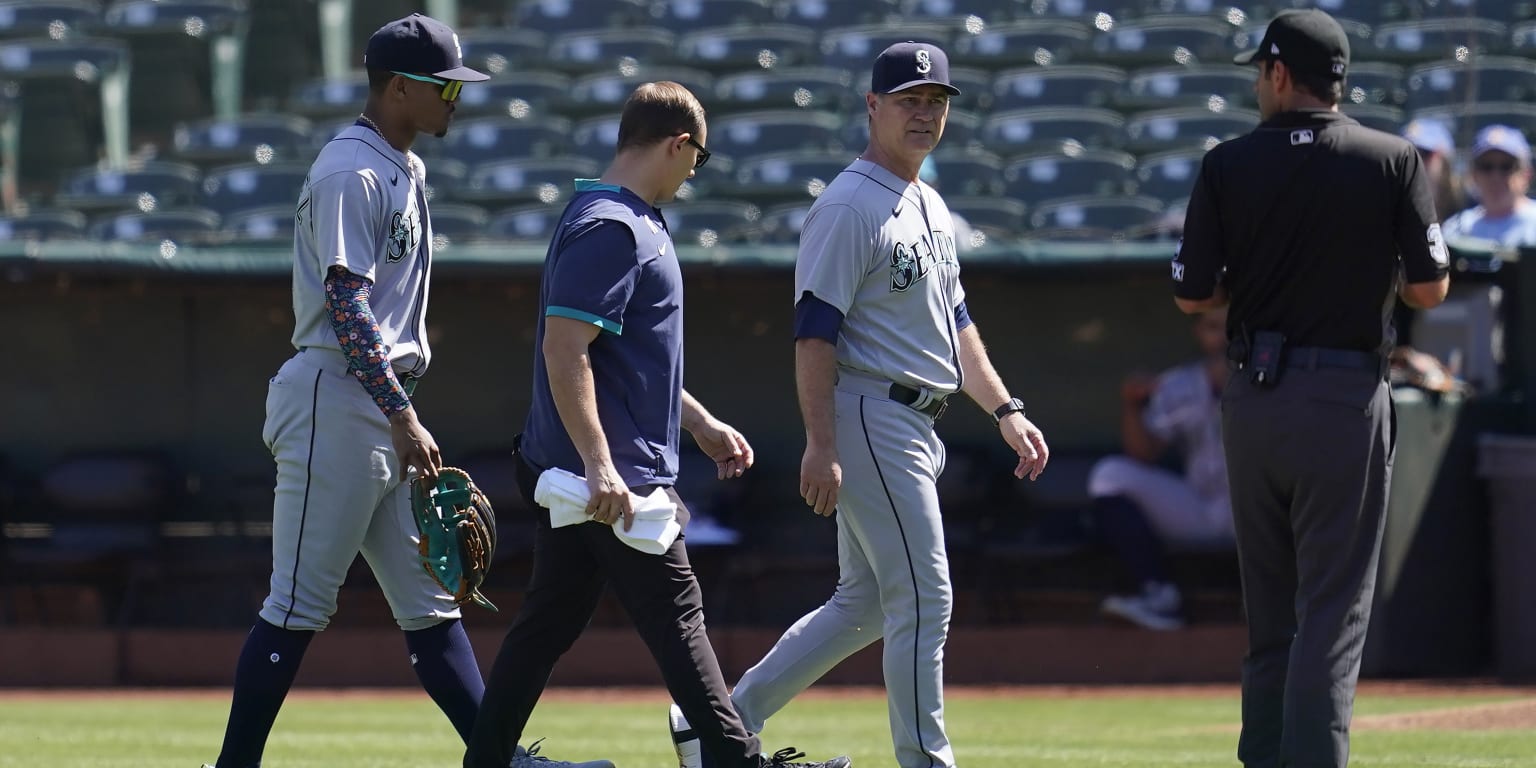 OAKLAND — In what could be a concerning development for Julio Rodríguez and the Mariners, the AL Rookie of the Year Award favorite exited during the first inning of Thursday's 9-5 win over the A's with lower back tightness, the same issue that forced him to miss three games during Seattle's previous series in Anaheim.
Rodríguez will undergo an MRI on Friday at Kauffman Stadium ahead of the Mariners' three-game series against the Royals.
"I'm concerned about it," Mariners manager Scott Servais said. "Certainly, he's so huge to our team. But more importantly, we need Julio healthy."
Rodríguez began experiencing pain when taking the field for the bottom of the first inning, just after he ripped a 109.1 mph leadoff double and then scored in the next at-bat on an RBI single by Mitch Haniger. Servais said that the swing was not what caused the issue.
"No, he was totally fine after he came around and scored," Servais said. "When he took the field, I had no idea what the issue was. So I went out there and he just said, 'My back just locked up on me again. It's really sore.' I said, 'OK, we're going to shut it down.'"
Servais also said that there wasn't any indication if Rodríguez's pain was worse than last weekend. Rodríguez was receiving treatment postgame and was unavailable before the team's charter flight to Kansas City.
It became clear that something was wrong with Rodríguez during a mound visit between catcher Cal Raleigh and George Kirby, who'd just surrendered a leadoff single and an uncharacteristic four-pitch walk. While the pitcher and catcher conferred, Rodríguez began pacing from center field towards right fielder Haniger, who recognized that something was amiss and called to the visitors' dugout.
Servais and assistant athletic trainer Taylor Bennett then conferred briefly with Rodríguez, who was patted on his back by Haniger, left fielder Jarred Kelenic and first baseman Carlos Santana. Afterwards, upon reaching the dugout, the rookie threw his glove on the ground in frustration.
Dating back further to the root of the back issues, Rodríguez wasn't sure when the injury initially surfaced when speaking on Saturday in Anaheim.
"I would say, it's September," Rodríguez said then. "That's my best answer to it."
Beyond pain, the obvious logic behind sitting over the weekend was to prevent further issues surfacing. Rodríguez has played in 128 games this season, way beyond his previous pro career high of 84 in 2019.
"Especially right now, it's better to be cautious and be good for the rest of the year and not try to rush too much," Rodríguez said. "Being out for even longer definitely would not be a good situation."
The 21-year-old star has objectively been the best player on a Mariners team that entered Thursday holding the third AL Wild Card spot with just 14 games remaining. He leads the team with 4.9 wins above replacement, per FanGraphs, and is hitting .280/.342/.502 (.844 OPS) with 27 homers. And he's been particularly hot in September, with a .383/.456/.733 (1.189 OPS) slash line and six homers in 16 games.
Any injury, especially at this time of year, is challenging for a team that's been scuffling offensively. The Mariners are already without their top home-run hitter, third baseman Eugenio Suárez, who is on the 10-day injured list with a fractured right index finger suffered on Friday.
But that'd be particularly true for the Mariners and Rodríguez if he's sidelined longer term. Seattle is 73-56 with him in the lineup and 9-11 without.
Source link