MLB
Julio Urías clutch with bat, strong start in NLDS Game 2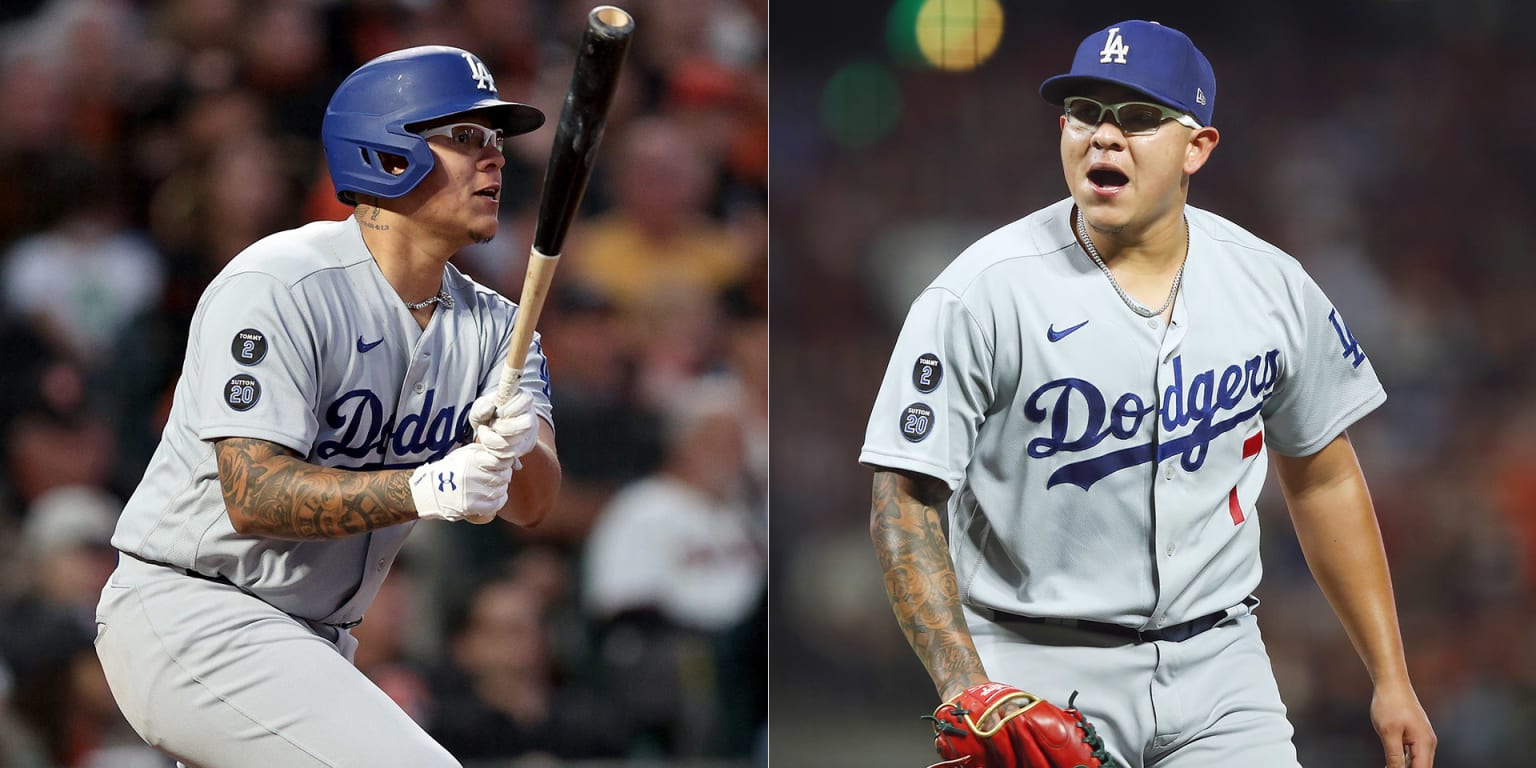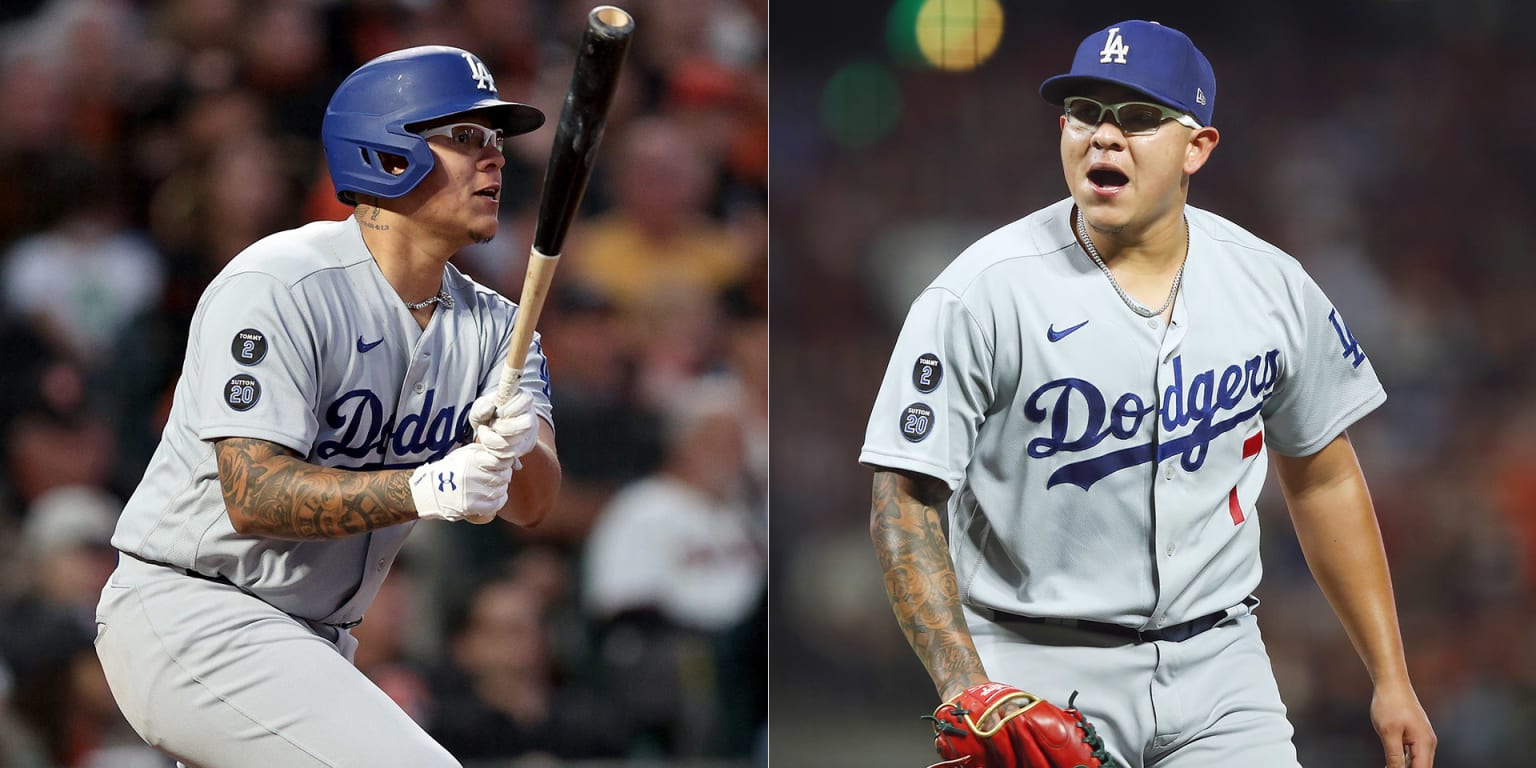 SAN FRANCISCO — Pitchers tend not to wear single-digit jersey numbers, so it looks strange when someone like Dodgers lefty Julio Urías dons No. 7.
But when he popped an RBI single to ignite Saturday night's 9-2 National League Division Series-tying victory over the Giants at Oracle Park, the visual made sense. He turned to the dugout, screamed in celebration and encouragement, and flexed.
From that moment, plenty of Dodgers stepped up. Cody Bellinger's two-run double keyed a four-run sixth-inning rally; Mookie Betts snuffed out a potential Giants rally in the bottom of the sixth with a graceful pirouette and a lightning throw to erase Wilmer Flores' attempt to go from first to third; and Will Smith popped a home run.
But Urías powered this win in a couple of ways.
Urías excelled at his main duty by striking out five and limiting the Giants to one run and three hits in five innings, with his start shortened only because manager Dave Roberts pinch-hit for him to keep that rally going. In seven postseason games over the last two years, Urías is 5-0 with one save and a 1.29 ERA (four earned runs in 28 innings pitched).
And, after the Dodgers absorbed a 4-0 defeat in Friday night's opener, Urías delivered what his team needed — an early lead. After Giants starter Kevin Gausman intentionally walked AJ Pollock, Urías sparked a two-run rally that also included Betts' RBI single.
"I was just trying to put the bat on the ball," Urías said in Spanish, with Dodgers club official Juan Dorado interpreting. "I think they fed off that — a lot of energy after that."
Pitching wasn't big enough to describe Urías' performance. The way Betts described it, the work of Urías was so big that baseball couldn't even contain it.
"It's huge. Sometimes it's just like — maybe a bad analogy — but kind of like Steph Curry just seeing one go in," said Betts, comparing Urías' single to a three-pointer from the Bay Area's favorite basketball player. "We just needed to see one cross the plate. From that point we were able to know we can do it. It builds momentum.
"I got a hit after that, and we just kind of stayed consistent throughout the game, scoring runs the whole game instead of just in one or two innings."
The way Urías, 25, pitches in the postseason, the Dodgers don't have to score throughout a game.
The Dodgers' rotation has bigger names — none bigger than Max Scherzer, who will start Monday night's Game 3, or even Clayton Kershaw, who will not pitch this postseason because of discomfort in his left forearm and elbow. Walker Buehler, who started and lost Game 1, has a higher hype factor.
But it might be time for Urías to grab headlines. Urías went 20-3 with a 2.96 ERA to become the 12th 20-game winner in the storied history of the Dodgers. While modern thinking doesn't regard a pitcher's win total highly, there's no getting around the fact the team this year is (counting Saturday) 27-6 when Urías starts, and has won his last 12 starts.
"Julio has, for a long time now, been kind of underrated, and now people just are giving him his credit," Betts said. "He's always been really good. This year he just was really consistent. That's been the difference.
"Obviously, in the postseason he's always been really good, but throughout the season he's had his ups and downs, but this year he's just stayed consistent, one of our best arms and he proved it tonight."
Urías' handling of the second inning, which opened with him walking Flores and later seeing him score on Donovan Solano's sacrifice fly, demonstrated why the Dodgers tend to win when Urías pitches.
"I thought he kept his composure, regained himself," Roberts said. "For me, that's just growth, being able to limit damage."
Urías will be a key figure as the series progresses. With 72 pitches thrown Saturday, Urías could conceivably appear in relief in Game 4. If the series goes the full five, he would be a candidate to start the finale. The Giants were 80-35 this season against right-handed starters. Saturday's loss left them 11-11 against lefty starters since the All-Star break.
Whenever he pitches, Urías has shown he's cool and broad-shouldered enough to handle any postseason assignment.
"It's just trying to treat it like another game," he said. "The game is big and the stage is magnified, but you just focus and put your energy into that pitch."
Source link