Lifestyle
KIIS takes Sydney's radio crown, as 2GB settles for second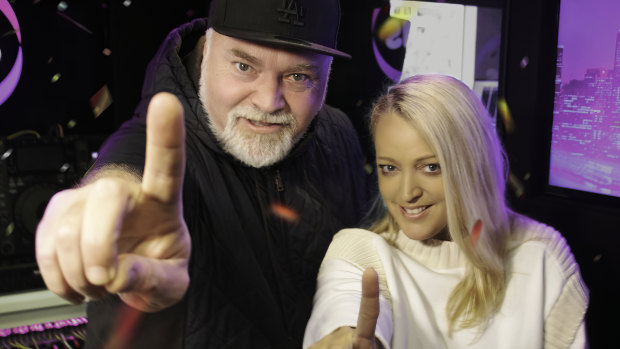 They say you're only as good as your last performance, but for those in the radio game, any run of form must feel awfully shortlived.
Just a few months ago, 2GB* celebrated ending the year as Sydney's number-one radio station with a 12.5 per cent audience share, ahead runner-up KIIS (11.6 per cent audience).
Kyle Sandilands and Jackie O helped KIIS to a landmark win in the Sydney radio ratings.Credit:ARN
At the time, Nine Radio's head of content Greg Byrnes, said: "These are stunning results, and we thank our listeners for tuning in each day. There will be no let-up".
Fast-forward to the first radio survey of 2023, and 2GB has been forced to settle for second place, with KIIS leapfrogging the station to claim the top spot in Sydney's radio landscape.
KIIS has snatched the crown in Sydney for the first time in 18 years with an audience share of 11.9 per cent (up 0.3 percentage points), while 2GB dipped to 11.0 per cent total share, down 1.5 percentage points.
The win was bolstered by Kyle and Jackie O in the breakfast slot nabbing the top spot off Ben Fordham to reclaim bragging rights as Sydney's most listened-to breakfast radio show. Kyle and Jackie O posted an audience share of 15.9 per cent (up 1.1 percentage points), while Fordham dropped to 14.0 per cent (down 1.7 percentage points).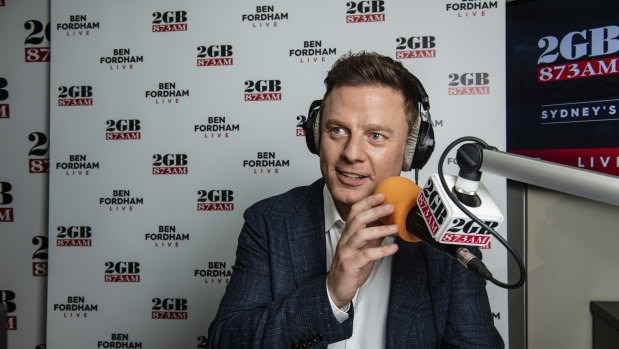 Ben Fordham and 2GB had to settle for second spot in the first radio ratings survey of 2023.Credit:Louise Kennerley
The long-running radio duo bested Fordham last November to claim number one before he returned serve in December. However, the pendulum has swung back to KIIS in the all-important breakfast battle.
2GB also saw a significant drop in the 7pm – 12pm evening slots as Nights with Josh Stanley dipped 6.9 percentage points, while Ray Hadley maintained dominance in the 9am-midday morning slot, despite shedding 1.9 percentage points for an overall share at 14 per cent.
Nine Radio's head of content Greg Byrnes, pointed to a change in seasonal listening habits as well as lineup shifts within the network.
"This survey period also coincides with a return to more traditional summer listening habits," he said. "Music tends to have the upper hand this time of year and while 2GB's audience has actually held steady in this survey more people have turned to music."
"At the same time, we've also had a number of lineup changes to key shifts, and that always takes time to bed in."
Nine claimed the highest cumulative audience for Survey 1 on record – with 1.961 million tuning in nationally. Cumulative audience captures anyone who listens to at least eight minutes of audio in any given 15-minute period at least once per week.
It was another bumpy start to the year for ABC Sydney, with the network down 0.4 percentage points to 5.9 per cent. This is the third continuous survey period in which ABC Sydney lost its overall share.
The most notable dip came in the morning slot, with newcomer Sarah McDonald seeing a dip of 1.2 percentage points for an overall share of 4.7 per cent.
Meanwhile, ABC's youth network Triple J has seen its 18-24 audience share drop by nearly half, from 10.7 per cent to 6.0 per cent of all listeners in that age group. This dip coincided with a lineup change to the breakfast team, with Ebony Boadu departing and Concetta Caristo coming in to co-host alongside Bryce Mills.
This survey period ran from 17 January to 25 February, but since that period, there have been several high-profile moves that will come into play in the next survey.
Nova will hope the recent addition of Kate Ritchie to the Fitzy and Wippa show will improve its breakfast performance (up 0.9 percentage points to 6.9 per cent) while her position in the national drive slot with Tim Blackwell and Joel Creasey was filled by Ricki-Lee Coulter.
*Nine, the owner of 2GB, is the publisher of this masthead.
Find out the next TV, streaming series and movies to add to your must-sees. Get The Watchlist delivered every Thursday.
Most Viewed in Culture
From our partners
Source: Read Full Article
Source link