Lifestyle
Labor will urge Fair Work to boost wages to meet inflation
Federal election 2022
Prime Minister Anthony Albanese will ask the industrial umpire to increase the wages of Australia's lowest-paid workers in line with headline inflation but has ruled out backing a specific target.
Albanese, who supported a boost to the minimum wage to keep up with the 5.1 per cent inflation rate during the election campaign, said on Friday Labor would lodge its highly anticipated submission to the Fair Work Commission's annual wage review before the June 7 deadline.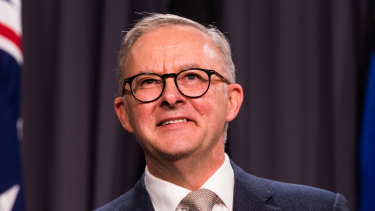 Prime Minister Anthony Albanese will write to the Fair Work Commission foreshadowing Labor's contribution to the minimum wage review.Credit:James Brickwood
While the submission would not refer to a particular number around a wage rise, it would argue that workers on the minimum wage could not afford a real wage cut, he said.
"We will lodge a new submission on behalf of the Australian government … particularly aimed at people who are earning just the minimum wage – it's just $20.33 an hour," Albanese told ABC radio on Friday morning.
"There won't be a number in the submission, what there will be though is the strong view that we have, [which] is that people who are on the minimum wage simply can't afford a real wage cut."
Deputy Prime Minister Richard Marles said Australia was experiencing a cost-of-living crisis because of the failures of the former Liberal government.
"The government will argue that those on the minimum wage should not receive a real wage cut," he reiterated on Friday afternoon at a press conference in Melbourne.
"We've outlined a plan to deal with the question of the cost of living, but a key component of that is to make sure that those on the minimum wage are not left behind, and that's why we will be making this submission."
Albanese had called for higher wages throughout the campaign but only backed a specific target when asked by reporters earlier this month whether the increase should be at least as much as the 5.1 per cent annual inflation rate, to which he replied: "Absolutely."
The party then softened its stance the following day amid a political firestorm over the potential cost to employers, saying it was yet to decide whether to set the target in its Fair Work submission if it won the election.
However, Labor's industrial relations spokesman, Tony Burke, who is expected to play a role in compiling the submission, told a Transport Workers' Union conference towards the end of the election campaign that anything less than a 5.1 per cent meant a cut in real wages.
"When the wage price index at the moment is 2.3 and inflation is running at 5.1, what is a pay increase less than 5.1 other than a pay cut? If you're on the same wages, and everything is going up except your wages, you are going backwards," Burke told the union conference in Hobart earlier this month.
Labor has faced criticism from the former government, members of the business community and some economists that backing a wage rise in line with inflation would make the cost of goods and services even higher.
However, Peter Dutton, who is almost certain to be confirmed as Liberal leader next week, tried on Friday to wedge Albanese on semantics by describing Labor's planned submission as a "broken promise".
"He's said absolutely he would support a 5.1 per cent increase … and he's now broken that promise," Dutton said.
About 180,000 Australians are on the minimum wage, but Fair Work's decision will also affect more than 2.6 million people who are on higher industry awards linked to the outcome of the wage case.
The Australian Bureau of Statistics revealed on May 18 wages grew by 2.4 per cent over the past 12 months, the biggest gap between income and inflation growth since the Coalition took office in 2013.
Treasurer Jim Chalmers told a press conference in Parliament this week the submission process was already underway and would involve input from Burke, Finance Minister Katy Gallagher and the prime minister.
The Morning Edition newsletter is our guide to the day's most important and interesting stories, analysis and insights. Sign up here.
Most Viewed in Politics
From our partners
Source: Read Full Article
Source link