Gadgets
Meet the flying motorcycle that can cost you up to $380,000
You've dreamed of flying cars. Have you dreamed of flying motorcycles? JetPack Aviation is offering a limited time supply of its latest concept vehicle: the Speeder. This hovering motorcycle aims to be a game changer but carries a steep price tag.
Let's face it: we've all sat there pondering the possibility of hover cars, what they might look like, and how they might work. With how much is changing in the automotive and electric vehicle industry—especially over the past decade—the idea is far less out of reach than we think. In fact what if a company is already creating one?
Well, that's exactly what JetPack Aviation is doing. Today, let's look at its brand new Speeder: a flying motorcycle that can cost you up to $380,000. Check it out!
An aesthetic straight out of science fiction
It's not surprising to see near-future technology inspired by popular designs in science fiction. Actually, for sci-fi nerds like me, it's quite wonderful. The Speeder flying motorcycle looks like the hybridization of a motorcycle, a Jet Ski, and a stealth bomber. It has a geometrically styled exterior shell with a windshield and small fins (wings?) that extend from the sides. Very cyberpunk-esque, if you ask me.
A design that delivers solid performance
If you're wondering how well the Speeder can perform during basic operation, JetPack Aviation provided some specs to give us an idea. It features 4 individual turbojet engines with 705 lbf maximum thrust. Also featured is 360-degree collision avoidance, which seems like it would be good to have while zipping around in something like this. It even runs on kerosene, Jet A, and diesel.
Speed with a surprisingly high altitude range
At first glance I have to admit, I wouldn't expect this flying motorcycle to be quick or capable of reaching very high. However, according to the official website, the Speeder can reach up to 150 mph. Not only that, but it also has a 15,000-foot-high altitude ceiling.
Maybe it's just me, but that seems fairly impressive. Of course, there is a catch: the vehicle has only a 20-minute maximum endurance. So your ride could be an exciting, but short, one.
A large touchscreen display
You've likely seen it. Increasingly more vehicles use larger touchscreen displays. It seems that, whenever I write about a new vehicle design, the onboard displays are only getting bigger and better. That pairs especially well with a sci-fi vehicle like this.
Thankfully, JetPack Aviation includes a 12-inch touchscreen display with the Speeder. This should make things like settings, information, and navigation much easier for drivers (or perhaps pilots, I'm not really sure).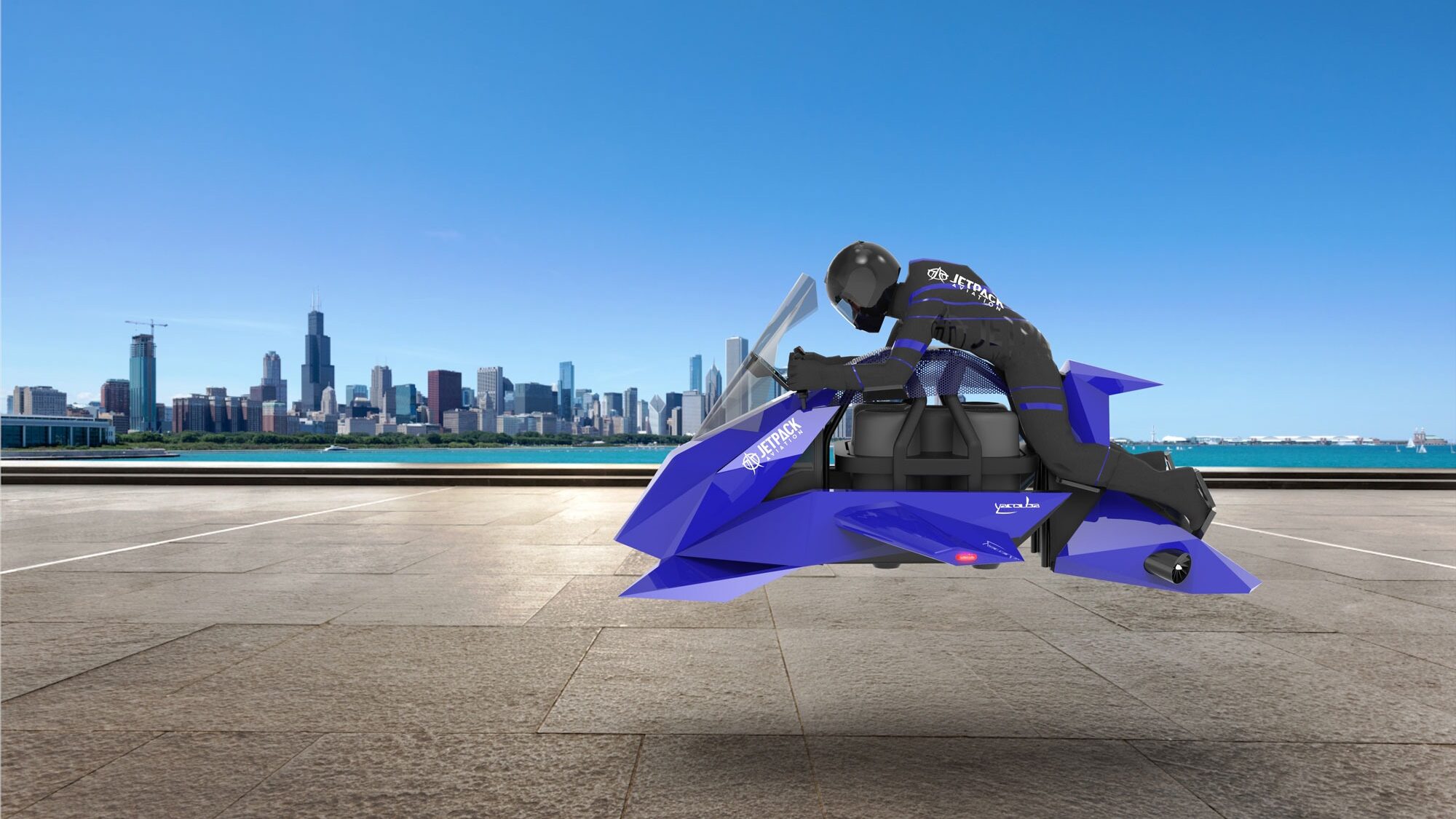 A limited supply for interested buyers
If you're like us, you probably don't have $380,000 to drop on a flying motorcycle. However, if you do have that many Benjamins stacked in your rainy-day fund, you'll have to act fast. JetPack Aviation states that it plans to make only 20 Speeders before closing down initial production.
After that, it'll dedicate production exclusively to military and government agencies. Of course, they want to make your purchase worth your while. Included with preorders is a hefty pile of extras, from full customization options and swag kits to an interview with the CEO.
You can inquire about preorders on the official website. They start at $380,000.