Lifestyle
More than 1 in 4 families with kids affected by school closures or COVID in February
More than a quarter of families with school-aged children or toddlers were affected by school closures or close contact isolation due to COVID-19 in February, with one in two Australian households taking a test for the virus that month.
New data from the Australian Bureau of Statistics Household Impacts of COVID-19 survey found 28 per cent of households with children under the age of 18 were affected in the previous four weeks by school or daycare closures, being placed in isolation as a close contact or testing positive.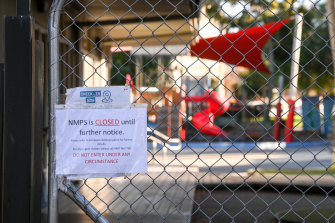 More than a quarter of Australian families with children were affected by school closures or positive COVID cases in February.Credit:Eddie Jim
ABS head of household surveys David Zago said 47 per cent of Australians reported that a household member took a coronavirus test in the past month
"Of Australians living in households where someone had performed a COVID-19 test in February, 17 per cent reported that someone in their household had tested positive," he said.
More than two in five (44 per cent) Australians said that if they contracted the virus they would not be able to work until they recovered or they would be unable to work for the recommended isolation period.
Experts have called for the current seven-day isolation period for those who test positive and their close contacts to either be shortened or scrapped, as easing those rules would be unlikely to trigger a surge in cases.
Coronavirus cases surged over the summer and peaked in January. Nationally more than 155,000 cases were confirmed on January 14. Cases fell into February when daily confirmed rates fluctuated between about 20,000 and 40,000 a day as schools returned for 2022.
Australians also took more precautions against COVID-19 including social distancing and disinfecting surfaces in the month of February than in June last year.
"More than twice as many Australians (98 per cent) reported wearing a face mask in February 2022 compared with June 2021 (44 per cent), while in February, washing hands or using hand sanitiser regularly had increased to 95 per cent, from 85 per cent in June 2021," Mr Zago said.
The job situation of people in about a quarter of the country's households changed in February. Reasons for a change included concerns about contracting the virus, absent work colleagues or increased workplace demand.
It's the first household impacts of COVID survey since June and just over 2300 respondents from the June survey responded again between February 9 and 18. The ABS will do a follow-up survey in March.
Stay across the most crucial developments related to the pandemic with the Coronavirus Update. Sign up to receive the weekly newsletter.
Most Viewed in Politics
From our partners
Source: Read Full Article
Source link