MLB
Neal Ball triple play artifacts on Antiques Roadshow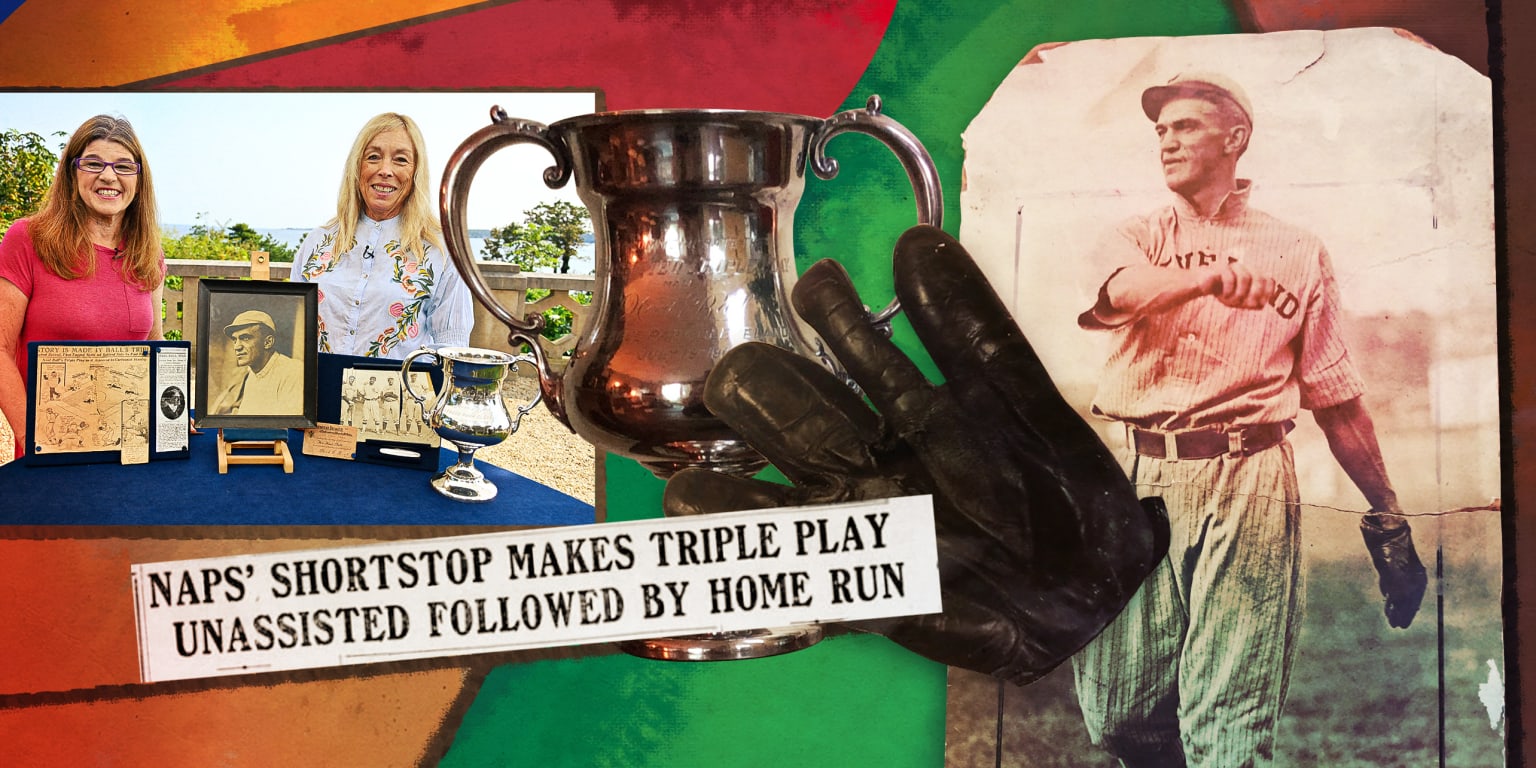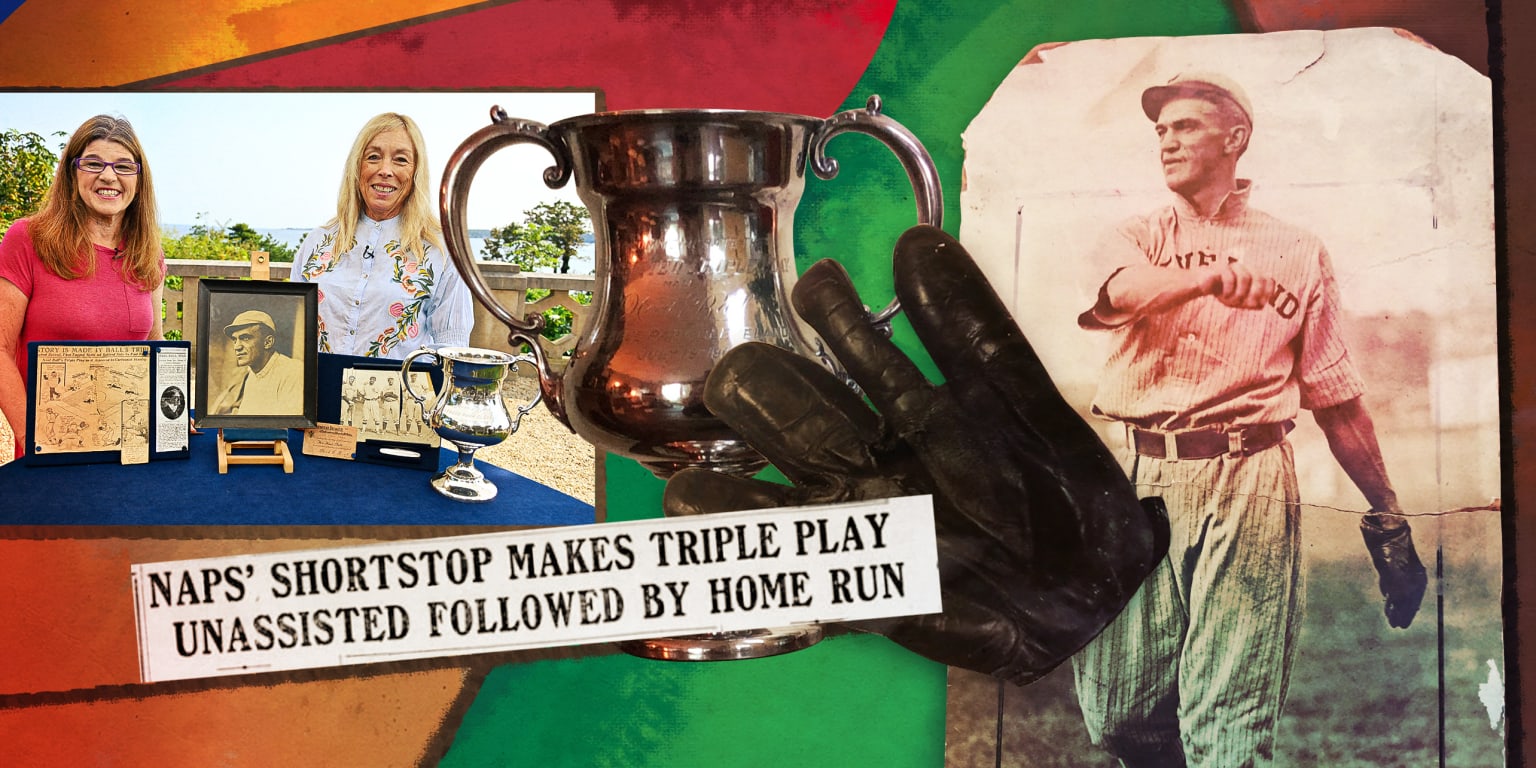 On Jan. 31, Ball's great-niece, Kathia, appeared on an episode of "Antiques Roadshow" with artifacts related to her great-uncle's milestone triple play. These included several pictures of Ball, a Loving Cup trophy engraved with his name and the date of the accomplishment, a cartoon depicting the triple play and a lifetime pass from the National League.
"I had thought that this was something that should be known," Kathia said in a phone call with MLB.com. "It was a real feat, it was a milestone, and it should be broadcast more widely than just my writing an article here or there in certain local papers. It's a big part of baseball."
After her mother — Ball's niece — passed away in 2010, Kathia inherited his collection of artifacts, which remains in her house to this day. She had tried several prior times to get onto "Antiques Roadshow" before making it onto a taping last year.
Kathia was just 12 when her great-uncle passed away in 1957, but she has fond memories of watching baseball with him on visits to his house in Bridgeport, Conn. The Michigan-born Ball played for the Yankees, Red Sox and Cleveland Naps in his seven-year career. His triple play occurred during his stint with the Naps, but his Yankees fandom was his strongest rooting interest in retirement, though Kathia and much of her Michigan-based family are lifelong Tigers fans.
Ball's overall Major League tenure may not jump out on paper — he posted a career .250/.295/.314 slash line and hit just four career homers — but he made many Hall of Fame connections throughout his playing days. On the mound for his unassisted triple play? Baseball's all-time wins king, Cy Young, who was initially unaware of what had transpired.
"When Neal walked off [after the triple play], Cy turned around and said to him, 'Whoa, where are you going Neal?' And Neal said, 'Well, that's three outs. Hey Cy, that's three outs,'" Kathia said.
Ball's older brother, Jay, was in the stands that day and, according to Kathia, was one of the few fans in attendance to immediately recognize that Ball had recorded three outs by himself. When the rest of the crowd caught on to the historic moment, they erupted and "threw all kinds of hats and bottles onto the field," leading to an on-field delay of around 15 minutes.
The next half-inning, Ball led off. On the first pitch he saw from Red Sox hurler Charlie Chech, he launched the ball up and over the head of future Hall of Famer Tris Speaker, who was playing shallow in center field. While Speaker went after the ball, Ball raced around the bases for an inside-the-park home run.
Three years later, Ball and Speaker were teammates on the 1912 World Series-winning Red Sox, managed by Jake Stahl — the man on first for Ball's triple play.
Ball had an even stronger connection with Babe Ruth, who, as Kathia recounted, he called "dumb as a rock otherwise, but there was nobody that was a smarter baseball player."
After retiring from playing, Ball coached in the Red Sox Minor League system. In 1914, he coached Ruth on the Baltimore Orioles, then Boston's Double-A affiliate, and they remained good friends for years to come. At one point, Ruth confided in Ball on a serious matter regarding his then-girlfriend, Helen Woodford.
"[Ruth] asked Uncle Neal's advice, because Uncle Neal was his coach, about marriage," Kathia said. "He had his girlfriend and he said, 'Hey Neal, can I ask you something? I want to marry her, what do you think? Should I marry her?' Imagine asking an old ballplayer a question about marriage! And Neal goes, 'Why sure, she seems like a great gal, go ahead.'"
Kathia also recalled a story involving Ruth, Ball and a minor spelling misunderstanding.
"There was one time that Neal said, 'I want you to throw a waste pitch,'" she said. "And [Babe] didn't know that Neal meant w-a-s-t-e, so he threw a pitch right down the middle, and I guess the guy hit it [pretty far]. Neal said, 'Babe, why did you throw that pitch? It was a waste pitch!' And Babe said, 'I did throw it, right by his waist!'"
Though Ruth memorabilia is common among the baseball artifacts featured on "Antiques Roadshow," Neal Ball memorabilia is much rarer. Leila Dunbar, who appraised Ball's collection on the show and has run her own appraisal business since 2008, was immediately fascinated by Kathia's artifacts.
"I chose Kathia because I'm always looking for the story," Dunbar said in a recent phone call with MLB.com. "The money is not nearly as important to me as the story. It's a milestone, the very first [unassisted] triple play. Where am I ever going to find that again? … Even better, Kathia is his [great-niece]! So as soon as I saw this I said, 'We have to talk about this,' because how many people even know who Neal Ball is?
"We've never discussed a triple play on the Roadshow, and I felt very fortunate."
While talking about Ball's lifetime NL pass with Dunbar, Kathia explained that he was always miffed about not receiving an American League lifetime pass. He was not alone — The AL did not issue any lifetime passes until 1936, when the AL and NL began issuing combined Major League lifetime passes to 10-year MLB veterans. Ball, with only seven years of Major League service time, was not eligible for this new perk.
After chatting with Kathia (only four minutes of their roughly half-hour conversation was shown on TV), Dunbar estimated that the gleaming Loving Cup trophy (polished expertly by Kathia's husband) was the most valuable item of the lot and that this group of artifacts was worth between $12,000 and $15,000. She added that she would insure them for at least $30,000.
Kathia was visibly surprised by the valuation, but she had no intention of selling the artifacts and has held onto them since the taping. The Loving Cup, which she usually keeps on display in her house, was by her grandkids' side when they watched the episode with her and saw Ball's artifacts in all their glory on TV.
"They're family lore," Kathia said. "It all means something to all of us who either knew him or knew of him."
According to Dunbar, it is extremely rare for those who go on "Antiques Roadshow" to sell their artifacts. Since she first joined the show in 1996, Dunbar estimates that she's done around 150 segments and "4,500, if not 5,000, verbal appraisals." In that time, she can recall only two people who appeared on the show and ended up selling their items.
Kathia may have stayed with Roadshow tradition by keeping her great-uncle's collection in the family, but baseball fans interested in seeing artifacts from this triple play can check them out in Cooperstown. The glove that Ball used to complete the triple play is on permanent display at the Baseball Hall of Fame.
Kathia has visited the display in person, and she got a kick out of explaining to a father and son that the glove behind the glass belonged to her great-uncle.
"It's always a lot of fun to be obscure, and yet important," she said.
The recent appearance of Ball's triple play artifacts on "Antiques Roadshow" serves as yet another reminder of how deep the baseball history well runs, and how behind every historic artifact is a tale worth telling.
"If you get a signed baseball, unless you know who Babe Ruth is, it's just a signed baseball," Dunbar said. "Same thing with the Neal Ball memorabilia. Once you have the understanding of what it means, it comes alive. The story makes these objects come alive, they're living pieces of history.
"And that is what fascinates me, because there's an infinite number of stories out there, and I'm going to try to get to every one."
Source link