MLB
Padres win eighth straight for best record in MLB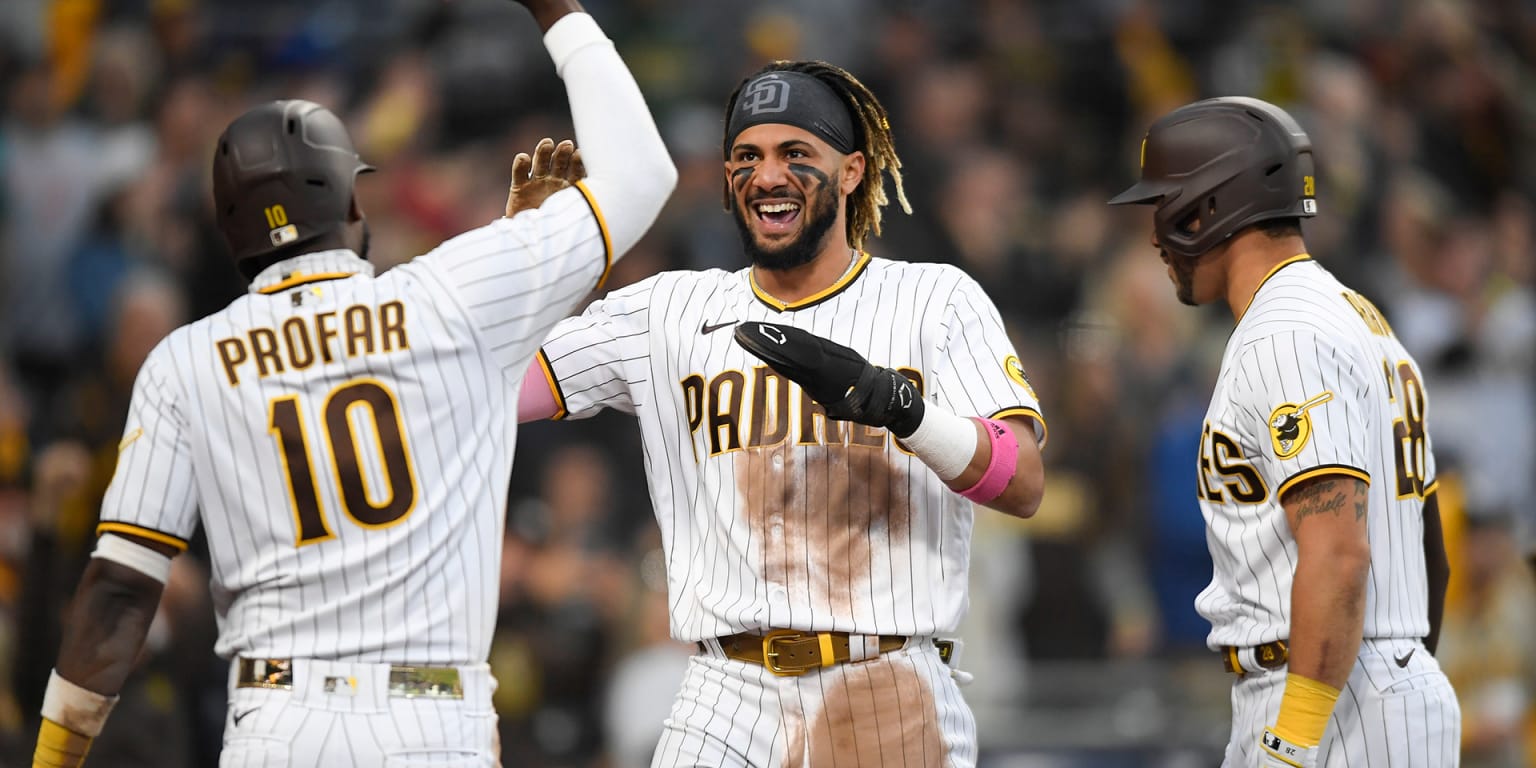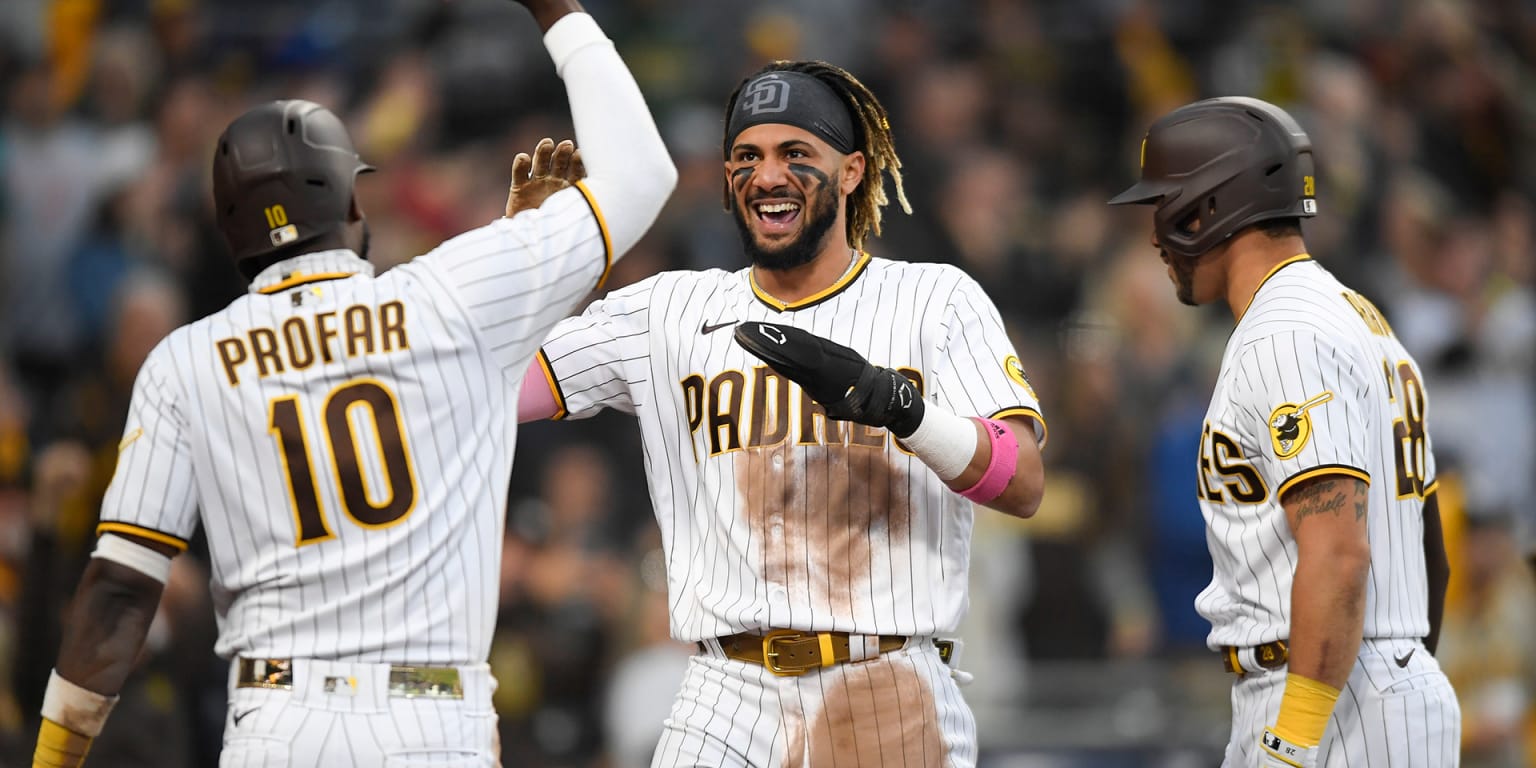 The Padres ran into multiple outs on the basepaths Saturday night. Their starting pitcher was done after four innings. They were held without a home run.
Yet they took over sole possession of the best record in the Majors with their eighth straight win.
The Padres overcame those outs on the bases by never wavering in their aggressiveness en route to a 6-4 victory over the Mariners at Petco Park. Rookie starter Ryan Weathers battled through his four innings to allow a solitary run and then got help from the likes of Craig Stammen and Dinelson Lamet. And power wasn't needed as the Padres drew nine walks, notched eight hits spread out among six batters and took full advantage of three Seattle errors.
It wasn't the simplest formula for victory, but the Padres have found a variety of ways to build a 29-17 record, good for a .630 winning percentage that puts them atop all of MLB. That, of course, includes the competitive National League West, where the Padres sit a game ahead of the Dodgers and Giants.
"It's May," Padres manager Jayce Tingler said. "It's more important the way that we're playing. We're pitching, we're playing defense, we're running the bases well and we're not punching [out]. We're battling, playing with energy.
"All those things, you do those things, and you've got a good chance of winning. It's a byproduct of good, solid winning baseball."
Never in their previous 52 seasons could the Padres boast having MLB's best record through May 22. With season schedules shifting over the years, that's somewhat arbitrary, but the Padres truly are in rarefied air. Before this weekend, the latest they ever held MLB's best record in terms of games played was when they were 17-9 in 1996, 26 games into the season.
"I haven't really looked around the league, as far as records," said catcher Austin Nola, who had an RBI single and two walks. "I just know we have to do our job every day. We can't focus on the record right now. It's got to be on the game in front of us."
The Padres broke Saturday's game open with a five-run fifth inning. After Fernando Tatis Jr. was walked intentionally to load the bases with the Padres up, 2-1, Eric Hosmer followed with a line single to left field on a 2-2 sinker from Justus Sheffield. Not only did the runners in scoring position come home, but Tatis sprinted all the way from first base when Jarred Kelenic's throw scooted past catcher Tom Murphy.
Tatis' sprint speed was measured by Statcast at 29.7 feet per second, just below the 30-foot threshold considered elite. No matter, Tatis got the elite status in the fourth inning when he jetted 30.2 feet per second for a double on a ground-ball hit through the "5.5 hole" between third base and shortstop.
Tatis was caught stealing after the double when Sheffield stepped off the rubber to make an easy throw to third base. One inning earlier, Jurickson Profar was caught stealing at second base on a strike 'em out, throw 'em out double play — with Tatis on deck.
Did Tingler tighten the reins on the bases after that? Hardly. The big fifth inning saw Jorge Mateo score when his steal of third base caused a throwing error by Murphy. And Profar ran again, stealing second even though it vacated first base and allowed the Mariners to walk Tatis.
"We're going to play fearless," Tingler said. "We're not going to stop being aggressive. We're not afraid to get thrown out. That's what I love. The way the guys are bustin' it — the way they run the bases, the at-bats, the defense, the pitching. It's exciting baseball. It's guys pulling for one another and playing with energy."
Eight straight wins aside, the Padres aren't at peak efficiency just yet.
"I think we're always getting better," Nola said. "It's still early in the season, and we just continue to get better and better each day, to mold this team."
Source link