Lifestyle
'Peacemaker': DC Fans Can Thank Marvel for 1 Finale Cameo
Peacemaker dropped its season 1 finale on Feb. 17, bringing in some major cameos from the DC Extended Universe. Series writer and director James Gunn recently broke down those appearances, revealing that Marvel filmed one of them while he was shooting Guardians of the Galaxy Vol. 3.
[Warning: This article contains spoilers for Peacemaker Episode 8, "It's Cow or Never."]
'Peacemaker' brought in 2 big DC stars for its finale
Peacemaker Episode 8, "It's Cow or Never," delivered a finale full of action and heart — and unexpected DC heroes. Following the showdown between Task Force X and the Butterflies, the Justice League appears, presumably at Amanda Waller's (Viola Davis) behest. And although they're too late to fight, they share some hilarious banter.
Wonder Woman and Superman stay on the sidelines during this moment, likely because their DCEU actors didn't play them. But Peacemaker got Jason Momoa and Ezra Miller to cameo as Aquaman and the Flash. And according to James Gunn, fans can thank Marvel for Miller's appearance in the DC show.
James Gunn says Marvel filmed 1 of 'Peacemaker's big cameos
During an interview with Variety, James Gunn broke down Peacemaker's finale cameos and how they came to exist. He revealed that it was initially just supposed to be Jason Momoa. However, upon learning about Ezra Miller's interest in his films, he reached out to the Flash actor as well.
Gunn also shared that Marvel shot Miller's cameo for Peacemaker, allowing the actor to come in while Gunn was filming the conclusion of his Guardians of the Galaxy trilogy:
"And then Ezra I just found out through some common friends liked my movies a lot. And so I asked if he would come in and shoot this scene, and he kindly agreed to do that. Actually, Marvel shot [Ezra] for us, while we're shooting Guardians [of the Galaxy] Vol. 3."
Apparently, this wasn't the first time there was overlap between his Marvel and DC projects. Before the Guardians crew filmed Miller's cameo, the Peacemaker team assisted with Chukwudi Iwuji's materials for Guardians of the Galaxy Vol. 3.
"Yeah, but I mean, Marvel owed DC, because the Peacemaker crew shot my screen test for Chukwudi for Guardians Vol. 3," Gunn explained. "And then we got Ezra with the Guardians Vol. 3 crew."
It's great that Gunn was able to juggle both projects, and fans are certainly thankful for the surprise in the Peacemaker finale. But what do those DCEU appearances mean going forward?
What do the finale appearances mean for DC's future?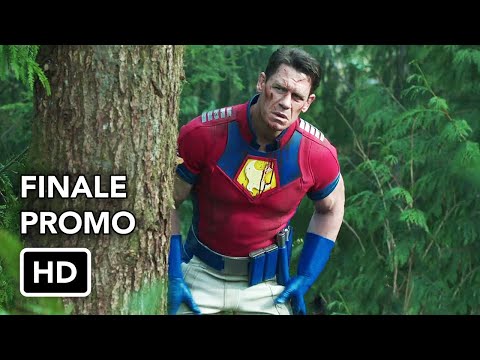 Although Jason Momoa and Ezra Miller's cameos are played for kicks in Peacemaker Episode 8, they could have an impact beyond the finale. With Task Force X on the Justice League's radar, it seems the two groups could run into each other again — especially if more otherworldly threats emerge in the DCEU.
James Gunn is also working on another DC series in addition to Peacemaker Season 2. As he continues to tell stories in this franchise, it seems likely his characters will interact with the more mainstream heroes.
It's also worth noting that Batman and Cyborg are missing from the lineup that appears in Peacemaker, which Gunn told Variety "might have to do with future stuff." So, the cameos could tease which characters DC intends to focus on as much as it teases future crossovers. Fans will have to wait and see where Warner Bros. decides to take things.
All episodes of Peacemaker are currently streaming on HBO Max.
Source: Read Full Article
Source link