MLB
Phillies-Astros position-by-position World Series 2022 breakdown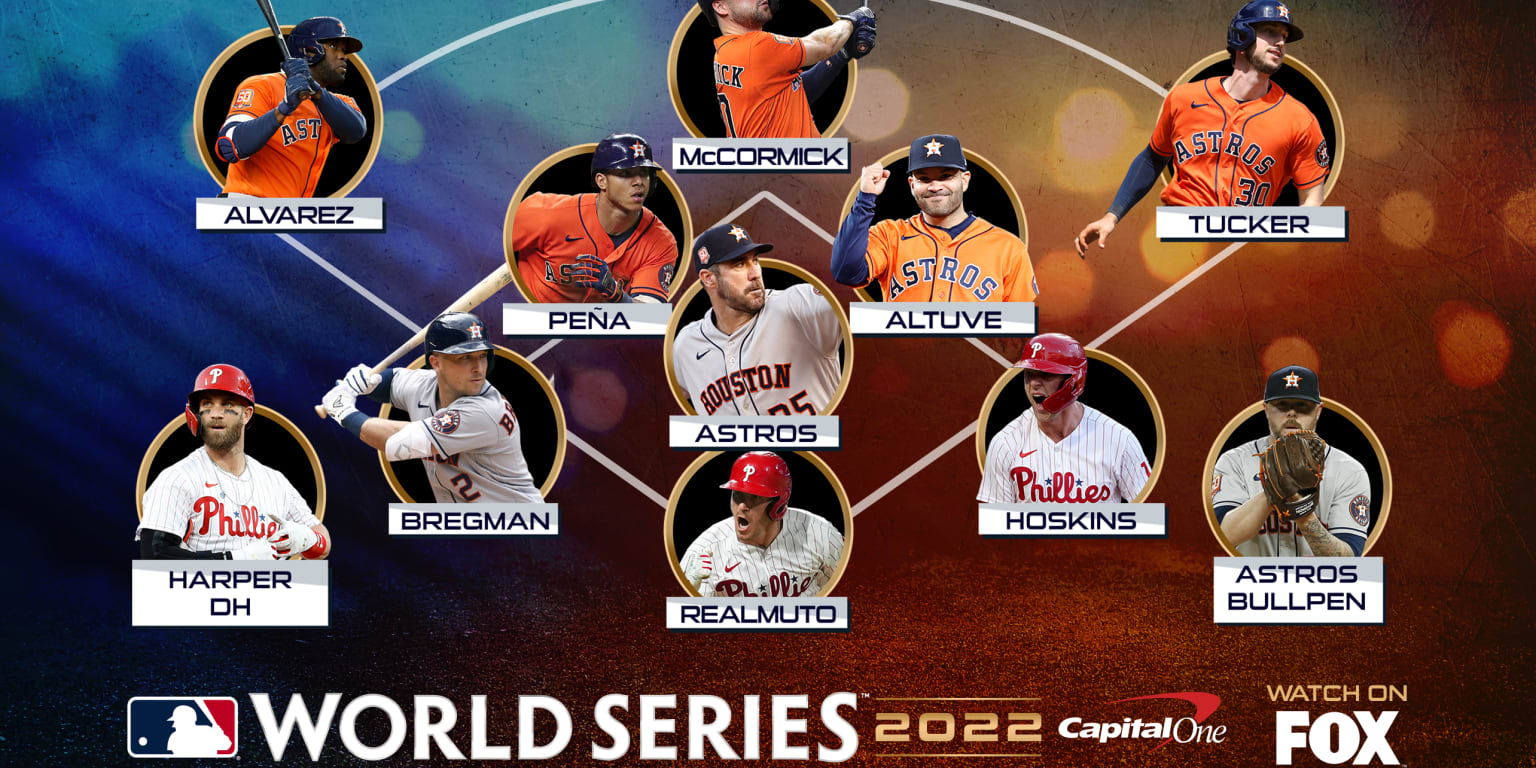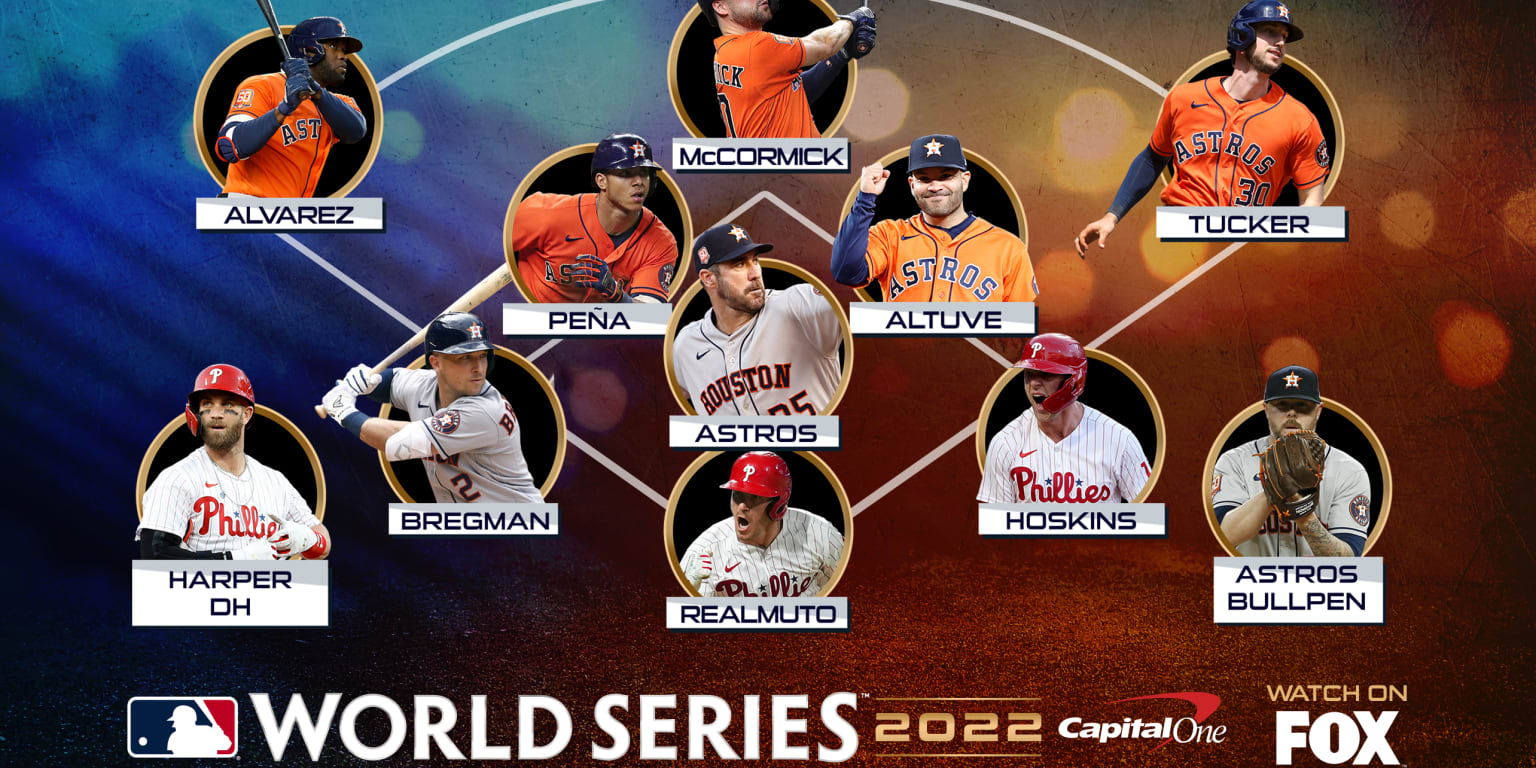 Well, here's a first: A past League Championship Series matchup is now a World Series matchup.
The Astros and Phillies previously met in October way back in the 1980 NLCS. That was a long time ago. Back when the LCS was a best-of-five (the Phils won it, 3-2, en route to the franchise's first World Series crown). Back when the Astros were still in the Senior Circuit (they crossed over in 2013). Back when Dusty Baker was a Silver Slugger winner for the Dodgers and not a silver-haired skipper for the 'Stros.
So as Houston and Philadelphia clash in a best-of-seven World Series that begins Friday night at Minute Maid Park, we don't have any October history between the current concoctions of these clubs to draw on. It's a fun, fresh Fall Classic featuring a perennial championship contender (Houston won it all in 2017 and has claimed four of the past six American League pennants) and an October upstart (Philly stormed through a deep National League field after reaching the postseason for the first time since '11).
All we can do is draw this up on paper. With that in mind, let's take a look at these clubs, position by position, to see how they stack up.
Catcher
While the Astros have tried all season to squeeze some offense out of the catching spot (they traded for Christian Vázquez to pair with Martín Maldonaldo), the Phillies have continued to comfortably slot J.T. Realmuto into the heart of their order.
Houston values the defense and game-calling it gets from its catchers, but Realmuto provides the best caught-stealing percentage in MLB (44.1%), along with an .820 OPS in the regular season and 10 hits and two homers so far this postseason. He's the best backstop in the game.
First base
The 38-year-old Yuli Gurriel has shown he still has life in his bat this postseason after a serious statistical step back in the regular season.
But after posting a 122 weighted runs created plus (22% better than league average) in the regular season (to Gurriel's disappointing 85 mark), Rhys Hoskins has cranked out five homers and a double so far this postseason. Hoskins has long been a player prone to hot and cold streaks, and he's actually only hit .182 in 44 at-bats in the playoffs. When the moment has found him, however, he has met the moment.
Second base
No active player had appeared in more regular-season games without a postseason appearance than Phillies second baseman Jean Segura. He made up for it with a career's worth of October ups and downs just in Game 3 of the NLCS, when he made a big defensive gaffe, came through with a huge go-ahead hit and got picked off first — all in the same inning! A shortstop playing second, Segura is, generally speaking, a good and reliable player.
Jose Altuve, however, is a potential Hall of Famer. Sure, he just endured the worst slump of his career with an 0-for-25 stretch (the longest 0-fer at the start of a postseason for any player in history), but this is also a guy who had a 164 wRC+ in 2022 and who ranks second all-time with 23 playoff homers (behind Manny Ramirez's 29).
Shortstop
We've got two rookie shortstops in this World Series, and both are a big reason why their teams are here. When Didi Gregorius ran out of gas, the Phillies pivoted to young Bryson Stott. His .653 OPS and minus-6 outs above average are nothing to write home about, but Stott slashed .276/.331/.404 in the second half after settling in (and has notched four doubles in the postseason) and makes the routine plays the Phils so desperately needed to make.
Jeremy Peña, though, has been one of the most impressive rookies in a deep class in MLB this year. He filled Carlos Correa's big shoes ably with essentially a league-average offensive output and reliable defense in the regular season, and the ALCS MVP turned it up several notches in the playoffs with the homer that sent the Astros to the ALCS and more timely power in the pennant clincher.
Third base
Alec Bohm deserves credit for improving defensively as 2022 evolved, and utility man Edmundo Sosa has been an eye-opening midseason acquisition for the Phils.
But neither of them are Alex Bregman, who shook off his subpar 2020 and '21 seasons with a .366 on-base percentage, 23 homers and 38 doubles this season and has continued to bang out huge hits in the postseason.
Left field
Kyle Schwarber vs. Yordan Alvarez. Neither of these guys is what you'd call a Gold Glover, but both have game-changing power.
Schwarber has had a fantastic season for Philly after signing as a free agent. He led the NL with 46 homers and has banged out three more in the postseason. As we saw in the 2016 World Series, when he returned from major knee surgery to help power the Cubs to the crown, he knows how to rise to the occasion. Schwarber is a leader and a force of nature. But on the other side, in Alvarez, we have one of the absolute best pure hitters in baseball right now. Though he was uncharacteristically quiet in the ALCS, Alvarez drove the Astros to that round with two huge homers against the Mariners in the ALDS. He slashed .306/.406/.613 with 37 homers in the regular season.
Center field
The Astros have been trying to figure out center field ever since George Springer left in free agency. The Phillies have been trying to figure out center field for the better part of the last decade. Maybe both clubs have found an answer of late.
Chas McCormick, who was struggling and very temporarily demoted in June, has been a big plus in this postseason, with two homers in the ALCS. The long-haired, furry-faced Brandon Marsh, a midseason acquisition for Philly, had a respectable .288/.319/.455 slash after the trade from the Angels, launched a mammoth three-run homer in the NLDS clincher and has brought defense and speed to the equation. This is a sneaky tough call, because neither guy is replete with track record. But McCormick's 114 wRC+ was better than Marsh's 89 mark, as was his six outs above average in center field to Marsh's 0. (Marsh absolutely has the edge in hair, though.)
Right field
Were Nick Castellanos up to his usual standard, it might be interesting to compare his performance and World Series potential to that of Kyle Tucker. But Castellanos' first season in Philly was surprisingly subdued. He had a below-average 94 wRC+, and Bryce Harper's injury forced him to spend more time in right field, where he graded out with minus-10 outs above average.
So the easy call is Tucker, who, in addition to being one of the more productive outfielders in baseball over the past three seasons (.274/.341/.516 slash), is also an elite defender in right.
Designated hitter
Dusty Baker saved us from a painstaking decision here by giving Alvarez the start in left and not DH in most of the Astros' postseason games (Trey Mancini and Aledmys Díaz have been the other options).
So we are free to use this space to gawk at what Harper has done this month. After being limited most of the year to DH duties because of an elbow issue that needs surgery, and struggling the last six weeks of the regular season after returning from a broken left thumb, the NLCS MVP Harper has done what he set out to do when he signed with Philly by slashing .419/.444/.907 with five homers — including the NLCS clincher go-ahead — in a truly epic October.
Starting pitching
Avoiding a return to San Diego was huge for the Phillies, because it allows them to roll out both Aaron Nola and Zack Wheeler multiple times in this Series on full rest, should it go at least six games. And let's not ignore that Ranger Suárez had a 2.95 ERA in his last 14 regular-season starts and five strong innings in Game 3 of the NLCS (and a surprise closing role in the Game 5 clincher).
But whereas the Phillies have to get creative with their Game 4 assignment (it was Noah Syndergaard for nine outs in the NLDS and Bailey Falter for just two outs in the NLCS), the Astros have more quality starters than they know what to do with. Cristian Javier began the postseason in the bullpen, then held the Yankees scoreless on one hit in 5 1/3 innings in Game 3 of the ALCS. And with their ALCS sweep, the Astros also have their pitching properly aligned, with horses Justin Verlander and Framber Valdez ready for Games 1 and 2. Houston's 19.4 fWAR from the rotation was by far the best in MLB this year.
Relief pitching
After all those years as a punchline, the Phillies' bullpen is finally a strength. That's how they got here. Manager Rob Thomson has had an expert touch in deploying a 'pen in which Seranthony Domínguez is capable of multi-inning saves, veteran midseason acquisition David Robertson has been an asset and Zach Eflin has been a surprising relief boon after transitioning from starting work because of a knee issue. Thomson's bullpen has a 3.19 ERA in 42 1/3 innings this postseason.
Again, though, the Astros just run deeper. Anchored by closer Ryan Pressly, they had the best relief ERA (2.80) in MLB this year. They've got strong setup stuff from the likes of Bryan Abreu, Rafael Montero and Héctor Neris and can even get length, if need be, from would-be starter Luis Garcia. They're stacked.
Prediction
This is a heck of a lot harder call than it would have seemed a few weeks ago. The Astros spent all season proving that they remain an elite team in MLB, while the Phillies had a losing record in September/October to back their way into a postseason spot that would not have existed under the previous format. But it is easy to get swept up in the Phils' swagger and story right now, and it should surprise exactly nobody if they put a proper punctuation mark on their fun run.
Ultimately, though, we just can't shake the quality of the Astros' pitching depth and their experience on this particular stage. That will allow Houston to finally overtake an NL East team in the Fall Classic after falling to the Nationals in 2019 and the Braves last year. Third time's the charm, and Dusty gets his ring.
Source link