Lifestyle
Policeman who leaked Dani Laidley images accused of sharing corpse photos
A police officer who kept his job after leaking images and making offensive comments about former AFL coach Dani Laidley has been accused by the force's internal watchdog of sharing photos of dead people with colleagues.
Detective Leading Senior Constable Murray Gentner will face another disciplinary hearing within months after being charged with "disgraceful and improper conduct" by investigators from Professional Standards Command (PSC), according to sources familiar with the investigation but not authorised to speak publicly.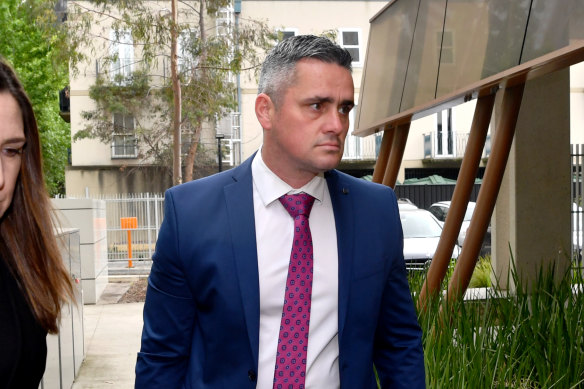 Detective Senior Constable Murray Gentner, seen here at the Coroners Court as a witness in the inquest into the 2017 Bourke Street massacre, has been accused of sharing images of dead people.Credit:Joe Armao
Gentner, who was awarded the Mick Millar Award in 2013 for his work as a detective, kept his job but was placed on a 12-month good behaviour bond in September last year and required to complete a "respecting dignity" course over the Laidley matter.
But in the same month he was immediately placed on leave without pay over the latest picture sharing allegations.
Three other officers have also been charged with the same disciplinary breach over their alleged role in sharing the disturbing images on their mobile phones. It is unclear whether the photos were taken at homicide scenes, fatal traffic accidents or of people who had died from natural causes.
None of the four officers have been charged with any criminal offences.
Revelations of the misconduct case against Gentner and his colleagues come less than two weeks after Chief Commissioner Shane Patton warned all members in an email that any breach of the force's disciplinary code would not be tolerated.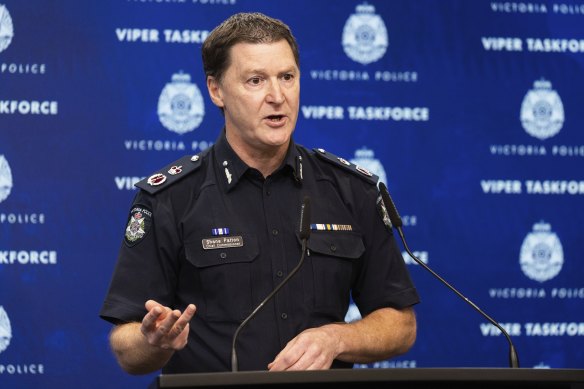 Victoria Police Chief Commissioner Shane Patton recently issued a stern warning to officers.Credit:Paul Jeffers
Patton insisted that police would be dismissed if found to have breached confidentiality or used unauthorised information from police databases.
"There's no loophole there now, so anyone who is misusing information will absolutely be held to account," Patton said on March 2.
He revealed 17 officers had been dismissed for misconduct over the past year, and a further 31 resigned while under investigation when they saw the "writing on the wall".
A Victoria Police spokesman confirmed that PSC had charged four male officers as part of an internal disciplinary investigation, but did not name Gentner in a statement released to The Age.
"Three detective leading senior constables and one sergeant have each been charged with one count of disgraceful and improper conduct. It is expected they will appear before a discipline hearing in the coming months," the statement said.
Gentner, who had been based in the St Kilda crime investigation unit since 2007, did not respond to repeated requests for comment.
He was one of three police officers charged after photos of Laidley wearing a wig and make-up in custody were leaked following her arrest for stalking in May 2020. The photos were leaked before Laidley had publicly come out as a transgender woman.
Gentner, Senior Constable David Hall and Senior Constable Shane Reid were all charged with disclosing police information without reasonable excuse, while Gentner and Reid also faced charges of misconduct in public office.
However, all three had their charges dropped after it was found in the Melbourne Magistrates' Court that the prosecution had failed to establish that the officers had a duty to not disclose the information about Laidley.
During a PSC investigation, Gentner admitted he shared Laidley's mugshot with other officers in a WhatsApp group called the "SD1 Gentleman's Club". He also conceded he had described Laidley as a "full-blown tranny" and an ice user after her arrest.
Gentner is understood to have requested the return of his mobile phone during the disciplinary hearing on September 14 last year and asked that any files saved from his phone by investigators be deleted.
Laidley received a confidential financial settlement from Victoria Police in March 2022.
The Morning Edition newsletter is our guide to the day's most important and interesting stories, analysis and insights. Sign up here.
Most Viewed in Politics
From our partners
Source: Read Full Article
Source link