Lifestyle
Prospective payout to Tudge's former staffer recognises 'major claim'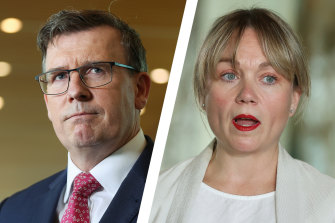 The six-figure settlement the government is expected to reach with a former staffer of minister Alan Tudge suggests her complaint has been recognised as a "major claim" with "a meaningful prospect of liability" under the bureaucracy's rules.
Rachelle Miller took legal action over allegations of bullying, harassment and discrimination while she was working for Tudge and cabinet colleague Michaelia Cash, who is now the attorney-general.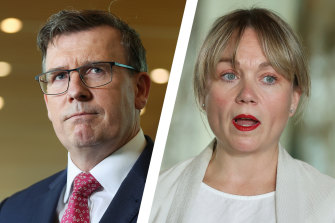 Alan Tudge and his former staffer Rachelle Miller.Credit:Alex Ellinghausen
She has since gone public about her affair with Tudge, saying it was emotionally and on one occasion physically abusive. He denies those claims but stood aside from the frontbench while an independent investigation took place.
Before taking the legal action, Miller filed a workplace bullying complaint with the Department of Finance over her treatment by Tudge, alleging that he belittled and humiliated her, and a separate complaint about the process that forced her out of Cash's office.
Now Prime Minister Scott Morrison has cleared the way for Tudge – who is still technically in cabinet – to return to the ministry after the election.
The Department of Finance and Miller are in the final stages of settling the suit. The settlement figure will remain confidential but is understood to be more than $500,000.
As with the settlement the government struck with the High Court associates who had been sexually harassed by former judge Dyson Heydon, the non-disclosure agreement will only cover the amount paid, and won't prevent Miller from speaking about her experiences.
Morrison has said he had "no visibility" over the settlement.
"I can't confirm to you whether a payment has even been made," he told 5AA radio in Adelaide on Tuesday.
"But I know it's taxpayers' money, and those matters are handled by the Department of Finance at arm's length from politicians including, you know, the Special Minister of State."
The government's rules for handling legal matters say any settlement over $100,000 must be treated as a major claim. This includes seeking written independent legal advice from either the Australian Government Solicitor or an outside law firm that the settlement is in accordance with legal principle and practice.
The legal service directions also warn government departments that settling a claim "requires the existence of at least a meaningful prospect of liability being established" and the amount of a payout must consider the prospects of a claim's success in court.
"In particular, settlement is not to be effected merely because of the cost of defending what is clearly a spurious claim," the rules state.
A spokesperson for the Department of Finance said the department "has been engaging with Ms Miller's legal representatives on behalf of the Commonwealth, in accordance with its obligations under the Legal Services Directions 2017".
"The Department does not comment on the details of any individual claim," they said.
Morrison's department commissioned respected investigator Dr Vivienne Thom to examine the nature of Miller and Tudge's relationship.
Miller did not participate in the investigation on legal advice. Thom's report, released on March 4, found no evidence Tudge had broken the ministerial code of conduct at the time.
Morrison was asked on Tuesday "does money just fly out of the sky in the Finance Department" without any oversight, given he has no knowledge of the settlement with Miller.
"You're also assuming that there is any wrongdoing on Alan Tudge's part. No matter has been raised with me by the Department of Finance in relation to any of those things," Morrison said.
"We had an independent investigation by Vivienne Thom … so the suggestion that Alan is in some way being found, you know, it's not supported by the independent inquiry."
Labor says it's not good enough for the prime minister to say he doesn't know how $500,000 is being spent.
"If Alan Tudge did nothing wrong, why was half a million dollars in taxpayers' money spent in compensation? And if Alan Tudge did do something wrong, why is he still in the cabinet?" Labor frontbencher Jason Clare said.
"This stinks."
Jacqueline Maley cuts through the noise of the federal election campaign with news, views and expert analysis. Sign up to our Australia Votes 2022 newsletter here.
Most Viewed in Politics
From our partners
Source: Read Full Article
Source link