Movies
Spider-Man & Venom Tame King Kong in MCU Multiverse Art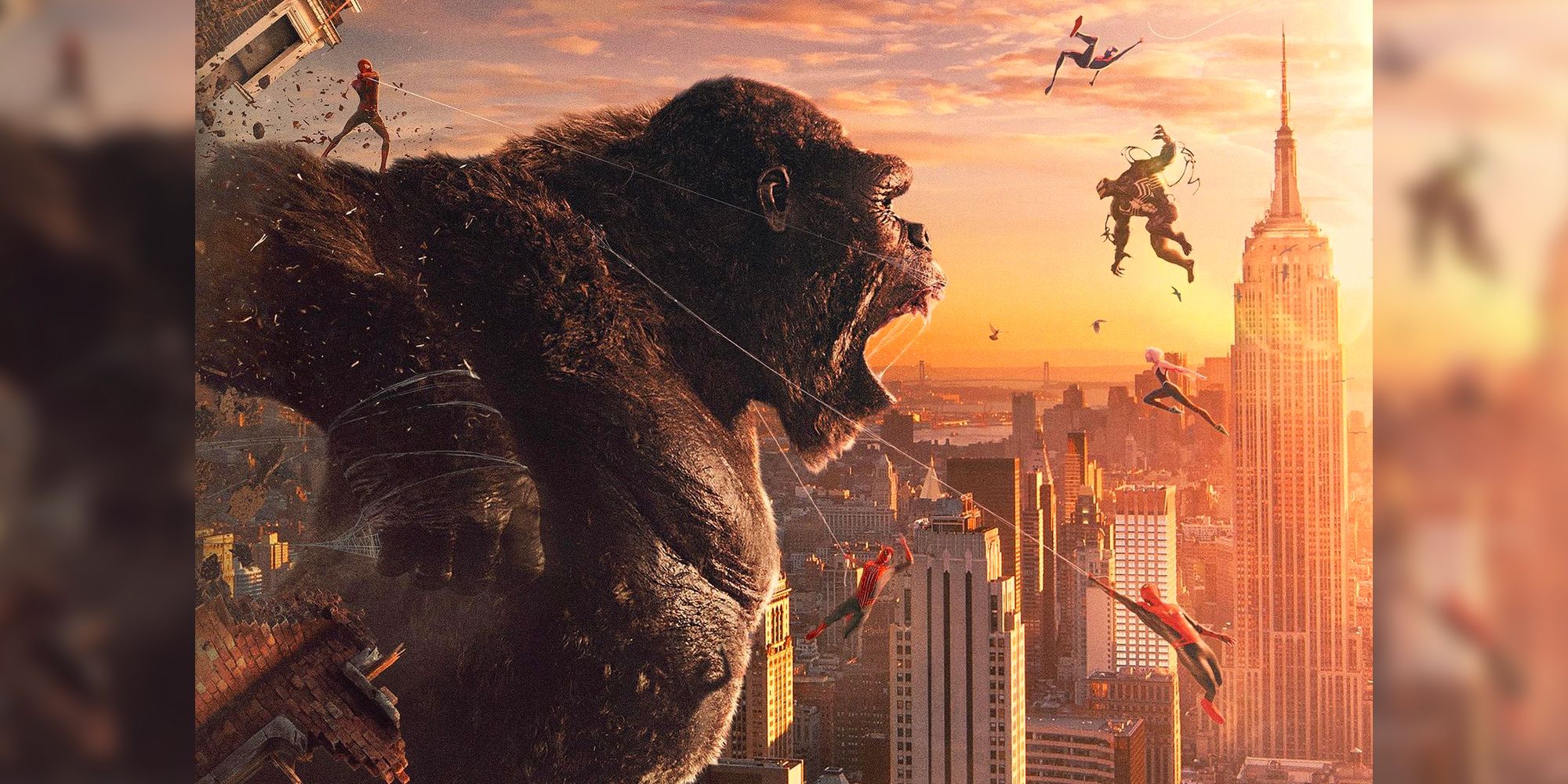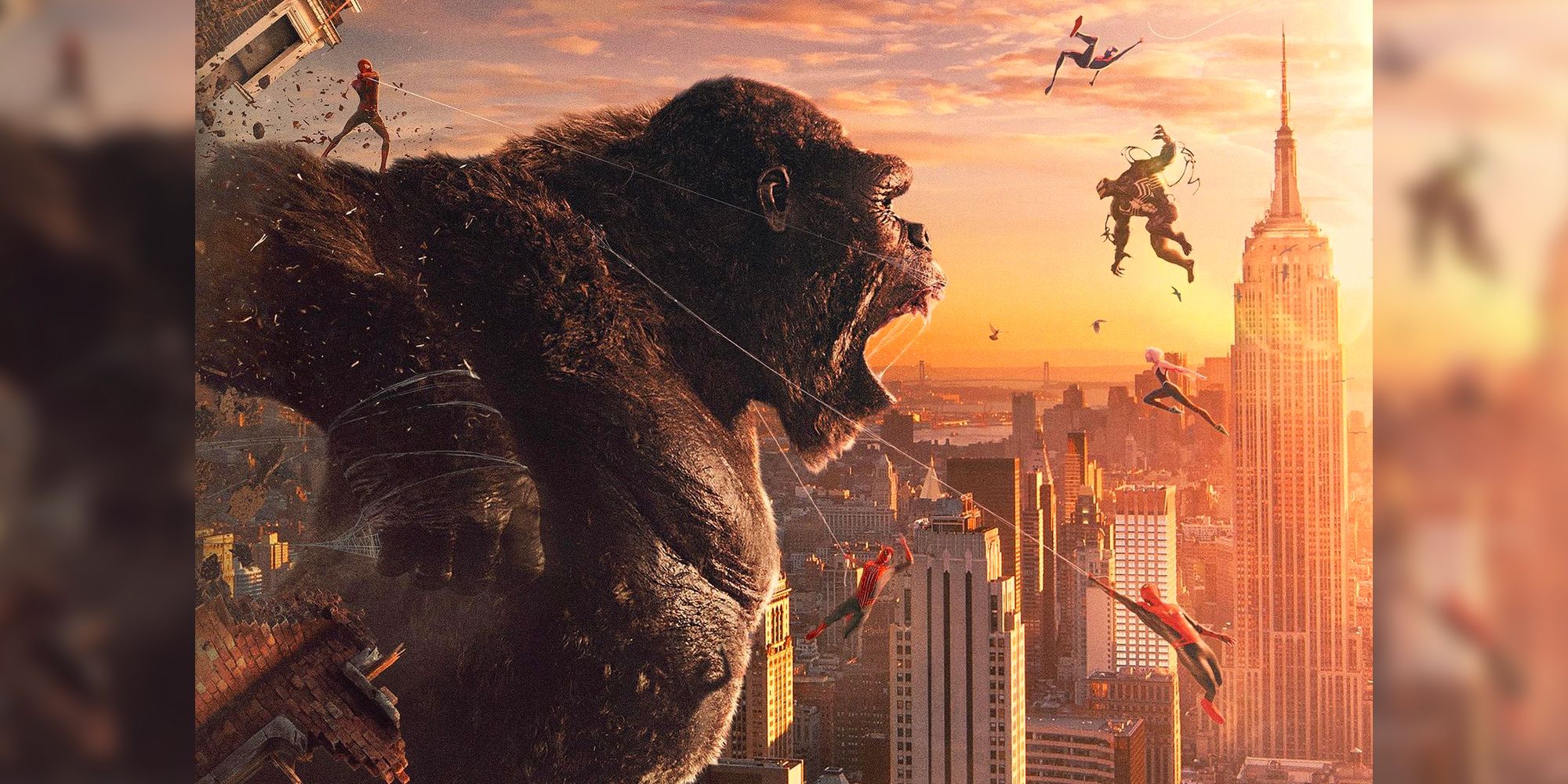 A piece of MCU fan art utilizes the multiverse concept to allow Venom and multiple versions of Spider-Man to battle King Kong in New York.
A piece of MCU multiverse fan art shows King Kong going up against Venom and multiple versions of Spider-Man in New York. King Kong predates Stan Lee creating Spider-Man by about 30 years, premiering in the 1933 film King Kong. The giant ape quickly became a recognizable character in pop culture, appearing in multiple films since the '30s. Spider-Man has become even more well-known after first appearing in Amazing Fantasy #15 in 1962. Spider-Man has since become a fan-favorite superhero, jumping from comics to movies, TV shows, video games, and various other media.
Both characters are more popular than ever in 2021. King Kong returned to the big screen in 2017 for Kong: Skull Island before appearing in the highly anticipated Godzilla vs. Kong earlier this year. Like many movies, the Godzilla and Kong face-off was postponed multiple times due to the pandemic, originally slated for a May 2020 release from Warner Bros. Spider-Man on the other hand has received three different film series in the past two decades, with Tom Holland currently portraying the famous webslinger. Fans are still waiting for Spider-Man: No Way Home's trailer to release, but it's widely believed the movie will also involve Tobey Maguire and Andrew Garfield's versions of the character now that the multiverse is confirmed to play a huge role in Phase 4's story.
Related: What To Expect From The MCU's Spider-Man 3
Many artists have imagined multiverse scenarios after Sylvie killed He Who Remains and fractured the Sacred Timeline in Loki's season 1 finale. Digital artist elilusionista.cl has done the same but mixed the webslingers with a completely different franchise. The art shows Kong being subdued by multiple Spider-Verse characters, including Holland, Maguire, and Garfield's Spideys, Spider-Gwen, Miles Morales, and Venom. The artist's original post can be seen below:
Spider-Man is confirmed to return in Jon Watts' Spider-Man: No Way Home. With the success of the first two movies and Holland's portrayal of Peter Parker in general, Marvel Studios and Sony will likely continue to use him in future movies. There are even reports that Sony and Disney may work out a plan to have Holland's Spidey meet Tom Hardy's Venom after Venom: Let There Be Carnage releases this October. As for Miles Morales and Spider-Gwen, both characters are returning in Spider-Man: Into the Spider-Verse 2. It's also widely believed Miles Morales will be introduced to the MCU eventually, given the character's popularity.
While Marvel has their plans laid out for the next several years, the fate of the MonsterVerse is still up in the air. Godzilla vs. Kong 2 and other stand-alone films have yet to be confirmed, likely because Warner Bros. was waiting to see how their latest giant monster film would perform on HBO Max and in theaters. Regardless, both Godzilla and Kong will continue to live on through fan art like the one above. It's incredibly unlikely Warner Bros. and Disney would ever make a deal to cross over these two franchises. Still, the multiverse concept now allows fans to create clever art featuring multiple of their favorite characters from different movies like Spider-Man and King Kong.
More: MonsterVerse: Godzilla/Kong Movie Timeline Explained
Source: elilusionista.cl
Shang-Chi and the Legend of the Ten Rings (2021)Release date: Sep 03, 2021
Eternals (2021)Release date: Nov 05, 2021
Spider-Man: No Way Home (2021)Release date: Dec 17, 2021
Doctor Strange in the Multiverse of Madness (2022)Release date: Mar 25, 2022
Thor: Love and Thunder (2022)Release date: May 06, 2022
Black Panther: Wakanda Forever/Black Panther 2 (2022)Release date: Jul 08, 2022
The Marvels/Captain Marvel 2 (2022)Release date: Nov 11, 2022
Ant-Man and the Wasp: Quantumania (2023)Release date: Feb 17, 2023
Guardians of the Galaxy Vol. 3 (2023)Release date: May 05, 2023
Where The Justice League Were During The Suicide Squad
About The Author