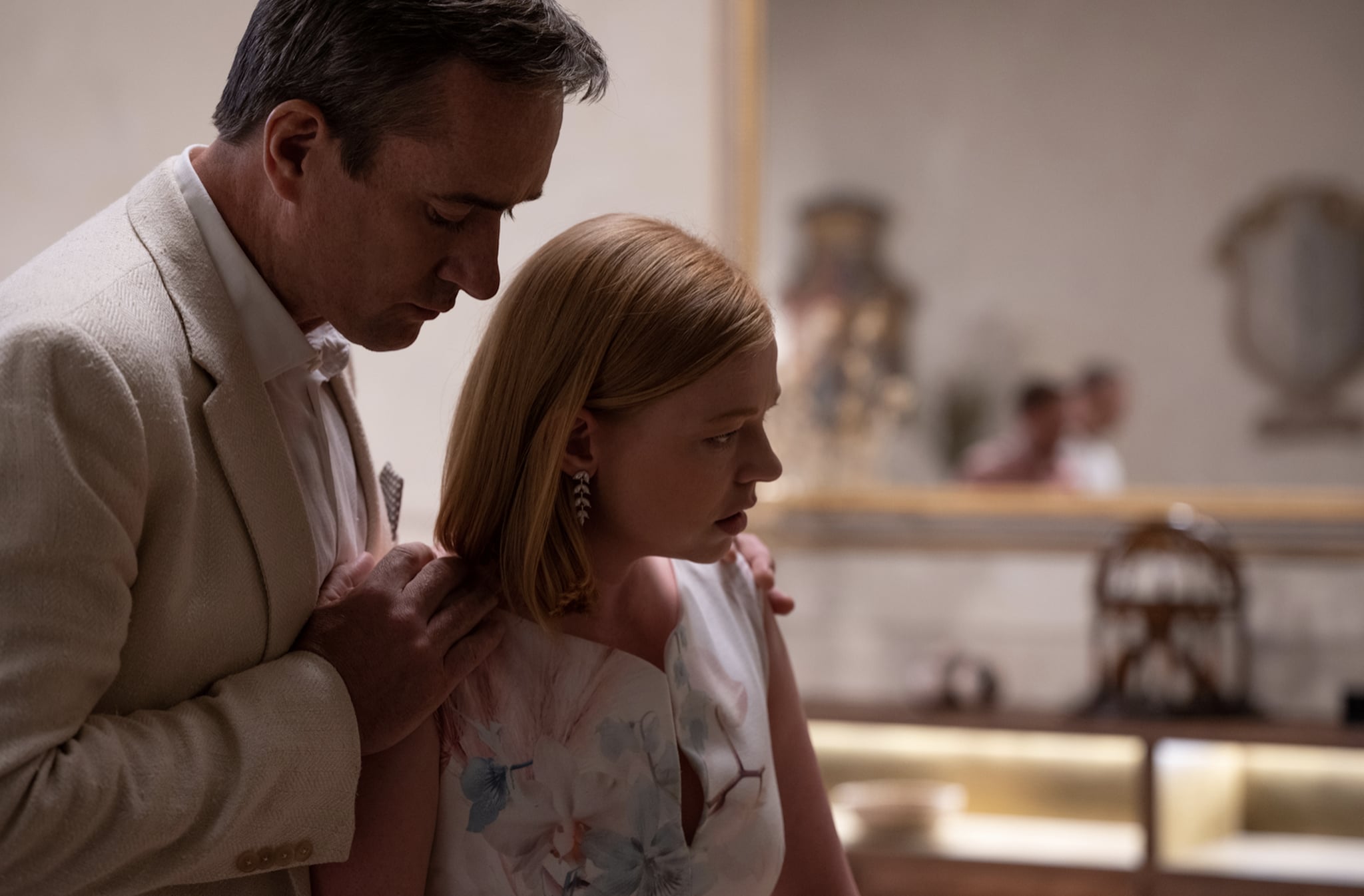 HBO's Succession closed out its third season with a dramatic finale that viewers were SO not ready for on Sunday night. After a season full of power grabs and high-stakes moves, episode nine of Succession delivers some unexpected plot twists that result in the ultimate betrayal of the Roy siblings — Roman (Kieran Culkin), Shiv (Sarah Snook), and Kendall (Jeremy Strong) — and gives Shiv's husband, Tom Wambsgans (Matthew Macfadyen), the last laugh.
One of the biggest twists from the finale is undoubtedly Logan Roy's (Brian Cox) negotiated deal where he ends up selling his company, Waystar RoyCo (considered the centerpiece of Succession), to tech entrepreneur Lukas Matsson (Alexander Skarsgard) — which both secures its future and ends any chance of passing the company down to its heirs. This is then followed by Tom's backstabbing decision to warn Logan of his children's "full coup" against him where they attempt to push him out of the company for good. In the end, Tom sells out Shiv to solidify his place at the top of the Waystar RoyCo ladder.
The explosive episode left a lot of viewers reeling from the many twists and turns in the finale, but according to Macfadyen, it made sense that everything went down the way it did. "It's an accumulation; it's a pivot by a thousand cuts," he told Deadline of Tom betraying his wife. "From the very beginning, he's had to take a lot. She speaks of an open marriage on their wedding night; it hasn't been an easy ride for Tom, he's had to take a lot of shit from the brothers and from his father-in-law and everybody . . . I think something flipped. But when I read the last episode, I was like, 'This makes sense.'"
With a finale as wild as that, we definitely need to know what's going to happen in season four (which has already been confirmed). Has Tom and Shiv's marriage hit rock bottom? Who will come out on top in this messy battle for control of Waystar? We can only hope all of this will be answered next season.