Lifestyle
The man-child dad is just trying to not mess up in hit show Bump
Early in the second season of the locally produced comedy-drama Bump, teen parents Olympia "Oly" Chalmers-Davis (Nathalie Morris) and Santiago "Santi" Hernandez (Carlos Sanson jnr) companionably tag-team the care of their baby Jacinda through a school day. They congratulate each other that they're "nailing this" as they juggle the feeding and nappy-changing responsibilities with their timetables.
It's a happy exchange, although anyone who watched the vibrant, astute and addictive first season will be aware that the serene sense of accomplishment is unlikely to last. Domestic life, love and parenting are not destined to be seamless and the bumps, and how they're negotiated, form the warmly beating heart of the production.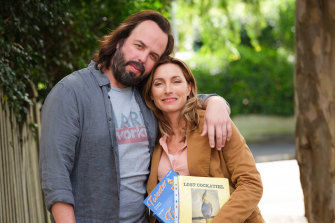 Angus Sampson with his on-screen partner Claudia Karvan in Bump.Credit:John Platt
Events continually intrude to disrupt the characters' best-laid plans. And with the shock arrival of "Baby J" in the first episode, the co-creators, journalist and fledgling TV writer Kelsey Munro and producer and star Claudia Karvan, loudly signalled that life involves all manner of upheavals. One of the show's many pleasures is the variety of ways in which its affectionately rendered characters surprise us with their responses.
Angus Sampson, who plays Oly's dad, Dom, describes the arrival of Baby J as the series' "inciting event". From there, it's blossomed into a multi-layered tale of the young couple, their families and a high-school community. Avoiding the cliches, it's brought a fresh eye to familiar territory.
Dom was introduced in the first season passed-out on his yacht, surrounded by beer cans and pizza boxes as he slept through his commitment to taking his studious learner-driver daughter to school. The initial impression was of a man-child who habitually failed to fulfil his obligations. Yet, as with many of Bump's characters, initial impressions didn't do Dom justice: there's a lot more to the man.
As he overslept, his long-time partner and the mother of their two children, Angie (Karvan), was giddily preparing to see Matias (Ricardo Scheihing Vasquez), a fellow teacher at her high school. Angie and Dom's relationship was obviously in trouble and, to complicate matters further in terms of what subsequently occurred, the man who Angie was excited about meeting was also married and also Santi's dad. Messy.
After eight years in the US, Angus Sampson returned to Australia before the pandemic and became available to play the role of Oly's dad, Dominic, in Bump.Credit:John Platt
How the now-entwined Davis-Chalmers and Hernandez families go about navigating these challenges forms the basis of the new season. "We're inhabiting the same world with the same tone," explains Karvan. "But we dig deeper and study their relationships and the effect that this baby has had. And it's quite expansive, we broaden the world. One of the big arcs is the mother-daughter love story, how powerful that relationship is and how painful and volatile; that you can slay your daughter accidentally by a mistimed joke, or your daughter can totally demolish you with a look.
"We're quite honest and brutal about how much pain comes with that love and connection. You feel quite raw, I think, as a parent, and as a child. The weird thing is that when you're a teenager you feel like you're at the mercy of your parents, and when you're a parent you feel like you're at the mercy of your teenagers."
Karvan describes the casting of Sampson as "a COVID silver lining". After eight years in the US, where's he's still based, Sampson (Fargo, Shut Eye, Gen: Lock) returned to Australia with his family last year during the pandemic and was therefore available for Bump. They've worked together before (on Spirited) and their mutual affection and admiration is evident as they speak via Zoom, just prior to production wrapping on the second season.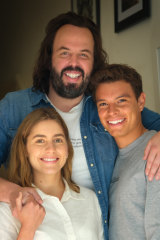 Angus Sampson with Carlos Sanson Junior and Nathalie Morris.Credit:John Platt
On screen, they convincingly play a couple separating after decades together, characters with very different temperaments – her nervy, him laidback – who also seem complementary. "There's definitely friendship and respect and a shared sense of humour," says Karvan of Angie and Dom.
"My first question to Claude was, 'What's attractive about this guy?'," recalls Sampson. "I needed to reconcile what these two characters had as a connection, aside from their children, why someone as clever and beautiful as Angie, as dynamic and cerebral, was attracted to him. And there were clues everywhere.
"I liken Dom to a labrador and maybe my kids would say that about me," Sampson adds. "He's like, 'What's going on? Let's run around in the water! Oh shit, now my clothes are wet and I don't have a towel.' Then he'll get home and check out the chafing from walking 17 kilometres back because he left the keys in the car. I'm not that hopeless, but once you have children, you're not trying to get life right, you're just trying to not fuck up. I think that's possibly part of what makes Dom so endearing, I hope, anyway, that he wants what's best for everyone, although what he thinks is best is not always what is best."
As to why Sampson was right for the role, Karvan says, "he's warm, lovable, funny. He can play the clown, I find Angus funniest when he's playing angry, he's hilarious. He's also resilient, you don't feel sorry for him, he doesn't go into bleak. When you're dealing with the breakdown of a family, it can get quite bitter and dark, and Angus just doesn't go there. That's not the tone of the show. It doesn't go to a nasty place, or a bitter, depressing place, and that's really important."
Sampson says that Bump has given him "two of my favourite scene partners in my whole life, Claudia and Nathalie: one I've admired for my whole career and the other I've just met". He's full of praise for Karvan's agility as an actor and the environment that she helps to create as a producer: "There's a great space for everyone to exist and discover. It's something that I always thought that those guys at Working Dog and Andrew Denton did so well. They genuinely have a vested interest, they encourage and facilitate a community, they give people opportunities to evolve."
Karvan also instinctively deflects praise, noting the significant contributions of her colleagues: Munro's intelligent scripts, Geoff Bennett's sensitive direction, a cast loaded with talent. She also credits the DNA of The Secret Life of Us and Love My Way, series also produced by John Edwards with which she's been involved. "The culture of those writers' rooms is about sharing personal stories, compiling them and making television out of them. I think we've carried on that tradition with Bump."
The approach has paid off. Bump is Stan's biggest launch to date and its most popular original series. It has secured sales to the CW network for US release, HBO Max for Latin America and the BBC for the UK.
The show's third season starts shooting early in 2022 and as he looks forward to the challenges awaiting Dom, Sampson says: "When the writing is as good as it is on Bump, you've just got to get out of the way and try not to mess it up."
Bump streams on Stan.
Find out the next TV, streaming series and movies to add to your must-sees. Get The Watchlist delivered every Thursday.
Most Viewed in Culture
From our partners
Source: Read Full Article
Source link