MLB
These 10 sluggers could rebound in big way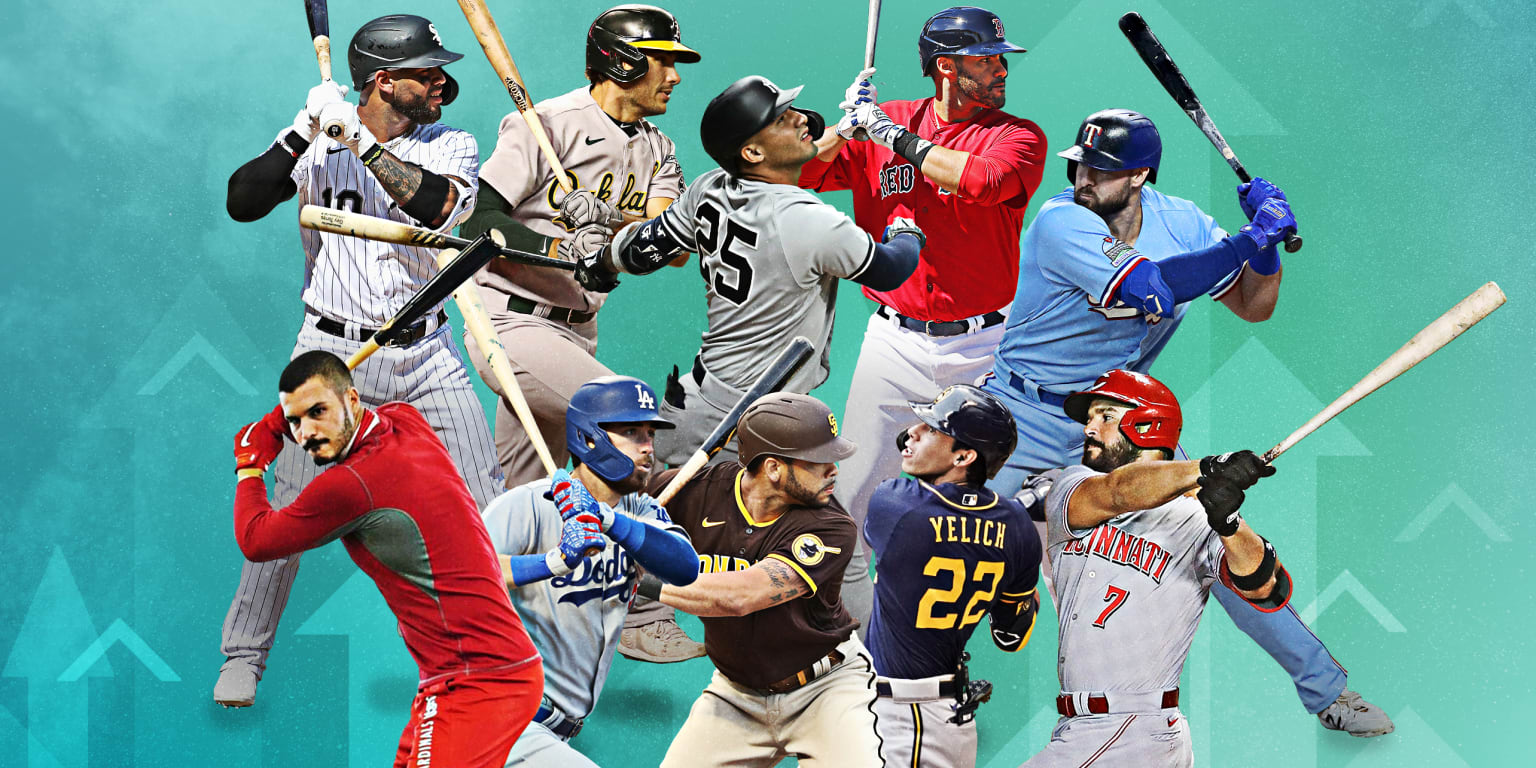 The 2020 season came and went in the blink of an eye, and some of the game's brightest stars were left with less-than-stellar numbers, because the pandemic-shortened campaign didn't provide much of an opportunity for players to bounce back from early slumps.
But 2021 is a chance for a fresh start. MLB.com convened five reporters to draft 10 hitters — five from each league — who are likely to rebound from underwhelming performances last season.
Yoán Moncada — 3B, White Sox
Key number: 47.9% hard-hit rate in 2019
Coming off a breakout '19 campaign (140 OPS+, 25 homers, 4.8 WAR), Moncada tested positive for COVID-19 upon arriving at Summer Camp, and while he still went on to play in 52 of the team's 60 games, Moncada admitted that he never felt like himself. Imagine dealing with a constant lack of energy and strength, while having to go out and hit Major League pitching. This stat probably tells the tale: Moncada's hard-hit rate plummeted from the 90th percentile among MLB hitters, to the 23rd percentile. He still drew walks, but he hit .225 and slugged .385.
Matt Olson — 1B, Athletics
Key number: 92.3 average exit velocity
Olson did manage to smack 14 home runs while playing all 60 games in 2020, but his wOBA dipped to a league-average-ish .311, while his batting average cratered to .195. A big reason why? The slugging first baseman struck out a career-high 31.4% of the time, compared to a career rate closer to 25.0% through his first four seasons.
Strikeouts always will be part of Olson's game given his patient approach, but he also walked at a career-high 13.9% clip last year, so his plate discipline remained strong. And when he made contact, Olson did damage thanks to his 92.3 average exit velocity — a top-20 mark in baseball in '20 and right in line with his career numbers. A case could be made that Olson was a little too passive a year ago, but as a 26-year-old in the prime of his career, he should be able to adjust to attacking hittable pitches more often. And don't expect him to post a BABIP as low as .227 again, considering his pre-2020 figure was .285.
— Jason Catania
One year after hitting 38 home runs over 144 games, Torres finished 2020 with just three round-trippers in 42 games as his barrel rate plummeted by 6.4 percentage points — the sixth-largest drop in MLB. Torres' hard-hit rate actually increased from 36.5% to 38.0%, but nearly half of his hard-hit batted balls were grounders, compared to roughly one-third the previous season.
On a positive note, Torres' grasp of the strike zone appears to be improving. He had the Majors' fourth-largest chase-rate decrease (11.1 percentage points) from 2019 to '20, swinging at just 20.2% of pitches out of the zone last season. As a result, his strikeout and walk rates both improved as well. In addition, he showed signs of elevating the ball more during the playoffs, with six of his eight hard-hit balls coming in the air. He ended up hitting .435 with two homers and a 1.262 OPS over seven postseason games. At 24 years old, Torres still has a bright future.
— Thomas Harrigan
J.D. Martinez — DH, Red Sox
Key number: 11.0% barrel rate in 2020
Martinez uncharacteristically slugged just .389 last season after posting a .619 slugging percentage from 2017-19. He hit 79 homers over his first two seasons with the Red Sox, but only seven in the pandemic-shortened 2020 campaign. That performance has all the hallmarks of an aberration.
While his hard-hit rate was down last year, Martinez's barrel rate was pretty close to what it was in 2019, at 11.0% (11.8% in '19). The unique circumstances surrounding the 60-game 2020 campaign resulted in several sluggers who normally finish with prodigious power numbers struggling at the plate, perhaps partly because of altered rules regarding in-game video study. But that might change this season, which could be a big lift for Martinez.
— Manny Randhawa
Joey Gallo — RF, Rangers
Key number: 417 ft. average home run distance
Gallo slugged .378 in 2020, the lowest slugging percentage in any season where he played at least 20 games. His expected slugging percentage, which is based on quality of contact, was .413 — ranking in the 49th percentile among MLB players. He didn't crush the ball in the way we've become accustomed to seeing from him, but there was plenty of evidence that the power is still there. He had an average home run distance of 417 feet, tied for third longest in the Majors (min. 10 HR).
Gallo had a 14.0% barrel rate, which was top-20 in the Majors (min. 100 batted balls). There was evidence of the contact that has made Gallo the perennial slugger we are used to, it just wasn't present as consistently as it had been in the recent past. With a full season ahead and a larger sample, not to mention more familiarity with a new ballpark, some offseason mechanical tweaks and even a new bat, Gallo is well equipped to harness that raw power and get back to his more frequent homer-hitting ways.
"It looked like I was just trying to hit the ball instead of drive the ball last year, and for me, I'm a power hitter," Gallo said Monday. "I'm trying to hit the ball out of the ballpark and over a guy's head, so when I'm trying to play small ball it doesn't really work for me. So that's what I'm trying to get back to: just let me just drive the ball to center field and keep my posture. That's what I had success in 2019, so I'll try to get back to that."
— Sarah Langs
Yelich's 34.6% swing rate was second-lowest among qualified hitters last season and represented a significant dropoff for him from 2019 and prior years. He had a 45.2% swing rate in 2019, when he had a second straight MVP-caliber campaign. That 10.6 percentage point decrease was the largest among all hitters to be qualified in both 2019 and '20. What does that mean? Given Yelich's track record and consistency to this point, it's worth figuring that he will swing at his more usual rate in 2021.
Swinging alone doesn't create better results automatically, but that decrease helps illustrate how aberrant 2020 was for Yelich. He was fifth in the Majors in hard-hit rate (min. 100 batted balls), so it stands to reason that producing more of that contact will be a good thing for Yelich's overall results. Ultimately, his 99th-percentile exit velocity and 98th-percentile hard-hit rate should lead to good results.
— Sarah Langs
Nolan Arenado — 3B, Cardinals
Key number: 45.1 expected home runs (xHR) in 2019 (3rd in MLB)
Arenado's 2020 at the plate was marred by a shoulder injury, but he won his eighth Gold Glove Award in eight MLB seasons nonetheless. Now joining a postseason contender in St. Louis, a great baseball town with a rich baseball history, not to mention buddy Paul Goldschmidt across the diamond at first base, everything seems to be aligning for a rejuvenated Arenado to put up big numbers.
For the first time in his Major League career, Arenado will not have to contend with the difficult adjustments to breaking pitches that are flat in Colorado but sharp at sea level every time he goes on the road. Though he's finished in the top 10 in NL MVP Award voting five times, including three top-five finishes, Arenado has yet to win the honor. This might just be the year he does it after going from a team that finished in fourth place each of the past two seasons to one that has its eyes on winning the NL Central.
— Manny Randhawa
Cody Bellinger — CF, Dodgers
Key number: 12.5% barrel rate in final 37 games last season
Coming off an NL MVP Award-winning 2019 season in which he hit .305 with 47 homers and a 1.035 OPS, Bellinger saw his OPS drop by 246 points last year. But the left-handed slugger ended the regular season on a tear, hitting .284 with 10 home runs and a .960 OPS over his final 37 games. His barrel rate in that span was 12.5%, close to his 90th-percentile mark (13.0%) in 2019, while his expected wOBA — based on strikeouts, walks and quality of contact — was a robust .404.
The 25-year-old may have a difficult time replicating his 2019 numbers, but his lifetime .911 OPS and 40-plus homers are certainly within reach in '21.
— Thomas Harrigan
Sometimes a return to form is driven by a return to health, and that looks like the case for Suárez, who suffered a freak right shoulder injury that required surgery to remove loose cartilage in January 2020. Although he proved capable of playing by the time the season got underway in late July, it's possible (or even likely) that the third baseman wasn't yet fully himself.
To wit, Suárez's slash line stood at .118/.268/.235 with only four extra-base hits in his first 20 games. Over the rest of the season (37 games), he hit a more Suárez-like .246/.336/.592 with 19 extra-base knocks, including 13 dingers. Still, his overall line (.202/.312/.470) was underwhelming and weighed down by the slow start, not to mention a bizarre .214 BABIP (compared to his .310 career number).
In hindsight, it's pretty remarkable that Suárez, only half a year removed from shoulder surgery, was able to register a 14.4% barrel rate. That was a career high and good for 16th best in MLB, sandwiched between none other than Freddie Freeman and José Abreu. (Reminder: They both won MVP Awards last year.) Still just 29 years old and now fully recovered, Suárez looks poised to return to his 2018-19 form when he emerged as one of the game's top sluggers.
— Jason Catania
Tommy Pham — LF, Padres
Key number: .345 xwOBA in 2020
Pham has always produced when he's able to stay on the field, although injuries have hampered him. The second part was true again in 2020, when a left hamate fracture limited him to 31 games. But the first part wasn't. A .277/.373/.472 (126 OPS+) career hitter through 2019, Pham fell to .211/.312/.312 (74 OPS+) in his first season with San Diego and was essentially replacement level.
Of course, that was in half of a shortened season, but even then, the results were misleading. Pham walked and struck out about as much as usual. He made as much loud contact as ever (50.0% hard-hit rate). But of the more than 300 players who came to the plate at least 100 times in 2020, only one (Scott Kingery) suffered a larger gap between his xwOBA and actual wOBA (65 points). By xwOBA, Pham was about as good at the plate as Mookie Betts, Tim Anderson or J.T. Realmuto. He was just snakebit. Health will remain a question mark, but Pham's combo of patience and power should have him on the comeback trail.
— Andrew Simon
Source link