Movies
Tim Burton's Corpse Bride Has A Heartbreaking Real-Life Inspiration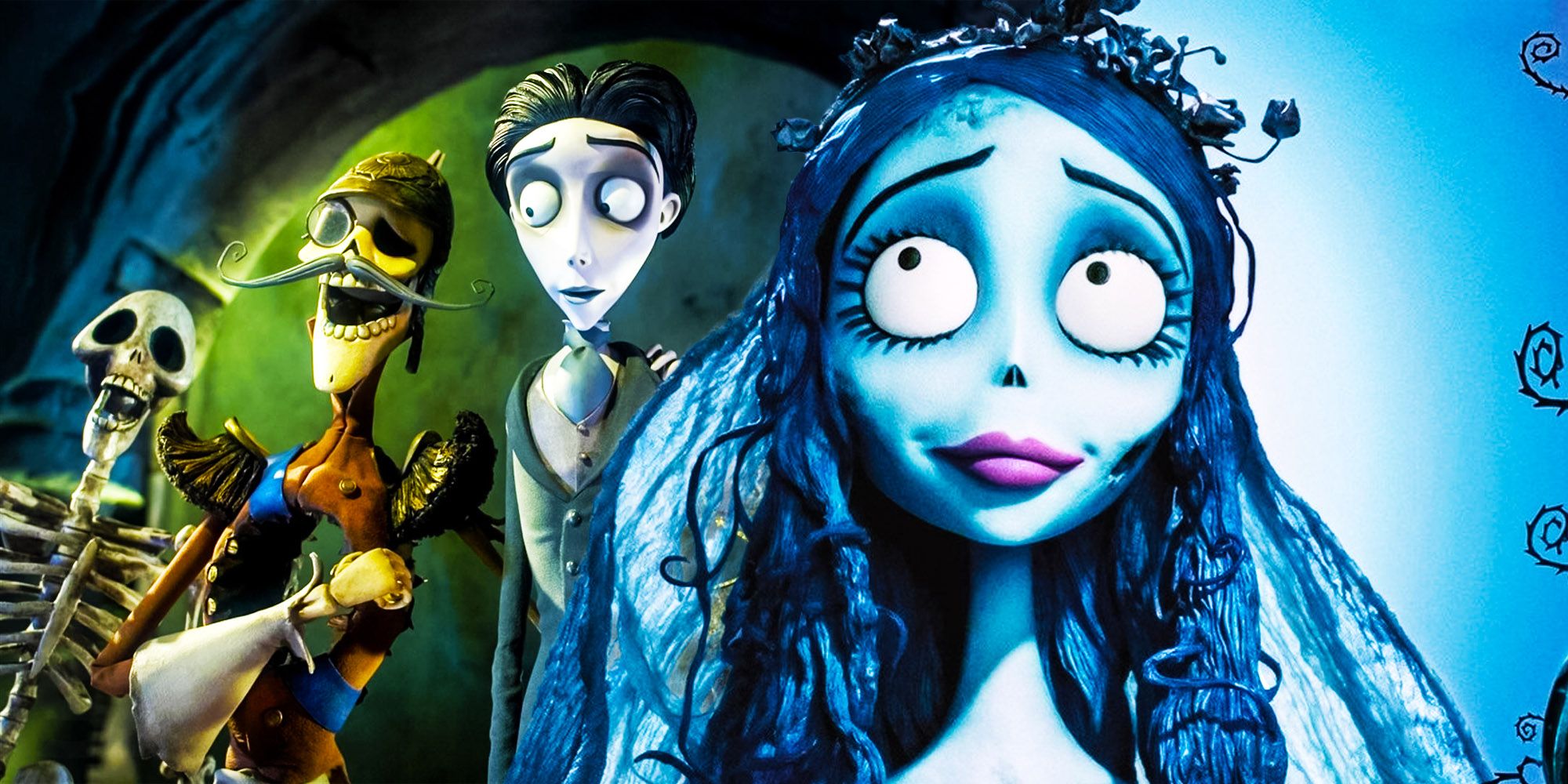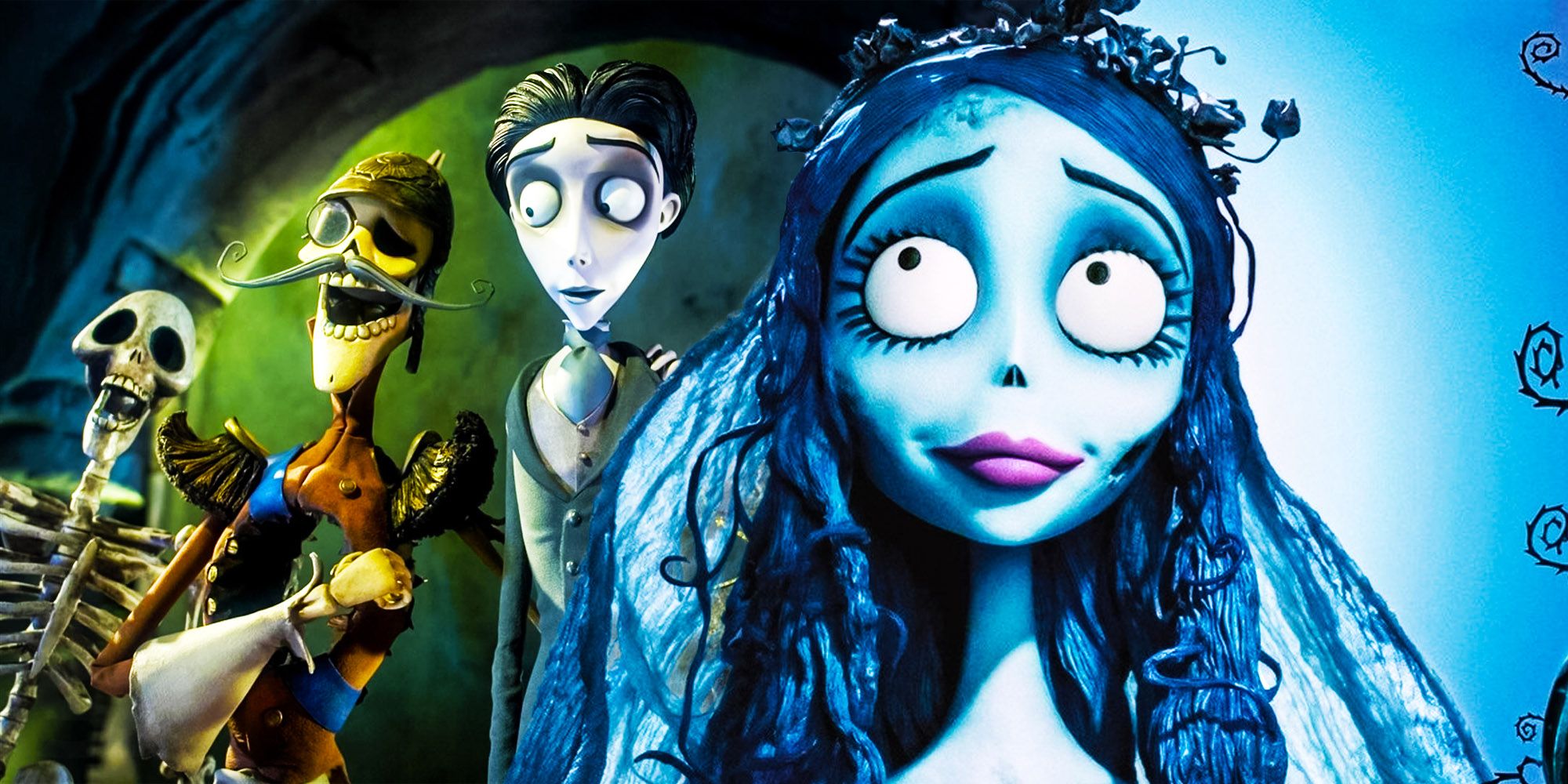 Content Warning: This article discusses antisemitism.
Tim Burton's 2005 dark fantasy film, Corpse Bride, is inspired by an Ashkenazi ghost story with tragic connections to real-world events. The story of a living person accidentally marrying the specter of a murdered bride-to-be was the basis of Corpse Bride's bittersweet narrative, albeit with significant expansion to its plot and changes to its setting and characters. Both Tim Burton's Corpse Bride and the folklore that inspired it, unfortunately, have origins in turn-of-the-century Russian pogroms in which weddings ended in tragedy.
Corpse Bride, whose setting is Victorian England, tells the macabre story of Victor Van Dort, who inadvertently becomes betrothed to Emily, an undead victim of a ruthless serial killer. With Victor caught between his sympathies for Emily and his genuine love for his living fiancé Victoria Everglot, matters are further complicated by Emily's killer resurfacing and plotting to marry, murder, and rob Victoria next. The film's bittersweet ending sees the plot of Emily's killer thwarted and Emily allowing Victor and Victoria to remain together rather than deny them the life she'd had taken from her.
Related: Tim Burton's Batman Secretly Explained Joker's Confusing Origin Mystery
The Corpse Bride movie is loosely based on the Jewish folktale known as "The Finger." The original version was, fascinatingly, a far gloomier tale, with the undead bride lacking a name or tragic backstory, and whose accidental marriage is rendered null and void at the end of the tale, leading her to collapse into nothing but bones, though some versions of the story end on a happier note, with the groom's living wife promising her that she and the life she never had will be honored by the living. While The Finger does not specify why the body of a would-be bride is found in the middle of the woods, its setting suggests that she was the victim of a pogrom, a tragically common occurrence in the Russian Empire at the turn of the century.
How The Finger Became Corpse Bride
While pogroms ravaged Jewish communities throughout their diasporic history in Russia, the early 20th Century saw a particularly gruesome wave of attacks, with would-be brides often being murdered and tossed into shallow graves, still in their wedding gowns. The Tim Burton movie vaguely retains this detail by having Emily be the victim of a serial murderer, but the film's new setting and reimagined characters are bereft of The Finger's implicit meaning. The message of The Finger's happier alternative ending may be to remember the lives cut short by these horrific pogroms, and Corpse Bride's new setting, unfortunately, makes this message impossible.
While Tim Burton was intrigued by The Finger, he opted to remove the folk tale's religious and ethnic Jewish characters by setting Corpse Bride in Victorian England, with characters who are white and Christian. Burton wished to make Corpse Bride a modern "fairy tale," so rather than featuring a Levantine population in Eastern Europe, he altered it to conform to the more typical Western European and Christian sensibilities. Corpse Bride is as heartwarming as it is tragic, but the Ashkenazi Jewish folklore and history that inspired it make it even more heartbreaking.
Source link