MLB
Top prospect performers for July 15 2021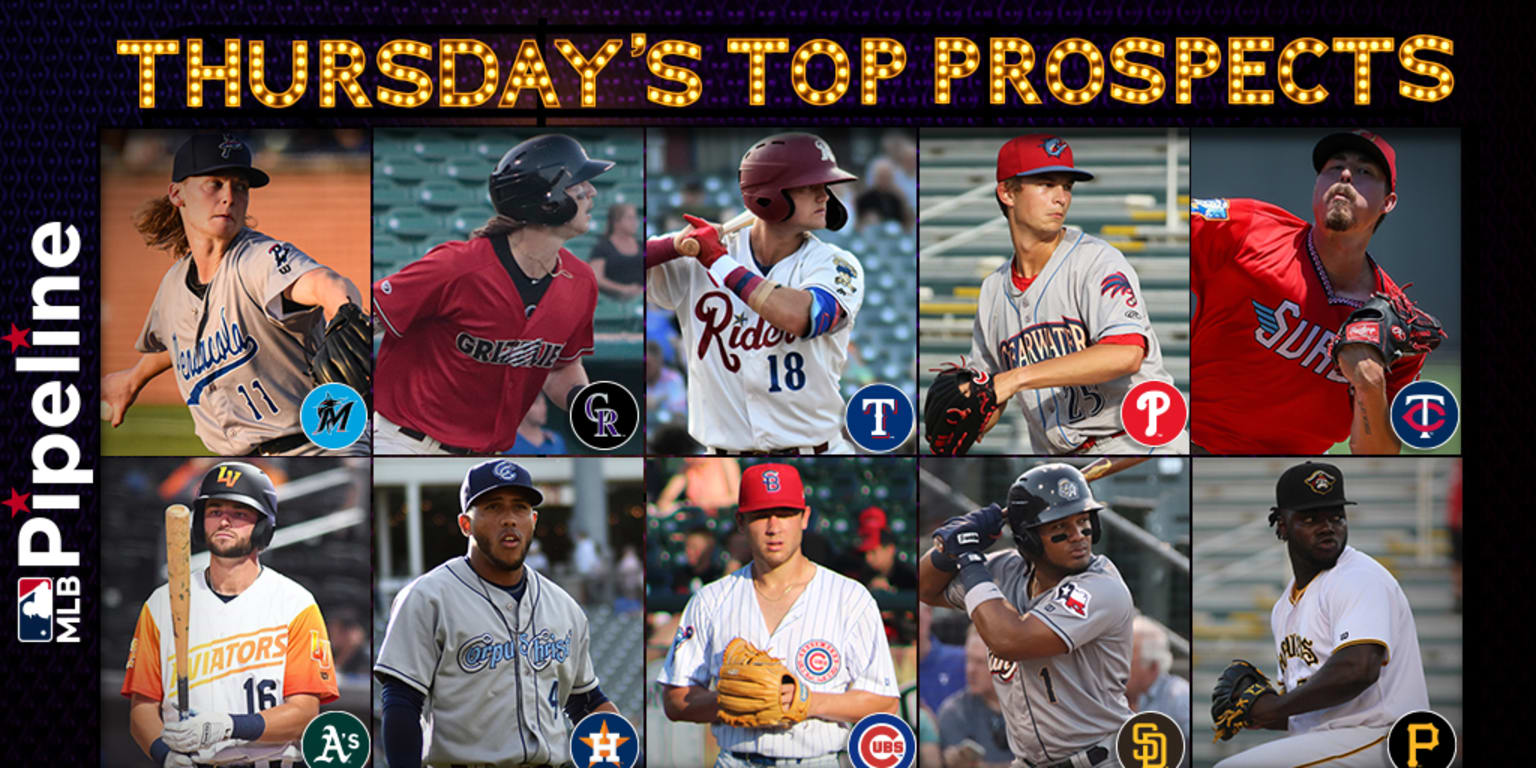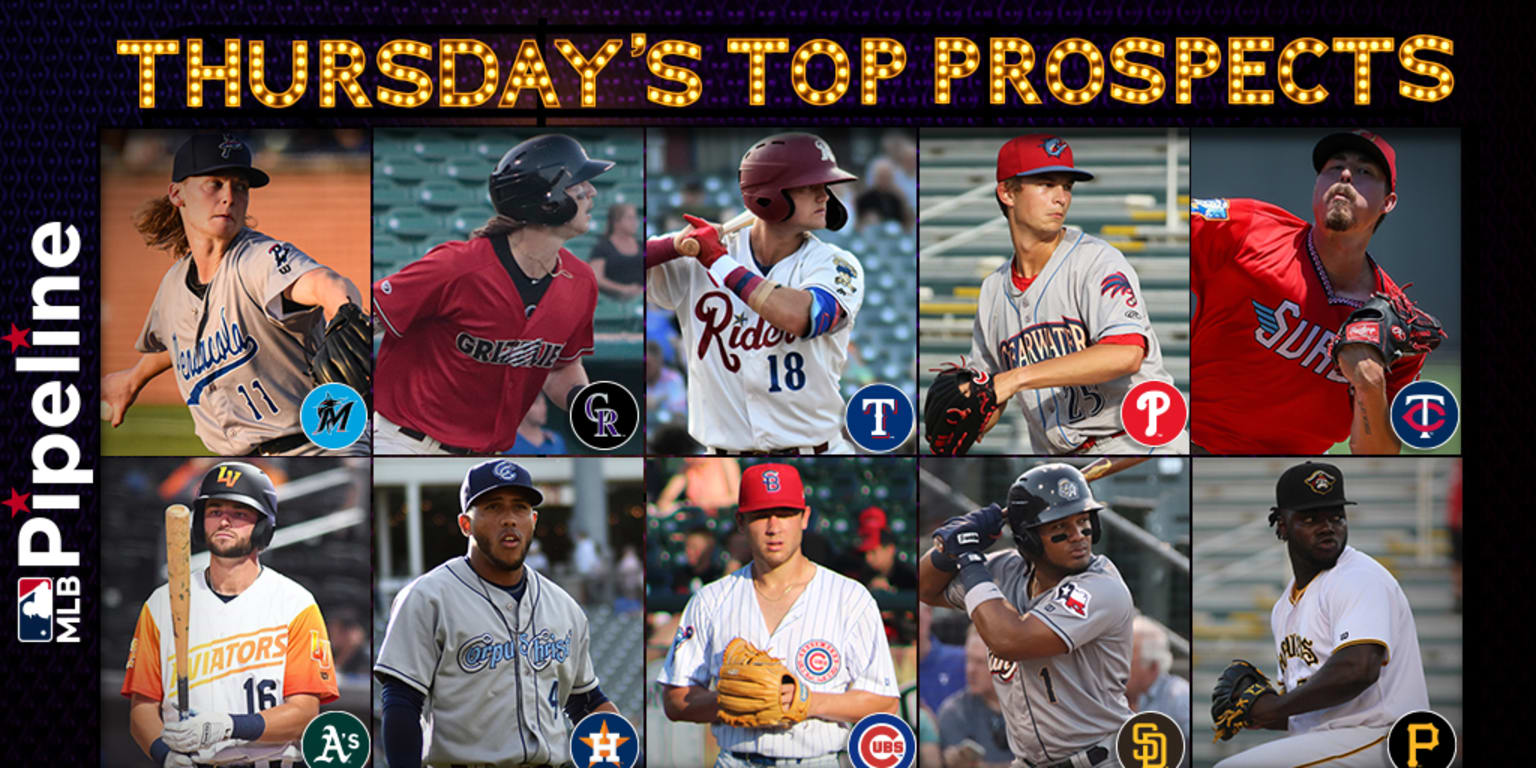 Here's a look at Thursday's top Minor League performers from each team's Top 30 Prospects list:
Marlins: Max Meyer, RHP (MLB No. 20), Double-A Pensacola
Meyer threw 47 of his 77 pitches for strikes and put together another impressive outing on the mound. The right-hander struck out four and gave up just one run, via a solo homer, on four hits and a walk. Meyer has pitched to a 1.65 ERA through 12 starts this season, giving up one run or fewer in 10 of those outings. In fact, he's given up just one run over his past three starts, a span of 17 innings. Marlins prospects stats »
Rockies: Zac Veen, OF (MLB No. 39), Low-A Fresno
Ryan Vilade, OF (No. 4), Triple-A Albuquerque
Veen not only had a perfect night at the plate, he also put together the first multihomer game of his career. The 19-year-old, a first-round pick from the 2020 Draft, hit a solo homer in the fifth and a three-run homer in the ninth to highlight his 4-for-4, six-RBI performance. Veen is hitting .263 on the year and has really struggled in July, but Thursday night's performance may be a sign that he's starting to turn things around.
In his first at-bat since playing in Sunday's Futures Game in Denver, Colorado's fourth-ranked prospect raced to an inside-the-park home run in the bottom of the first inning to get the Isotopes on the board, then roped an RBI triple to center field in the bottom of the third. After striking out in the fourth, Vilade reached on a walk in the sixth. Rockies prospects stats »
Rangers: Josh Jung, 3B (MLB No. 47), Double-A Frisco
Hans Crouse, RHP (No. 7), Double-A Frisco
A pair of the Rangers top prospects helped lead Frisco to a 9-3 win over Springfield. Jung led the offense with a 3-for-4 showing, including his fifth Double-A homer of the year. The 23-year-old drove home two with a base hit in the first and then struck again for a two-run homer in the second. Jung is hitting .297 on the year and is in the midst on a bit of a hot streak, going 6-for-13 with six RBIs over the past three days.
While Jung was driving in runs, Crouse was putting up zeros. Ultimately one run crossed the board in the fifth, the lone blemish against Crouse, but overall it was still a solid outing. The right-hander issued a trio of walks, but struck out seven and didn't give up a hit over five innings. Rangers prospects stats »
Phillies: Mick Abel, RHP (MLB No. 59), Low-A Clearwater
Francisco Morales, RHP (No. 3), Double-A Reading
Although not as impressive as his previous outing where he twirled five hitless innings, Abel put together his third scoreless performance in four starts. The 20-year-old allowed one hit, walked two and struck out five, including four straight in the second and third innings. He was visited by a trainer and left the game after hitting a batter and issuing a walk to begin the fourth. The performance dropped his ERA below four for the first time since June 3. Through his first 13 starts, Abel has a 3.92 ERA and a 1.11 WHIP while holding opponents to a .167 average.
Morales found himself in the midst of a nightmare through the first six weeks of the season. The 21-year-old owned a 13.50 ERA through his first eight appearances, including seven starts. However, things have turned around for the Venezuela native, who put an exclamation point on his recent run of success by tossing six one-hit innings on Thursday for Reading. Despite issuing four walks, Morales struck out five and surrendered only a one-out double in the opening frame. The 6-foot-4, 185-pounder has sliced nearly seven runs off his ERA since June 16, allowing four earned runs in five starts spanning 26 2/3 innings (1.35 ERA). Phillies prospects stats »
Twins: Jordan Balazovic, RHP (MLB No. 75), Double-A Wichita
Dominant. Lights out. Filthy. Choose whichever adjective you'd like, they're all appropriate for Balazovic's outing on Thursday night. The 22-year-old threw 61 of his 90 pitches for strikes as he racked up a season-high 11 strikeouts over seven scoreless innings. Balazovic retired 15 of the first 16 batters he faced and didn't give up a hit until the sixth inning. That baserunner was quickly erased via a double play as Balazovic retired five straight to conclude his outing. The strong start lowered his ERA to 2.89 through eight starts this season. He's also struck out 51 over 37 1/3 innings. Twins prospects stats »
Athletics: Cody Thomas, OF (No. 22), Triple-A Las Vegas
Thomas launched his 17th and 18th home runs of the season and added a walk in Las Vegas' victory. The 26-year-old is enjoying another strong month coming on the heels of a June when he batted .313/.376/.747 with 11 homers and 28 RBIs. Thomas has gone deep five times and plated 17 runs so far in July while batting .354 with an .854 OPS. The outfielder is tied with Salt Lake's Jo Adell for the Triple-A West lead in homers with 18 and is tied for second with 49 RBIs. Athletics prospects stats »
Astros: Pedro Leon, SS (No. 2), Double-A Corpus Christi
Leon put both his power and speed on display from the top of the Hooks' lineup, finishing 3-for-5 with a triple, homer and two RBIs. The 23-year-old flashed his speed early, leading off the game with a triple and then showed his power with a line drive homer in the third. Leon is hitting .250 on the season with nine homers and 33 RBIs. Astros prospects stats »
Cubs: Ryan Jensen, RHP (No. 8), High-A South Bend
Jensen threw 54 of his 89 pitches for strikes and retired the first 11 batters he faced as he carved his way through the Cedar Rapids lineup for six innings. The 23-year-old yielded one run on two hits and a walk and also racked up eight strikeouts in the process. Jensen struggled in June, but has been lights out in July, giving up just one run over 17 innings (three starts) this month. Cubs prospects stats »
Padres: Eguy Rosario, SS (No. 18), Double-A San Antonio
Rosario provided the spark and the flame for San Antonio's offense on Thursday. The 21-year-old did a lot of everything with a homer, double and four RBIs while adding three walks and three stolen bases. Rosario entered the game in the midst of a 1-for-16 stretch, but increased his slash line to .270/.366/.456 with 20 extra-base hits and 18 stolen bases. Padres prospects stats »
Pirates: Eddy Yean, RHP (No. 12), Low-A Bradenton
Having allowed a run in three straight outings, Yean rebounded with three hitless frames en route to the first save of his career. The 20-year-old struck out five of the 10 batters he faced and allowed one baserunner on a hit-by-pitch with two outs in the ninth. Despite a 5.26 ERA, the 6-foot-1, 180-pounder has struck out 44 in 37 2/3 innings while holding opponents to a .209 average. Pirates prospects stats »
Tigers: Jose De La Cruz, OF (No. 16), FCL Tigers East
Make that six straight multihit performances for De La Cruz, who extended his hitting streak to seven games with a 4-for-5 showing in the Florida Coast League. While four hits is impressive on its own, De La Cruz went one step further — he hit a pair of homers. The 19-year-old hit a three-run homer in the first and then added a solo blast in the fourth. His other two hits were singles. De La Cruz has homered three times this season and is hitting .185 through 50 games (39 with Low-A Lakeland), but is batting .381 over his past 11 contests in the FCL. Tigers prospects stats »
Yankees: Alexander Vargas, SS (No. 13), FCL Yankees
Vargas set a career high with four RBIs as he helped lift the Yankees to a 9-6 win over the Tigers. The 19-year-old, who finished 3-for-5 on the afternoon, came through with an RBI double in the fifth, a two-run single in the sixth and another run-scoring single in the eighth. Vargas is hitting .333 through 10 games this season and hit .233 over 48 games in his 2019 professional debut. Yankees prospects stats »
Source link