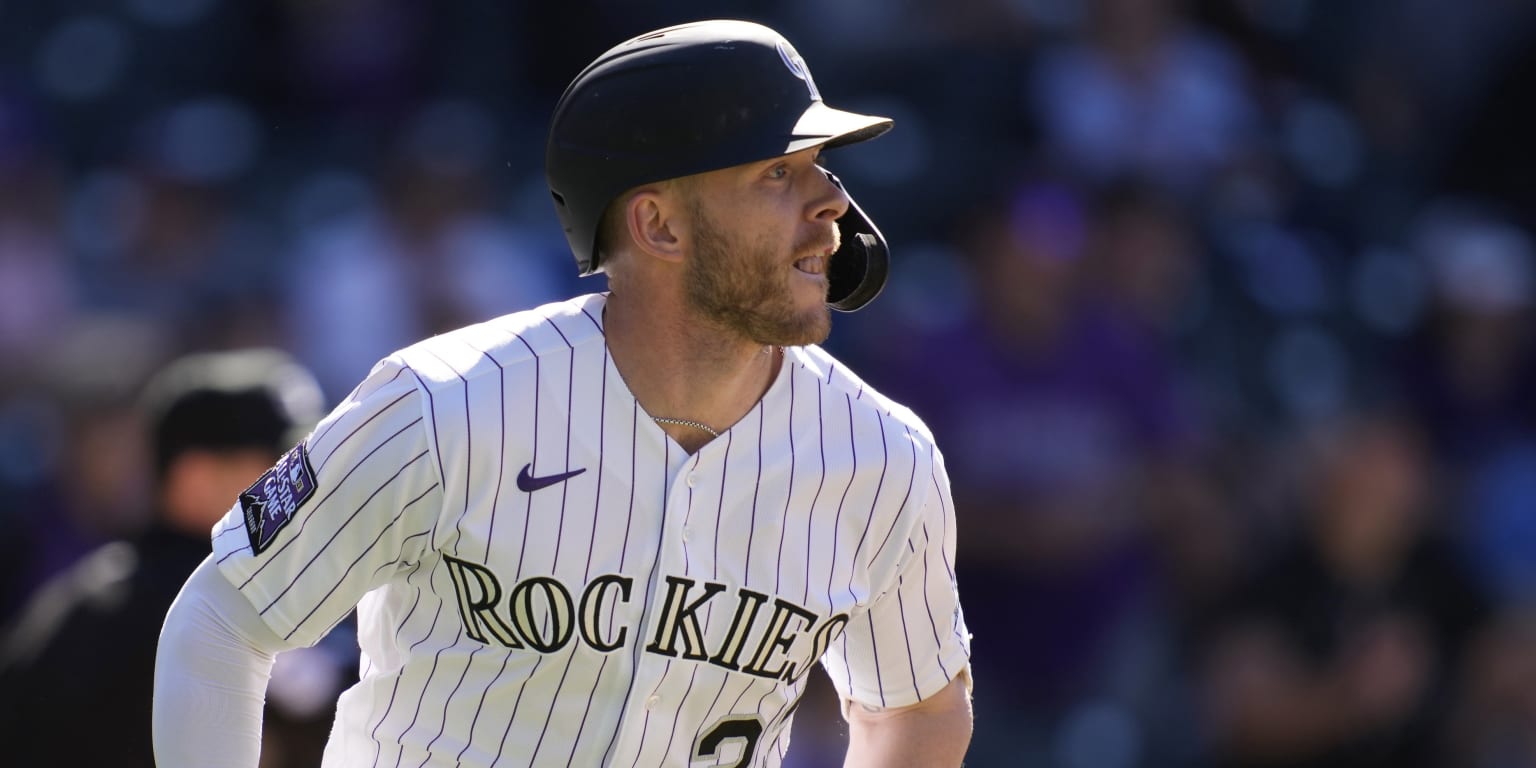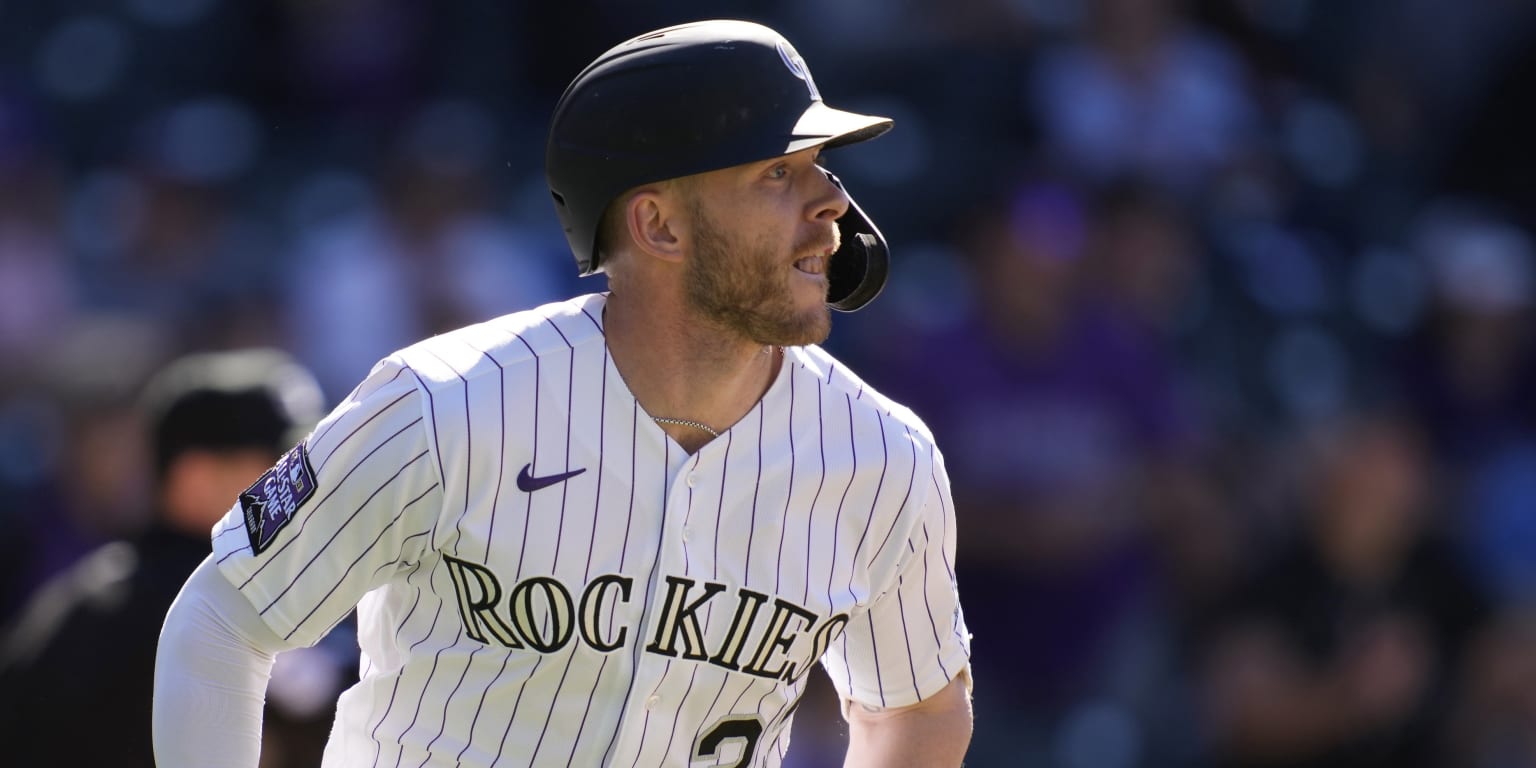 n","providerName":"Twitter","providerUrl":"https://twitter.com","type":"rich","width":550,"__typename":"ExternalEmbedContent"},"$ROOT_QUERY.getForgeContentBySlug({"locale":"en-us","slug":"trevor-story-rumors","type":"story"}).parts.6″:{"data":{"type":"id","generated":true,"id":"$ROOT_QUERY.getForgeContentBySlug({"locale":"en-us","slug":"trevor-story-rumors","type":"story"}).parts.6.data","typename":"ExternalEmbedContent"},"type":"oembed","__typename":"ExternalEmbed"},"$ROOT_QUERY.getForgeContentBySlug({"locale":"en-us","slug":"trevor-story-rumors","type":"story"}).parts.7″:{"content":"**July 23: Yankees check in with Rockies on Story**
One figured the Yankees would throw their hat in the ring for just about every big available name on this year's Trade Deadline market as they try to turn their season around. It appears the pinstripes have done just that with Story. A source tells MLB.com's Mark Feinsand that the Yankees have checked in with the Rockies about their star shortstop, who could find a home in New York's infield if DJ LeMahieu slides over to first base.","type":"markdown","__typename":"Markdown"},"$ROOT_QUERY.getForgeContentBySlug({"locale":"en-us","slug":"trevor-story-rumors","type":"story"}).parts.8.data":{"html":"
The Yankees have checked in with the Rockies on Trevor Story, per source, though they are one of a number of teams believed to be interested in the SS. Given Voit's health in 2021, Story would be a sensible fit in New York's infield (LeMahieu 1B, Torres 2B, Story SS, Urshela 3B).

— Mark Feinsand (@Feinsand) July 23, 2021
nn","providerName":"Twitter","providerUrl":"https://twitter.com","type":"rich","width":550,"__typename":"ExternalEmbedContent"},"$ROOT_QUERY.getForgeContentBySlug({"locale":"en-us","slug":"trevor-story-rumors","type":"story"}).parts.8″:{"data":{"type":"id","generated":true,"id":"$ROOT_QUERY.getForgeContentBySlug({"locale":"en-us","slug":"trevor-story-rumors","type":"story"}).parts.8.data","typename":"ExternalEmbedContent"},"type":"oembed","__typename":"ExternalEmbed"},"$ROOT_QUERY.getForgeContentBySlug({"locale":"en-us","slug":"trevor-story-rumors","type":"story"}).parts.9″:{"content":"Money could come into play here, Feinsand notes, as Story's salary would bump the Yankees right up to the competitive balance tax (CBT) threshold. New York might want the Rockies to pay down some of that salary to facilitate a trade, but Colorado might be reluctant to do so after paying a significant amount of Nolan Arenado's remaining contract in his trade to the Cardinals.","type":"markdown","__typename":"Markdown"},"$ROOT_QUERY.getForgeContentBySlug({"locale":"en-us","slug":"trevor-story-rumors","type":"story"}).parts.10″:{"content":"**July 22: Story reportedly drawing interest as a center fielder** nThe Colorado Rockies are the only organization that Trevor Story has ever known as a pro. That might change prior to the July 30 Trade Deadline, and that might not be the only change in Story's baseball future if he is dealt. According to MLB.com's Mark Feinsand, at least one team is interested in Story "with the idea of playing him in center field" instead of at shortstop.nnStory has never played in the outfield — much less in center field — in the Minor or Major Leagues since his career began in 2011. However, Story, whose Sprint Speed ranks in the 88th percentile in baseball at 28.7 feet per second, has the athleticism to cover a lot of ground. And outside-the-box thinking might become a theme as front offices effort to find the right fit to upgrade their club.nn"Everyone is trying to be as uber-creative as they can to try to win," an AL executive told Feinsand.","type":"markdown","__typename":"Markdown"},"$ROOT_QUERY.getForgeContentBySlug({"locale":"en-us","slug":"trevor-story-rumors","type":"story"}).parts.11″:{"content":"**July 22: Teams "engaged" with Rockies on Story** nIt remains to be seen whether the Rockies will actually decide to trade Story before the Deadline, but teams are obviously checking in with Colorado's front office. Sources tell Patrick Saunders of the Denver Post that at least six to eight teams have opened discussions with the Rockies regarding a Story trade, though Colorado interim general manager Bill Schmidt pushed back a bit by saying that number was "a little high."nnOne team that has "checked in" with the Rockies regarding Story is the Yankees, according to ESPN's Buster Olney. If New York was to swing a deal to land the star shortstop, Gleyber Torres would likely move back to second base, as Olney notes.nnAs for Story himself, he told the Post on Tuesday that he doesn't know which teams are contacting the Rockies.nn"Until something happens, I really don't want to know," said Story. "That's what I told my (management) team."","type":"markdown","__typename":"Markdown"},"$ROOT_QUERY.getForgeContentBySlug({"locale":"en-us","slug":"trevor-story-rumors","type":"story"}).parts.12.data":{"html":"
The Yankees are among the teams that have checked in on Trevor Story. Presumably, if they followed through, they'd move Gleyber Torres back to second base.

— Buster Olney (@Buster_ESPN) July 22, 2021
nn","providerName":"Twitter","providerUrl":"https://twitter.com","type":"rich","width":550,"__typename":"ExternalEmbedContent"},"$ROOT_QUERY.getForgeContentBySlug({"locale":"en-us","slug":"trevor-story-rumors","type":"story"}).parts.12″:{"data":{"type":"id","generated":true,"id":"$ROOT_QUERY.getForgeContentBySlug({"locale":"en-us","slug":"trevor-story-rumors","type":"story"}).parts.12.data","typename":"ExternalEmbedContent"},"type":"oembed","__typename":"ExternalEmbed"},"$ROOT_QUERY.getForgeContentBySlug({"locale":"en-us","slug":"trevor-story-rumors","type":"story"}).parts.13″:{"content":"**July 15: Rockies GM not committed to Story trade** nAs the focus in Colorado shifts away from the All-Star Game and over to what the Rockies do with Story in the next couple weeks, interim general manager Bill Schmidt indicated Thursday that his club could wind up holding onto its star shortstop past the July 30 Trade Deadline.nn"Yes, we do have decisions to make," Schmidt told The Denver Post, "but we don't have to move players for financial reasons. At the end of the day, it will be about what we can get back. We are not a farm system for other people.nn"It will come down to this," Schmidt continued. "If we are offered something in a trade, is it good for the Rockies? If an offer is made, we will evaluate it and see if it makes sense. But we are not forced to do anything."nnIt appears unlikely that Story will sign with the Rockies in free agency this winter. But Schmidt and the club's front office could determine that the club would get a better return via the Draft compensation pick it would receive, if Story signs elsewhere, than what it could get via trade before the Deadline. Story is struggling through his worst big league season since 2017, and he is an expensive rental piece for contenders with approximately $8 million remaining on his '21 salary.nn"That might be better than what teams are offering us," Schmidt said of a potential compensation pick, noting that fellow Rockies stars Nolan Arenado, Charlie Blackmon and Ryan McMahon were all second-round Draft selections.","type":"markdown","__typename":"Markdown"},"$ROOT_QUERY.getForgeContentBySlug({"locale":"en-us","slug":"trevor-story-rumors","type":"story"}).parts.14″:{"content":"**July 15: Potential landing spots for Story** nThe Denver Post gathered six national baseball writers to discuss the state of the Rockies for an article that was published Thursday, and one of the topics centered around Story's Trade Deadline destination.nnThe most common answer? The A's, who were picked by three of the six writers.nnThis isn't the first time Oakland has been linked to Story, although there were some reports last month that downplayed the A's chances of going after the Rockies shortstop.nnThe A's could certainly use an upgrade at the position. Elvis Andrus has produced a .599 OPS this season, tied for the fourth-lowest mark among qualifiers. However, there's a question of whether the small-market club is willing to take on all of Story's remaining salary, which will be nearly $6 million after the Deadline.nnThe White Sox and Reds were also mentioned, and one writer even predicted that Story wouldn't be traded at all.nnIt would be mildly surprising to see the White Sox pursue Story, as they already have Tim Anderson at shortstop. However, they do have a need for a second baseman after Nick Madrigal suffered a season-ending hamstring injury and could potentially use Story to fill the hole.nnThe Reds were connected to Story this past offseason, but they ended up opening the season with Eugenio Suárez as their everyday shortstop. Cincinnati moved Suárez back to third base in May after he struggled on defense. Kyle Farmer took over the job from Suárez, but he owns a .626 OPS this season.","type":"markdown","__typename":"Markdown"},"$ROOT_QUERY.getForgeContentBySlug({"locale":"en-us","slug":"trevor-story-rumors","type":"story"}).parts.15″:{"content":"**July 13: Rockies not feeling pressure to trade Story** nAfter tabling trade talks involving Story until the All-Star festivities at Coors Field are completed, the Rockies are expected to ramp up efforts to trade the 28-year-old shortstop in the coming weeks. However, the team isn't in a situation where it feels like it _has_ to move the impending free agent, Colorado's interim general manager, Bill Schmidt, told MLB Network insider Joel Sherman.nn"We don't have to trade him," Schmidt said. "It is not a situation where we have to move money or my owner is telling me I have to trade \[Story\]. It really comes down to if we feel the offer is in the best interest of the Colorado Rockies. We will listen to what people have to say, but we are not just giving this player away."nnIf there is no team willing to meet the Rockies' demands, the club could still get something back for Story by making him a qualifying offer, which he'd likely reject. Players who reject QOs are tied to Draft-pick compensation, and Schmidt has seen how those compensatory picks can pay off.nnAs Sherman noted in his article for the New York Post on Tuesday, Schmidt was the Rockies' VP of scouting when the club selected Story with a supplemental pick in the 2011 Draft. The club received that pick after losing Octavio Dotel in free agency.","type":"markdown","__typename":"Markdown"},"$ROOT_QUERY.getForgeContentBySlug({"locale":"en-us","slug":"trevor-story-rumors","type":"story"}).tags.0.data":{"__typename":"UnsupportedTagType"},"$ROOT_QUERY.getForgeContentBySlug({"locale":"en-us","slug":"trevor-story-rumors","type":"story"}).tags.0″:{"data":{"type":"id","generated":true,"id":"$ROOT_QUERY.getForgeContentBySlug({"locale":"en-us","slug":"trevor-story-rumors","type":"story"}).tags.0.data","typename":"UnsupportedTagType"},"externalSourceName":null,"slug":"storytype-article","title":"Article","type":"article","__typename":"Tag"},"$ROOT_QUERY.getForgeContentBySlug({"locale":"en-us","slug":"trevor-story-rumors","type":"story"}).tags.1.data":{"__typename":"UnsupportedTagType"},"$ROOT_QUERY.getForgeContentBySlug({"locale":"en-us","slug":"trevor-story-rumors","type":"story"}).tags.1″:{"data":{"type":"id","generated":true,"id":"$ROOT_QUERY.getForgeContentBySlug({"locale":"en-us","slug":"trevor-story-rumors","type":"story"}).tags.1.data","typename":"UnsupportedTagType"},"externalSourceName":"taxonomy","slug":"rumors","title":"rumors","type":"taxonomy","__typename":"Tag"},"$ROOT_QUERY.getForgeContentBySlug({"locale":"en-us","slug":"trevor-story-rumors","type":"story"}).tags.2.data":{"__typename":"UnsupportedTagType"},"$ROOT_QUERY.getForgeContentBySlug({"locale":"en-us","slug":"trevor-story-rumors","type":"story"}).tags.2″:{"data":{"type":"id","generated":true,"id":"$ROOT_QUERY.getForgeContentBySlug({"locale":"en-us","slug":"trevor-story-rumors","type":"story"}).tags.2.data","typename":"UnsupportedTagType"},"externalSourceName":"taxonomy","slug":"headline-breakout","title":"headline breakout","type":"taxonomy","__typename":"Tag"}},"appConfig":{"graphqlServiceUrl":"https://content-service.mlb.com"},"appState":{"adDomain":"mlb.mlb","appId":"","basePath":"news","club":"mlb","contentfulProperties":{"organismHeadlineFont":null,"urlLogo":null,"favicon":null,"headerMastheadTagline":null,"headerPrimaryLogo":null,"headerMastheadTaglineContainerWidth":"512px","headerMastheadTaglineContainerHeight":"56px","organismLogoVersion":"caplogo","organismLogoStyle":"light","headerMastheadLogoVersion":"cap","headerMastheadLogoStyle":"dark","footerLogoVersion":"primary","footerLogoStyle":"dark","headlineTextTransform":"none","headlineFontFamily":null,"headlineFontFamilySizeMultiplier":1,"articleVideoAutoPlay":true,"articleVideoAutoPlaySound":false,"__typename":"CF_WebProperties"},"contentfulPalette":{"headerNavigationBackgroundColor":"#041E42″,"headerNavigationTextColor":"#ffffff","headerNavigationTextColorHover":"#ffffff","headerNavigationBorderColor":"#057AFF","headerMastheadBackgroundColor":"#002D72″,"buttonSpotlightBackgroundColor":"#333333″,"buttonSpotlightBackgroundColorHover":"lighten","buttonSpotlightTextColor":"#ffffff","buttonSpotlightTextColorHover":"#ffffff","footerBackgroundColor":"#333″,"footerBorderColor":"#f3f3f3″,"footerLinkColorActive":"#fff","footerLinkColor":"#ffffff","footerLinkColorHover":"#147CD1″,"footerTextColor":"#d2d2d2″,"__typename":"CF_Palette"},"contextUrlPrefix":"","env":"production","footerState":{"clubId":"mlb","deviceProperties":{},"footerData":{"instanceId":"db2f8fb2-78c8-4d3c-a328-9e91c349dfee","name":"global-footer","variables":[],"menuItems":[{"itemId":"aec375d3-3afa-4491-ab28-60b736f38982″,"text":"Terms of Use","properties":{"link":"/official-information/terms-of-use","target":"_blank"},"menuItems":[]},{"itemId":"debe8dbf-de27-4eae-b7ec-adae43fc4642″,"text":"Privacy Policy","properties":{"link":"/official-information/privacy-policy"},"menuItems":[]},{"itemId":"345a1847-cac1-43a4-91bf-70c21ecee681″,"text":"Legal Notices","properties":{"link":"/official-information/legal-notices"},"menuItems":[]},{"itemId":"34014aad-1069-4bba-b22e-4b287a4f7df1″,"text":"Contact Us","properties":{"link":"/official-information/contact"},"menuItems":[]},{"itemId":"65e06970-7f8e-4328-ad82-9d90df0f3e87″,"text":"Do Not Sell My Personal Data","properties":{"link":"https://privacyportal.onetrust.com/webform/53a301ae-6882-46f9-af93-24f64f792aee/3251a424-8286-4725-9313-603f12c85a49″,"target":"_blank"},"menuItems":[]},{"itemId":"dd307e97-49c6-4f80-aff3-89a59696fb80″,"text":"Official Information","properties":{},"menuItems":[{"itemId":"bdf571d3-e8bb-403b-bb5f-7f28a7127c74″,"text":"Official Info","properties":{"link":"/official-information"},"menuItems":[]},{"itemId":"ecfd4d42-aa8d-4872-80a5-869c6b493018″,"text":"About MLB","properties":{"link":"/official-information/about-mlb"},"menuItems":[]},{"itemId":"bb62de22-5c84-4cab-b9fb-5429ea9d647c","text":"Team Information","properties":{"link":"https://www.mlb.com/team"},"menuItems":[]},{"itemId":"7cc37e2a-667c-4405-bd1f-87ad88bc4d9e","text":"Official Rules","properties":{"link":"https://img.mlbstatic.com/mlb-images/image/upload/mlb/atcjzj9j7wrgvsm8wnjq.pdf"},"menuItems":[]},{"itemId":"e658056b-608b-4eee-a04a-43772f9e6bb4″,"text":"Replay Review Regulations","properties":{"link":"/glossary/rules/replay-review"},"menuItems":[]},{"itemId":"0b3fc77c-c7d1-4584-a184-90fd8c4959e9″,"text":"Umpires","properties":{"link":"/official-information/umpires"},"menuItems":[]},{"itemId":"23dde9d7-6aba-4bec-a449-b1b4d5a5767c","text":"Advertise with Us","properties":{"link":"/sponsorship"},"menuItems":[]},{"itemId":"ca43b715-5423-4314-ac5a-f9229bee6fb6″,"text":"Press Releases","properties":{"link":"/news/topic/mlb-press-releases"},"menuItems":[]}]},{"itemId":"7a60a8fc-0c3c-4c87-b04b-2b57b6c9894c","text":"Help/Contact Us","properties":{},"menuItems":[{"itemId":"efb27376-accc-4ca4-9017-c3309ee122d3″,"text":"Accessibility Information","properties":{"link":"/official-information/accessibility"},"menuItems":[]},{"itemId":"cf3490fc-f093-4457-99a7-d2bc3f4d4cef","text":"Auctions Customer Service","properties":{"link":"http://auctions.mlb.com/iSynApp/manageUserEmail!showEmailContactUsForm.action?sid=1101001″},"menuItems":[]},{"itemId":"c6867706-11b7-4634-a78e-b5d513948f43″,"text":"Harassment Policy","properties":{"link":"/official-information/harassment-policy"},"menuItems":[]},{"itemId":"0e3932c9-beec-43f2-b712-66879a51ab63″,"text":"Help/Contact Us","properties":{"link":"/official-information/contact"},"menuItems":[]},{"itemId":"6d4ebef1-3168-4b79-a237-9f36931d3a2c","text":"MLB App FAQs","properties":{"link":"https://www.mlb.com/apps/mlb-app/faq-apple"},"menuItems":[]},{"itemId":"4b3c6ee8-d4ae-4265-a7e7-7e5bea8cde28″,"text":"MLB.com Account Information","properties":{"link":"/official-information/faqs"},"menuItems":[]},{"itemId":"4d33a7c1-38d5-4b3b-a999-53377f55738d","text":"MLB.TV Help Center","properties":{"link":"/live-stream-games/help-center"},"menuItems":[]},{"itemId":"36f01834-7979-4a42-aa12-52439c2e320b","text":"Shop Help","properties":{"link":"https://help-mlb.custhelp.com/"},"menuItems":[]},{"itemId":"bb6e7a31-4b7d-4e49-8c2e-00dda9e237ab","text":"Ticket Information","properties":{"link":"/official-information/ticket-faqs"},"menuItems":[]}]},{"itemId":"6ca8b189-8c54-428f-9f79-3c357ef18469″,"text":"More MLB Sites & Affiliates","properties":{},"menuItems":[{"itemId":"becc9309-94fc-491b-ad15-45f7c17f85a9″,"text":"MLB Players Alumni Association","properties":{"link":"/mlbpaa","target":""},"menuItems":[]},{"itemId":"9ff49c09-8a0d-41e6-b8b0-14f37f8e7f52″,"text":"MLB Players Association","properties":{"link":"http://www.mlbplayers.com/"},"menuItems":[]},{"itemId":"022ec2ca-bb20-4543-9cdc-95ba3a4443ca","text":"Minor League Baseball","properties":{"link":"https://www.milb.com/"},"menuItems":[]},{"itemId":"c6f9948e-3521-4788-83ed-b568f39e86aa","text":"MLB Network","properties":{"link":"https://www.mlb.com/network"},"menuItems":[]},{"itemId":"de2ea389-0a29-4600-8048-b4261916183d","text":"Baseball Assistance Team","properties":{"link":"/baseball-assistance-team"},"menuItems":[]},{"itemId":"e1a2af1c-ee36-4672-935b-17e62d0b4ddc","text":"Player Resource Center","properties":{"link":"/player-resource-center","target":""},"menuItems":[]},{"itemId":"75f0b763-612d-4557-ae38-227fb5b3b7f1″,"text":"Tickets.com","properties":{"link":"http://www.tickets.com/"},"menuItems":[]},{"itemId":"f8599d26-5069-4417-8c26-0965dd8d9435″,"text":"YES Network","properties":{"link":"https://www.yesnetwork.com/"},"menuItems":[]},{"itemId":"5c8f6196-a4d5-4ed5-b830-189580691d3e","text":"Australian Baseball League","properties":{"link":"https://theabl.com.au/"},"menuItems":[]},{"itemId":"ab6fc805-0bb7-439b-8c3c-92c61b035387″,"text":"World Baseball Classic","properties":{"link":"https://www.worldbaseballclassic.com/"},"menuItems":[]},{"itemId":"e218ed4d-89f9-4f7d-87e7-c05a3559cd74″,"text":"sabr.org","properties":{"link":"http://sabr.org/"},"menuItems":[]},{"itemId":"158a95a6-bd4f-4654-b57f-465d3c356a55″,"text":"College Baseball Hall of Fame","properties":{"link":"https://www.mlb.com/college-baseball-hall-of-fame"},"menuItems":[]},{"itemId":"5e602a1a-e518-455b-ac5f-5c0e80430e38″,"text":"Golden Spikes Award","properties":{"link":"https://www.usabaseball.com/golden-spikes-award"},"menuItems":[]},{"itemId":"ccd9020d-c619-45d2-bc1f-ef80ae2cd651″,"text":"USA Baseball","properties":{"link":"https://www.usabaseball.com"},"menuItems":[]},{"itemId":"75512a93-d52d-4d71-a6d3-70d6b44dfa0f","text":"LasMayores.com","properties":{"link":"https://www.mlb.com/es"},"menuItems":[]},{"itemId":"3b7bbad3-1ed5-468d-8703-205519315e04″,"text":"MLBCommunity.org","properties":{"link":"/mlb-community"},"menuItems":[]},{"itemId":"f8058121-3606-4ff2-be8a-d1a3d47642db","text":"AllStarGame.com","properties":{"link":"https://www.mlb.com/all-star"},"menuItems":[]},{"itemId":"a624b4e5-c8d8-44b9-9084-7522ed0cee59″,"text":"MLB.com/Kids","properties":{"link":"https://www.mlb.com/fans/kids"},"menuItems":[]},{"itemId":"43c6bc47-f7d9-445a-85a1-10b3cdc02ee0″,"text":"MLB Photostore","properties":{"link":"https://photostore.mlb.com/"},"menuItems":[]},{"itemId":"d9f4ea22-70a7-4085-a16e-83f70a5711b2″,"text":"Offseason Leagues","properties":{"link":"http://mlb.mlb.com/mlb/events/winterleagues/"},"menuItems":[]},{"itemId":"c574a4a2-45ec-47fe-8ca3-b5b99d1cb443″,"text":"PlayBall.org","properties":{"link":"https://www.playball.org"},"menuItems":[]},{"itemId":"517cf98f-063c-486a-a725-5380e1ae063f","text":"MLB Educators","properties":{"link":"/mlb-educators"},"menuItems":[]}]},{"itemId":"e3a86593-6da0-4d00-a512-0b8c78c9b8a5″,"text":"Careers","properties":{"link":""},"menuItems":[{"itemId":"35caab61-51c7-4b17-a9b8-e9ecd201058a","text":"Careers Home","properties":{"link":"/careers/home"},"menuItems":[]}]}]},"headerData":{"instanceId":"fbde1dcd-c837-4740-991c-1087d1db26d1″,"name":"global-nav","variables":[],"menuItems":[{"itemId":"tickets","text":"Tickets","properties":{"link":"https://www.mlb.com/tickets","customProperties":"align:right;"},"menuItems":[{"itemId":"764d21d8-0f58-4d63-b57c-035ec47d193c","text":"General Ticket Information","properties":{"link":"https://www.mlb.com/tickets","customProperties":"","visible":"false"},"menuItems":[]},{"itemId":"4e45f354-0ccd-4c89-ac5e-12f16dd11f3a","text":"Season Tickets","properties":{"link":"/tickets/season-tickets","customProperties":"","visible":"false"},"menuItems":[]},{"itemId":"020f5910-a69a-443a-b5a3-37b7664d8a4f","text":"Spring Training","properties":{"link":"/tickets/spring-training","visible":"false"},"menuItems":[]},{"itemId":"0a8ddc10-4b69-4a97-a677-6301ac30971b","text":"Fan Value","properties":{"link":"/tickets/fan-value","customProperties":"","visible":"false"},"menuItems":[]},{"itemId":"417de43e-baa5-4ca1-802d-c0814be88688″,"text":"Ballpark Tours","properties":{"link":"/tickets/ballpark-tours","visible":"false"},"menuItems":[]},{"itemId":"dc1ab63d-4195-4a41-8248-cfa5513a66e9″,"text":"StubHub.com","properties":{"link":"https://www.stubhub.com/mlb-tickets/grouping/81/?gcid=C12289x371″,"customProperties":""},"menuItems":[]},{"itemId":"a1fd4bc8-d136-4d65-a0cd-393f31e0e14e","text":"All-Star Game","properties":{"link":"/all-star/tickets","customProperties":"expires:1626228000″},"menuItems":[]},{"itemId":"92c55e19-5b07-4d4f-8bfe-ee6a86e64c8a","text":"World Baseball Classic","properties":{"link":"https://www.mlb.com/world-baseball-classic/schedule"},"menuItems":[]},{"itemId":"5d7d5f77-3b9d-4d21-bece-8b3245b7bf2a","text":"International Events","properties":{"link":"https://www.mlb.com/international"},"menuItems":[]},{"itemId":"797c376f-524a-4e12-b431-1994c1d9127d","text":"Vaccinate at the Plate Ticket Offer","properties":{"link":"/tickets/vaccinate-ticket-offer","customProperties":"expires:1625112000″},"menuItems":[]},{"itemId":"5e7b162c-c994-4bad-89b3-0a1b2746710d","text":"Ticket Terms & Conditions","properties":{"link":"https://www.mlb.com/tickets/terms-and-conditions"},"menuItems":[]}]},{"itemId":"7b24aad4-85fb-4206-b915-85dc84bf8046″,"text":"MLB.TV","properties":{"link":"https://www.mlb.com/tv?&affiliateId=mlbMENU","customProperties":"amp:true;align:right;","icon":"watch"},"menuItems":[{"itemId":"6e4bf96d-d9e2-4c33-8d42-3e94aae42607″,"text":"Buy MLB.TV","properties":{"link":"https://www.mlb.com/live-stream-games/subscribe?&affiliateId=mlbMENU"},"menuItems":[]},{"itemId":"f33ef990-5609-45cd-be24-0e40cb0a5368″,"text":"Buy MLB Audio","properties":{"link":"https://www.mlb.com/live-stream-games/subscribe/mlb-audio?&affiliateId=mlbMENU"},"menuItems":[]},{"itemId":"993d3d74-7886-48fd-9d9f-12d189ed5630″,"text":"Watch MLB.TV","properties":{"link":"/live-stream-games?&affiliateId=mlbMENU","customProperties":""},"menuItems":[]},{"itemId":"d7847412-c970-4b0a-b17e-61fded27c46a","text":"MLB Big Inning","properties":{"link":"https://www.mlb.com/live-stream-games/big-inning?&affiliateId=mlbMENU"},"menuItems":[]},{"itemId":"c2596a4c-2d08-459e-9173-2d799f070637″,"text":"MLB.TV Gift Giving","properties":{"link":"https://www.mlb.com/live-stream-games/subscribe/gift-giving"},"menuItems":[]},{"itemId":"e5e2c318-6b50-4406-8434-b4c84716dfe6″,"text":"MLB.TV Student Discounts","properties":{"link":"https://www.mlb.com/live-stream-games/subscribe/student-discount?&affiliateId=mlbMENU"},"menuItems":[]},{"itemId":"00132689-c7ce-46b0-bfac-228fa9f70a22″,"text":"Watch MLB.TV Docs & Features","properties":{"link":"https://www.mlb.com/tv/featured?&affiliateId=mlbMENU"},"menuItems":[]},{"itemId":"68b755ed-4f9d-4c0a-96ea-ffafb22ca5c5″,"text":"MLB.TV Help Center","properties":{"link":"/live-stream-games/help-center?&affiliateId=mlbMENU","customProperties":""},"menuItems":[]},{"itemId":"05b81a24-a196-4ee9-86f6-443cc7ce6934″,"text":"MLB.TV with Extra Innings","properties":{"link":"https://www.mlb.com/live-stream-games/third-party?&affiliateId=mlbMENU"},"menuItems":[]}]},{"itemId":"6bfaf88e-891c-4e05-a935-8a32bd23086a","text":"Shop","properties":{"link":"https://www.mlbshop.com/?_s=bm-mlbcom-hp","customProperties":"align:right;","icon":"shopping-cart"},"menuItems":[{"itemId":"d7b3c8e0-42c4-45c5-8278-c51adb21b47f","text":"Auction","properties":{"link":"http://auction.mlb.com/"},"menuItems":[]},{"itemId":"216d4562-456b-442d-b078-9e9be9b35b20″,"text":"Authentication","properties":{"link":"https://www.mlb.com/authentication"},"menuItems":[]},{"itemId":"20f4725a-5dc1-4543-a153-7795cd789463″,"text":"Autographed","properties":{"link":"http://auctions.mlb.com/iSynApp/allAuction.action?sid=1101001&rc=25&selectedCatId=17342&sort=timeleft_asc&pgmode2=catpage"},"menuItems":[]},{"itemId":"f4f69cd4-2549-45f2-ba63-d97ddb0b564c","text":"Jerseys","properties":{"link":"https://www.mlbshop.com/jerseys/d-1250336792+z-990485-1677480024?_s=bm-mlbcom-hp","customProperties":""},"menuItems":[]},{"itemId":"a67b9b28-c511-47a8-87e6-594cb719c787″,"text":"Caps","properties":{"link":"https://www.mlbshop.com/caps/d-3494554436+z-921549-1032840697?_s=bm-mlbcom-hp","customProperties":""},"menuItems":[]},{"itemId":"f5b9b657-5322-40c1-b2e8-1bd31e27abf6″,"text":"Men's","properties":{"link":"https://www.mlbshop.com/men/ga-12+z-9112397524-3608394688?_s=bm-mlbcom-hp","customProperties":""},"menuItems":[]},{"itemId":"dfa13a6f-17fd-4a4a-9963-f3e3734e28bf","text":"Women's","properties":{"link":"https://www.mlbshop.com/women/ga-57+z-822989763-3950492570?_s=bm-mlbcom-hp","customProperties":""},"menuItems":[]},{"itemId":"c2bf810b-0d1f-4135-b7f8-919c53fc8cc2″,"text":"Kids","properties":{"link":"https://www.mlbshop.com/kids/ga-36+z-861270405-1171990865?_s=bm-mlbcom-hp","customProperties":""},"menuItems":[]},{"itemId":"1b321c96-eb8a-4077-9868-9420205878bc","text":"Collectibles & Memorabilia","properties":{"link":"https://www.mlbshop.com/collectibles-and-memorabilia/d-7883550038+z-87646-4052890706?_s=bm-mlbcom-hp","customProperties":""},"menuItems":[]},{"itemId":"91dcfa1d-f4de-4bf9-93f8-8f91f4069272″,"text":"Home & Office","properties":{"link":"https://www.mlbshop.com/home-and-office/d-3449556733+z-992406-855732365?_s=bm-mlbcom-hp","customProperties":""},"menuItems":[]},{"itemId":"c69e35fc-900e-4fcc-9348-085aa0febeab","text":"Gift Certificates","properties":{"link":"https://www.mlbshop.com/gift-cards/x-462351+z-94899005-3509039474?_s=bm-mlbcom-Home","customProperties":""},"menuItems":[]},{"itemId":"7423a9ca-3a6f-42fe-8d6e-9459bed284c7″,"text":"NYC Retail Store","properties":{"link":"https://www.mlb.com/shop/nyc-retail-store"},"menuItems":[]},{"itemId":"44958e84-599e-44b1-96b4-44f38a477942″,"text":"European Shop","properties":{"link":"http://www.mlbshopeurope.com/stores/mlb/en?portal=MLTS66FS&CMP=PSC-MLTS66FS","customProperties":""},"menuItems":[]},{"itemId":"51d3278e-90fd-4462-aec0-7cfd8de1cb79″,"text":"Photo Store","properties":{"link":"https://photostore.mlb.com/"},"menuItems":[]}]},{"itemId":"5052bac6-3f1d-4847-8739-42021d7cfc2d","text":"News","properties":{"link":"https://www.mlb.com/news","customProperties":"amp:true;"},"menuItems":[{"itemId":"7b725a20-961b-4511-bd88-20600551baf2″,"text":"In this section","properties":{"visible":"true"},"menuItems":[{"itemId":"82d45c9a-d055-4ab4-b785-576d982a2077″,"text":"Probable Pitchers","properties":{"link":"https://www.mlb.com/probable-pitchers","visible":"true","enabled":"true"},"menuItems":[]},{"itemId":"4bfdb502-31e4-49dd-bae1-89a4772d0739″,"text":"Prospect Rankings","properties":{"link":"https://www.mlb.com/prospects"},"menuItems":[]},{"itemId":"831050d9-d4d2-427f-85a3-fe56aad2682a","text":"Injury Report","properties":{"link":"https://www.mlb.com/injury-report"},"menuItems":[]},{"itemId":"02f947b5-cc72-40f9-9f37-a97b37dcaef3″,"text":"Transactions","properties":{"link":"http://mlb.mlb.com/mlb/transactions/?tcid=mm_mlb_news"},"menuItems":[]},{"itemId":"f499f46a-a51b-443e-82aa-3b6006f9b306″,"text":"Starting Lineups","properties":{"link":"https://www.mlb.com/starting-lineups"},"menuItems":[]},{"itemId":"53776d17-03af-4b04-8840-45b6c624df6b","text":"Hall of Fame","properties":{"link":"https://www.mlb.com/hall-of-fame"},"menuItems":[]},{"itemId":"6ee1c331-faa0-4865-a062-1c98a2f67c0d","text":"Longform","properties":{"link":"https://www.mlb.com/news/topic/longform"},"menuItems":[]},{"itemId":"844e328c-713f-46da-8183-965d19eb7dd8″,"text":"Awards","properties":{"link":"https://www.mlb.com/awards"},"menuItems":[]},{"itemId":"c1ac7886-1d18-4ad8-9fc4-326ab4753144″,"text":"MLB Draft","properties":{"link":"https://www.mlb.com/draft/2021″},"menuItems":[]}]},{"itemId":"dc121961-fe11-49ac-92b5-a8797acafa7c","text":"Featured","properties":{},"menuItems":[{"itemId":"230d1ec0-9d0a-4a3f-a04c-3cf16474390f","text":"Pipeline","properties":{"link":"https://www.mlb.com/pipeline"},"menuItems":[]},{"itemId":"216ae480-9b79-4faa-a748-98a8604e5cde","text":"Play Ball","properties":{"link":"https://www.mlb.com/play-ball"},"menuItems":[]},{"itemId":"c2182d4d-c537-410e-a63d-267e593fbb74″,"text":"Gaming","properties":{"link":"https://www.mlb.com/news/topic/gaming","enabled":"true","visible":"true"},"menuItems":[]},{"itemId":"d7d653b8-5585-44b7-b94f-226b51681ed8″,"text":"MLB Photos","properties":{"link":"https://www.mlb.com/photos/home"},"menuItems":[]},{"itemId":"eb4bceb4-bb14-4a84-8b60-12e51dab40f8″,"text":"Offbeat","properties":{"link":"https://www.mlb.com/news/topic/offbeat"},"menuItems":[]},{"itemId":"28a2e573-86ba-4cdc-a924-86d3b6500979″,"text":"Glossary","properties":{"link":"https://www.mlb.com/glossary"},"menuItems":[]},{"itemId":"7e424446-ea76-4b0d-8dc0-e7ee108993ef","text":"Rare Feats","properties":{"link":"https://www.mlb.com/news/topic/rare-feats"},"menuItems":[]},{"itemId":"38b78c07-c2e2-40be-9172-fb2ddc1d1817″,"text":"Baseball Cards","properties":{"link":"https://www.mlb.com/news/topic/baseball-cards"},"menuItems":[]},{"itemId":"7e316d55-5379-4151-a0e5-828b6b4f8ba8″,"text":"All-Star Game","properties":{"link":"https://www.mlb.com/all-star"},"menuItems":[]}]}]},{"itemId":"86b4ade1-0488-40d3-8472-b1e323f23914″,"text":"Video","properties":{"link":"https://www.mlb.com/video","customProperties":"mobile:true;amp:true;"},"menuItems":[{"itemId":"bbddb943-54df-4d88-a3ee-14265e727677″,"text":"In this section","properties":{"customProperties":""},"menuItems":[{"itemId":"d6f95b2e-b8ee-41f0-a313-e74537eff685″,"text":"Film Room","properties":{"link":"https://www.mlb.com/video/search"},"menuItems":[]},{"itemId":"a24a8e9d-471b-4626-9535-28e1b8f62bad","text":"Watch Live Games","properties":{"link":"https://www.mlb.com/live-stream-games?affiliateId=mlbMENU"},"menuItems":[]},{"itemId":"830b3ff1-c650-48a0-b8ee-6c910acc0204″,"text":"Game Stories","properties":{"link":"https://www.mlb.com/game-stories"},"menuItems":[]},{"itemId":"fb982f48-2253-46ec-84f2-ec3282782fb8″,"text":"Condensed Games","properties":{"link":"https://www.mlb.com/video/topic/condensed-games"},"menuItems":[]},{"itemId":"0f387774-edb6-4e09-84c1-3b6f9a8c65d5″,"text":"Game Recaps","properties":{"link":"https://www.mlb.com/video/topic/daily-recaps","enabled":"true"},"menuItems":[]},{"itemId":"3dcbafe8-f9f6-4a32-8534-7a00b6b07f4c","text":"Daily FastCast","properties":{"link":"https://www.mlb.com/video/topic/fastcast"},"menuItems":[]},{"itemId":"286ad1ca-abe4-4d67-b80a-9020e756750e","text":"MLB Network","properties":{"link":"https://www.mlb.com/network"},"menuItems":[]},{"itemId":"948d378c-7d73-49b1-b5ba-8729c59bca9a","text":"Podcasts","properties":{"link":"https://www.mlb.com/podcasts"},"menuItems":[]},{"itemId":"c3c36a7f-ac1d-4433-8ecb-b8689de715e5″,"text":"Front Office Focus","properties":{"link":"https://www.mlb.com/video/topic/front-office-focus"},"menuItems":[]},{"itemId":"e95e19ff-2024-4d84-b9e5-d5f0d1831e5b","text":"Business of Baseball","properties":{"link":"https://www.mlb.com/video/topic/business-of-baseball"},"menuItems":[]},{"itemId":"bf659638-4fb7-4c46-be4c-49b736c0fd69″,"text":"Untouchable Pitches","properties":{"link":"https://www.mlb.com/video/topic/untouchable-pitches-cristal-products"},"menuItems":[]},{"itemId":"0b56e21d-9a66-4fd0-99d6-59faf9805120″,"text":"Rapid Plays","properties":{"link":"https://www.mlb.com/video/topic/rapid-plays"},"menuItems":[]}]},{"itemId":"74f35bdb-7baf-4fa5-abb5-3c3613fa00fe","text":"Featured","properties":{"customProperties":""},"menuItems":[{"itemId":"d87342bf-bac9-4811-9863-4a5d7ddabe94″,"text":"Most Popular","properties":{"link":"https://www.mlb.com/video"},"menuItems":[]},{"itemId":"b4deff8a-ac2f-46bd-924a-108c63e6d4a6″,"text":"Home Runs","properties":{"link":"https://www.mlb.com/video/topic/home-runs"},"menuItems":[]},{"itemId":"d2add1e4-7ad6-417b-a04d-ffb83aa63332″,"text":"MLB Draft","properties":{"link":"https://www.mlb.com/video/topic/mlb-draft"},"menuItems":[]},{"itemId":"6a7e200b-2443-4e01-b95a-16bf6326a089″,"text":"Walk-Offs","properties":{"link":"https://www.mlb.com/video/topic/walk-offs"},"menuItems":[]},{"itemId":"cb8372c5-4ebe-44db-8b4b-de7364b80ec9″,"text":"Go Yard","properties":{"link":"https://www.mlb.com/video/topic/leadoff-home-runs"},"menuItems":[]},{"itemId":"e9fc5098-1904-4089-8fa2-c4b3d9a0feaf","text":"Top Defensive Plays","properties":{"link":"https://www.mlb.com/video/topic/top-defensive-plays"},"menuItems":[]},{"itemId":"d1a89b62-ed0e-4df5-a65d-9471b06eb3ad","text":"Grand Slams","properties":{"link":"https://www.mlb.com/video/topic/grand-slams"},"menuItems":[]},{"itemId":"c19fb88b-a3c7-4141-a616-0299dc17e774″,"text":"Best of Statcast","properties":{"link":"https://www.mlb.com/video/topic/statcast"},"menuItems":[]},{"itemId":"4cdb4f64-f058-43e3-a0f3-a078c3701cc9″,"text":"Let's Rally","properties":{"link":"https://www.mlb.com/video/topic/rallies"},"menuItems":[]},{"itemId":"3d4947a4-61d9-4ce6-9bec-5ef974a5aff1″,"text":"Curtain Calls","properties":{"link":"https://www.mlb.com/video/topic/curtain-calls"},"menuItems":[]},{"itemId":"ea8c81d8-3594-4318-b95e-7d7c4c92c1db","text":"Legendary Moments","properties":{"link":"https://www.mlb.com/video/topic/key-moments"},"menuItems":[]},{"itemId":"550155b7-3825-4c73-bf84-0250dec41903″,"text":"Carry the Freight","properties":{"link":"https://www.mlb.com/video/topic/carry-the-freight"},"menuItems":[]}]}]},{"itemId":"7c68f445-5095-46cc-bab3-73af6c921597″,"text":"Scores","properties":{"link":"https://www.mlb.com/scores","customProperties":"mobile:true;amp:true;","visible":"true"},"menuItems":[]},{"itemId":"9efaf5e3-6a93-4e4f-b8af-1219110ecb30″,"text":"Stats","properties":{"link":"https://www.mlb.com/stats","customProperties":"mobile:true;amp:true;"},"menuItems":[{"itemId":"f31b263b-34d4-46ab-aa46-9796e93b048b","text":"2021 Regular Season Stats","properties":{"link":"https://www.mlb.com/stats/2021″},"menuItems":[]},{"itemId":"62c5195b-2630-4d9e-9896-6aee0709aeee","text":"2021 Sortable Team Stats","properties":{"link":"https://www.mlb.com/stats/team/2021″},"menuItems":[]},{"itemId":"c26bdb6a-e2f7-48dc-bd44-39e522f7b5ca","text":"2021 Spring Training Stats","properties":{"link":"https://www.mlb.com/stats/2021/spring-training"},"menuItems":[]},{"itemId":"41566816-1cb8-421f-9a4a-9ccdefa7ed69″,"text":"Statcast Leaders","properties":{"link":"https://baseballsavant.mlb.com/statcast_leaderboard"},"menuItems":[]},{"itemId":"2d0a2684-64c6-4d9f-87a1-a7cf9f661e2f","text":"Baseball Savant","properties":{"link":"https://baseballsavant.mlb.com/"},"menuItems":[]},{"itemId":"b9d0ae31-f31d-449b-82fb-5a77f59293ba","text":"Top Prospect Stats","properties":{"link":"/prospects/stats/top-prospects?type=all&dateRange=Year2019&minPA=1″},"menuItems":[]},{"itemId":"2ae90479-df9d-458e-a47e-7acf851728e7″,"text":"Offseason Leagues","properties":{"link":"http://mlb.mlb.com/milb/stats/?tcid=mm_mlb_stats","customProperties":""},"menuItems":[]},{"itemId":"cf9eab1e-1dba-458c-949b-8db03f86d49e","text":"Glossary","properties":{"link":"http://m.mlb.com/glossary"},"menuItems":[]}]},{"itemId":"6af88ec1-9bfe-4494-abc0-898dc919a081″,"text":"Standings","properties":{"link":"https://www.mlb.com/standings","customProperties":"mobile:true;amp:true;"},"menuItems":[{"itemId":"121a61dc-a81a-45af-abbe-8230aee19b5e","text":"2021 Regular Season Standings","properties":{"link":"https://www.mlb.com/standings"},"menuItems":[]},{"itemId":"a9713ec1-4849-41b5-8f0b-fa0746a205e4″,"text":"2021 Spring Training Standings","properties":{"link":"https://www.mlb.com/standings/spring-training/2021″,"customProperties":""},"menuItems":[]},{"itemId":"4c250046-6a0d-4352-b3f2-3059a5881c2a","text":"2020 Regular Season Standings","properties":{"link":"https://www.mlb.com/standings/regular-season/2020″},"menuItems":[]},{"itemId":"a84f52a4-d7d4-4661-b193-8c81901e8e7e","text":"2020 Advanced Standings","properties":{"link":"https://www.mlb.com/standings/regular-season/advanced-splits/2020″},"menuItems":[]}]},{"itemId":"248fea7e-1d19-452a-bb5c-999e1a09b7cd","text":"Schedule","properties":{"link":"https://www.mlb.com/schedule","customProperties":"amp:true;"},"menuItems":[{"itemId":"12fd9194-8902-43f1-9686-f9f321c90450″,"text":"2021 Regular Season","properties":{"link":"https://www.mlb.com/schedule"},"menuItems":[]},{"itemId":"74ae0fd1-28f5-41ab-8861-23d056482243″,"text":"2021 Spring Training","properties":{"link":"https://www.mlb.com/schedule/2021-02-28″},"menuItems":[]},{"itemId":"6aae1937-f9bd-4929-847a-74c4808cc993″,"text":"2020 Postseason","properties":{"link":"https://www.mlb.com/postseason"},"menuItems":[]},{"itemId":"f4010b7a-902c-41e0-b405-e0fa695b5c64″,"text":"2020 Regular Season","properties":{"link":"https://www.mlb.com/schedule/2020-07-23″},"menuItems":[]},{"itemId":"94c9d7e4-3477-4217-87f3-008d2290b9ee","text":"Important Dates","properties":{"link":"/schedule/events#important-dates"},"menuItems":[]},{"itemId":"d3566c69-34a7-4e6c-b2bb-28203c847f9e","text":"Probable Pitchers","properties":{"link":"https://www.mlb.com/probable-pitchers"},"menuItems":[]},{"itemId":"3747c1bc-9b3d-43f5-bd04-d1274c59c02a","text":"Team by Team Schedule","properties":{"link":"https://www.mlb.com/schedule/team-by-team"},"menuItems":[]},{"itemId":"e75ecc62-7e72-4b53-9705-a23e2b511f83″,"text":"National Broadcasts","properties":{"link":"http://mlb.mlb.com/mlb/official_info/broadcasts/national.jsp?tcid=mm_mlb_schedule"},"menuItems":[]},{"itemId":"bce30443-7f92-4c61-979f-058e5e6ebe17″,"text":"Sunday Night Broadcasts","properties":{"link":"http://m.mlb.com/promo/sunday-night-broadcasts"},"menuItems":[]}]},{"itemId":"8c842eeb-dedd-430c-a452-57a740d5c3df","text":"Players","properties":{"link":"https://www.mlb.com/players","customProperties":"","icon":"group"},"menuItems":[{"itemId":"650da3ef-b96d-4a7d-bf4b-47a55b2e6cb3″,"text":"Players A to Z","properties":{"link":"https://www.mlb.com/players"},"menuItems":[]},{"itemId":"b971e11e-c0ea-4f42-a693-a9e18e15447f","text":"Injury Updates","properties":{"link":"https://www.mlb.com/injury-report"},"menuItems":[]},{"itemId":"76a61c3c-c73a-497a-9d6f-f762ad0fdecd","text":"Depth Charts","properties":{"link":"https://www.mlb.com/team/roster/depth-chart"},"menuItems":[]},{"itemId":"b30fe902-714f-4f74-a901-d2397c750dab","text":"Transactions","properties":{"link":"http://mlb.mlb.com/mlb/transactions/?tcid=mm_mlb_players"},"menuItems":[]},{"itemId":"3e585331-af20-4e73-8419-2067bed2677c","text":"Starting Lineups","properties":{"link":"https://www.mlb.com/starting-lineups"},"menuItems":[]},{"itemId":"a327060e-962d-428e-91ee-40522edcda03″,"text":"Prospect Rankings","properties":{"link":"https://www.mlb.com/prospects"},"menuItems":[]},{"itemId":"a30f9694-b2cd-4a2a-9118-d3c7f00b39b1″,"text":"Mobile Player Alerts","properties":{"link":"http://mlb.mlb.com/mobile/text.jsp?tcid=mm_mlb_players","visible":"false"},"menuItems":[]},{"itemId":"f45e2471-de5a-4a07-b035-43f1b405f296″,"text":"MLB Players Association","properties":{"link":"https://www.mlbplayers.com"},"menuItems":[]},{"itemId":"6e855928-8a3d-41b6-8adc-71fe99a9508b","text":"Probable Pitchers","properties":{"link":"https://www.mlb.com/probable-pitchers"},"menuItems":[]},{"itemId":"e7ba059f-ad80-486d-bf9f-3992d718f129″,"text":"Negro Leagues","properties":{"link":"https://www.mlb.com/history/negro-leagues"},"menuItems":[]}]},{"itemId":"781f2bb2-a66a-44be-8fee-b0a0250d60e6″,"text":"Play Ball","properties":{"link":"https://www.mlb.com/play-ball","target":"_blank","customProperties":"topNav:false;","icon":"baseball"},"menuItems":[{"itemId":"2a74747c-e482-42f5-b750-ce710dea6568″,"text":"PlayBall.org","properties":{"link":"https://www.mlb.com/play-ball","target":"_blank"},"menuItems":[]},{"itemId":"9f5ab700-d2c0-43be-a398-6926ceef9e1c","text":"Hank Aaron Invitational","properties":{"link":"https://www.mlb.com/hank-aaron-invitational"},"menuItems":[]},{"itemId":"d7c7e170-573e-45c1-a1ab-b1bd3aec819f","text":"Videos","properties":{"link":"https://www.mlb.com/video/topic/play-ball"},"menuItems":[]},{"itemId":"5be26d3e-4ff2-4a84-8ea5-92aef9d759b2″,"text":"Photos","properties":{"link":"https://www.playball.org/photos","visible":"false"},"menuItems":[]},{"itemId":"14d9fdc8-ba24-44cf-9a77-7a867852f418″,"text":"News","properties":{"link":"https://www.mlb.com/news/topic/youth-baseball"},"menuItems":[]},{"itemId":"4c876067-e576-4874-b914-d86fe7f4a538″,"text":"Pitch Smart","properties":{"link":"https://www.mlb.com/pitch-smart"},"menuItems":[]},{"itemId":"6996ed01-d31d-4fc4-8d0d-a5baf177f69a","text":"Play Ball Near You","properties":{"link":"https://www.mlb.com/play-ball/play-ball-near-you"},"menuItems":[]},{"itemId":"4e66a4b2-0f27-483c-81d4-f27b0b630eac","text":"States Play","properties":{"link":"https://www.mlb.com/states-play"},"menuItems":[]},{"itemId":"aed729a5-4ff6-45cc-868c-f90b9b9190af","text":"MLB TOUR","properties":{"link":"https://www.mlb.com/mlb-tour"},"menuItems":[]},{"itemId":"28d79b33-aebd-4685-9cc9-c4ccce1262f8″,"text":"RBI","properties":{"link":"https://www.mlb.com/rbi"},"menuItems":[]},{"itemId":"18001329-d9d0-47b9-b2e0-5043b69cee9e","text":"Pitch, Hit & Run","properties":{"link":"https://www.mlb.com/pitch-hit-and-run"},"menuItems":[]},{"itemId":"df867e3c-db53-4d4f-9958-e10cb0939c8a","text":"Jr. Home Run Derby","properties":{"link":"https://www.mlb.com/junior-home-run-derby"},"menuItems":[]},{"itemId":"6af5ec56-5e26-45b3-93d6-2f79d929c046″,"text":"MLB Pipeline","properties":{"link":"https://www.mlb.com/pipeline"},"menuItems":[]},{"itemId":"bc715814-2692-4bde-9b1d-99cbd9ada5dc","text":"Youth Academies","properties":{"link":"https://www.mlb.com/mlb-youth-academy"},"menuItems":[]},{"itemId":"26715913-0ae8-4106-baa4-3d914b0a33b0″,"text":"Breakthrough Series","properties":{"link":"https://www.mlb.com/breakthrough-series"},"menuItems":[]},{"itemId":"56cb414b-eb00-4632-8acc-81d74ee4745e","text":"Elite Development Invitational","properties":{"link":"https://www.mlb.com/elite-development-invitational"},"menuItems":[]},{"itemId":"04697c74-2811-4d84-8150-aa1016aa6272″,"text":"USA Baseball","properties":{"link":"https://www.usabaseball.com/","target":"_blank"},"menuItems":[]},{"itemId":"ae77ea02-173a-4439-be6c-9ee75225bd50″,"text":"USA Softball","properties":{"link":"http://www.teamusa.org/USA-Softball","target":"_blank"},"menuItems":[]},{"itemId":"c293b7e0-f056-4102-89cd-d20649d4eff0″,"text":"Dream Series","properties":{"link":"https://www.mlb.com/dream-series"},"menuItems":[]},{"itemId":"181a47ba-9ea0-4a7a-8924-ccedef1cd372″,"text":"Trailblazer Series","properties":{"link":"https://www.mlb.com/trailblazer-series"},"menuItems":[]}]},{"itemId":"mlb-fans","text":"Fans","properties":{"link":"https://www.mlb.com/fans"},"menuItems":[{"itemId":"25c7540a-c3a3-42e8-a8f8-1e3be9f5d4fe","text":"MLB Kids","properties":{"link":"https://www.mlb.com/fans/kids"},"menuItems":[]},{"itemId":"8ee0a750-a1d7-4c8f-80ee-cb7beb4268ff","text":"MLB International","properties":{"link":"https://www.mlb.com/international"},"menuItems":[]},{"itemId":"841025ef-a361-46e1-b5d0-c963c1a42827″,"text":"Postseason Publications","properties":{"link":"https://www.mlb.com/postseason/publications"},"menuItems":[]},{"itemId":"59ffbbaf-a56c-4cb4-b874-d5a5ce36c9f1″,"text":"MLB Newsletters","properties":{"link":"https://www.mlb.com/fans/newsletters"},"menuItems":[]},{"itemId":"9e37a80a-34da-4e92-ae40-8462146aef1c","text":"Virtual Backgrounds","properties":{"link":"https://www.mlb.com/fans/virtual-backgrounds"},"menuItems":[]},{"itemId":"ef7c9f4a-5e11-4700-aad3-b29a8c5acc4c","text":"Podcasts","properties":{"link":"https://www.mlb.com/fans/podcasts"},"menuItems":[]},{"itemId":"fcc0e750-dbe2-47b3-b681-0e3e379390c8″,"text":"Walk-Up Music","properties":{"link":"https://www.mlb.com/fans/music"},"menuItems":[]},{"itemId":"ad51f9be-9a3e-41d5-83aa-27d4351d583f","text":"Connect with MLB","properties":{"link":"https://www.mlb.com/social"},"menuItems":[]},{"itemId":"5d6dbbbf-fdff-41e7-b187-793bdb998ec8″,"text":"MLB Photos","properties":{"link":"https://www.mlb.com/photos/home"},"menuItems":[]}]},{"itemId":"832ad058-32b1-4fbd-940d-a68456ad3c25″,"text":"Fantasy","properties":{"link":"https://www.mlb.com/fantasy","customProperties":""},"menuItems":[{"itemId":"ee7dde99-2f2c-49e4-a5df-b319f51afa21″,"text":"Yahoo Fantasy Baseball","properties":{"target":"","link":"http://yhoo.it/3aK5QQw"},"menuItems":[]},{"itemId":"82ecd1d5-6055-4846-99de-2e5d99461009″,"text":"MLB Rally","properties":{"link":"https://www.mlb.com/apps/rally","visible":"true"},"menuItems":[]},{"itemId":"82b08ad3-ff33-4c90-8303-277dbf8190a3″,"text":"MLB Quick Pick","properties":{"link":"https://www.mlb.com/apps/rally/quickpick"},"menuItems":[]},{"itemId":"4e35b374-27ca-40c1-8f4b-d0e861496179″,"text":"MLB Beat the Streak","properties":{"link":"https://www.mlb.com/apps/beat-the-streak"},"menuItems":[]},{"itemId":"4b2c552e-94c1-49f6-8e5e-5f947f0d683c","text":"MLB MOONBLASTS Pick 'Em","properties":{"link":"https://www.mlb.com/sponsorship/ftx-moonblasts-pick-em","customProperties":"expires:1627754400″},"menuItems":[]},{"itemId":"fa818f3d-e28a-4dce-8ed8-928d7000a1f6″,"text":"The Vault","properties":{"link":"https://www.mlb.com/the-vault"},"menuItems":[]},{"itemId":"5342efbb-aee3-4b7a-bd6b-da451509d65b","text":"Yahoo Fantasy Baseball","properties":{"link":"https://yhoo.it/2w7w4vr","visible":"false"},"menuItems":[]},{"itemId":"36bd3b31-a5df-4061-9abb-33d42ffa1818″,"text":"R.B.I. Baseball 21″,"properties":{"link":"https://www.rbigame.com"},"menuItems":[]},{"itemId":"3dab9102-cd2d-442e-ab8a-ad07d7b159f4″,"text":"MLB Home Run Derby","properties":{"link":"https://www.mlb.com/fantasy/home-run-derby"},"menuItems":[]},{"itemId":"a3152a55-11b7-4772-86e0-58d7982a1c76″,"text":"Season Pick 'Em","properties":{"link":"/opening-day-pick-em?affiliateId=spe-fantasynav-mlb-2021″,"visible":"false"},"menuItems":[]},{"itemId":"7f0d66f2-44a0-4594-b5f9-db2c84c09356″,"text":"MLB Pre-Pick (AUS)","properties":{"link":"https://www.mlb.com/pre-pick/tab"},"menuItems":[]},{"itemId":"7af822e8-dc82-4b7e-818a-97080c0938f2″,"text":"Closer Report","properties":{"link":"/closer-report","visible":"false"},"menuItems":[]},{"itemId":"c2b4eeef-ec9c-4c5b-831c-1edca0316768″,"text":"Prospect Rankings","properties":{"link":"https://www.mlb.com/prospects"},"menuItems":[]},{"itemId":"3b212a3b-4687-4ea7-a276-3e780e18210c","text":"MLB Champions","properties":{"link":"https://www.mlbc-app.com/?ref=mlbcom"},"menuItems":[]}]},{"itemId":"f857d698-35a3-4b1b-8e88-d92056ca5507″,"text":"Apps","properties":{"link":"https://www.mlb.com/apps","customProperties":"topNav:false;","data":"Apps"},"menuItems":[{"itemId":"c974a38d-8537-4d03-9dfa-681ac5bd0f08″,"text":"MLB","properties":{"link":"https://www.mlb.com/apps/mlb-app"},"menuItems":[]},{"itemId":"13d77816-460d-4783-8ed7-f1ff1d3a97ed","text":"MLB Rally","properties":{"link":"https://www.mlb.com/apps/rally","visible":"true"},"menuItems":[]},{"itemId":"f2626a2d-160d-4682-96c6-bfe391c16398″,"text":"MLB Beat the Streak","properties":{"link":"https://www.mlb.com/apps/beat-the-streak"},"menuItems":[]},{"itemId":"89f7398c-7a79-46e4-a8cd-843a44ceee13″,"text":"MLB Ballpark","properties":{"link":"https://www.mlb.com/apps/ballpark"},"menuItems":[]},{"itemId":"03c8451e-6437-4aa6-8b5d-50c3fedad25e","text":"MiLB First Pitch","properties":{"link":"https://www.milb.com/about/first-pitch"},"menuItems":[]},{"itemId":"5d19666b-0c26-48ad-8465-09ed9f28dfc2″,"text":"R.B.I. Baseball 21″,"properties":{"link":"https://www.rbigame.com"},"menuItems":[]},{"itemId":"94808840-9046-445e-9a6a-83016bdadb72″,"text":"MLB Home Run Derby","properties":{"link":"https://www.mlb.com/fantasy/home-run-derby"},"menuItems":[]},{"itemId":"fbe4d233-e766-4207-8886-55a2fc1f7f74″,"text":"MLB FAQs","properties":{"link":"https://www.mlb.com/apps/mlb-app/faq-apple"},"menuItems":[]},{"itemId":"34d7bc2e-a216-4956-8105-b42f2ba4bea3″,"text":"MLB Ballpark FAQs","properties":{"link":"https://www.mlb.com/apps/ballpark/faq-apple"},"menuItems":[]},{"itemId":"c081befb-bde5-446d-a4d4-c9292d29d525″,"text":"MLB Rally FAQs","properties":{"link":"/apps/rally/faq-apple","visible":"true"},"menuItems":[]}]},{"itemId":"ba2b8aec-0e14-429e-ac96-dbb1f04edaf8″,"text":"Vote","properties":{"link":"https://www.mlb.com/all-star/ballot?affiliateId=asb-topnav-mlb-2021″,"customProperties":"appears:1622736000;expires:1625162400;","visible":"false"},"menuItems":[]},{"itemId":"57ec62ff-6517-49b7-8bef-7a3edc6874cb","text":"Auction","properties":{"link":"http://auction.mlb.com/","visible":"false","customProperties":"topNav:false;"},"menuItems":[{"itemId":"3ea7f7ac-0734-47d9-8804-967eba72da0e","text":"Authentication","properties":{"link":"https://www.mlb.com/authentication"},"menuItems":[]},{"itemId":"e3e18801-29de-4b11-86ac-a475342dff41″,"text":"Autographed","properties":{"link":"http://auctions.mlb.com/iSynApp/allAuction.action?sid=1101001&rc=25&selectedCatId=17342&sort=timeleft_asc&pgmode2=catpage"},"menuItems":[]},{"itemId":"f4c0200f-4437-47c0-8c15-1a54c26d22c0″,"text":"Baseball Cards","properties":{"link":"http://www.baseballcards.mlb.com/"},"menuItems":[]},{"itemId":"21b7a4a2-6c76-47b5-af79-51dc0334f2c9″,"text":"Baseballs","properties":{"link":"http://auctions.mlb.com/iSynApp/allAuction.action?sid=1101001&rc=25&selectedCatId=13020&sort=timeleft_asc&pgmode2=catpage"},"menuItems":[]},{"itemId":"6b056370-0888-43e4-9f8c-8100e2ee7653″,"text":"Bats","properties":{"link":"http://auctions.mlb.com/iSynApp/allAuction.action?sid=1101001&rc=25&selectedCatId=13041&sort=timeleft_asc&pgmode2=catpage"},"menuItems":[]},{"itemId":"1b036e35-5977-4af1-9cb0-736c76d18ec4″,"text":"Caps","properties":{"link":"http://auctions.mlb.com/iSynApp/allAuction.action?sid=1101001&rc=25&selectedCatId=13021&sort=timeleft_asc&pgmode2=catpage"},"menuItems":[]},{"itemId":"74ae99a1-5ed5-44e4-842c-b49dc99e982d","text":"Experiences","properties":{"link":"http://auctions.mlb.com/iSynApp/allAuction.action?sid=1101001&rc=25&selectedCatId=13060&sort=timeleft_asc&pgmode2=catpage"},"menuItems":[]},{"itemId":"d41a4007-2f65-4b0f-a0a8-7df58870e507″,"text":"Game-Used","properties":{"link":"http://auctions.mlb.com/iSynApp/allAuction.action?sid=1101001&rc=25&selectedCatId=13022&sort=timeleft_asc&pgmode2=catpage"},"menuItems":[]},{"itemId":"aafaf49c-cfb9-432d-9119-f86a64fdbb27″,"text":"Jerseys","properties":{"link":"http://auctions.mlb.com/iSynApp/allAuction.action?sid=1101001&rc=25&selectedCatId=13062&sort=timeleft_asc&pgmode2=catpage"},"menuItems":[]},{"itemId":"c0be3bdb-025a-42ac-b09d-c391d058342b","text":"Photos","properties":{"link":"http://auctions.mlb.com/iSynApp/allAuction.action?sid=1101001&rc=25&selectedCatId=13024&sort=timeleft_asc&pgmode2=catpage"},"menuItems":[]}]},{"itemId":"98430c25-7924-4112-a70f-0b32fd31594f","text":"Teams","properties":{"link":"https://www.mlb.com/team","customProperties":"amp:true;module:teammodule;align:right;"},"menuItems":[{"itemId":"9191834c-54c4-40a7-8aac-9745d3666084″,"text":"Team Module","properties":{"customProperties":"module:teammodule;"},"menuItems":[]}]},{"itemId":"397b9e10-6d65-4fc0-bbe6-8d07f5e8d3a8″,"text":"ES","properties":{"link":"https://www.mlb.com/es","customProperties":"align:right;","toolTip":"Español"},"menuItems":[{"itemId":"ceb83c80-eaf2-4dd4-bdc6-e23b1e11ae60″,"text":"日本語","properties":{"link":"http://www.mlb.jp/","customProperties":"lang:ja"},"menuItems":[]},{"itemId":"27ac6728-00c1-4965-963b-05d33268fb50″,"text":"한국어","properties":{"link":"https://www.mlbkor.com/","customProperties":"lang:ko"},"menuItems":[]}]}]},"locale":"en","reqPath":"/news/trevor-story-rumors","sharedNav":{"instanceId":"6c265854-d856-4f92-aea1-07dfe5cda020″,"name":"shared-nav","variables":[],"menuItems":[{"itemId":"93b3e9b2-65a9-4585-9185-03e255cb523c","text":"MLB.TV","properties":{"link":"https://www.mlb.com/tv?&affiliateId=clubMENU","icon":"watch","customProperties":"align:right;"},"menuItems":[{"itemId":"162f5687-7f5b-4422-a782-133dc3db8aa0″,"text":"Buy MLB.TV","properties":{"link":"https://www.mlb.com/live-stream-games/subscribe?&affiliateId=clubMENU"},"menuItems":[]},{"itemId":"f75d3e53-5cc5-4eb5-b64d-7e72c3f601b9″,"text":"Buy MLB Audio","properties":{"link":"https://www.mlb.com/live-stream-games/subscribe/mlb-audio?&affiliateId=clubMENU"},"menuItems":[]},{"itemId":"d54a2b21-9db9-4252-9ebe-e3a4b2a3cf83″,"text":"Watch MLB.TV","properties":{"link":"https://www.mlb.com/live-stream-games?&affiliateId=clubMENU"},"menuItems":[]},{"itemId":"28f71773-a34e-46c5-bdbc-ac6476c5fc7a","text":"MLB Big Inning","properties":{"link":"https://www.mlb.com/live-stream-games/big-inning"},"menuItems":[]},{"itemId":"703b5c44-a9b4-46a2-bc2e-33112a413980″,"text":"MLB.TV Gift Giving","properties":{"link":"https://www.mlb.com/live-stream-games/subscribe/gift-giving"},"menuItems":[]},{"itemId":"3d0c17bc-b611-42aa-a6ce-d2a4d6d38f96″,"text":"MLB.TV Student Discounts","properties":{"link":"https://www.mlb.com/live-stream-games/subscribe/student-discount?&affiliateId=clubMENU"},"menuItems":[]},{"itemId":"2d8d6ad8-dc2a-4971-9b12-f1853530c5d3″,"text":"Watch MLB.TV Docs & Features","properties":{"link":"https://www.mlb.com/tv/featured?&affiliateId=clubMENU"},"menuItems":[]},{"itemId":"6254640c-2069-4447-822f-084d0a38f161″,"text":"MLB.TV Help Center","properties":{"link":"https://www.mlb.com/live-stream-games/help-center?&affiliateId=clubMENU"},"menuItems":[]},{"itemId":"6d167d3d-4063-43ae-b13c-283e83c0e91c","text":"MLB.TV with Extra Innings","properties":{"link":"https://www.mlb.com/live-stream-games/third-party?&affiliateId=clubMENU"},"menuItems":[]}]},{"itemId":"d54d0be0-f610-4f8b-90ac-c246c361e2e2″,"text":"Fantasy","properties":{"link":"https://www.mlb.com/fantasy"},"menuItems":[{"itemId":"5ec4bde4-6bc1-412b-a92b-6b7cb3b2f07c","text":"Yahoo Fantasy Baseball","properties":{"link":"http://yhoo.it/3aK5QQw","visible":"true"},"menuItems":[]},{"itemId":"b2a63b51-03fc-423d-971e-1e566f6008f4″,"text":"MLB Rally","properties":{"link":"https://www.mlb.com/apps/rally","visible":"true"},"menuItems":[]},{"itemId":"f6929b88-632d-4a6f-ba73-8a64fccba1b0″,"text":"MLB Quick Pick","properties":{"link":"https://www.mlb.com/apps/rally/quickpick"},"menuItems":[]},{"itemId":"0ebe9e5d-3fc7-48d2-acb1-c33eb931b911″,"text":"MLB Beat the Streak","properties":{"link":"https://www.mlb.com/apps/beat-the-streak","visible":"true"},"menuItems":[]},{"itemId":"086bd307-a929-4414-9dd7-09bdac8d3f2e","text":"MLB MOONBLASTS Pick 'Em","properties":{"link":"https://www.mlb.com/sponsorship/ftx-moonblasts-pick-em","customProperties":"expires:1627754400″},"menuItems":[]},{"itemId":"14aa1d4b-0193-4670-a1fc-b4386d4977e8″,"text":"The Vault","properties":{"link":"https://www.mlb.com/the-vault"},"menuItems":[]},{"itemId":"1543c12c-66d1-4033-9e05-c025fcb71a6a","text":"R.B.I. Baseball 21″,"properties":{"link":"https://www.rbigame.com"},"menuItems":[]},{"itemId":"4e0abdd4-8a0f-4bc5-838f-91dd2796041e","text":"MLB Home Run Derby","properties":{"link":"https://www.mlb.com/fantasy/home-run-derby"},"menuItems":[]},{"itemId":"7d8dfda7-345a-46fa-82dc-105068ba223e","text":"Season Pick 'Em","properties":{"link":"https://www.mlb.com/season-pick-em?affiliateId=spe-fantasynav-club-2021″,"visible":"false"},"menuItems":[]},{"itemId":"6eda396d-199b-4772-b3c9-c0b032513b6c","text":"MLB Pre-Pick (AUS)","properties":{"customProperties":"","link":"https://www.mlb.com/pre-pick/tab"},"menuItems":[]},{"itemId":"9f1ff266-0ed8-4adb-ba77-428d1871b237″,"text":"Closer Report","properties":{"link":"https://www.mlb.com/closer-report","visible":"false"},"menuItems":[]},{"itemId":"4c4f57bd-e31a-46c9-8f73-0fa2227451d3″,"text":"Prospect Rankings","properties":{"link":"https://www.mlb.com/prospects"},"menuItems":[]},{"itemId":"1ebe4dc3-2c6a-469f-be59-474fe14dbbd7″,"text":"MLB Champions","properties":{"link":"https://www.mlbc-app.com/?ref=mlbcom"},"menuItems":[]}]},{"itemId":"d1f61f89-9fd0-4f03-be17-2c5e128711a4″,"text":"Apps","properties":{"link":"https://www.mlb.com/apps"},"menuItems":[{"itemId":"83ac2ddf-414b-47d1-afec-ffacd068ab57″,"text":"MLB","properties":{"link":"https://www.mlb.com/apps/mlb-app"},"menuItems":[]},{"itemId":"83dbba73-02ac-4ba0-bebf-2c62ef04c19e","text":"MLB Rally","properties":{"link":"https://www.mlb.com/apps/rally","visible":"true"},"menuItems":[]},{"itemId":"26fda476-348c-4f42-aa7c-92d1f9b1bf5c","text":"MLB Beat the Streak","properties":{"link":"https://www.mlb.com/apps/beat-the-streak"},"menuItems":[]},{"itemId":"e09e6978-fcf7-4c2f-8387-59d83b7be38e","text":"MLB Ballpark","properties":{"link":"https://www.mlb.com/apps/ballpark"},"menuItems":[]},{"itemId":"5e7b8019-9484-4872-abd7-8b963cd5969e","text":"MiLB First Pitch","properties":{"link":"https://www.milb.com/about/first-pitch"},"menuItems":[]},{"itemId":"e3a0183d-1b5f-4e56-9b81-02632ba4ec60″,"text":"R.B.I. Baseball 21″,"properties":{"link":"https://www.rbigame.com"},"menuItems":[]},{"itemId":"4fd8c1f8-a753-4501-916c-663390f1a566″,"text":"MLB Home Run Derby","properties":{"link":"https://www.mlb.com/fantasy/home-run-derby"},"menuItems":[]},{"itemId":"9d8dfe8b-be1a-4ebf-9509-6bd0165a868e","text":"MLB FAQs","properties":{"link":"https://www.mlb.com/apps/mlb-app/faq-apple"},"menuItems":[]},{"itemId":"df4e8527-e357-4272-bcf7-61876ed9455d","text":"MLB Ballpark FAQs","properties":{"link":"https://www.mlb.com/apps/ballpark/faq-apple","visible":"true"},"menuItems":[]},{"itemId":"c2943c65-a843-437a-9ef4-4ccfe5be088f","text":"MLB Rally FAQs","properties":{"link":"https://www.mlb.com/apps/rally/faq-apple","visible":"true"},"menuItems":[]}]}]},"styleProps":{},"teamNameSlug":"","teamsData":[{"id":133,"name":"Oakland Athletics","link":"/api/v1/teams/133″,"season":2021,"venue":{"id":10,"name":"Oakland Coliseum","link":"/api/v1/venues/10″,"location":{"address1″:"7000 Coliseum Way","city":"Oakland","state":"California","stateAbbrev":"CA","postalCode":"94621″,"defaultCoordinates":{"latitude":37.751511,"longitude":-122.200698},"country":"USA","phone":"(510) 638-4900″},"timeZone":{"id":"America/Los_Angeles","offset":-7,"tz":"PDT"},"active":true},"springVenue":{"id":2507,"link":"/api/v1/venues/2507″},"teamCode":"oak","fileCode":"oak","abbreviation":"OAK","teamName":"Athletics","locationName":"Oakland","firstYearOfPlay":"1901″,"league":{"id":103,"name":"American League","link":"/api/v1/league/103″},"division":{"id":200,"name":"American League West","link":"/api/v1/divisions/200″},"sport":{"id":1,"link":"/api/v1/sports/1″,"name":"Major League Baseball"},"shortName":"Oakland","franchiseName":"Oakland","clubName":"Athletics","springLeague":{"id":114,"name":"Cactus League","link":"/api/v1/league/114″,"abbreviation":"CL"},"allStarStatus":"N","active":true},{"id":134,"name":"Pittsburgh Pirates","link":"/api/v1/teams/134″,"season":2021,"venue":{"id":31,"name":"PNC Park","link":"/api/v1/venues/31″,"location":{"address1″:"115 Federal Street","city":"Pittsburgh","state":"Pennsylvania","stateAbbrev":"PA","postalCode":"15212″,"defaultCoordinates":{"latitude":40.446904,"longitude":-80.005753},"country":"USA","phone":"(412) 323-5000″},"timeZone":{"id":"America/New_York","offset":-4,"tz":"EDT"},"active":true},"springVenue":{"id":2526,"link":"/api/v1/venues/2526″},"teamCode":"pit","fileCode":"pit","abbreviation":"PIT","teamName":"Pirates","locationName":"Pittsburgh","firstYearOfPlay":"1882″,"league":{"id":104,"name":"National League","link":"/api/v1/league/104″},"division":{"id":205,"name":"National League Central","link":"/api/v1/divisions/205″},"sport":{"id":1,"link":"/api/v1/sports/1″,"name":"Major League Baseball"},"shortName":"Pittsburgh","franchiseName":"Pittsburgh","clubName":"Pirates","springLeague":{"id":115,"name":"Grapefruit League","link":"/api/v1/league/115″,"abbreviation":"GL"},"allStarStatus":"N","active":true},{"id":135,"name":"San Diego Padres","link":"/api/v1/teams/135″,"season":2021,"venue":{"id":2680,"name":"Petco Park","link":"/api/v1/venues/2680″,"location":{"address1″:"100 Park Boulevard","city":"San Diego","state":"California","stateAbbrev":"CA","postalCode":"92101″,"defaultCoordinates":{"latitude":32.707861,"longitude":-117.157278},"country":"USA","phone":"(619) 795-5000″},"timeZone":{"id":"America/Los_Angeles","offset":-7,"tz":"PDT"},"active":true},"springVenue":{"id":2530,"link":"/api/v1/venues/2530″},"teamCode":"sdn","fileCode":"sd","abbreviation":"SD","teamName":"Padres","locationName":"San Diego","firstYearOfPlay":"1968″,"league":{"id":104,"name":"National League","link":"/api/v1/league/104″},"division":{"id":203,"name":"National League West","link":"/api/v1/divisions/203″},"sport":{"id":1,"link":"/api/v1/sports/1″,"name":"Major League Baseball"},"shortName":"San Diego","franchiseName":"San Diego","clubName":"Padres","springLeague":{"id":114,"name":"Cactus League","link":"/api/v1/league/114″,"abbreviation":"CL"},"allStarStatus":"N","active":true},{"id":136,"name":"Seattle Mariners","link":"/api/v1/teams/136″,"season":2021,"venue":{"id":680,"name":"T-Mobile Park","link":"/api/v1/venues/680″,"location":{"address1″:"P.O. Box 4100″,"city":"Seattle","state":"Washington","stateAbbrev":"WA","postalCode":"98104″,"defaultCoordinates":{"latitude":47.591333,"longitude":-122.33251},"country":"USA","phone":"(206) 346-4000″},"timeZone":{"id":"America/Los_Angeles","offset":-7,"tz":"PDT"},"active":true},"springVenue":{"id":2530,"link":"/api/v1/venues/2530″},"teamCode":"sea","fileCode":"sea","abbreviation":"SEA","teamName":"Mariners","locationName":"Seattle","firstYearOfPlay":"1977″,"league":{"id":103,"name":"American League","link":"/api/v1/league/103″},"division":{"id":200,"name":"American League West","link":"/api/v1/divisions/200″},"sport":{"id":1,"link":"/api/v1/sports/1″,"name":"Major League Baseball"},"shortName":"Seattle","franchiseName":"Seattle","clubName":"Mariners","springLeague":{"id":114,"name":"Cactus League","link":"/api/v1/league/114″,"abbreviation":"CL"},"allStarStatus":"N","active":true},{"id":137,"name":"San Francisco Giants","link":"/api/v1/teams/137″,"season":2021,"venue":{"id":2395,"name":"Oracle Park","link":"/api/v1/venues/2395″,"location":{"address1″:"24 Willie Mays Plaza","city":"San Francisco","state":"California","stateAbbrev":"CA","postalCode":"94107″,"defaultCoordinates":{"latitude":37.778383,"longitude":-122.389448},"country":"USA","phone":"(415) 972-2000″},"timeZone":{"id":"America/Los_Angeles","offset":-7,"tz":"PDT"},"active":true},"springVenue":{"id":2532,"link":"/api/v1/venues/2532″},"teamCode":"sfn","fileCode":"sf","abbreviation":"SF","teamName":"Giants","locationName":"San Francisco","firstYearOfPlay":"1883″,"league":{"id":104,"name":"National League","link":"/api/v1/league/104″},"division":{"id":203,"name":"National League West","link":"/api/v1/divisions/203″},"sport":{"id":1,"link":"/api/v1/sports/1″,"name":"Major League Baseball"},"shortName":"San Francisco","franchiseName":"San Francisco","clubName":"Giants","springLeague":{"id":114,"name":"Cactus League","link":"/api/v1/league/114″,"abbreviation":"CL"},"allStarStatus":"N","active":true},{"id":138,"name":"St. Louis Cardinals","link":"/api/v1/teams/138″,"season":2021,"venue":{"id":2889,"name":"Busch Stadium","link":"/api/v1/venues/2889″,"location":{"address1″:"700 Clark Street","city":"St. Louis","state":"Missouri","stateAbbrev":"MO","postalCode":"63102″,"defaultCoordinates":{"latitude":38.62256667,"longitude":-90.19286667},"country":"USA","phone":"(314) 345-9600″},"timeZone":{"id":"America/Chicago","offset":-5,"tz":"CDT"},"active":true},"springVenue":{"id":2520,"link":"/api/v1/venues/2520″},"teamCode":"sln","fileCode":"stl","abbreviation":"STL","teamName":"Cardinals","locationName":"St. Louis","firstYearOfPlay":"1892″,"league":{"id":104,"name":"National League","link":"/api/v1/league/104″},"division":{"id":205,"name":"National League Central","link":"/api/v1/divisions/205″},"sport":{"id":1,"link":"/api/v1/sports/1″,"name":"Major League Baseball"},"shortName":"St. Louis","franchiseName":"St. Louis","clubName":"Cardinals","springLeague":{"id":115,"name":"Grapefruit League","link":"/api/v1/league/115″,"abbreviation":"GL"},"allStarStatus":"N","active":true},{"id":139,"name":"Tampa Bay Rays","link":"/api/v1/teams/139″,"season":2021,"venue":{"id":12,"name":"Tropicana Field","link":"/api/v1/venues/12″,"location":{"address1″:"One Tropicana Drive","city":"St. Petersburg","state":"Florida","stateAbbrev":"FL","postalCode":"33705″,"defaultCoordinates":{"latitude":27.767778,"longitude":-82.6525},"country":"USA","phone":"(727) 825-3137″},"timeZone":{"id":"America/New_York","offset":-4,"tz":"EDT"},"active":true},"springVenue":{"id":2534,"link":"/api/v1/venues/2534″},"teamCode":"tba","fileCode":"tb","abbreviation":"TB","teamName":"Rays","locationName":"St. Petersburg","firstYearOfPlay":"1996″,"league":{"id":103,"name":"American League","link":"/api/v1/league/103″},"division":{"id":201,"name":"American League East","link":"/api/v1/divisions/201″},"sport":{"id":1,"link":"/api/v1/sports/1″,"name":"Major League Baseball"},"shortName":"Tampa Bay","franchiseName":"Tampa Bay","clubName":"Rays","springLeague":{"id":115,"name":"Grapefruit League","link":"/api/v1/league/115″,"abbreviation":"GL"},"allStarStatus":"N","active":true},{"id":140,"name":"Texas Rangers","link":"/api/v1/teams/140″,"season":2021,"venue":{"id":5325,"name":"Globe Life Field","link":"/api/v1/venues/5325″,"location":{"address1″:"734 Stadium Drive","city":"Arlington","state":"Texas","stateAbbrev":"TX","postalCode":"76011″,"defaultCoordinates":{"latitude":32.747299,"longitude":-97.081818},"country":"USA","phone":"(817) 533-1972″},"timeZone":{"id":"America/Chicago","offset":-5,"tz":"CDT"},"active":true},"springVenue":{"id":2603,"link":"/api/v1/venues/2603″},"teamCode":"tex","fileCode":"tex","abbreviation":"TEX","teamName":"Rangers","locationName":"Arlington","firstYearOfPlay":"1961″,"league":{"id":103,"name":"American League","link":"/api/v1/league/103″},"division":{"id":200,"name":"American League West","link":"/api/v1/divisions/200″},"sport":{"id":1,"link":"/api/v1/sports/1″,"name":"Major League Baseball"},"shortName":"Texas","franchiseName":"Texas","clubName":"Rangers","springLeague":{"id":114,"name":"Cactus League","link":"/api/v1/league/114″,"abbreviation":"CL"},"allStarStatus":"N","active":true},{"id":141,"name":"Toronto Blue Jays","link":"/api/v1/teams/141″,"season":2021,"venue":{"id":14,"name":"Rogers Centre","link":"/api/v1/venues/14″,"location":{"address1″:"1 Blue Jays Way, Suite 3200″,"city":"Toronto","state":"Ontario","stateAbbrev":"ON","postalCode":"M5V1J1″,"defaultCoordinates":{"latitude":43.64155,"longitude":-79.38915},"country":"Canada","phone":"(416) 341-1000″},"timeZone":{"id":"America/Toronto","offset":-4,"tz":"EDT"},"active":true},"springVenue":{"id":2536,"link":"/api/v1/venues/2536″},"teamCode":"tor","fileCode":"tor","abbreviation":"TOR","teamName":"Blue Jays","locationName":"Toronto","firstYearOfPlay":"1977″,"league":{"id":103,"name":"American League","link":"/api/v1/league/103″},"division":{"id":201,"name":"American League East","link":"/api/v1/divisions/201″},"sport":{"id":1,"link":"/api/v1/sports/1″,"name":"Major League Baseball"},"shortName":"Toronto","franchiseName":"Toronto","clubName":"Blue Jays","springLeague":{"id":115,"name":"Grapefruit League","link":"/api/v1/league/115″,"abbreviation":"GL"},"allStarStatus":"N","active":true},{"id":142,"name":"Minnesota Twins","link":"/api/v1/teams/142″,"season":2021,"venue":{"id":3312,"name":"Target Field","link":"/api/v1/venues/3312″,"location":{"address1″:"1 Twins Way","city":"Minneapolis","state":"Minnesota","stateAbbrev":"MN","postalCode":"55403″,"defaultCoordinates":{"latitude":44.981829,"longitude":-93.277891},"country":"USA","phone":"(612) 659-3400″},"timeZone":{"id":"America/Chicago","offset":-5,"tz":"CDT"},"active":true},"springVenue":{"id":2862,"link":"/api/v1/venues/2862″},"teamCode":"min","fileCode":"min","abbreviation":"MIN","teamName":"Twins","locationName":"Minneapolis","firstYearOfPlay":"1901″,"league":{"id":103,"name":"American League","link":"/api/v1/league/103″},"division":{"id":202,"name":"American League Central","link":"/api/v1/divisions/202″},"sport":{"id":1,"link":"/api/v1/sports/1″,"name":"Major League Baseball"},"shortName":"Minnesota","franchiseName":"Minnesota","clubName":"Twins","springLeague":{"id":115,"name":"Grapefruit League","link":"/api/v1/league/115″,"abbreviation":"GL"},"allStarStatus":"N","active":true},{"id":143,"name":"Philadelphia Phillies","link":"/api/v1/teams/143″,"season":2021,"venue":{"id":2681,"name":"Citizens Bank Park","link":"/api/v1/venues/2681″,"location":{"address1″:"One Citizens Bank Way","city":"Philadelphia","state":"Pennsylvania","stateAbbrev":"PA","postalCode":"19148″,"defaultCoordinates":{"latitude":39.90539086,"longitude":-75.16716957},"country":"USA","phone":"(215) 463-6000″},"timeZone":{"id":"America/New_York","offset":-4,"tz":"EDT"},"active":true},"springVenue":{"id":2700,"link":"/api/v1/venues/2700″},"teamCode":"phi","fileCode":"phi","abbreviation":"PHI","teamName":"Phillies","locationName":"Philadelphia","firstYearOfPlay":"1883″,"league":{"id":104,"name":"National League","link":"/api/v1/league/104″},"division":{"id":204,"name":"National League East","link":"/api/v1/divisions/204″},"sport":{"id":1,"link":"/api/v1/sports/1″,"name":"Major League Baseball"},"shortName":"Philadelphia","franchiseName":"Philadelphia","clubName":"Phillies","springLeague":{"id":115,"name":"Grapefruit League","link":"/api/v1/league/115″,"abbreviation":"GL"},"allStarStatus":"N","active":true},{"id":144,"name":"Atlanta Braves","link":"/api/v1/teams/144″,"season":2021,"venue":{"id":4705,"name":"Truist Park","link":"/api/v1/venues/4705″,"location":{"address1″:"755 Battery Avenue","city":"Atlanta","state":"Georgia","stateAbbrev":"GA","postalCode":"30339″,"defaultCoordinates":{"latitude":33.890672,"longitude":-84.467641},"country":"USA"},"timeZone":{"id":"America/New_York","offset":-4,"tz":"EDT"},"active":true},"springVenue":{"id":5380,"link":"/api/v1/venues/5380″},"teamCode":"atl","fileCode":"atl","abbreviation":"ATL","teamName":"Braves","locationName":"Atlanta","firstYearOfPlay":"1871″,"league":{"id":104,"name":"National League","link":"/api/v1/league/104″},"division":{"id":204,"name":"National League East","link":"/api/v1/divisions/204″},"sport":{"id":1,"link":"/api/v1/sports/1″,"name":"Major League Baseball"},"shortName":"Atlanta","franchiseName":"Atlanta","clubName":"Braves","springLeague":{"id":115,"name":"Grapefruit League","link":"/api/v1/league/115″,"abbreviation":"GL"},"allStarStatus":"N","active":true},{"id":145,"name":"Chicago White Sox","link":"/api/v1/teams/145″,"season":2021,"venue":{"id":4,"name":"Guaranteed Rate Field","link":"/api/v1/venues/4″,"location":{"address1″:"333 West 35th Street","city":"Chicago","state":"Illinois","stateAbbrev":"IL","postalCode":"60616″,"defaultCoordinates":{"latitude":41.83,"longitude":-87.634167},"country":"USA","phone":"(312) 674-1000″},"timeZone":{"id":"America/Chicago","offset":-5,"tz":"CDT"},"active":true},"springVenue":{"id":3809,"link":"/api/v1/venues/3809″},"teamCode":"cha","fileCode":"cws","abbreviation":"CWS","teamName":"White Sox","locationName":"Chicago","firstYearOfPlay":"1901″,"league":{"id":103,"name":"American League","link":"/api/v1/league/103″},"division":{"id":202,"name":"American League Central","link":"/api/v1/divisions/202″},"sport":{"id":1,"link":"/api/v1/sports/1″,"name":"Major League Baseball"},"shortName":"Chi White Sox","franchiseName":"Chicago","clubName":"White Sox","springLeague":{"id":114,"name":"Cactus League","link":"/api/v1/league/114″,"abbreviation":"CL"},"allStarStatus":"N","active":true},{"id":146,"name":"Miami Marlins","link":"/api/v1/teams/146″,"season":2021,"venue":{"id":4169,"name":"loanDepot park","link":"/api/v1/venues/4169″,"location":{"address1″:"501 Marlins Way","city":"Miami","state":"Florida","stateAbbrev":"FL","postalCode":"33125″,"defaultCoordinates":{"latitude":25.77796236,"longitude":-80.21951795},"country":"USA"},"timeZone":{"id":"America/New_York","offset":-4,"tz":"EDT"},"active":true},"springVenue":{"id":2520,"link":"/api/v1/venues/2520″},"teamCode":"mia","fileCode":"mia","abbreviation":"MIA","teamName":"Marlins","locationName":"Miami","firstYearOfPlay":"1991″,"league":{"id":104,"name":"National League","link":"/api/v1/league/104″},"division":{"id":204,"name":"National League East","link":"/api/v1/divisions/204″},"sport":{"id":1,"link":"/api/v1/sports/1″,"name":"Major League Baseball"},"shortName":"Miami","franchiseName":"Miami","clubName":"Marlins","springLeague":{"id":115,"name":"Grapefruit League","link":"/api/v1/league/115″,"abbreviation":"GL"},"allStarStatus":"N","active":true},{"id":147,"name":"New York Yankees","link":"/api/v1/teams/147″,"season":2021,"venue":{"id":3313,"name":"Yankee Stadium","link":"/api/v1/venues/3313″,"location":{"address1″:"One East 161st Street","city":"Bronx","state":"New York","stateAbbrev":"NY","postalCode":"10451″,"defaultCoordinates":{"latitude":40.82919482,"longitude":-73.9264977},"country":"USA","phone":"(718) 293-4300″},"timeZone":{"id":"America/New_York","offset":-4,"tz":"EDT"},"active":true},"springVenue":{"id":2523,"link":"/api/v1/venues/2523″},"teamCode":"nya","fileCode":"nyy","abbreviation":"NYY","teamName":"Yankees","locationName":"Bronx","firstYearOfPlay":"1903″,"league":{"id":103,"name":"American League","link":"/api/v1/league/103″},"division":{"id":201,"name":"American League East","link":"/api/v1/divisions/201″},"sport":{"id":1,"link":"/api/v1/sports/1″,"name":"Major League Baseball"},"shortName":"NY Yankees","franchiseName":"New York","clubName":"Yankees","springLeague":{"id":115,"name":"Grapefruit League","link":"/api/v1/league/115″,"abbreviation":"GL"},"allStarStatus":"N","active":true},{"id":158,"name":"Milwaukee Brewers","link":"/api/v1/teams/158″,"season":2021,"venue":{"id":32,"name":"American Family Field","link":"/api/v1/venues/32″,"location":{"address1″:"One Brewers Way","city":"Milwaukee","state":"Wisconsin","stateAbbrev":"WI","postalCode":"53214″,"defaultCoordinates":{"latitude":43.02838,"longitude":-87.97099},"country":"USA","phone":"(414) 902-4400″},"timeZone":{"id":"America/Chicago","offset":-5,"tz":"CDT"},"active":true},"springVenue":{"id":2518,"link":"/api/v1/venues/2518″},"teamCode":"mil","fileCode":"mil","abbreviation":"MIL","teamName":"Brewers","locationName":"Milwaukee","firstYearOfPlay":"1968″,"league":{"id":104,"name":"National League","link":"/api/v1/league/104″},"division":{"id":205,"name":"National League Central","link":"/api/v1/divisions/205″},"sport":{"id":1,"link":"/api/v1/sports/1″,"name":"Major League Baseball"},"shortName":"Milwaukee","franchiseName":"Milwaukee","clubName":"Brewers","springLeague":{"id":114,"name":"Cactus League","link":"/api/v1/league/114″,"abbreviation":"CL"},"allStarStatus":"N","active":true},{"id":108,"name":"Los Angeles Angels","link":"/api/v1/teams/108″,"season":2021,"venue":{"id":1,"name":"Angel Stadium","link":"/api/v1/venues/1″,"location":{"address1″:"2000 Gene Autry Way","city":"Anaheim","state":"California","stateAbbrev":"CA","postalCode":"92806″,"defaultCoordinates":{"latitude":33.80019044,"longitude":-117.8823996},"country":"USA","phone":"(714) 940-2000″},"timeZone":{"id":"America/Los_Angeles","offset":-7,"tz":"PDT"},"active":true},"springVenue":{"id":2500,"link":"/api/v1/venues/2500″},"teamCode":"ana","fileCode":"ana","abbreviation":"LAA","teamName":"Angels","locationName":"Anaheim","firstYearOfPlay":"1961″,"league":{"id":103,"name":"American League","link":"/api/v1/league/103″},"division":{"id":200,"name":"American League West","link":"/api/v1/divisions/200″},"sport":{"id":1,"link":"/api/v1/sports/1″,"name":"Major League Baseball"},"shortName":"LA Angels","franchiseName":"Los Angeles","clubName":"Angels","springLeague":{"id":114,"name":"Cactus League","link":"/api/v1/league/114″,"abbreviation":"CL"},"allStarStatus":"N","active":true},{"id":109,"name":"Arizona Diamondbacks","link":"/api/v1/teams/109″,"season":2021,"venue":{"id":15,"name":"Chase Field","link":"/api/v1/venues/15″,"location":{"address1″:"401 East Jefferson Street","city":"Phoenix","state":"Arizona","stateAbbrev":"AZ","postalCode":"85004″,"defaultCoordinates":{"latitude":33.445302,"longitude":-112.066687},"country":"USA","phone":"(602) 462-6500″},"timeZone":{"id":"America/Phoenix","offset":-7,"tz":"MST"},"active":true},"springVenue":{"id":4249,"link":"/api/v1/venues/4249″},"teamCode":"ari","fileCode":"ari","abbreviation":"ARI","teamName":"D-backs","locationName":"Phoenix","firstYearOfPlay":"1996″,"league":{"id":104,"name":"National League","link":"/api/v1/league/104″},"division":{"id":203,"name":"National League West","link":"/api/v1/divisions/203″},"sport":{"id":1,"link":"/api/v1/sports/1″,"name":"Major League Baseball"},"shortName":"Arizona","franchiseName":"Arizona","clubName":"Diamondbacks","springLeague":{"id":114,"name":"Cactus League","link":"/api/v1/league/114″,"abbreviation":"CL"},"allStarStatus":"N","active":true},{"id":110,"name":"Baltimore Orioles","link":"/api/v1/teams/110″,"season":2021,"venue":{"id":2,"name":"Oriole Park at Camden Yards","link":"/api/v1/venues/2″,"location":{"address1″:"333 West Camden Street","city":"Baltimore","state":"Maryland","stateAbbrev":"MD","postalCode":"21201″,"defaultCoordinates":{"latitude":39.283787,"longitude":-76.621689},"country":"USA","phone":"(410) 685-9800″},"timeZone":{"id":"America/New_York","offset":-4,"tz":"EDT"},"active":true},"springVenue":{"id":2508,"link":"/api/v1/venues/2508″},"teamCode":"bal","fileCode":"bal","abbreviation":"BAL","teamName":"Orioles","locationName":"Baltimore","firstYearOfPlay":"1901″,"league":{"id":103,"name":"American League","link":"/api/v1/league/103″},"division":{"id":201,"name":"American League East","link":"/api/v1/divisions/201″},"sport":{"id":1,"link":"/api/v1/sports/1″,"name":"Major League Baseball"},"shortName":"Baltimore","franchiseName":"Baltimore","clubName":"Orioles","springLeague":{"id":115,"name":"Grapefruit League","link":"/api/v1/league/115″,"abbreviation":"GL"},"allStarStatus":"N","active":true},{"id":111,"name":"Boston Red Sox","link":"/api/v1/teams/111″,"season":2021,"venue":{"id":3,"name":"Fenway Park","link":"/api/v1/venues/3″,"location":{"address1″:"4 Yawkey Way","city":"Boston","state":"Massachusetts","stateAbbrev":"MA","postalCode":"2215″,"defaultCoordinates":{"latitude":42.346456,"longitude":-71.097441},"country":"USA","phone":"(617) 267-9440″},"timeZone":{"id":"America/New_York","offset":-4,"tz":"EDT"},"active":true},"springVenue":{"id":4309,"link":"/api/v1/venues/4309″},"teamCode":"bos","fileCode":"bos","abbreviation":"BOS","teamName":"Red Sox","locationName":"Boston","firstYearOfPlay":"1901″,"league":{"id":103,"name":"American League","link":"/api/v1/league/103″},"division":{"id":201,"name":"American League East","link":"/api/v1/divisions/201″},"sport":{"id":1,"link":"/api/v1/sports/1″,"name":"Major League Baseball"},"shortName":"Boston","franchiseName":"Boston","clubName":"Red Sox","springLeague":{"id":115,"name":"Grapefruit League","link":"/api/v1/league/115″,"abbreviation":"GL"},"allStarStatus":"N","active":true},{"id":112,"name":"Chicago Cubs","link":"/api/v1/teams/112″,"season":2021,"venue":{"id":17,"name":"Wrigley Field","link":"/api/v1/venues/17″,"location":{"address1″:"1060 West Addison","city":"Chicago","state":"Illinois","stateAbbrev":"IL","postalCode":"60613-4397″,"defaultCoordinates":{"latitude":41.948171,"longitude":-87.655503},"country":"USA","phone":"(773) 404-2827″},"timeZone":{"id":"America/Chicago","offset":-5,"tz":"CDT"},"active":true},"springVenue":{"id":4629,"link":"/api/v1/venues/4629″},"teamCode":"chn","fileCode":"chc","abbreviation":"CHC","teamName":"Cubs","locationName":"Chicago","firstYearOfPlay":"1874″,"league":{"id":104,"name":"National League","link":"/api/v1/league/104″},"division":{"id":205,"name":"National League Central","link":"/api/v1/divisions/205″},"sport":{"id":1,"link":"/api/v1/sports/1″,"name":"Major League Baseball"},"shortName":"Chi Cubs","franchiseName":"Chicago","clubName":"Cubs","springLeague":{"id":114,"name":"Cactus League","link":"/api/v1/league/114″,"abbreviation":"CL"},"allStarStatus":"N","active":true},{"id":113,"name":"Cincinnati Reds","link":"/api/v1/teams/113″,"season":2021,"venue":{"id":2602,"name":"Great American Ball Park","link":"/api/v1/venues/2602″,"location":{"address1″:"100 Main Street","city":"Cincinnati","state":"Ohio","stateAbbrev":"OH","postalCode":"45202-4109″,"defaultCoordinates":{"latitude":39.097389,"longitude":-84.506611},"country":"USA","phone":"(513) 765-7000″},"timeZone":{"id":"America/New_York","offset":-4,"tz":"EDT"},"active":true},"springVenue":{"id":3834,"link":"/api/v1/venues/3834″},"teamCode":"cin","fileCode":"cin","abbreviation":"CIN","teamName":"Reds","locationName":"Cincinnati","firstYearOfPlay":"1882″,"league":{"id":104,"name":"National League","link":"/api/v1/league/104″},"division":{"id":205,"name":"National League Central","link":"/api/v1/divisions/205″},"sport":{"id":1,"link":"/api/v1/sports/1″,"name":"Major League Baseball"},"shortName":"Cincinnati","franchiseName":"Cincinnati","clubName":"Reds","springLeague":{"id":114,"name":"Cactus League","link":"/api/v1/league/114″,"abbreviation":"CL"},"allStarStatus":"N","active":true},{"id":114,"name":"Cleveland Indians","link":"/api/v1/teams/114″,"season":2021,"venue":{"id":5,"name":"Progressive Field","link":"/api/v1/venues/5″,"location":{"address1″:"2401 Ontario Street","city":"Cleveland","state":"Ohio","stateAbbrev":"OH","postalCode":"44115″,"defaultCoordinates":{"latitude":41.495861,"longitude":-81.685255},"country":"USA","phone":"(216) 420-4200″},"timeZone":{"id":"America/New_York","offset":-4,"tz":"EDT"},"active":true},"springVenue":{"id":3834,"link":"/api/v1/venues/3834″},"teamCode":"cle","fileCode":"cle","abbreviation":"CLE","teamName":"Indians","locationName":"Cleveland","firstYearOfPlay":"1901″,"league":{"id":103,"name":"American League","link":"/api/v1/league/103″},"division":{"id":202,"name":"American League Central","link":"/api/v1/divisions/202″},"sport":{"id":1,"link":"/api/v1/sports/1″,"name":"Major League Baseball"},"shortName":"Cleveland","franchiseName":"Cleveland","clubName":"Indians","springLeague":{"id":114,"name":"Cactus League","link":"/api/v1/league/114″,"abbreviation":"CL"},"allStarStatus":"N","active":true},{"id":115,"name":"Colorado Rockies","link":"/api/v1/teams/115″,"season":2021,"venue":{"id":19,"name":"Coors Field","link":"/api/v1/venues/19″,"location":{"address1″:"2001 Blake Street","city":"Denver","state":"Colorado","stateAbbrev":"CO","postalCode":"80205-2000″,"defaultCoordinates":{"latitude":39.756042,"longitude":-104.994136},"country":"USA","phone":"(303) 292-0200″},"timeZone":{"id":"America/Denver","offset":-6,"tz":"MDT"},"active":true},"springVenue":{"id":4249,"link":"/api/v1/venues/4249″},"teamCode":"col","fileCode":"col","abbreviation":"COL","teamName":"Rockies","locationName":"Denver","firstYearOfPlay":"1992″,"league":{"id":104,"name":"National League","link":"/api/v1/league/104″},"division":{"id":203,"name":"National League West","link":"/api/v1/divisions/203″},"sport":{"id":1,"link":"/api/v1/sports/1″,"name":"Major League Baseball"},"shortName":"Colorado","franchiseName":"Colorado","clubName":"Rockies","springLeague":{"id":114,"name":"Cactus League","link":"/api/v1/league/114″,"abbreviation":"CL"},"allStarStatus":"N","active":true},{"id":116,"name":"Detroit Tigers","link":"/api/v1/teams/116″,"season":2021,"venue":{"id":2394,"name":"Comerica Park","link":"/api/v1/venues/2394″,"location":{"address1″:"2100 Woodward Avenue","city":"Detroit","state":"Michigan","stateAbbrev":"MI","postalCode":"48201″,"defaultCoordinates":{"latitude":42.3391151,"longitude":-83.048695},"country":"USA","phone":"(313) 471-2000″},"timeZone":{"id":"America/Detroit","offset":-4,"tz":"EDT"},"active":true},"springVenue":{"id":2511,"link":"/api/v1/venues/2511″},"teamCode":"det","fileCode":"det","abbreviation":"DET","teamName":"Tigers","locationName":"Detroit","firstYearOfPlay":"1901″,"league":{"id":103,"name":"American League","link":"/api/v1/league/103″},"division":{"id":202,"name":"American League Central","link":"/api/v1/divisions/202″},"sport":{"id":1,"link":"/api/v1/sports/1″,"name":"Major League Baseball"},"shortName":"Detroit","franchiseName":"Detroit","clubName":"Tigers","springLeague":{"id":115,"name":"Grapefruit League","link":"/api/v1/league/115″,"abbreviation":"GL"},"allStarStatus":"N","active":true},{"id":117,"name":"Houston Astros","link":"/api/v1/teams/117″,"season":2021,"venue":{"id":2392,"name":"Minute Maid Park","link":"/api/v1/venues/2392″,"location":{"address1″:"501 Crawford Street","city":"Houston","state":"Texas","stateAbbrev":"TX","postalCode":"77002″,"defaultCoordinates":{"latitude":29.756967,"longitude":-95.355509},"country":"USA","phone":"(713) 259-8000″},"timeZone":{"id":"America/Chicago","offset":-5,"tz":"CDT"},"active":true},"springVenue":{"id":5000,"link":"/api/v1/venues/5000″},"teamCode":"hou","fileCode":"hou","abbreviation":"HOU","teamName":"Astros","locationName":"Houston","firstYearOfPlay":"1962″,"league":{"id":103,"name":"American League","link":"/api/v1/league/103″},"division":{"id":200,"name":"American League West","link":"/api/v1/divisions/200″},"sport":{"id":1,"link":"/api/v1/sports/1″,"name":"Major League Baseball"},"shortName":"Houston","franchiseName":"Houston","clubName":"Astros","springLeague":{"id":115,"name":"Grapefruit League","link":"/api/v1/league/115″,"abbreviation":"GL"},"allStarStatus":"N","active":true},{"id":118,"name":"Kansas City Royals","link":"/api/v1/teams/118″,"season":2021,"venue":{"id":7,"name":"Kauffman Stadium","link":"/api/v1/venues/7″,"location":{"address1″:"One Royal Way","city":"Kansas City","state":"Missouri","stateAbbrev":"MO","postalCode":"64129″,"defaultCoordinates":{"latitude":39.051567,"longitude":-94.480483},"country":"USA","phone":"(816) 921-8000″},"timeZone":{"id":"America/Chicago","offset":-5,"tz":"CDT"},"active":true},"springVenue":{"id":2603,"link":"/api/v1/venues/2603″},"teamCode":"kca","fileCode":"kc","abbreviation":"KC","teamName":"Royals","locationName":"Kansas City","firstYearOfPlay":"1968″,"league":{"id":103,"name":"American League","link":"/api/v1/league/103″},"division":{"id":202,"name":"American League Central","link":"/api/v1/divisions/202″},"sport":{"id":1,"link":"/api/v1/sports/1″,"name":"Major League Baseball"},"shortName":"Kansas City","franchiseName":"Kansas City","clubName":"Royals","springLeague":{"id":114,"name":"Cactus League","link":"/api/v1/league/114″,"abbreviation":"CL"},"allStarStatus":"N","active":true},{"id":119,"name":"Los Angeles Dodgers","link":"/api/v1/teams/119″,"season":2021,"venue":{"id":22,"name":"Dodger Stadium","link":"/api/v1/venues/22″,"location":{"address1″:"1000 Vin Scully Avenue","city":"Los Angeles","state":"California","stateAbbrev":"CA","postalCode":"90012-1199″,"defaultCoordinates":{"latitude":34.07368,"longitude":-118.24053},"country":"USA","phone":"(323) 224-1500″},"timeZone":{"id":"America/Los_Angeles","offset":-7,"tz":"PDT"},"active":true},"springVenue":{"id":3809,"link":"/api/v1/venues/3809″},"teamCode":"lan","fileCode":"la","abbreviation":"LAD","teamName":"Dodgers","locationName":"Los Angeles","firstYearOfPlay":"1884″,"league":{"id":104,"name":"National League","link":"/api/v1/league/104″},"division":{"id":203,"name":"National League West","link":"/api/v1/divisions/203″},"sport":{"id":1,"link":"/api/v1/sports/1″,"name":"Major League Baseball"},"shortName":"LA Dodgers","franchiseName":"Los Angeles","clubName":"Dodgers","springLeague":{"id":114,"name":"Cactus League","link":"/api/v1/league/114″,"abbreviation":"CL"},"allStarStatus":"N","active":true},{"id":120,"name":"Washington Nationals","link":"/api/v1/teams/120″,"season":2021,"venue":{"id":3309,"name":"Nationals Park","link":"/api/v1/venues/3309″,"location":{"address1″:"1500 South Capitol Street, SE","city":"Washington","state":"District of Columbia","stateAbbrev":"DC","postalCode":"20003-1507″,"defaultCoordinates":{"latitude":38.872861,"longitude":-77.007501},"country":"USA","phone":"(202) 349-0400″},"timeZone":{"id":"America/New_York","offset":-4,"tz":"EDT"},"active":true},"springVenue":{"id":5000,"link":"/api/v1/venues/5000″},"teamCode":"was","fileCode":"was","abbreviation":"WSH","teamName":"Nationals","locationName":"Washington","firstYearOfPlay":"1968″,"league":{"id":104,"name":"National League","link":"/api/v1/league/104″},"division":{"id":204,"name":"National League East","link":"/api/v1/divisions/204″},"sport":{"id":1,"link":"/api/v1/sports/1″,"name":"Major League Baseball"},"shortName":"Washington","franchiseName":"Washington","clubName":"Nationals","springLeague":{"id":115,"name":"Grapefruit League","link":"/api/v1/league/115″,"abbreviation":"GL"},"allStarStatus":"N","active":true},{"id":121,"name":"New York Mets","link":"/api/v1/teams/121″,"season":2021,"venue":{"id":3289,"name":"Citi Field","link":"/api/v1/venues/3289″,"location":{"address1″:"Citi Field","city":"Flushing","state":"New York","stateAbbrev":"NY","postalCode":"11368″,"defaultCoordinates":{"latitude":40.75753012,"longitude":-73.84559155},"country":"USA","phone":"(718) 507-6387″},"timeZone":{"id":"America/New_York","offset":-4,"tz":"EDT"},"active":true},"springVenue":{"id":2856,"link":"/api/v1/venues/2856″},"teamCode":"nyn","fileCode":"nym","abbreviation":"NYM","teamName":"Mets","locationName":"Flushing","firstYearOfPlay":"1962″,"league":{"id":104,"name":"National League","link":"/api/v1/league/104″},"division":{"id":204,"name":"National League East","link":"/api/v1/divisions/204″},"sport":{"id":1,"link":"/api/v1/sports/1″,"name":"Major League Baseball"},"shortName":"NY Mets","franchiseName":"New York","clubName":"Mets","springLeague":{"id":115,"name":"Grapefruit League","link":"/api/v1/league/115″,"abbreviation":"GL"},"allStarStatus":"N","active":true}]},"graphqlVariables":{"getInitialData":{"contentfulLocale":"en-US","forgeLocale":"en-us","isApp":false,"preview":false,"storySlug":"trevor-story-rumors","teamId":"mlb","teamPropertiesId":"mlb-global-properties","teamPaletteId":"mlb-base-palette"},"getRelatedContent":{"slug":"trevor-story-rumors","options":{"locale":"en-us","teamId":"mlb","topicSlug":""}},"getTopic":{"forgeLocale":"en-us","topicSlug":""}},"headerState":{"clubId":"mlb","deviceProperties":{},"footerData":{"instanceId":"db2f8fb2-78c8-4d3c-a328-9e91c349dfee","name":"global-footer","variables":[],"menuItems":[{"itemId":"aec375d3-3afa-4491-ab28-60b736f38982″,"text":"Terms of Use","properties":{"link":"/official-information/terms-of-use","target":"_blank"},"menuItems":[]},{"itemId":"debe8dbf-de27-4eae-b7ec-adae43fc4642″,"text":"Privacy Policy","properties":{"link":"/official-information/privacy-policy"},"menuItems":[]},{"itemId":"345a1847-cac1-43a4-91bf-70c21ecee681″,"text":"Legal Notices","properties":{"link":"/official-information/legal-notices"},"menuItems":[]},{"itemId":"34014aad-1069-4bba-b22e-4b287a4f7df1″,"text":"Contact Us","properties":{"link":"/official-information/contact"},"menuItems":[]},{"itemId":"65e06970-7f8e-4328-ad82-9d90df0f3e87″,"text":"Do Not Sell My Personal Data","properties":{"link":"https://privacyportal.onetrust.com/webform/53a301ae-6882-46f9-af93-24f64f792aee/3251a424-8286-4725-9313-603f12c85a49″,"target":"_blank"},"menuItems":[]},{"itemId":"dd307e97-49c6-4f80-aff3-89a59696fb80″,"text":"Official Information","properties":{},"menuItems":[{"itemId":"bdf571d3-e8bb-403b-bb5f-7f28a7127c74″,"text":"Official Info","properties":{"link":"/official-information"},"menuItems":[]},{"itemId":"ecfd4d42-aa8d-4872-80a5-869c6b493018″,"text":"About MLB","properties":{"link":"/official-information/about-mlb"},"menuItems":[]},{"itemId":"bb62de22-5c84-4cab-b9fb-5429ea9d647c","text":"Team Information","properties":{"link":"https://www.mlb.com/team"},"menuItems":[]},{"itemId":"7cc37e2a-667c-4405-bd1f-87ad88bc4d9e","text":"Official Rules","properties":{"link":"https://img.mlbstatic.com/mlb-images/image/upload/mlb/atcjzj9j7wrgvsm8wnjq.pdf"},"menuItems":[]},{"itemId":"e658056b-608b-4eee-a04a-43772f9e6bb4″,"text":"Replay Review Regulations","properties":{"link":"/glossary/rules/replay-review"},"menuItems":[]},{"itemId":"0b3fc77c-c7d1-4584-a184-90fd8c4959e9″,"text":"Umpires","properties":{"link":"/official-information/umpires"},"menuItems":[]},{"itemId":"23dde9d7-6aba-4bec-a449-b1b4d5a5767c","text":"Advertise with Us","properties":{"link":"/sponsorship"},"menuItems":[]},{"itemId":"ca43b715-5423-4314-ac5a-f9229bee6fb6″,"text":"Press Releases","properties":{"link":"/news/topic/mlb-press-releases"},"menuItems":[]}]},{"itemId":"7a60a8fc-0c3c-4c87-b04b-2b57b6c9894c","text":"Help/Contact Us","properties":{},"menuItems":[{"itemId":"efb27376-accc-4ca4-9017-c3309ee122d3″,"text":"Accessibility Information","properties":{"link":"/official-information/accessibility"},"menuItems":[]},{"itemId":"cf3490fc-f093-4457-99a7-d2bc3f4d4cef","text":"Auctions Customer Service","properties":{"link":"http://auctions.mlb.com/iSynApp/manageUserEmail!showEmailContactUsForm.action?sid=1101001″},"menuItems":[]},{"itemId":"c6867706-11b7-4634-a78e-b5d513948f43″,"text":"Harassment Policy","properties":{"link":"/official-information/harassment-policy"},"menuItems":[]},{"itemId":"0e3932c9-beec-43f2-b712-66879a51ab63″,"text":"Help/Contact Us","properties":{"link":"/official-information/contact"},"menuItems":[]},{"itemId":"6d4ebef1-3168-4b79-a237-9f36931d3a2c","text":"MLB App FAQs","properties":{"link":"https://www.mlb.com/apps/mlb-app/faq-apple"},"menuItems":[]},{"itemId":"4b3c6ee8-d4ae-4265-a7e7-7e5bea8cde28″,"text":"MLB.com Account Information","properties":{"link":"/official-information/faqs"},"menuItems":[]},{"itemId":"4d33a7c1-38d5-4b3b-a999-53377f55738d","text":"MLB.TV Help Center","properties":{"link":"/live-stream-games/help-center"},"menuItems":[]},{"itemId":"36f01834-7979-4a42-aa12-52439c2e320b","text":"Shop Help","properties":{"link":"https://help-mlb.custhelp.com/"},"menuItems":[]},{"itemId":"bb6e7a31-4b7d-4e49-8c2e-00dda9e237ab","text":"Ticket Information","properties":{"link":"/official-information/ticket-faqs"},"menuItems":[]}]},{"itemId":"6ca8b189-8c54-428f-9f79-3c357ef18469″,"text":"More MLB Sites & Affiliates","properties":{},"menuItems":[{"itemId":"becc9309-94fc-491b-ad15-45f7c17f85a9″,"text":"MLB Players Alumni Association","properties":{"link":"/mlbpaa","target":""},"menuItems":[]},{"itemId":"9ff49c09-8a0d-41e6-b8b0-14f37f8e7f52″,"text":"MLB Players Association","properties":{"link":"http://www.mlbplayers.com/"},"menuItems":[]},{"itemId":"022ec2ca-bb20-4543-9cdc-95ba3a4443ca","text":"Minor League Baseball","properties":{"link":"https://www.milb.com/"},"menuItems":[]},{"itemId":"c6f9948e-3521-4788-83ed-b568f39e86aa","text":"MLB Network","properties":{"link":"https://www.mlb.com/network"},"menuItems":[]},{"itemId":"de2ea389-0a29-4600-8048-b4261916183d","text":"Baseball Assistance Team","properties":{"link":"/baseball-assistance-team"},"menuItems":[]},{"itemId":"e1a2af1c-ee36-4672-935b-17e62d0b4ddc","text":"Player Resource Center","properties":{"link":"/player-resource-center","target":""},"menuItems":[]},{"itemId":"75f0b763-612d-4557-ae38-227fb5b3b7f1″,"text":"Tickets.com","properties":{"link":"http://www.tickets.com/"},"menuItems":[]},{"itemId":"f8599d26-5069-4417-8c26-0965dd8d9435″,"text":"YES Network","properties":{"link":"https://www.yesnetwork.com/"},"menuItems":[]},{"itemId":"5c8f6196-a4d5-4ed5-b830-189580691d3e","text":"Australian Baseball League","properties":{"link":"https://theabl.com.au/"},"menuItems":[]},{"itemId":"ab6fc805-0bb7-439b-8c3c-92c61b035387″,"text":"World Baseball Classic","properties":{"link":"https://www.worldbaseballclassic.com/"},"menuItems":[]},{"itemId":"e218ed4d-89f9-4f7d-87e7-c05a3559cd74″,"text":"sabr.org","properties":{"link":"http://sabr.org/"},"menuItems":[]},{"itemId":"158a95a6-bd4f-4654-b57f-465d3c356a55″,"text":"College Baseball Hall of Fame","properties":{"link":"https://www.mlb.com/college-baseball-hall-of-fame"},"menuItems":[]},{"itemId":"5e602a1a-e518-455b-ac5f-5c0e80430e38″,"text":"Golden Spikes Award","properties":{"link":"https://www.usabaseball.com/golden-spikes-award"},"menuItems":[]},{"itemId":"ccd9020d-c619-45d2-bc1f-ef80ae2cd651″,"text":"USA Baseball","properties":{"link":"https://www.usabaseball.com"},"menuItems":[]},{"itemId":"75512a93-d52d-4d71-a6d3-70d6b44dfa0f","text":"LasMayores.com","properties":{"link":"https://www.mlb.com/es"},"menuItems":[]},{"itemId":"3b7bbad3-1ed5-468d-8703-205519315e04″,"text":"MLBCommunity.org","properties":{"link":"/mlb-community"},"menuItems":[]},{"itemId":"f8058121-3606-4ff2-be8a-d1a3d47642db","text":"AllStarGame.com","properties":{"link":"https://www.mlb.com/all-star"},"menuItems":[]},{"itemId":"a624b4e5-c8d8-44b9-9084-7522ed0cee59″,"text":"MLB.com/Kids","properties":{"link":"https://www.mlb.com/fans/kids"},"menuItems":[]},{"itemId":"43c6bc47-f7d9-445a-85a1-10b3cdc02ee0″,"text":"MLB Photostore","properties":{"link":"https://photostore.mlb.com/"},"menuItems":[]},{"itemId":"d9f4ea22-70a7-4085-a16e-83f70a5711b2″,"text":"Offseason Leagues","properties":{"link":"http://mlb.mlb.com/mlb/events/winterleagues/"},"menuItems":[]},{"itemId":"c574a4a2-45ec-47fe-8ca3-b5b99d1cb443″,"text":"PlayBall.org","properties":{"link":"https://www.playball.org"},"menuItems":[]},{"itemId":"517cf98f-063c-486a-a725-5380e1ae063f","text":"MLB Educators","properties":{"link":"/mlb-educators"},"menuItems":[]}]},{"itemId":"e3a86593-6da0-4d00-a512-0b8c78c9b8a5″,"text":"Careers","properties":{"link":""},"menuItems":[{"itemId":"35caab61-51c7-4b17-a9b8-e9ecd201058a","text":"Careers Home","properties":{"link":"/careers/home"},"menuItems":[]}]}]},"headerData":{"instanceId":"fbde1dcd-c837-4740-991c-1087d1db26d1″,"name":"global-nav","variables":[],"menuItems":[{"itemId":"tickets","text":"Tickets","properties":{"link":"https://www.mlb.com/tickets","customProperties":"align:right;"},"menuItems":[{"itemId":"764d21d8-0f58-4d63-b57c-035ec47d193c","text":"General Ticket Information","properties":{"link":"https://www.mlb.com/tickets","customProperties":"","visible":"false"},"menuItems":[]},{"itemId":"4e45f354-0ccd-4c89-ac5e-12f16dd11f3a","text":"Season Tickets","properties":{"link":"/tickets/season-tickets","customProperties":"","visible":"false"},"menuItems":[]},{"itemId":"020f5910-a69a-443a-b5a3-37b7664d8a4f","text":"Spring Training","properties":{"link":"/tickets/spring-training","visible":"false"},"menuItems":[]},{"itemId":"0a8ddc10-4b69-4a97-a677-6301ac30971b","text":"Fan Value","properties":{"link":"/tickets/fan-value","customProperties":"","visible":"false"},"menuItems":[]},{"itemId":"417de43e-baa5-4ca1-802d-c0814be88688″,"text":"Ballpark Tours","properties":{"link":"/tickets/ballpark-tours","visible":"false"},"menuItems":[]},{"itemId":"dc1ab63d-4195-4a41-8248-cfa5513a66e9″,"text":"StubHub.com","properties":{"link":"https://www.stubhub.com/mlb-tickets/grouping/81/?gcid=C12289x371″,"customProperties":""},"menuItems":[]},{"itemId":"a1fd4bc8-d136-4d65-a0cd-393f31e0e14e","text":"All-Star Game","properties":{"link":"/all-star/tickets","customProperties":"expires:1626228000″},"menuItems":[]},{"itemId":"92c55e19-5b07-4d4f-8bfe-ee6a86e64c8a","text":"World Baseball Classic","properties":{"link":"https://www.mlb.com/world-baseball-classic/schedule"},"menuItems":[]},{"itemId":"5d7d5f77-3b9d-4d21-bece-8b3245b7bf2a","text":"International Events","properties":{"link":"https://www.mlb.com/international"},"menuItems":[]},{"itemId":"797c376f-524a-4e12-b431-1994c1d9127d","text":"Vaccinate at the Plate Ticket Offer","properties":{"link":"/tickets/vaccinate-ticket-offer","customProperties":"expires:1625112000″},"menuItems":[]},{"itemId":"5e7b162c-c994-4bad-89b3-0a1b2746710d","text":"Ticket Terms & Conditions","properties":{"link":"https://www.mlb.com/tickets/terms-and-conditions"},"menuItems":[]}]},{"itemId":"7b24aad4-85fb-4206-b915-85dc84bf8046″,"text":"MLB.TV","properties":{"link":"https://www.mlb.com/tv?&affiliateId=mlbMENU","customProperties":"amp:true;align:right;","icon":"watch"},"menuItems":[{"itemId":"6e4bf96d-d9e2-4c33-8d42-3e94aae42607″,"text":"Buy MLB.TV","properties":{"link":"https://www.mlb.com/live-stream-games/subscribe?&affiliateId=mlbMENU"},"menuItems":[]},{"itemId":"f33ef990-5609-45cd-be24-0e40cb0a5368″,"text":"Buy MLB Audio","properties":{"link":"https://www.mlb.com/live-stream-games/subscribe/mlb-audio?&affiliateId=mlbMENU"},"menuItems":[]},{"itemId":"993d3d74-7886-48fd-9d9f-12d189ed5630″,"text":"Watch MLB.TV","properties":{"link":"/live-stream-games?&affiliateId=mlbMENU","customProperties":""},"menuItems":[]},{"itemId":"d7847412-c970-4b0a-b17e-61fded27c46a","text":"MLB Big Inning","properties":{"link":"https://www.mlb.com/live-stream-games/big-inning?&affiliateId=mlbMENU"},"menuItems":[]},{"itemId":"c2596a4c-2d08-459e-9173-2d799f070637″,"text":"MLB.TV Gift Giving","properties":{"link":"https://www.mlb.com/live-stream-games/subscribe/gift-giving"},"menuItems":[]},{"itemId":"e5e2c318-6b50-4406-8434-b4c84716dfe6″,"text":"MLB.TV Student Discounts","properties":{"link":"https://www.mlb.com/live-stream-games/subscribe/student-discount?&affiliateId=mlbMENU"},"menuItems":[]},{"itemId":"00132689-c7ce-46b0-bfac-228fa9f70a22″,"text":"Watch MLB.TV Docs & Features","properties":{"link":"https://www.mlb.com/tv/featured?&affiliateId=mlbMENU"},"menuItems":[]},{"itemId":"68b755ed-4f9d-4c0a-96ea-ffafb22ca5c5″,"text":"MLB.TV Help Center","properties":{"link":"/live-stream-games/help-center?&affiliateId=mlbMENU","customProperties":""},"menuItems":[]},{"itemId":"05b81a24-a196-4ee9-86f6-443cc7ce6934″,"text":"MLB.TV with Extra Innings","properties":{"link":"https://www.mlb.com/live-stream-games/third-party?&affiliateId=mlbMENU"},"menuItems":[]}]},{"itemId":"6bfaf88e-891c-4e05-a935-8a32bd23086a","text":"Shop","properties":{"link":"https://www.mlbshop.com/?_s=bm-mlbcom-hp","customProperties":"align:right;","icon":"shopping-cart"},"menuItems":[{"itemId":"d7b3c8e0-42c4-45c5-8278-c51adb21b47f","text":"Auction","properties":{"link":"http://auction.mlb.com/"},"menuItems":[]},{"itemId":"216d4562-456b-442d-b078-9e9be9b35b20″,"text":"Authentication","properties":{"link":"https://www.mlb.com/authentication"},"menuItems":[]},{"itemId":"20f4725a-5dc1-4543-a153-7795cd789463″,"text":"Autographed","properties":{"link":"http://auctions.mlb.com/iSynApp/allAuction.action?sid=1101001&rc=25&selectedCatId=17342&sort=timeleft_asc&pgmode2=catpage"},"menuItems":[]},{"itemId":"f4f69cd4-2549-45f2-ba63-d97ddb0b564c","text":"Jerseys","properties":{"link":"https://www.mlbshop.com/jerseys/d-1250336792+z-990485-1677480024?_s=bm-mlbcom-hp","customProperties":""},"menuItems":[]},{"itemId":"a67b9b28-c511-47a8-87e6-594cb719c787″,"text":"Caps","properties":{"link":"https://www.mlbshop.com/caps/d-3494554436+z-921549-1032840697?_s=bm-mlbcom-hp","customProperties":""},"menuItems":[]},{"itemId":"f5b9b657-5322-40c1-b2e8-1bd31e27abf6″,"text":"Men's","properties":{"link":"https://www.mlbshop.com/men/ga-12+z-9112397524-3608394688?_s=bm-mlbcom-hp","customProperties":""},"menuItems":[]},{"itemId":"dfa13a6f-17fd-4a4a-9963-f3e3734e28bf","text":"Women's","properties":{"link":"https://www.mlbshop.com/women/ga-57+z-822989763-3950492570?_s=bm-mlbcom-hp","customProperties":""},"menuItems":[]},{"itemId":"c2bf810b-0d1f-4135-b7f8-919c53fc8cc2″,"text":"Kids","properties":{"link":"https://www.mlbshop.com/kids/ga-36+z-861270405-1171990865?_s=bm-mlbcom-hp","customProperties":""},"menuItems":[]},{"itemId":"1b321c96-eb8a-4077-9868-9420205878bc","text":"Collectibles & Memorabilia","properties":{"link":"https://www.mlbshop.com/collectibles-and-memorabilia/d-7883550038+z-87646-4052890706?_s=bm-mlbcom-hp","customProperties":""},"menuItems":[]},{"itemId":"91dcfa1d-f4de-4bf9-93f8-8f91f4069272″,"text":"Home & Office","properties":{"link":"https://www.mlbshop.com/home-and-office/d-3449556733+z-992406-855732365?_s=bm-mlbcom-hp","customProperties":""},"menuItems":[]},{"itemId":"c69e35fc-900e-4fcc-9348-085aa0febeab","text":"Gift Certificates","properties":{"link":"https://www.mlbshop.com/gift-cards/x-462351+z-94899005-3509039474?_s=bm-mlbcom-Home","customProperties":""},"menuItems":[]},{"itemId":"7423a9ca-3a6f-42fe-8d6e-9459bed284c7″,"text":"NYC Retail Store","properties":{"link":"https://www.mlb.com/shop/nyc-retail-store"},"menuItems":[]},{"itemId":"44958e84-599e-44b1-96b4-44f38a477942″,"text":"European Shop","properties":{"link":"http://www.mlbshopeurope.com/stores/mlb/en?portal=MLTS66FS&CMP=PSC-MLTS66FS","customProperties":""},"menuItems":[]},{"itemId":"51d3278e-90fd-4462-aec0-7cfd8de1cb79″,"text":"Photo Store","properties":{"link":"https://photostore.mlb.com/"},"menuItems":[]}]},{"itemId":"5052bac6-3f1d-4847-8739-42021d7cfc2d","text":"News","properties":{"link":"https://www.mlb.com/news","customProperties":"amp:true;"},"menuItems":[{"itemId":"7b725a20-961b-4511-bd88-20600551baf2″,"text":"In this section","properties":{"visible":"true"},"menuItems":[{"itemId":"82d45c9a-d055-4ab4-b785-576d982a2077″,"text":"Probable Pitchers","properties":{"link":"https://www.mlb.com/probable-pitchers","visible":"true","enabled":"true"},"menuItems":[]},{"itemId":"4bfdb502-31e4-49dd-bae1-89a4772d0739″,"text":"Prospect Rankings","properties":{"link":"https://www.mlb.com/prospects"},"menuItems":[]},{"itemId":"831050d9-d4d2-427f-85a3-fe56aad2682a","text":"Injury Report","properties":{"link":"https://www.mlb.com/injury-report"},"menuItems":[]},{"itemId":"02f947b5-cc72-40f9-9f37-a97b37dcaef3″,"text":"Transactions","properties":{"link":"http://mlb.mlb.com/mlb/transactions/?tcid=mm_mlb_news"},"menuItems":[]},{"itemId":"f499f46a-a51b-443e-82aa-3b6006f9b306″,"text":"Starting Lineups","properties":{"link":"https://www.mlb.com/starting-lineups"},"menuItems":[]},{"itemId":"53776d17-03af-4b04-8840-45b6c624df6b","text":"Hall of Fame","properties":{"link":"https://www.mlb.com/hall-of-fame"},"menuItems":[]},{"itemId":"6ee1c331-faa0-4865-a062-1c98a2f67c0d","text":"Longform","properties":{"link":"https://www.mlb.com/news/topic/longform"},"menuItems":[]},{"itemId":"844e328c-713f-46da-8183-965d19eb7dd8″,"text":"Awards","properties":{"link":"https://www.mlb.com/awards"},"menuItems":[]},{"itemId":"c1ac7886-1d18-4ad8-9fc4-326ab4753144″,"text":"MLB Draft","properties":{"link":"https://www.mlb.com/draft/2021″},"menuItems":[]}]},{"itemId":"dc121961-fe11-49ac-92b5-a8797acafa7c","text":"Featured","properties":{},"menuItems":[{"itemId":"230d1ec0-9d0a-4a3f-a04c-3cf16474390f","text":"Pipeline","properties":{"link":"https://www.mlb.com/pipeline"},"menuItems":[]},{"itemId":"216ae480-9b79-4faa-a748-98a8604e5cde","text":"Play Ball","properties":{"link":"https://www.mlb.com/play-ball"},"menuItems":[]},{"itemId":"c2182d4d-c537-410e-a63d-267e593fbb74″,"text":"Gaming","properties":{"link":"https://www.mlb.com/news/topic/gaming","enabled":"true","visible":"true"},"menuItems":[]},{"itemId":"d7d653b8-5585-44b7-b94f-226b51681ed8″,"text":"MLB Photos","properties":{"link":"https://www.mlb.com/photos/home"},"menuItems":[]},{"itemId":"eb4bceb4-bb14-4a84-8b60-12e51dab40f8″,"text":"Offbeat","properties":{"link":"https://www.mlb.com/news/topic/offbeat"},"menuItems":[]},{"itemId":"28a2e573-86ba-4cdc-a924-86d3b6500979″,"text":"Glossary","properties":{"link":"https://www.mlb.com/glossary"},"menuItems":[]},{"itemId":"7e424446-ea76-4b0d-8dc0-e7ee108993ef","text":"Rare Feats","properties":{"link":"https://www.mlb.com/news/topic/rare-feats"},"menuItems":[]},{"itemId":"38b78c07-c2e2-40be-9172-fb2ddc1d1817″,"text":"Baseball Cards","properties":{"link":"https://www.mlb.com/news/topic/baseball-cards"},"menuItems":[]},{"itemId":"7e316d55-5379-4151-a0e5-828b6b4f8ba8″,"text":"All-Star Game","properties":{"link":"https://www.mlb.com/all-star"},"menuItems":[]}]}]},{"itemId":"86b4ade1-0488-40d3-8472-b1e323f23914″,"text":"Video","properties":{"link":"https://www.mlb.com/video","customProperties":"mobile:true;amp:true;"},"menuItems":[{"itemId":"bbddb943-54df-4d88-a3ee-14265e727677″,"text":"In this section","properties":{"customProperties":""},"menuItems":[{"itemId":"d6f95b2e-b8ee-41f0-a313-e74537eff685″,"text":"Film Room","properties":{"link":"https://www.mlb.com/video/search"},"menuItems":[]},{"itemId":"a24a8e9d-471b-4626-9535-28e1b8f62bad","text":"Watch Live Games","properties":{"link":"https://www.mlb.com/live-stream-games?affiliateId=mlbMENU"},"menuItems":[]},{"itemId":"830b3ff1-c650-48a0-b8ee-6c910acc0204″,"text":"Game Stories","properties":{"link":"https://www.mlb.com/game-stories"},"menuItems":[]},{"itemId":"fb982f48-2253-46ec-84f2-ec3282782fb8″,"text":"Condensed Games","properties":{"link":"https://www.mlb.com/video/topic/condensed-games"},"menuItems":[]},{"itemId":"0f387774-edb6-4e09-84c1-3b6f9a8c65d5″,"text":"Game Recaps","properties":{"link":"https://www.mlb.com/video/topic/daily-recaps","enabled":"true"},"menuItems":[]},{"itemId":"3dcbafe8-f9f6-4a32-8534-7a00b6b07f4c","text":"Daily FastCast","properties":{"link":"https://www.mlb.com/video/topic/fastcast"},"menuItems":[]},{"itemId":"286ad1ca-abe4-4d67-b80a-9020e756750e","text":"MLB Network","properties":{"link":"https://www.mlb.com/network"},"menuItems":[]},{"itemId":"948d378c-7d73-49b1-b5ba-8729c59bca9a","text":"Podcasts","properties":{"link":"https://www.mlb.com/podcasts"},"menuItems":[]},{"itemId":"c3c36a7f-ac1d-4433-8ecb-b8689de715e5″,"text":"Front Office Focus","properties":{"link":"https://www.mlb.com/video/topic/front-office-focus"},"menuItems":[]},{"itemId":"e95e19ff-2024-4d84-b9e5-d5f0d1831e5b","text":"Business of Baseball","properties":{"link":"https://www.mlb.com/video/topic/business-of-baseball"},"menuItems":[]},{"itemId":"bf659638-4fb7-4c46-be4c-49b736c0fd69″,"text":"Untouchable Pitches","properties":{"link":"https://www.mlb.com/video/topic/untouchable-pitches-cristal-products"},"menuItems":[]},{"itemId":"0b56e21d-9a66-4fd0-99d6-59faf9805120″,"text":"Rapid Plays","properties":{"link":"https://www.mlb.com/video/topic/rapid-plays"},"menuItems":[]}]},{"itemId":"74f35bdb-7baf-4fa5-abb5-3c3613fa00fe","text":"Featured","properties":{"customProperties":""},"menuItems":[{"itemId":"d87342bf-bac9-4811-9863-4a5d7ddabe94″,"text":"Most Popular","properties":{"link":"https://www.mlb.com/video"},"menuItems":[]},{"itemId":"b4deff8a-ac2f-46bd-924a-108c63e6d4a6″,"text":"Home Runs","properties":{"link":"https://www.mlb.com/video/topic/home-runs"},"menuItems":[]},{"itemId":"d2add1e4-7ad6-417b-a04d-ffb83aa63332″,"text":"MLB Draft","properties":{"link":"https://www.mlb.com/video/topic/mlb-draft"},"menuItems":[]},{"itemId":"6a7e200b-2443-4e01-b95a-16bf6326a089″,"text":"Walk-Offs","properties":{"link":"https://www.mlb.com/video/topic/walk-offs"},"menuItems":[]},{"itemId":"cb8372c5-4ebe-44db-8b4b-de7364b80ec9″,"text":"Go Yard","properties":{"link":"https://www.mlb.com/video/topic/leadoff-home-runs"},"menuItems":[]},{"itemId":"e9fc5098-1904-4089-8fa2-c4b3d9a0feaf","text":"Top Defensive Plays","properties":{"link":"https://www.mlb.com/video/topic/top-defensive-plays"},"menuItems":[]},{"itemId":"d1a89b62-ed0e-4df5-a65d-9471b06eb3ad","text":"Grand Slams","properties":{"link":"https://www.mlb.com/video/topic/grand-slams"},"menuItems":[]},{"itemId":"c19fb88b-a3c7-4141-a616-0299dc17e774″,"text":"Best of Statcast","properties":{"link":"https://www.mlb.com/video/topic/statcast"},"menuItems":[]},{"itemId":"4cdb4f64-f058-43e3-a0f3-a078c3701cc9″,"text":"Let's Rally","properties":{"link":"https://www.mlb.com/video/topic/rallies"},"menuItems":[]},{"itemId":"3d4947a4-61d9-4ce6-9bec-5ef974a5aff1″,"text":"Curtain Calls","properties":{"link":"https://www.mlb.com/video/topic/curtain-calls"},"menuItems":[]},{"itemId":"ea8c81d8-3594-4318-b95e-7d7c4c92c1db","text":"Legendary Moments","properties":{"link":"https://www.mlb.com/video/topic/key-moments"},"menuItems":[]},{"itemId":"550155b7-3825-4c73-bf84-0250dec41903″,"text":"Carry the Freight","properties":{"link":"https://www.mlb.com/video/topic/carry-the-freight"},"menuItems":[]}]}]},{"itemId":"7c68f445-5095-46cc-bab3-73af6c921597″,"text":"Scores","properties":{"link":"https://www.mlb.com/scores","customProperties":"mobile:true;amp:true;","visible":"true"},"menuItems":[]},{"itemId":"9efaf5e3-6a93-4e4f-b8af-1219110ecb30″,"text":"Stats","properties":{"link":"https://www.mlb.com/stats","customProperties":"mobile:true;amp:true;"},"menuItems":[{"itemId":"f31b263b-34d4-46ab-aa46-9796e93b048b","text":"2021 Regular Season Stats","properties":{"link":"https://www.mlb.com/stats/2021″},"menuItems":[]},{"itemId":"62c5195b-2630-4d9e-9896-6aee0709aeee","text":"2021 Sortable Team Stats","properties":{"link":"https://www.mlb.com/stats/team/2021″},"menuItems":[]},{"itemId":"c26bdb6a-e2f7-48dc-bd44-39e522f7b5ca","text":"2021 Spring Training Stats","properties":{"link":"https://www.mlb.com/stats/2021/spring-training"},"menuItems":[]},{"itemId":"41566816-1cb8-421f-9a4a-9ccdefa7ed69″,"text":"Statcast Leaders","properties":{"link":"https://baseballsavant.mlb.com/statcast_leaderboard"},"menuItems":[]},{"itemId":"2d0a2684-64c6-4d9f-87a1-a7cf9f661e2f","text":"Baseball Savant","properties":{"link":"https://baseballsavant.mlb.com/"},"menuItems":[]},{"itemId":"b9d0ae31-f31d-449b-82fb-5a77f59293ba","text":"Top Prospect Stats","properties":{"link":"/prospects/stats/top-prospects?type=all&dateRange=Year2019&minPA=1″},"menuItems":[]},{"itemId":"2ae90479-df9d-458e-a47e-7acf851728e7″,"text":"Offseason Leagues","properties":{"link":"http://mlb.mlb.com/milb/stats/?tcid=mm_mlb_stats","customProperties":""},"menuItems":[]},{"itemId":"cf9eab1e-1dba-458c-949b-8db03f86d49e","text":"Glossary","properties":{"link":"http://m.mlb.com/glossary"},"menuItems":[]}]},{"itemId":"6af88ec1-9bfe-4494-abc0-898dc919a081″,"text":"Standings","properties":{"link":"https://www.mlb.com/standings","customProperties":"mobile:true;amp:true;"},"menuItems":[{"itemId":"121a61dc-a81a-45af-abbe-8230aee19b5e","text":"2021 Regular Season Standings","properties":{"link":"https://www.mlb.com/standings"},"menuItems":[]},{"itemId":"a9713ec1-4849-41b5-8f0b-fa0746a205e4″,"text":"2021 Spring Training Standings","properties":{"link":"https://www.mlb.com/standings/spring-training/2021″,"customProperties":""},"menuItems":[]},{"itemId":"4c250046-6a0d-4352-b3f2-3059a5881c2a","text":"2020 Regular Season Standings","properties":{"link":"https://www.mlb.com/standings/regular-season/2020″},"menuItems":[]},{"itemId":"a84f52a4-d7d4-4661-b193-8c81901e8e7e","text":"2020 Advanced Standings","properties":{"link":"https://www.mlb.com/standings/regular-season/advanced-splits/2020″},"menuItems":[]}]},{"itemId":"248fea7e-1d19-452a-bb5c-999e1a09b7cd","text":"Schedule","properties":{"link":"https://www.mlb.com/schedule","customProperties":"amp:true;"},"menuItems":[{"itemId":"12fd9194-8902-43f1-9686-f9f321c90450″,"text":"2021 Regular Season","properties":{"link":"https://www.mlb.com/schedule"},"menuItems":[]},{"itemId":"74ae0fd1-28f5-41ab-8861-23d056482243″,"text":"2021 Spring Training","properties":{"link":"https://www.mlb.com/schedule/2021-02-28″},"menuItems":[]},{"itemId":"6aae1937-f9bd-4929-847a-74c4808cc993″,"text":"2020 Postseason","properties":{"link":"https://www.mlb.com/postseason"},"menuItems":[]},{"itemId":"f4010b7a-902c-41e0-b405-e0fa695b5c64″,"text":"2020 Regular Season","properties":{"link":"https://www.mlb.com/schedule/2020-07-23″},"menuItems":[]},{"itemId":"94c9d7e4-3477-4217-87f3-008d2290b9ee","text":"Important Dates","properties":{"link":"/schedule/events#important-dates"},"menuItems":[]},{"itemId":"d3566c69-34a7-4e6c-b2bb-28203c847f9e","text":"Probable Pitchers","properties":{"link":"https://www.mlb.com/probable-pitchers"},"menuItems":[]},{"itemId":"3747c1bc-9b3d-43f5-bd04-d1274c59c02a","text":"Team by Team Schedule","properties":{"link":"https://www.mlb.com/schedule/team-by-team"},"menuItems":[]},{"itemId":"e75ecc62-7e72-4b53-9705-a23e2b511f83″,"text":"National Broadcasts","properties":{"link":"http://mlb.mlb.com/mlb/official_info/broadcasts/national.jsp?tcid=mm_mlb_schedule"},"menuItems":[]},{"itemId":"bce30443-7f92-4c61-979f-058e5e6ebe17″,"text":"Sunday Night Broadcasts","properties":{"link":"http://m.mlb.com/promo/sunday-night-broadcasts"},"menuItems":[]}]},{"itemId":"8c842eeb-dedd-430c-a452-57a740d5c3df","text":"Players","properties":{"link":"https://www.mlb.com/players","customProperties":"","icon":"group"},"menuItems":[{"itemId":"650da3ef-b96d-4a7d-bf4b-47a55b2e6cb3″,"text":"Players A to Z","properties":{"link":"https://www.mlb.com/players"},"menuItems":[]},{"itemId":"b971e11e-c0ea-4f42-a693-a9e18e15447f","text":"Injury Updates","properties":{"link":"https://www.mlb.com/injury-report"},"menuItems":[]},{"itemId":"76a61c3c-c73a-497a-9d6f-f762ad0fdecd","text":"Depth Charts","properties":{"link":"https://www.mlb.com/team/roster/depth-chart"},"menuItems":[]},{"itemId":"b30fe902-714f-4f74-a901-d2397c750dab","text":"Transactions","properties":{"link":"http://mlb.mlb.com/mlb/transactions/?tcid=mm_mlb_players"},"menuItems":[]},{"itemId":"3e585331-af20-4e73-8419-2067bed2677c","text":"Starting Lineups","properties":{"link":"https://www.mlb.com/starting-lineups"},"menuItems":[]},{"itemId":"a327060e-962d-428e-91ee-40522edcda03″,"text":"Prospect Rankings","properties":{"link":"https://www.mlb.com/prospects"},"menuItems":[]},{"itemId":"a30f9694-b2cd-4a2a-9118-d3c7f00b39b1″,"text":"Mobile Player Alerts","properties":{"link":"http://mlb.mlb.com/mobile/text.jsp?tcid=mm_mlb_players","visible":"false"},"menuItems":[]},{"itemId":"f45e2471-de5a-4a07-b035-43f1b405f296″,"text":"MLB Players Association","properties":{"link":"https://www.mlbplayers.com"},"menuItems":[]},{"itemId":"6e855928-8a3d-41b6-8adc-71fe99a9508b","text":"Probable Pitchers","properties":{"link":"https://www.mlb.com/probable-pitchers"},"menuItems":[]},{"itemId":"e7ba059f-ad80-486d-bf9f-3992d718f129″,"text":"Negro Leagues","properties":{"link":"https://www.mlb.com/history/negro-leagues"},"menuItems":[]}]},{"itemId":"781f2bb2-a66a-44be-8fee-b0a0250d60e6″,"text":"Play Ball","properties":{"link":"https://www.mlb.com/play-ball","target":"_blank","customProperties":"topNav:false;","icon":"baseball"},"menuItems":[{"itemId":"2a74747c-e482-42f5-b750-ce710dea6568″,"text":"PlayBall.org","properties":{"link":"https://www.mlb.com/play-ball","target":"_blank"},"menuItems":[]},{"itemId":"9f5ab700-d2c0-43be-a398-6926ceef9e1c","text":"Hank Aaron Invitational","properties":{"link":"https://www.mlb.com/hank-aaron-invitational"},"menuItems":[]},{"itemId":"d7c7e170-573e-45c1-a1ab-b1bd3aec819f","text":"Videos","properties":{"link":"https://www.mlb.com/video/topic/play-ball"},"menuItems":[]},{"itemId":"5be26d3e-4ff2-4a84-8ea5-92aef9d759b2″,"text":"Photos","properties":{"link":"https://www.playball.org/photos","visible":"false"},"menuItems":[]},{"itemId":"14d9fdc8-ba24-44cf-9a77-7a867852f418″,"text":"News","properties":{"link":"https://www.mlb.com/news/topic/youth-baseball"},"menuItems":[]},{"itemId":"4c876067-e576-4874-b914-d86fe7f4a538″,"text":"Pitch Smart","properties":{"link":"https://www.mlb.com/pitch-smart"},"menuItems":[]},{"itemId":"6996ed01-d31d-4fc4-8d0d-a5baf177f69a","text":"Play Ball Near You","properties":{"link":"https://www.mlb.com/play-ball/play-ball-near-you"},"menuItems":[]},{"itemId":"4e66a4b2-0f27-483c-81d4-f27b0b630eac","text":"States Play","properties":{"link":"https://www.mlb.com/states-play"},"menuItems":[]},{"itemId":"aed729a5-4ff6-45cc-868c-f90b9b9190af","text":"MLB TOUR","properties":{"link":"https://www.mlb.com/mlb-tour"},"menuItems":[]},{"itemId":"28d79b33-aebd-4685-9cc9-c4ccce1262f8″,"text":"RBI","properties":{"link":"https://www.mlb.com/rbi"},"menuItems":[]},{"itemId":"18001329-d9d0-47b9-b2e0-5043b69cee9e","text":"Pitch, Hit & Run","properties":{"link":"https://www.mlb.com/pitch-hit-and-run"},"menuItems":[]},{"itemId":"df867e3c-db53-4d4f-9958-e10cb0939c8a","text":"Jr. Home Run Derby","properties":{"link":"https://www.mlb.com/junior-home-run-derby"},"menuItems":[]},{"itemId":"6af5ec56-5e26-45b3-93d6-2f79d929c046″,"text":"MLB Pipeline","properties":{"link":"https://www.mlb.com/pipeline"},"menuItems":[]},{"itemId":"bc715814-2692-4bde-9b1d-99cbd9ada5dc","text":"Youth Academies","properties":{"link":"https://www.mlb.com/mlb-youth-academy"},"menuItems":[]},{"itemId":"26715913-0ae8-4106-baa4-3d914b0a33b0″,"text":"Breakthrough Series","properties":{"link":"https://www.mlb.com/breakthrough-series"},"menuItems":[]},{"itemId":"56cb414b-eb00-4632-8acc-81d74ee4745e","text":"Elite Development Invitational","properties":{"link":"https://www.mlb.com/elite-development-invitational"},"menuItems":[]},{"itemId":"04697c74-2811-4d84-8150-aa1016aa6272″,"text":"USA Baseball","properties":{"link":"https://www.usabaseball.com/","target":"_blank"},"menuItems":[]},{"itemId":"ae77ea02-173a-4439-be6c-9ee75225bd50″,"text":"USA Softball","properties":{"link":"http://www.teamusa.org/USA-Softball","target":"_blank"},"menuItems":[]},{"itemId":"c293b7e0-f056-4102-89cd-d20649d4eff0″,"text":"Dream Series","properties":{"link":"https://www.mlb.com/dream-series"},"menuItems":[]},{"itemId":"181a47ba-9ea0-4a7a-8924-ccedef1cd372″,"text":"Trailblazer Series","properties":{"link":"https://www.mlb.com/trailblazer-series"},"menuItems":[]}]},{"itemId":"mlb-fans","text":"Fans","properties":{"link":"https://www.mlb.com/fans"},"menuItems":[{"itemId":"25c7540a-c3a3-42e8-a8f8-1e3be9f5d4fe","text":"MLB Kids","properties":{"link":"https://www.mlb.com/fans/kids"},"menuItems":[]},{"itemId":"8ee0a750-a1d7-4c8f-80ee-cb7beb4268ff","text":"MLB International","properties":{"link":"https://www.mlb.com/international"},"menuItems":[]},{"itemId":"841025ef-a361-46e1-b5d0-c963c1a42827″,"text":"Postseason Publications","properties":{"link":"https://www.mlb.com/postseason/publications"},"menuItems":[]},{"itemId":"59ffbbaf-a56c-4cb4-b874-d5a5ce36c9f1″,"text":"MLB Newsletters","properties":{"link":"https://www.mlb.com/fans/newsletters"},"menuItems":[]},{"itemId":"9e37a80a-34da-4e92-ae40-8462146aef1c","text":"Virtual Backgrounds","properties":{"link":"https://www.mlb.com/fans/virtual-backgrounds"},"menuItems":[]},{"itemId":"ef7c9f4a-5e11-4700-aad3-b29a8c5acc4c","text":"Podcasts","properties":{"link":"https://www.mlb.com/fans/podcasts"},"menuItems":[]},{"itemId":"fcc0e750-dbe2-47b3-b681-0e3e379390c8″,"text":"Walk-Up Music","properties":{"link":"https://www.mlb.com/fans/music"},"menuItems":[]},{"itemId":"ad51f9be-9a3e-41d5-83aa-27d4351d583f","text":"Connect with MLB","properties":{"link":"https://www.mlb.com/social"},"menuItems":[]},{"itemId":"5d6dbbbf-fdff-41e7-b187-793bdb998ec8″,"text":"MLB Photos","properties":{"link":"https://www.mlb.com/photos/home"},"menuItems":[]}]},{"itemId":"832ad058-32b1-4fbd-940d-a68456ad3c25″,"text":"Fantasy","properties":{"link":"https://www.mlb.com/fantasy","customProperties":""},"menuItems":[{"itemId":"ee7dde99-2f2c-49e4-a5df-b319f51afa21″,"text":"Yahoo Fantasy Baseball","properties":{"target":"","link":"http://yhoo.it/3aK5QQw"},"menuItems":[]},{"itemId":"82ecd1d5-6055-4846-99de-2e5d99461009″,"text":"MLB Rally","properties":{"link":"https://www.mlb.com/apps/rally","visible":"true"},"menuItems":[]},{"itemId":"82b08ad3-ff33-4c90-8303-277dbf8190a3″,"text":"MLB Quick Pick","properties":{"link":"https://www.mlb.com/apps/rally/quickpick"},"menuItems":[]},{"itemId":"4e35b374-27ca-40c1-8f4b-d0e861496179″,"text":"MLB Beat the Streak","properties":{"link":"https://www.mlb.com/apps/beat-the-streak"},"menuItems":[]},{"itemId":"4b2c552e-94c1-49f6-8e5e-5f947f0d683c","text":"MLB MOONBLASTS Pick 'Em","properties":{"link":"https://www.mlb.com/sponsorship/ftx-moonblasts-pick-em","customProperties":"expires:1627754400″},"menuItems":[]},{"itemId":"fa818f3d-e28a-4dce-8ed8-928d7000a1f6″,"text":"The Vault","properties":{"link":"https://www.mlb.com/the-vault"},"menuItems":[]},{"itemId":"5342efbb-aee3-4b7a-bd6b-da451509d65b","text":"Yahoo Fantasy Baseball","properties":{"link":"https://yhoo.it/2w7w4vr","visible":"false"},"menuItems":[]},{"itemId":"36bd3b31-a5df-4061-9abb-33d42ffa1818″,"text":"R.B.I. Baseball 21″,"properties":{"link":"https://www.rbigame.com"},"menuItems":[]},{"itemId":"3dab9102-cd2d-442e-ab8a-ad07d7b159f4″,"text":"MLB Home Run Derby","properties":{"link":"https://www.mlb.com/fantasy/home-run-derby"},"menuItems":[]},{"itemId":"a3152a55-11b7-4772-86e0-58d7982a1c76″,"text":"Season Pick 'Em","properties":{"link":"/opening-day-pick-em?affiliateId=spe-fantasynav-mlb-2021″,"visible":"false"},"menuItems":[]},{"itemId":"7f0d66f2-44a0-4594-b5f9-db2c84c09356″,"text":"MLB Pre-Pick (AUS)","properties":{"link":"https://www.mlb.com/pre-pick/tab"},"menuItems":[]},{"itemId":"7af822e8-dc82-4b7e-818a-97080c0938f2″,"text":"Closer Report","properties":{"link":"/closer-report","visible":"false"},"menuItems":[]},{"itemId":"c2b4eeef-ec9c-4c5b-831c-1edca0316768″,"text":"Prospect Rankings","properties":{"link":"https://www.mlb.com/prospects"},"menuItems":[]},{"itemId":"3b212a3b-4687-4ea7-a276-3e780e18210c","text":"MLB Champions","properties":{"link":"https://www.mlbc-app.com/?ref=mlbcom"},"menuItems":[]}]},{"itemId":"f857d698-35a3-4b1b-8e88-d92056ca5507″,"text":"Apps","properties":{"link":"https://www.mlb.com/apps","customProperties":"topNav:false;","data":"Apps"},"menuItems":[{"itemId":"c974a38d-8537-4d03-9dfa-681ac5bd0f08″,"text":"MLB","properties":{"link":"https://www.mlb.com/apps/mlb-app"},"menuItems":[]},{"itemId":"13d77816-460d-4783-8ed7-f1ff1d3a97ed","text":"MLB Rally","properties":{"link":"https://www.mlb.com/apps/rally","visible":"true"},"menuItems":[]},{"itemId":"f2626a2d-160d-4682-96c6-bfe391c16398″,"text":"MLB Beat the Streak","properties":{"link":"https://www.mlb.com/apps/beat-the-streak"},"menuItems":[]},{"itemId":"89f7398c-7a79-46e4-a8cd-843a44ceee13″,"text":"MLB Ballpark","properties":{"link":"https://www.mlb.com/apps/ballpark"},"menuItems":[]},{"itemId":"03c8451e-6437-4aa6-8b5d-50c3fedad25e","text":"MiLB First Pitch","properties":{"link":"https://www.milb.com/about/first-pitch"},"menuItems":[]},{"itemId":"5d19666b-0c26-48ad-8465-09ed9f28dfc2″,"text":"R.B.I. Baseball 21″,"properties":{"link":"https://www.rbigame.com"},"menuItems":[]},{"itemId":"94808840-9046-445e-9a6a-83016bdadb72″,"text":"MLB Home Run Derby","properties":{"link":"https://www.mlb.com/fantasy/home-run-derby"},"menuItems":[]},{"itemId":"fbe4d233-e766-4207-8886-55a2fc1f7f74″,"text":"MLB FAQs","properties":{"link":"https://www.mlb.com/apps/mlb-app/faq-apple"},"menuItems":[]},{"itemId":"34d7bc2e-a216-4956-8105-b42f2ba4bea3″,"text":"MLB Ballpark FAQs","properties":{"link":"https://www.mlb.com/apps/ballpark/faq-apple"},"menuItems":[]},{"itemId":"c081befb-bde5-446d-a4d4-c9292d29d525″,"text":"MLB Rally FAQs","properties":{"link":"/apps/rally/faq-apple","visible":"true"},"menuItems":[]}]},{"itemId":"ba2b8aec-0e14-429e-ac96-dbb1f04edaf8″,"text":"Vote","properties":{"link":"https://www.mlb.com/all-star/ballot?affiliateId=asb-topnav-mlb-2021″,"customProperties":"appears:1622736000;expires:1625162400;","visible":"false"},"menuItems":[]},{"itemId":"57ec62ff-6517-49b7-8bef-7a3edc6874cb","text":"Auction","properties":{"link":"http://auction.mlb.com/","visible":"false","customProperties":"topNav:false;"},"menuItems":[{"itemId":"3ea7f7ac-0734-47d9-8804-967eba72da0e","text":"Authentication","properties":{"link":"https://www.mlb.com/authentication"},"menuItems":[]},{"itemId":"e3e18801-29de-4b11-86ac-a475342dff41″,"text":"Autographed","properties":{"link":"http://auctions.mlb.com/iSynApp/allAuction.action?sid=1101001&rc=25&selectedCatId=17342&sort=timeleft_asc&pgmode2=catpage"},"menuItems":[]},{"itemId":"f4c0200f-4437-47c0-8c15-1a54c26d22c0″,"text":"Baseball Cards","properties":{"link":"http://www.baseballcards.mlb.com/"},"menuItems":[]},{"itemId":"21b7a4a2-6c76-47b5-af79-51dc0334f2c9″,"text":"Baseballs","properties":{"link":"http://auctions.mlb.com/iSynApp/allAuction.action?sid=1101001&rc=25&selectedCatId=13020&sort=timeleft_asc&pgmode2=catpage"},"menuItems":[]},{"itemId":"6b056370-0888-43e4-9f8c-8100e2ee7653″,"text":"Bats","properties":{"link":"http://auctions.mlb.com/iSynApp/allAuction.action?sid=1101001&rc=25&selectedCatId=13041&sort=timeleft_asc&pgmode2=catpage"},"menuItems":[]},{"itemId":"1b036e35-5977-4af1-9cb0-736c76d18ec4″,"text":"Caps","properties":{"link":"http://auctions.mlb.com/iSynApp/allAuction.action?sid=1101001&rc=25&selectedCatId=13021&sort=timeleft_asc&pgmode2=catpage"},"menuItems":[]},{"itemId":"74ae99a1-5ed5-44e4-842c-b49dc99e982d","text":"Experiences","properties":{"link":"http://auctions.mlb.com/iSynApp/allAuction.action?sid=1101001&rc=25&selectedCatId=13060&sort=timeleft_asc&pgmode2=catpage"},"menuItems":[]},{"itemId":"d41a4007-2f65-4b0f-a0a8-7df58870e507″,"text":"Game-Used","properties":{"link":"http://auctions.mlb.com/iSynApp/allAuction.action?sid=1101001&rc=25&selectedCatId=13022&sort=timeleft_asc&pgmode2=catpage"},"menuItems":[]},{"itemId":"aafaf49c-cfb9-432d-9119-f86a64fdbb27″,"text":"Jerseys","properties":{"link":"http://auctions.mlb.com/iSynApp/allAuction.action?sid=1101001&rc=25&selectedCatId=13062&sort=timeleft_asc&pgmode2=catpage"},"menuItems":[]},{"itemId":"c0be3bdb-025a-42ac-b09d-c391d058342b","text":"Photos","properties":{"link":"http://auctions.mlb.com/iSynApp/allAuction.action?sid=1101001&rc=25&selectedCatId=13024&sort=timeleft_asc&pgmode2=catpage"},"menuItems":[]}]},{"itemId":"98430c25-7924-4112-a70f-0b32fd31594f","text":"Teams","properties":{"link":"https://www.mlb.com/team","customProperties":"amp:true;module:teammodule;align:right;"},"menuItems":[{"itemId":"9191834c-54c4-40a7-8aac-9745d3666084″,"text":"Team Module","properties":{"customProperties":"module:teammodule;"},"menuItems":[]}]},{"itemId":"397b9e10-6d65-4fc0-bbe6-8d07f5e8d3a8″,"text":"ES","properties":{"link":"https://www.mlb.com/es","customProperties":"align:right;","toolTip":"Español"},"menuItems":[{"itemId":"ceb83c80-eaf2-4dd4-bdc6-e23b1e11ae60″,"text":"日本語","properties":{"link":"http://www.mlb.jp/","customProperties":"lang:ja"},"menuItems":[]},{"itemId":"27ac6728-00c1-4965-963b-05d33268fb50″,"text":"한국어","properties":{"link":"https://www.mlbkor.com/","customProperties":"lang:ko"},"menuItems":[]}]}]},"locale":"en","reqPath":"/news/trevor-story-rumors","sharedNav":{"instanceId":"6c265854-d856-4f92-aea1-07dfe5cda020″,"name":"shared-nav","variables":[],"menuItems":[{"itemId":"93b3e9b2-65a9-4585-9185-03e255cb523c","text":"MLB.TV","properties":{"link":"https://www.mlb.com/tv?&affiliateId=clubMENU","icon":"watch","customProperties":"align:right;"},"menuItems":[{"itemId":"162f5687-7f5b-4422-a782-133dc3db8aa0″,"text":"Buy MLB.TV","properties":{"link":"https://www.mlb.com/live-stream-games/subscribe?&affiliateId=clubMENU"},"menuItems":[]},{"itemId":"f75d3e53-5cc5-4eb5-b64d-7e72c3f601b9″,"text":"Buy MLB Audio","properties":{"link":"https://www.mlb.com/live-stream-games/subscribe/mlb-audio?&affiliateId=clubMENU"},"menuItems":[]},{"itemId":"d54a2b21-9db9-4252-9ebe-e3a4b2a3cf83″,"text":"Watch MLB.TV","properties":{"link":"https://www.mlb.com/live-stream-games?&affiliateId=clubMENU"},"menuItems":[]},{"itemId":"28f71773-a34e-46c5-bdbc-ac6476c5fc7a","text":"MLB Big Inning","properties":{"link":"https://www.mlb.com/live-stream-games/big-inning"},"menuItems":[]},{"itemId":"703b5c44-a9b4-46a2-bc2e-33112a413980″,"text":"MLB.TV Gift Giving","properties":{"link":"https://www.mlb.com/live-stream-games/subscribe/gift-giving"},"menuItems":[]},{"itemId":"3d0c17bc-b611-42aa-a6ce-d2a4d6d38f96″,"text":"MLB.TV Student Discounts","properties":{"link":"https://www.mlb.com/live-stream-games/subscribe/student-discount?&affiliateId=clubMENU"},"menuItems":[]},{"itemId":"2d8d6ad8-dc2a-4971-9b12-f1853530c5d3″,"text":"Watch MLB.TV Docs & Features","properties":{"link":"https://www.mlb.com/tv/featured?&affiliateId=clubMENU"},"menuItems":[]},{"itemId":"6254640c-2069-4447-822f-084d0a38f161″,"text":"MLB.TV Help Center","properties":{"link":"https://www.mlb.com/live-stream-games/help-center?&affiliateId=clubMENU"},"menuItems":[]},{"itemId":"6d167d3d-4063-43ae-b13c-283e83c0e91c","text":"MLB.TV with Extra Innings","properties":{"link":"https://www.mlb.com/live-stream-games/third-party?&affiliateId=clubMENU"},"menuItems":[]}]},{"itemId":"d54d0be0-f610-4f8b-90ac-c246c361e2e2″,"text":"Fantasy","properties":{"link":"https://www.mlb.com/fantasy"},"menuItems":[{"itemId":"5ec4bde4-6bc1-412b-a92b-6b7cb3b2f07c","text":"Yahoo Fantasy Baseball","properties":{"link":"http://yhoo.it/3aK5QQw","visible":"true"},"menuItems":[]},{"itemId":"b2a63b51-03fc-423d-971e-1e566f6008f4″,"text":"MLB Rally","properties":{"link":"https://www.mlb.com/apps/rally","visible":"true"},"menuItems":[]},{"itemId":"f6929b88-632d-4a6f-ba73-8a64fccba1b0″,"text":"MLB Quick Pick","properties":{"link":"https://www.mlb.com/apps/rally/quickpick"},"menuItems":[]},{"itemId":"0ebe9e5d-3fc7-48d2-acb1-c33eb931b911″,"text":"MLB Beat the Streak","properties":{"link":"https://www.mlb.com/apps/beat-the-streak","visible":"true"},"menuItems":[]},{"itemId":"086bd307-a929-4414-9dd7-09bdac8d3f2e","text":"MLB MOONBLASTS Pick 'Em","properties":{"link":"https://www.mlb.com/sponsorship/ftx-moonblasts-pick-em","customProperties":"expires:1627754400″},"menuItems":[]},{"itemId":"14aa1d4b-0193-4670-a1fc-b4386d4977e8″,"text":"The Vault","properties":{"link":"https://www.mlb.com/the-vault"},"menuItems":[]},{"itemId":"1543c12c-66d1-4033-9e05-c025fcb71a6a","text":"R.B.I. Baseball 21″,"properties":{"link":"https://www.rbigame.com"},"menuItems":[]},{"itemId":"4e0abdd4-8a0f-4bc5-838f-91dd2796041e","text":"MLB Home Run Derby","properties":{"link":"https://www.mlb.com/fantasy/home-run-derby"},"menuItems":[]},{"itemId":"7d8dfda7-345a-46fa-82dc-105068ba223e","text":"Season Pick 'Em","properties":{"link":"https://www.mlb.com/season-pick-em?affiliateId=spe-fantasynav-club-2021″,"visible":"false"},"menuItems":[]},{"itemId":"6eda396d-199b-4772-b3c9-c0b032513b6c","text":"MLB Pre-Pick (AUS)","properties":{"customProperties":"","link":"https://www.mlb.com/pre-pick/tab"},"menuItems":[]},{"itemId":"9f1ff266-0ed8-4adb-ba77-428d1871b237″,"text":"Closer Report","properties":{"link":"https://www.mlb.com/closer-report","visible":"false"},"menuItems":[]},{"itemId":"4c4f57bd-e31a-46c9-8f73-0fa2227451d3″,"text":"Prospect Rankings","properties":{"link":"https://www.mlb.com/prospects"},"menuItems":[]},{"itemId":"1ebe4dc3-2c6a-469f-be59-474fe14dbbd7″,"text":"MLB Champions","properties":{"link":"https://www.mlbc-app.com/?ref=mlbcom"},"menuItems":[]}]},{"itemId":"d1f61f89-9fd0-4f03-be17-2c5e128711a4″,"text":"Apps","properties":{"link":"https://www.mlb.com/apps"},"menuItems":[{"itemId":"83ac2ddf-414b-47d1-afec-ffacd068ab57″,"text":"MLB","properties":{"link":"https://www.mlb.com/apps/mlb-app"},"menuItems":[]},{"itemId":"83dbba73-02ac-4ba0-bebf-2c62ef04c19e","text":"MLB Rally","properties":{"link":"https://www.mlb.com/apps/rally","visible":"true"},"menuItems":[]},{"itemId":"26fda476-348c-4f42-aa7c-92d1f9b1bf5c","text":"MLB Beat the Streak","properties":{"link":"https://www.mlb.com/apps/beat-the-streak"},"menuItems":[]},{"itemId":"e09e6978-fcf7-4c2f-8387-59d83b7be38e","text":"MLB Ballpark","properties":{"link":"https://www.mlb.com/apps/ballpark"},"menuItems":[]},{"itemId":"5e7b8019-9484-4872-abd7-8b963cd5969e","text":"MiLB First Pitch","properties":{"link":"https://www.milb.com/about/first-pitch"},"menuItems":[]},{"itemId":"e3a0183d-1b5f-4e56-9b81-02632ba4ec60″,"text":"R.B.I. Baseball 21″,"properties":{"link":"https://www.rbigame.com"},"menuItems":[]},{"itemId":"4fd8c1f8-a753-4501-916c-663390f1a566″,"text":"MLB Home Run Derby","properties":{"link":"https://www.mlb.com/fantasy/home-run-derby"},"menuItems":[]},{"itemId":"9d8dfe8b-be1a-4ebf-9509-6bd0165a868e","text":"MLB FAQs","properties":{"link":"https://www.mlb.com/apps/mlb-app/faq-apple"},"menuItems":[]},{"itemId":"df4e8527-e357-4272-bcf7-61876ed9455d","text":"MLB Ballpark FAQs","properties":{"link":"https://www.mlb.com/apps/ballpark/faq-apple","visible":"true"},"menuItems":[]},{"itemId":"c2943c65-a843-437a-9ef4-4ccfe5be088f","text":"MLB Rally FAQs","properties":{"link":"https://www.mlb.com/apps/rally/faq-apple","visible":"true"},"menuItems":[]}]}]},"styleProps":{},"teamNameSlug":"","teamsData":[{"id":133,"name":"Oakland Athletics","link":"/api/v1/teams/133″,"season":2021,"venue":{"id":10,"name":"Oakland Coliseum","link":"/api/v1/venues/10″,"location":{"address1″:"7000 Coliseum Way","city":"Oakland","state":"California","stateAbbrev":"CA","postalCode":"94621″,"defaultCoordinates":{"latitude":37.751511,"longitude":-122.200698},"country":"USA","phone":"(510) 638-4900″},"timeZone":{"id":"America/Los_Angeles","offset":-7,"tz":"PDT"},"active":true},"springVenue":{"id":2507,"link":"/api/v1/venues/2507″},"teamCode":"oak","fileCode":"oak","abbreviation":"OAK","teamName":"Athletics","locationName":"Oakland","firstYearOfPlay":"1901″,"league":{"id":103,"name":"American League","link":"/api/v1/league/103″},"division":{"id":200,"name":"American League West","link":"/api/v1/divisions/200″},"sport":{"id":1,"link":"/api/v1/sports/1″,"name":"Major League Baseball"},"shortName":"Oakland","franchiseName":"Oakland","clubName":"Athletics","springLeague":{"id":114,"name":"Cactus League","link":"/api/v1/league/114″,"abbreviation":"CL"},"allStarStatus":"N","active":true},{"id":134,"name":"Pittsburgh Pirates","link":"/api/v1/teams/134″,"season":2021,"venue":{"id":31,"name":"PNC Park","link":"/api/v1/venues/31″,"location":{"address1″:"115 Federal Street","city":"Pittsburgh","state":"Pennsylvania","stateAbbrev":"PA","postalCode":"15212″,"defaultCoordinates":{"latitude":40.446904,"longitude":-80.005753},"country":"USA","phone":"(412) 323-5000″},"timeZone":{"id":"America/New_York","offset":-4,"tz":"EDT"},"active":true},"springVenue":{"id":2526,"link":"/api/v1/venues/2526″},"teamCode":"pit","fileCode":"pit","abbreviation":"PIT","teamName":"Pirates","locationName":"Pittsburgh","firstYearOfPlay":"1882″,"league":{"id":104,"name":"National League","link":"/api/v1/league/104″},"division":{"id":205,"name":"National League Central","link":"/api/v1/divisions/205″},"sport":{"id":1,"link":"/api/v1/sports/1″,"name":"Major League Baseball"},"shortName":"Pittsburgh","franchiseName":"Pittsburgh","clubName":"Pirates","springLeague":{"id":115,"name":"Grapefruit League","link":"/api/v1/league/115″,"abbreviation":"GL"},"allStarStatus":"N","active":true},{"id":135,"name":"San Diego Padres","link":"/api/v1/teams/135″,"season":2021,"venue":{"id":2680,"name":"Petco Park","link":"/api/v1/venues/2680″,"location":{"address1″:"100 Park Boulevard","city":"San Diego","state":"California","stateAbbrev":"CA","postalCode":"92101″,"defaultCoordinates":{"latitude":32.707861,"longitude":-117.157278},"country":"USA","phone":"(619) 795-5000″},"timeZone":{"id":"America/Los_Angeles","offset":-7,"tz":"PDT"},"active":true},"springVenue":{"id":2530,"link":"/api/v1/venues/2530″},"teamCode":"sdn","fileCode":"sd","abbreviation":"SD","teamName":"Padres","locationName":"San Diego","firstYearOfPlay":"1968″,"league":{"id":104,"name":"National League","link":"/api/v1/league/104″},"division":{"id":203,"name":"National League West","link":"/api/v1/divisions/203″},"sport":{"id":1,"link":"/api/v1/sports/1″,"name":"Major League Baseball"},"shortName":"San Diego","franchiseName":"San Diego","clubName":"Padres","springLeague":{"id":114,"name":"Cactus League","link":"/api/v1/league/114″,"abbreviation":"CL"},"allStarStatus":"N","active":true},{"id":136,"name":"Seattle Mariners","link":"/api/v1/teams/136″,"season":2021,"venue":{"id":680,"name":"T-Mobile Park","link":"/api/v1/venues/680″,"location":{"address1″:"P.O. Box 4100″,"city":"Seattle","state":"Washington","stateAbbrev":"WA","postalCode":"98104″,"defaultCoordinates":{"latitude":47.591333,"longitude":-122.33251},"country":"USA","phone":"(206) 346-4000″},"timeZone":{"id":"America/Los_Angeles","offset":-7,"tz":"PDT"},"active":true},"springVenue":{"id":2530,"link":"/api/v1/venues/2530″},"teamCode":"sea","fileCode":"sea","abbreviation":"SEA","teamName":"Mariners","locationName":"Seattle","firstYearOfPlay":"1977″,"league":{"id":103,"name":"American League","link":"/api/v1/league/103″},"division":{"id":200,"name":"American League West","link":"/api/v1/divisions/200″},"sport":{"id":1,"link":"/api/v1/sports/1″,"name":"Major League Baseball"},"shortName":"Seattle","franchiseName":"Seattle","clubName":"Mariners","springLeague":{"id":114,"name":"Cactus League","link":"/api/v1/league/114″,"abbreviation":"CL"},"allStarStatus":"N","active":true},{"id":137,"name":"San Francisco Giants","link":"/api/v1/teams/137″,"season":2021,"venue":{"id":2395,"name":"Oracle Park","link":"/api/v1/venues/2395″,"location":{"address1″:"24 Willie Mays Plaza","city":"San Francisco","state":"California","stateAbbrev":"CA","postalCode":"94107″,"defaultCoordinates":{"latitude":37.778383,"longitude":-122.389448},"country":"USA","phone":"(415) 972-2000″},"timeZone":{"id":"America/Los_Angeles","offset":-7,"tz":"PDT"},"active":true},"springVenue":{"id":2532,"link":"/api/v1/venues/2532″},"teamCode":"sfn","fileCode":"sf","abbreviation":"SF","teamName":"Giants","locationName":"San Francisco","firstYearOfPlay":"1883″,"league":{"id":104,"name":"National League","link":"/api/v1/league/104″},"division":{"id":203,"name":"National League West","link":"/api/v1/divisions/203″},"sport":{"id":1,"link":"/api/v1/sports/1″,"name":"Major League Baseball"},"shortName":"San Francisco","franchiseName":"San Francisco","clubName":"Giants","springLeague":{"id":114,"name":"Cactus League","link":"/api/v1/league/114″,"abbreviation":"CL"},"allStarStatus":"N","active":true},{"id":138,"name":"St. Louis Cardinals","link":"/api/v1/teams/138″,"season":2021,"venue":{"id":2889,"name":"Busch Stadium","link":"/api/v1/venues/2889″,"location":{"address1″:"700 Clark Street","city":"St. Louis","state":"Missouri","stateAbbrev":"MO","postalCode":"63102″,"defaultCoordinates":{"latitude":38.62256667,"longitude":-90.19286667},"country":"USA","phone":"(314) 345-9600″},"timeZone":{"id":"America/Chicago","offset":-5,"tz":"CDT"},"active":true},"springVenue":{"id":2520,"link":"/api/v1/venues/2520″},"teamCode":"sln","fileCode":"stl","abbreviation":"STL","teamName":"Cardinals","locationName":"St. Louis","firstYearOfPlay":"1892″,"league":{"id":104,"name":"National League","link":"/api/v1/league/104″},"division":{"id":205,"name":"National League Central","link":"/api/v1/divisions/205″},"sport":{"id":1,"link":"/api/v1/sports/1″,"name":"Major League Baseball"},"shortName":"St. Louis","franchiseName":"St. Louis","clubName":"Cardinals","springLeague":{"id":115,"name":"Grapefruit League","link":"/api/v1/league/115″,"abbreviation":"GL"},"allStarStatus":"N","active":true},{"id":139,"name":"Tampa Bay Rays","link":"/api/v1/teams/139″,"season":2021,"venue":{"id":12,"name":"Tropicana Field","link":"/api/v1/venues/12″,"location":{"address1″:"One Tropicana Drive","city":"St. Petersburg","state":"Florida","stateAbbrev":"FL","postalCode":"33705″,"defaultCoordinates":{"latitude":27.767778,"longitude":-82.6525},"country":"USA","phone":"(727) 825-3137″},"timeZone":{"id":"America/New_York","offset":-4,"tz":"EDT"},"active":true},"springVenue":{"id":2534,"link":"/api/v1/venues/2534″},"teamCode":"tba","fileCode":"tb","abbreviation":"TB","teamName":"Rays","locationName":"St. Petersburg","firstYearOfPlay":"1996″,"league":{"id":103,"name":"American League","link":"/api/v1/league/103″},"division":{"id":201,"name":"American League East","link":"/api/v1/divisions/201″},"sport":{"id":1,"link":"/api/v1/sports/1″,"name":"Major League Baseball"},"shortName":"Tampa Bay","franchiseName":"Tampa Bay","clubName":"Rays","springLeague":{"id":115,"name":"Grapefruit League","link":"/api/v1/league/115″,"abbreviation":"GL"},"allStarStatus":"N","active":true},{"id":140,"name":"Texas Rangers","link":"/api/v1/teams/140″,"season":2021,"venue":{"id":5325,"name":"Globe Life Field","link":"/api/v1/venues/5325″,"location":{"address1″:"734 Stadium Drive","city":"Arlington","state":"Texas","stateAbbrev":"TX","postalCode":"76011″,"defaultCoordinates":{"latitude":32.747299,"longitude":-97.081818},"country":"USA","phone":"(817) 533-1972″},"timeZone":{"id":"America/Chicago","offset":-5,"tz":"CDT"},"active":true},"springVenue":{"id":2603,"link":"/api/v1/venues/2603″},"teamCode":"tex","fileCode":"tex","abbreviation":"TEX","teamName":"Rangers","locationName":"Arlington","firstYearOfPlay":"1961″,"league":{"id":103,"name":"American League","link":"/api/v1/league/103″},"division":{"id":200,"name":"American League West","link":"/api/v1/divisions/200″},"sport":{"id":1,"link":"/api/v1/sports/1″,"name":"Major League Baseball"},"shortName":"Texas","franchiseName":"Texas","clubName":"Rangers","springLeague":{"id":114,"name":"Cactus League","link":"/api/v1/league/114″,"abbreviation":"CL"},"allStarStatus":"N","active":true},{"id":141,"name":"Toronto Blue Jays","link":"/api/v1/teams/141″,"season":2021,"venue":{"id":14,"name":"Rogers Centre","link":"/api/v1/venues/14″,"location":{"address1″:"1 Blue Jays Way, Suite 3200″,"city":"Toronto","state":"Ontario","stateAbbrev":"ON","postalCode":"M5V1J1″,"defaultCoordinates":{"latitude":43.64155,"longitude":-79.38915},"country":"Canada","phone":"(416) 341-1000″},"timeZone":{"id":"America/Toronto","offset":-4,"tz":"EDT"},"active":true},"springVenue":{"id":2536,"link":"/api/v1/venues/2536″},"teamCode":"tor","fileCode":"tor","abbreviation":"TOR","teamName":"Blue Jays","locationName":"Toronto","firstYearOfPlay":"1977″,"league":{"id":103,"name":"American League","link":"/api/v1/league/103″},"division":{"id":201,"name":"American League East","link":"/api/v1/divisions/201″},"sport":{"id":1,"link":"/api/v1/sports/1″,"name":"Major League Baseball"},"shortName":"Toronto","franchiseName":"Toronto","clubName":"Blue Jays","springLeague":{"id":115,"name":"Grapefruit League","link":"/api/v1/league/115″,"abbreviation":"GL"},"allStarStatus":"N","active":true},{"id":142,"name":"Minnesota Twins","link":"/api/v1/teams/142″,"season":2021,"venue":{"id":3312,"name":"Target Field","link":"/api/v1/venues/3312″,"location":{"address1″:"1 Twins Way","city":"Minneapolis","state":"Minnesota","stateAbbrev":"MN","postalCode":"55403″,"defaultCoordinates":{"latitude":44.981829,"longitude":-93.277891},"country":"USA","phone":"(612) 659-3400″},"timeZone":{"id":"America/Chicago","offset":-5,"tz":"CDT"},"active":true},"springVenue":{"id":2862,"link":"/api/v1/venues/2862″},"teamCode":"min","fileCode":"min","abbreviation":"MIN","teamName":"Twins","locationName":"Minneapolis","firstYearOfPlay":"1901″,"league":{"id":103,"name":"American League","link":"/api/v1/league/103″},"division":{"id":202,"name":"American League Central","link":"/api/v1/divisions/202″},"sport":{"id":1,"link":"/api/v1/sports/1″,"name":"Major League Baseball"},"shortName":"Minnesota","franchiseName":"Minnesota","clubName":"Twins","springLeague":{"id":115,"name":"Grapefruit League","link":"/api/v1/league/115″,"abbreviation":"GL"},"allStarStatus":"N","active":true},{"id":143,"name":"Philadelphia Phillies","link":"/api/v1/teams/143″,"season":2021,"venue":{"id":2681,"name":"Citizens Bank Park","link":"/api/v1/venues/2681″,"location":{"address1″:"One Citizens Bank Way","city":"Philadelphia","state":"Pennsylvania","stateAbbrev":"PA","postalCode":"19148″,"defaultCoordinates":{"latitude":39.90539086,"longitude":-75.16716957},"country":"USA","phone":"(215) 463-6000″},"timeZone":{"id":"America/New_York","offset":-4,"tz":"EDT"},"active":true},"springVenue":{"id":2700,"link":"/api/v1/venues/2700″},"teamCode":"phi","fileCode":"phi","abbreviation":"PHI","teamName":"Phillies","locationName":"Philadelphia","firstYearOfPlay":"1883″,"league":{"id":104,"name":"National League","link":"/api/v1/league/104″},"division":{"id":204,"name":"National League East","link":"/api/v1/divisions/204″},"sport":{"id":1,"link":"/api/v1/sports/1″,"name":"Major League Baseball"},"shortName":"Philadelphia","franchiseName":"Philadelphia","clubName":"Phillies","springLeague":{"id":115,"name":"Grapefruit League","link":"/api/v1/league/115″,"abbreviation":"GL"},"allStarStatus":"N","active":true},{"id":144,"name":"Atlanta Braves","link":"/api/v1/teams/144″,"season":2021,"venue":{"id":4705,"name":"Truist Park","link":"/api/v1/venues/4705″,"location":{"address1″:"755 Battery Avenue","city":"Atlanta","state":"Georgia","stateAbbrev":"GA","postalCode":"30339″,"defaultCoordinates":{"latitude":33.890672,"longitude":-84.467641},"country":"USA"},"timeZone":{"id":"America/New_York","offset":-4,"tz":"EDT"},"active":true},"springVenue":{"id":5380,"link":"/api/v1/venues/5380″},"teamCode":"atl","fileCode":"atl","abbreviation":"ATL","teamName":"Braves","locationName":"Atlanta","firstYearOfPlay":"1871″,"league":{"id":104,"name":"National League","link":"/api/v1/league/104″},"division":{"id":204,"name":"National League East","link":"/api/v1/divisions/204″},"sport":{"id":1,"link":"/api/v1/sports/1″,"name":"Major League Baseball"},"shortName":"Atlanta","franchiseName":"Atlanta","clubName":"Braves","springLeague":{"id":115,"name":"Grapefruit League","link":"/api/v1/league/115″,"abbreviation":"GL"},"allStarStatus":"N","active":true},{"id":145,"name":"Chicago White Sox","link":"/api/v1/teams/145″,"season":2021,"venue":{"id":4,"name":"Guaranteed Rate Field","link":"/api/v1/venues/4″,"location":{"address1″:"333 West 35th Street","city":"Chicago","state":"Illinois","stateAbbrev":"IL","postalCode":"60616″,"defaultCoordinates":{"latitude":41.83,"longitude":-87.634167},"country":"USA","phone":"(312) 674-1000″},"timeZone":{"id":"America/Chicago","offset":-5,"tz":"CDT"},"active":true},"springVenue":{"id":3809,"link":"/api/v1/venues/3809″},"teamCode":"cha","fileCode":"cws","abbreviation":"CWS","teamName":"White Sox","locationName":"Chicago","firstYearOfPlay":"1901″,"league":{"id":103,"name":"American League","link":"/api/v1/league/103″},"division":{"id":202,"name":"American League Central","link":"/api/v1/divisions/202″},"sport":{"id":1,"link":"/api/v1/sports/1″,"name":"Major League Baseball"},"shortName":"Chi White Sox","franchiseName":"Chicago","clubName":"White Sox","springLeague":{"id":114,"name":"Cactus League","link":"/api/v1/league/114″,"abbreviation":"CL"},"allStarStatus":"N","active":true},{"id":146,"name":"Miami Marlins","link":"/api/v1/teams/146″,"season":2021,"venue":{"id":4169,"name":"loanDepot park","link":"/api/v1/venues/4169″,"location":{"address1″:"501 Marlins Way","city":"Miami","state":"Florida","stateAbbrev":"FL","postalCode":"33125″,"defaultCoordinates":{"latitude":25.77796236,"longitude":-80.21951795},"country":"USA"},"timeZone":{"id":"America/New_York","offset":-4,"tz":"EDT"},"active":true},"springVenue":{"id":2520,"link":"/api/v1/venues/2520″},"teamCode":"mia","fileCode":"mia","abbreviation":"MIA","teamName":"Marlins","locationName":"Miami","firstYearOfPlay":"1991″,"league":{"id":104,"name":"National League","link":"/api/v1/league/104″},"division":{"id":204,"name":"National League East","link":"/api/v1/divisions/204″},"sport":{"id":1,"link":"/api/v1/sports/1″,"name":"Major League Baseball"},"shortName":"Miami","franchiseName":"Miami","clubName":"Marlins","springLeague":{"id":115,"name":"Grapefruit League","link":"/api/v1/league/115″,"abbreviation":"GL"},"allStarStatus":"N","active":true},{"id":147,"name":"New York Yankees","link":"/api/v1/teams/147″,"season":2021,"venue":{"id":3313,"name":"Yankee Stadium","link":"/api/v1/venues/3313″,"location":{"address1″:"One East 161st Street","city":"Bronx","state":"New York","stateAbbrev":"NY","postalCode":"10451″,"defaultCoordinates":{"latitude":40.82919482,"longitude":-73.9264977},"country":"USA","phone":"(718) 293-4300″},"timeZone":{"id":"America/New_York","offset":-4,"tz":"EDT"},"active":true},"springVenue":{"id":2523,"link":"/api/v1/venues/2523″},"teamCode":"nya","fileCode":"nyy","abbreviation":"NYY","teamName":"Yankees","locationName":"Bronx","firstYearOfPlay":"1903″,"league":{"id":103,"name":"American League","link":"/api/v1/league/103″},"division":{"id":201,"name":"American League East","link":"/api/v1/divisions/201″},"sport":{"id":1,"link":"/api/v1/sports/1″,"name":"Major League Baseball"},"shortName":"NY Yankees","franchiseName":"New York","clubName":"Yankees","springLeague":{"id":115,"name":"Grapefruit League","link":"/api/v1/league/115″,"abbreviation":"GL"},"allStarStatus":"N","active":true},{"id":158,"name":"Milwaukee Brewers","link":"/api/v1/teams/158″,"season":2021,"venue":{"id":32,"name":"American Family Field","link":"/api/v1/venues/32″,"location":{"address1″:"One Brewers Way","city":"Milwaukee","state":"Wisconsin","stateAbbrev":"WI","postalCode":"53214″,"defaultCoordinates":{"latitude":43.02838,"longitude":-87.97099},"country":"USA","phone":"(414) 902-4400″},"timeZone":{"id":"America/Chicago","offset":-5,"tz":"CDT"},"active":true},"springVenue":{"id":2518,"link":"/api/v1/venues/2518″},"teamCode":"mil","fileCode":"mil","abbreviation":"MIL","teamName":"Brewers","locationName":"Milwaukee","firstYearOfPlay":"1968″,"league":{"id":104,"name":"National League","link":"/api/v1/league/104″},"division":{"id":205,"name":"National League Central","link":"/api/v1/divisions/205″},"sport":{"id":1,"link":"/api/v1/sports/1″,"name":"Major League Baseball"},"shortName":"Milwaukee","franchiseName":"Milwaukee","clubName":"Brewers","springLeague":{"id":114,"name":"Cactus League","link":"/api/v1/league/114″,"abbreviation":"CL"},"allStarStatus":"N","active":true},{"id":108,"name":"Los Angeles Angels","link":"/api/v1/teams/108″,"season":2021,"venue":{"id":1,"name":"Angel Stadium","link":"/api/v1/venues/1″,"location":{"address1″:"2000 Gene Autry Way","city":"Anaheim","state":"California","stateAbbrev":"CA","postalCode":"92806″,"defaultCoordinates":{"latitude":33.80019044,"longitude":-117.8823996},"country":"USA","phone":"(714) 940-2000″},"timeZone":{"id":"America/Los_Angeles","offset":-7,"tz":"PDT"},"active":true},"springVenue":{"id":2500,"link":"/api/v1/venues/2500″},"teamCode":"ana","fileCode":"ana","abbreviation":"LAA","teamName":"Angels","locationName":"Anaheim","firstYearOfPlay":"1961″,"league":{"id":103,"name":"American League","link":"/api/v1/league/103″},"division":{"id":200,"name":"American League West","link":"/api/v1/divisions/200″},"sport":{"id":1,"link":"/api/v1/sports/1″,"name":"Major League Baseball"},"shortName":"LA Angels","franchiseName":"Los Angeles","clubName":"Angels","springLeague":{"id":114,"name":"Cactus League","link":"/api/v1/league/114″,"abbreviation":"CL"},"allStarStatus":"N","active":true},{"id":109,"name":"Arizona Diamondbacks","link":"/api/v1/teams/109″,"season":2021,"venue":{"id":15,"name":"Chase Field","link":"/api/v1/venues/15″,"location":{"address1″:"401 East Jefferson Street","city":"Phoenix","state":"Arizona","stateAbbrev":"AZ","postalCode":"85004″,"defaultCoordinates":{"latitude":33.445302,"longitude":-112.066687},"country":"USA","phone":"(602) 462-6500″},"timeZone":{"id":"America/Phoenix","offset":-7,"tz":"MST"},"active":true},"springVenue":{"id":4249,"link":"/api/v1/venues/4249″},"teamCode":"ari","fileCode":"ari","abbreviation":"ARI","teamName":"D-backs","locationName":"Phoenix","firstYearOfPlay":"1996″,"league":{"id":104,"name":"National League","link":"/api/v1/league/104″},"division":{"id":203,"name":"National League West","link":"/api/v1/divisions/203″},"sport":{"id":1,"link":"/api/v1/sports/1″,"name":"Major League Baseball"},"shortName":"Arizona","franchiseName":"Arizona","clubName":"Diamondbacks","springLeague":{"id":114,"name":"Cactus League","link":"/api/v1/league/114″,"abbreviation":"CL"},"allStarStatus":"N","active":true},{"id":110,"name":"Baltimore Orioles","link":"/api/v1/teams/110″,"season":2021,"venue":{"id":2,"name":"Oriole Park at Camden Yards","link":"/api/v1/venues/2″,"location":{"address1″:"333 West Camden Street","city":"Baltimore","state":"Maryland","stateAbbrev":"MD","postalCode":"21201″,"defaultCoordinates":{"latitude":39.283787,"longitude":-76.621689},"country":"USA","phone":"(410) 685-9800″},"timeZone":{"id":"America/New_York","offset":-4,"tz":"EDT"},"active":true},"springVenue":{"id":2508,"link":"/api/v1/venues/2508″},"teamCode":"bal","fileCode":"bal","abbreviation":"BAL","teamName":"Orioles","locationName":"Baltimore","firstYearOfPlay":"1901″,"league":{"id":103,"name":"American League","link":"/api/v1/league/103″},"division":{"id":201,"name":"American League East","link":"/api/v1/divisions/201″},"sport":{"id":1,"link":"/api/v1/sports/1″,"name":"Major League Baseball"},"shortName":"Baltimore","franchiseName":"Baltimore","clubName":"Orioles","springLeague":{"id":115,"name":"Grapefruit League","link":"/api/v1/league/115″,"abbreviation":"GL"},"allStarStatus":"N","active":true},{"id":111,"name":"Boston Red Sox","link":"/api/v1/teams/111″,"season":2021,"venue":{"id":3,"name":"Fenway Park","link":"/api/v1/venues/3″,"location":{"address1″:"4 Yawkey Way","city":"Boston","state":"Massachusetts","stateAbbrev":"MA","postalCode":"2215″,"defaultCoordinates":{"latitude":42.346456,"longitude":-71.097441},"country":"USA","phone":"(617) 267-9440″},"timeZone":{"id":"America/New_York","offset":-4,"tz":"EDT"},"active":true},"springVenue":{"id":4309,"link":"/api/v1/venues/4309″},"teamCode":"bos","fileCode":"bos","abbreviation":"BOS","teamName":"Red Sox","locationName":"Boston","firstYearOfPlay":"1901″,"league":{"id":103,"name":"American League","link":"/api/v1/league/103″},"division":{"id":201,"name":"American League East","link":"/api/v1/divisions/201″},"sport":{"id":1,"link":"/api/v1/sports/1″,"name":"Major League Baseball"},"shortName":"Boston","franchiseName":"Boston","clubName":"Red Sox","springLeague":{"id":115,"name":"Grapefruit League","link":"/api/v1/league/115″,"abbreviation":"GL"},"allStarStatus":"N","active":true},{"id":112,"name":"Chicago Cubs","link":"/api/v1/teams/112″,"season":2021,"venue":{"id":17,"name":"Wrigley Field","link":"/api/v1/venues/17″,"location":{"address1″:"1060 West Addison","city":"Chicago","state":"Illinois","stateAbbrev":"IL","postalCode":"60613-4397″,"defaultCoordinates":{"latitude":41.948171,"longitude":-87.655503},"country":"USA","phone":"(773) 404-2827″},"timeZone":{"id":"America/Chicago","offset":-5,"tz":"CDT"},"active":true},"springVenue":{"id":4629,"link":"/api/v1/venues/4629″},"teamCode":"chn","fileCode":"chc","abbreviation":"CHC","teamName":"Cubs","locationName":"Chicago","firstYearOfPlay":"1874″,"league":{"id":104,"name":"National League","link":"/api/v1/league/104″},"division":{"id":205,"name":"National League Central","link":"/api/v1/divisions/205″},"sport":{"id":1,"link":"/api/v1/sports/1″,"name":"Major League Baseball"},"shortName":"Chi Cubs","franchiseName":"Chicago","clubName":"Cubs","springLeague":{"id":114,"name":"Cactus League","link":"/api/v1/league/114″,"abbreviation":"CL"},"allStarStatus":"N","active":true},{"id":113,"name":"Cincinnati Reds","link":"/api/v1/teams/113″,"season":2021,"venue":{"id":2602,"name":"Great American Ball Park","link":"/api/v1/venues/2602″,"location":{"address1″:"100 Main Street","city":"Cincinnati","state":"Ohio","stateAbbrev":"OH","postalCode":"45202-4109″,"defaultCoordinates":{"latitude":39.097389,"longitude":-84.506611},"country":"USA","phone":"(513) 765-7000″},"timeZone":{"id":"America/New_York","offset":-4,"tz":"EDT"},"active":true},"springVenue":{"id":3834,"link":"/api/v1/venues/3834″},"teamCode":"cin","fileCode":"cin","abbreviation":"CIN","teamName":"Reds","locationName":"Cincinnati","firstYearOfPlay":"1882″,"league":{"id":104,"name":"National League","link":"/api/v1/league/104″},"division":{"id":205,"name":"National League Central","link":"/api/v1/divisions/205″},"sport":{"id":1,"link":"/api/v1/sports/1″,"name":"Major League Baseball"},"shortName":"Cincinnati","franchiseName":"Cincinnati","clubName":"Reds","springLeague":{"id":114,"name":"Cactus League","link":"/api/v1/league/114″,"abbreviation":"CL"},"allStarStatus":"N","active":true},{"id":114,"name":"Cleveland Indians","link":"/api/v1/teams/114″,"season":2021,"venue":{"id":5,"name":"Progressive Field","link":"/api/v1/venues/5″,"location":{"address1″:"2401 Ontario Street","city":"Cleveland","state":"Ohio","stateAbbrev":"OH","postalCode":"44115″,"defaultCoordinates":{"latitude":41.495861,"longitude":-81.685255},"country":"USA","phone":"(216) 420-4200″},"timeZone":{"id":"America/New_York","offset":-4,"tz":"EDT"},"active":true},"springVenue":{"id":3834,"link":"/api/v1/venues/3834″},"teamCode":"cle","fileCode":"cle","abbreviation":"CLE","teamName":"Indians","locationName":"Cleveland","firstYearOfPlay":"1901″,"league":{"id":103,"name":"American League","link":"/api/v1/league/103″},"division":{"id":202,"name":"American League Central","link":"/api/v1/divisions/202″},"sport":{"id":1,"link":"/api/v1/sports/1″,"name":"Major League Baseball"},"shortName":"Cleveland","franchiseName":"Cleveland","clubName":"Indians","springLeague":{"id":114,"name":"Cactus League","link":"/api/v1/league/114″,"abbreviation":"CL"},"allStarStatus":"N","active":true},{"id":115,"name":"Colorado Rockies","link":"/api/v1/teams/115″,"season":2021,"venue":{"id":19,"name":"Coors Field","link":"/api/v1/venues/19″,"location":{"address1″:"2001 Blake Street","city":"Denver","state":"Colorado","stateAbbrev":"CO","postalCode":"80205-2000″,"defaultCoordinates":{"latitude":39.756042,"longitude":-104.994136},"country":"USA","phone":"(303) 292-0200″},"timeZone":{"id":"America/Denver","offset":-6,"tz":"MDT"},"active":true},"springVenue":{"id":4249,"link":"/api/v1/venues/4249″},"teamCode":"col","fileCode":"col","abbreviation":"COL","teamName":"Rockies","locationName":"Denver","firstYearOfPlay":"1992″,"league":{"id":104,"name":"National League","link":"/api/v1/league/104″},"division":{"id":203,"name":"National League West","link":"/api/v1/divisions/203″},"sport":{"id":1,"link":"/api/v1/sports/1″,"name":"Major League Baseball"},"shortName":"Colorado","franchiseName":"Colorado","clubName":"Rockies","springLeague":{"id":114,"name":"Cactus League","link":"/api/v1/league/114″,"abbreviation":"CL"},"allStarStatus":"N","active":true},{"id":116,"name":"Detroit Tigers","link":"/api/v1/teams/116″,"season":2021,"venue":{"id":2394,"name":"Comerica Park","link":"/api/v1/venues/2394″,"location":{"address1″:"2100 Woodward Avenue","city":"Detroit","state":"Michigan","stateAbbrev":"MI","postalCode":"48201″,"defaultCoordinates":{"latitude":42.3391151,"longitude":-83.048695},"country":"USA","phone":"(313) 471-2000″},"timeZone":{"id":"America/Detroit","offset":-4,"tz":"EDT"},"active":true},"springVenue":{"id":2511,"link":"/api/v1/venues/2511″},"teamCode":"det","fileCode":"det","abbreviation":"DET","teamName":"Tigers","locationName":"Detroit","firstYearOfPlay":"1901″,"league":{"id":103,"name":"American League","link":"/api/v1/league/103″},"division":{"id":202,"name":"American League Central","link":"/api/v1/divisions/202″},"sport":{"id":1,"link":"/api/v1/sports/1″,"name":"Major League Baseball"},"shortName":"Detroit","franchiseName":"Detroit","clubName":"Tigers","springLeague":{"id":115,"name":"Grapefruit League","link":"/api/v1/league/115″,"abbreviation":"GL"},"allStarStatus":"N","active":true},{"id":117,"name":"Houston Astros","link":"/api/v1/teams/117″,"season":2021,"venue":{"id":2392,"name":"Minute Maid Park","link":"/api/v1/venues/2392″,"location":{"address1″:"501 Crawford Street","city":"Houston","state":"Texas","stateAbbrev":"TX","postalCode":"77002″,"defaultCoordinates":{"latitude":29.756967,"longitude":-95.355509},"country":"USA","phone":"(713) 259-8000″},"timeZone":{"id":"America/Chicago","offset":-5,"tz":"CDT"},"active":true},"springVenue":{"id":5000,"link":"/api/v1/venues/5000″},"teamCode":"hou","fileCode":"hou","abbreviation":"HOU","teamName":"Astros","locationName":"Houston","firstYearOfPlay":"1962″,"league":{"id":103,"name":"American League","link":"/api/v1/league/103″},"division":{"id":200,"name":"American League West","link":"/api/v1/divisions/200″},"sport":{"id":1,"link":"/api/v1/sports/1″,"name":"Major League Baseball"},"shortName":"Houston","franchiseName":"Houston","clubName":"Astros","springLeague":{"id":115,"name":"Grapefruit League","link":"/api/v1/league/115″,"abbreviation":"GL"},"allStarStatus":"N","active":true},{"id":118,"name":"Kansas City Royals","link":"/api/v1/teams/118″,"season":2021,"venue":{"id":7,"name":"Kauffman Stadium","link":"/api/v1/venues/7″,"location":{"address1″:"One Royal Way","city":"Kansas City","state":"Missouri","stateAbbrev":"MO","postalCode":"64129″,"defaultCoordinates":{"latitude":39.051567,"longitude":-94.480483},"country":"USA","phone":"(816) 921-8000″},"timeZone":{"id":"America/Chicago","offset":-5,"tz":"CDT"},"active":true},"springVenue":{"id":2603,"link":"/api/v1/venues/2603″},"teamCode":"kca","fileCode":"kc","abbreviation":"KC","teamName":"Royals","locationName":"Kansas City","firstYearOfPlay":"1968″,"league":{"id":103,"name":"American League","link":"/api/v1/league/103″},"division":{"id":202,"name":"American League Central","link":"/api/v1/divisions/202″},"sport":{"id":1,"link":"/api/v1/sports/1″,"name":"Major League Baseball"},"shortName":"Kansas City","franchiseName":"Kansas City","clubName":"Royals","springLeague":{"id":114,"name":"Cactus League","link":"/api/v1/league/114″,"abbreviation":"CL"},"allStarStatus":"N","active":true},{"id":119,"name":"Los Angeles Dodgers","link":"/api/v1/teams/119″,"season":2021,"venue":{"id":22,"name":"Dodger Stadium","link":"/api/v1/venues/22″,"location":{"address1″:"1000 Vin Scully Avenue","city":"Los Angeles","state":"California","stateAbbrev":"CA","postalCode":"90012-1199″,"defaultCoordinates":{"latitude":34.07368,"longitude":-118.24053},"country":"USA","phone":"(323) 224-1500″},"timeZone":{"id":"America/Los_Angeles","offset":-7,"tz":"PDT"},"active":true},"springVenue":{"id":3809,"link":"/api/v1/venues/3809″},"teamCode":"lan","fileCode":"la","abbreviation":"LAD","teamName":"Dodgers","locationName":"Los Angeles","firstYearOfPlay":"1884″,"league":{"id":104,"name":"National League","link":"/api/v1/league/104″},"division":{"id":203,"name":"National League West","link":"/api/v1/divisions/203″},"sport":{"id":1,"link":"/api/v1/sports/1″,"name":"Major League Baseball"},"shortName":"LA Dodgers","franchiseName":"Los Angeles","clubName":"Dodgers","springLeague":{"id":114,"name":"Cactus League","link":"/api/v1/league/114″,"abbreviation":"CL"},"allStarStatus":"N","active":true},{"id":120,"name":"Washington Nationals","link":"/api/v1/teams/120″,"season":2021,"venue":{"id":3309,"name":"Nationals Park","link":"/api/v1/venues/3309″,"location":{"address1″:"1500 South Capitol Street, SE","city":"Washington","state":"District of Columbia","stateAbbrev":"DC","postalCode":"20003-1507″,"defaultCoordinates":{"latitude":38.872861,"longitude":-77.007501},"country":"USA","phone":"(202) 349-0400″},"timeZone":{"id":"America/New_York","offset":-4,"tz":"EDT"},"active":true},"springVenue":{"id":5000,"link":"/api/v1/venues/5000″},"teamCode":"was","fileCode":"was","abbreviation":"WSH","teamName":"Nationals","locationName":"Washington","firstYearOfPlay":"1968″,"league":{"id":104,"name":"National League","link":"/api/v1/league/104″},"division":{"id":204,"name":"National League East","link":"/api/v1/divisions/204″},"sport":{"id":1,"link":"/api/v1/sports/1″,"name":"Major League Baseball"},"shortName":"Washington","franchiseName":"Washington","clubName":"Nationals","springLeague":{"id":115,"name":"Grapefruit League","link":"/api/v1/league/115″,"abbreviation":"GL"},"allStarStatus":"N","active":true},{"id":121,"name":"New York Mets","link":"/api/v1/teams/121″,"season":2021,"venue":{"id":3289,"name":"Citi Field","link":"/api/v1/venues/3289″,"location":{"address1″:"Citi Field","city":"Flushing","state":"New York","stateAbbrev":"NY","postalCode":"11368″,"defaultCoordinates":{"latitude":40.75753012,"longitude":-73.84559155},"country":"USA","phone":"(718) 507-6387″},"timeZone":{"id":"America/New_York","offset":-4,"tz":"EDT"},"active":true},"springVenue":{"id":2856,"link":"/api/v1/venues/2856″},"teamCode":"nyn","fileCode":"nym","abbreviation":"NYM","teamName":"Mets","locationName":"Flushing","firstYearOfPlay":"1962″,"league":{"id":104,"name":"National League","link":"/api/v1/league/104″},"division":{"id":204,"name":"National League East","link":"/api/v1/divisions/204″},"sport":{"id":1,"link":"/api/v1/sports/1″,"name":"Major League Baseball"},"shortName":"NY Mets","franchiseName":"New York","clubName":"Mets","springLeague":{"id":115,"name":"Grapefruit League","link":"/api/v1/league/115″,"abbreviation":"GL"},"allStarStatus":"N","active":true}]},"isApp":false,"isPremiumQueryParam":false,"lang":"en","queryString":"","shareOptions":{"shareUrl":"https://www.mlb.com/news/trevor-story-rumors","twitterHandle":"mlb"},"storySlug":"trevor-story-rumors","topicSlug":"","userAgent":"Mozilla/5.0 (iPhone; CPU iPhone OS 14_6 like Mac OS X) AppleWebKit/605.1.15 (KHTML, like Gecko) Version/14.1.1 Mobile/15E148 Safari/604.1″}}
window.adobeAnalytics = {"reportingSuiteId":"mlbglobal08,mlbcom08″,"linkInternalFilters":"mlb"}
window.globalState = {"tracking_title":"Major League Baseball","lang":"en"}
window.appId = "
/*–>*/
MLB.com is keeping track of all the latest rumblings surrounding Rockies shortstop Trevor Story. Eligible for free agency this offseason, Story is a candidate to be dealt before the Trade Deadline on July 30.
July 29: Story still in play for Yankees
The Yankees are finalizing a trade with the Rangers for outfielder Joey Gallo, but the Bronx Bombers "still see room" for Story, according to MLB Network insider Jon Heyman.
The question is, will the Rockies actually trade him? Among teams that have checked in on Story, there's still some doubt about Colorado's plans. More >
Sources tell MLB.com's Jon Paul Morosi that Story's market is starting to pick up, with the Giants and Yankees among the teams that have checked in about the star shortstop. However, with the Yankees' reported acquisition of Joey Gallo on Wednesday, the Giants may have the advantage in trade talks with Colorado.
Both clubs serve as interesting landing spots for Story, as both already have stars installed at shortstop. The Giants hope to have Brandon Crawford (left oblique strain) back in the lineup in the next few days after his 10-day injured list stint expires, and he would likely remain at shortstop. But Story could slot in at third while Evan Longoria (on the 60-day injured list) continues to rehab a left shoulder strain. Whether or not the Rockies would actually trade Story to a division rival remains to be seen. In New York, DJ LeMahieu could move to first and Gleyber Torres to second to make room for Story at shortstop.
The Rockies have a key trade piece for the starting pitching market, too. Sources tell Morosi that Colorado is fielding offers for right-hander Jon Gray, with the Giants, Padres and Phillies among the teams that have checked in.
The 29-year-old Gray has gone through his ups and downs with the Rockies, but he's in the midst of a solid 2021 season in which he's posted a 3.67 ERA (126 adjusted ERA+) across 18 starts. Though Coors Field is his home park, Gray's home/road splits have been nearly identical across his career — and he's actually pitched better in Denver (.592 opponent OPS) than on the road (.805) this year.
Gray is a rental for potential suitors before he hits free agency this winter, with industry experts predicting him as a sure bet to be moved before Friday's Trade Deadline. The Giants and Padres are also believed to be in the mix (alongside the Dodgers) for Max Scherzer, and so as Morosi notes, a Gray deal might come after Scherzer is moved, with Gray representing a potential consolation for teams that missed out.
Finally, here's a potential headliner: What if Story and Gray were packaged together in one trade? Sources tell The Athletic's Jim Bowden (subscription required) that the Mets could be looking to acquire them both, solving a pair of needs in the rotation and the lineup.
"Get your popcorn ready in New York," writes Bowden, "as the Mets and Yankees are expected to rock the Deadline. You might need extra butter and salt for the Mets, as I'm hearing a trade sending Story and Jon Gray from Colorado to New York might happen." More >
July 27: Execs in touch with Rockies have sense Story won't be dealt
With Story eligible for free agency after this season and the Rockies not in contention, the shortstop is an obvious trade candidate. However, according to ESPN's Jeff Passan (subscription required), there's a sense among teams that have discussed Story with Colorado that he won't be dealt before Friday's Trade Deadline.
If Story remains with the Rockies, the club will likely make him a qualifying offer this offseason, setting itself up to receive Draft-pick compensation if it loses him as a free agent.
Rockies interim general manager Bill Schmidt has made it clear he would be comfortable keeping Story through the Deadline if the offers aren't good enough. And it's a real possibility that Schmidt won't like the offers. Rental players have limited trade value as it is, and Story has a career-low .733 OPS this season, including a .569 mark in July.
As MLB Network insider Ken Rosenthal noted in a piece for The Athletic (subscription required) on Tuesday, there are also concerns about Story's defense, specifically his throwing. The shortstop spent time on the IL earlier this season with right elbow inflammation, and his throws have noticeably lacked zip.
July 26: Yankees continue to discuss trade for Story (report)
Sunday brought another rough loss for the Yankees against the rival Red Sox, but the club continues to explore buying opportunities prior to Friday's Trade Deadline.
According to a report from Brendan Kuty of nj.com (subscription required), discussions between the Yankees and Rockies involving shortstop Trevor Story continued over the weekend. The Yankees have reportedly made an offer, per MLB Network insider Jon Heyman, however no deal is imminent and the Rockies have not made a final decision on whether they plan to move Story before the Deadline. More >
July 23: Yankees check in with Rockies on Story
One figured the Yankees would throw their hat in the ring for just about every big available name on this year's Trade Deadline market as they try to turn their season around. It appears the pinstripes have done just that with Story. A source tells MLB.com's Mark Feinsand that the Yankees have checked in with the Rockies about their star shortstop, who could find a home in New York's infield if DJ LeMahieu slides over to first base.
Money could come into play here, Feinsand notes, as Story's salary would bump the Yankees right up to the competitive balance tax (CBT) threshold. New York might want the Rockies to pay down some of that salary to facilitate a trade, but Colorado might be reluctant to do so after paying a significant amount of Nolan Arenado's remaining contract in his trade to the Cardinals.
July 22: Story reportedly drawing interest as a center fielder
The Colorado Rockies are the only organization that Trevor Story has ever known as a pro. That might change prior to the July 30 Trade Deadline, and that might not be the only change in Story's baseball future if he is dealt. According to MLB.com's Mark Feinsand, at least one team is interested in Story "with the idea of playing him in center field" instead of at shortstop.
Story has never played in the outfield — much less in center field — in the Minor or Major Leagues since his career began in 2011. However, Story, whose Sprint Speed ranks in the 88th percentile in baseball at 28.7 feet per second, has the athleticism to cover a lot of ground. And outside-the-box thinking might become a theme as front offices effort to find the right fit to upgrade their club.
"Everyone is trying to be as uber-creative as they can to try to win," an AL executive told Feinsand.
July 22: Teams "engaged" with Rockies on Story
It remains to be seen whether the Rockies will actually decide to trade Story before the Deadline, but teams are obviously checking in with Colorado's front office. Sources tell Patrick Saunders of the Denver Post that at least six to eight teams have opened discussions with the Rockies regarding a Story trade, though Colorado interim general manager Bill Schmidt pushed back a bit by saying that number was "a little high."
One team that has "checked in" with the Rockies regarding Story is the Yankees, according to ESPN's Buster Olney. If New York was to swing a deal to land the star shortstop, Gleyber Torres would likely move back to second base, as Olney notes.
As for Story himself, he told the Post on Tuesday that he doesn't know which teams are contacting the Rockies.
"Until something happens, I really don't want to know," said Story. "That's what I told my (management) team."
July 15: Rockies GM not committed to Story trade
As the focus in Colorado shifts away from the All-Star Game and over to what the Rockies do with Story in the next couple weeks, interim general manager Bill Schmidt indicated Thursday that his club could wind up holding onto its star shortstop past the July 30 Trade Deadline.
"Yes, we do have decisions to make," Schmidt told The Denver Post, "but we don't have to move players for financial reasons. At the end of the day, it will be about what we can get back. We are not a farm system for other people.
"It will come down to this," Schmidt continued. "If we are offered something in a trade, is it good for the Rockies? If an offer is made, we will evaluate it and see if it makes sense. But we are not forced to do anything."
It appears unlikely that Story will sign with the Rockies in free agency this winter. But Schmidt and the club's front office could determine that the club would get a better return via the Draft compensation pick it would receive, if Story signs elsewhere, than what it could get via trade before the Deadline. Story is struggling through his worst big league season since 2017, and he is an expensive rental piece for contenders with approximately $8 million remaining on his '21 salary.
"That might be better than what teams are offering us," Schmidt said of a potential compensation pick, noting that fellow Rockies stars Nolan Arenado, Charlie Blackmon and Ryan McMahon were all second-round Draft selections.
July 15: Potential landing spots for Story
The Denver Post gathered six national baseball writers to discuss the state of the Rockies for an article that was published Thursday, and one of the topics centered around Story's Trade Deadline destination.
The most common answer? The A's, who were picked by three of the six writers.
This isn't the first time Oakland has been linked to Story, although there were some reports last month that downplayed the A's chances of going after the Rockies shortstop.
The A's could certainly use an upgrade at the position. Elvis Andrus has produced a .599 OPS this season, tied for the fourth-lowest mark among qualifiers. However, there's a question of whether the small-market club is willing to take on all of Story's remaining salary, which will be nearly $6 million after the Deadline.
The White Sox and Reds were also mentioned, and one writer even predicted that Story wouldn't be traded at all.
It would be mildly surprising to see the White Sox pursue Story, as they already have Tim Anderson at shortstop. However, they do have a need for a second baseman after Nick Madrigal suffered a season-ending hamstring injury and could potentially use Story to fill the hole.
The Reds were connected to Story this past offseason, but they ended up opening the season with Eugenio Suárez as their everyday shortstop. Cincinnati moved Suárez back to third base in May after he struggled on defense. Kyle Farmer took over the job from Suárez, but he owns a .626 OPS this season.
July 13: Rockies not feeling pressure to trade Story
After tabling trade talks involving Story until the All-Star festivities at Coors Field are completed, the Rockies are expected to ramp up efforts to trade the 28-year-old shortstop in the coming weeks. However, the team isn't in a situation where it feels like it has to move the impending free agent, Colorado's interim general manager, Bill Schmidt, told MLB Network insider Joel Sherman.
"We don't have to trade him," Schmidt said. "It is not a situation where we have to move money or my owner is telling me I have to trade [Story]. It really comes down to if we feel the offer is in the best interest of the Colorado Rockies. We will listen to what people have to say, but we are not just giving this player away."
If there is no team willing to meet the Rockies' demands, the club could still get something back for Story by making him a qualifying offer, which he'd likely reject. Players who reject QOs are tied to Draft-pick compensation, and Schmidt has seen how those compensatory picks can pay off.
As Sherman noted in his article for the New York Post on Tuesday, Schmidt was the Rockies' VP of scouting when the club selected Story with a supplemental pick in the 2011 Draft. The club received that pick after losing Octavio Dotel in free agency.