India
UK carrier group conducts exercise with India in strategic signal to China | India News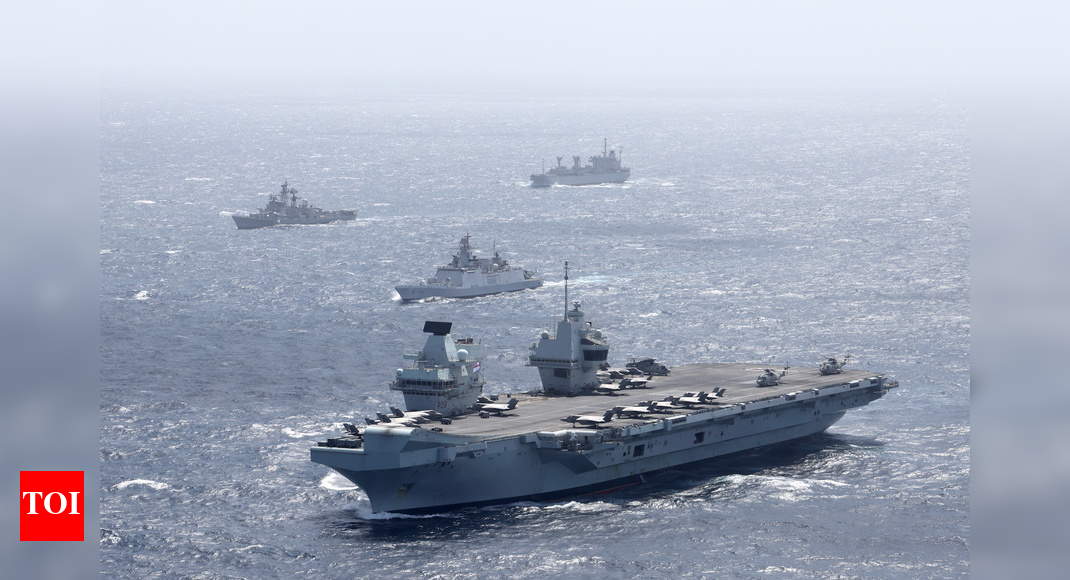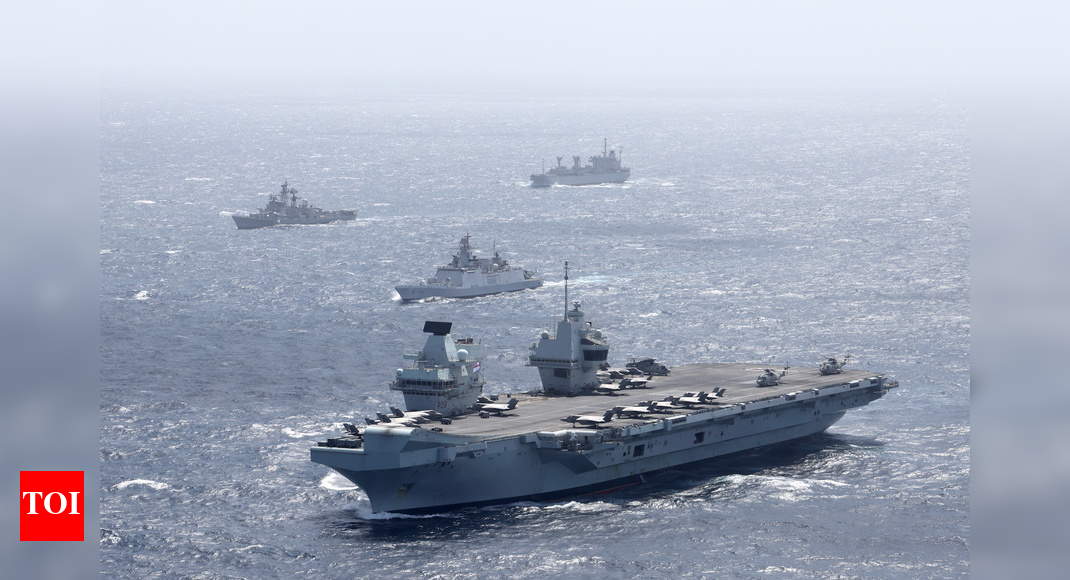 NEW DELHI: After the US, Japan, Australia and France, the UK has now sailed into the Indo-Pacific to bolster maritime security cooperation with India and stress on a rules-based international order in wake of China's assertive behavior in the region.
The UK carrier strike group-21 (CSG-21), led by the spanking new 65,000-tonne aircraft carrier HMS Queen Elizabeth with fifth-generation F-35B `lightning' stealth fighter jets, conducted a major exercise with Indian Navy in the Bay of Bengal over the last couple of days.
The exercise saw 10 warships, two submarines and over 20 aircraft come together, with India fielding missile frigate INS Satpura, destroyer INS Ranvir, a Kilo-class submarine and P-8I long-range maritime patrol aircraft, among other assets.
The strategic signaling, which comes after `Quad' and `Quad-plus-France' naval exercises in the Indian Ocean Region (IOR), was clear. Britain declared the endeavour "provides tangible security to our friends and a credible deterrence to those who seek to undermine global security".
The maiden operational deployment of HMS Queen Elizabeth-led CSG-21, which will now head for the South China Sea, and Britain's declaration that it will permanently deploy two warships in the Indo-Pacific, has already riled up China.
"At the strategic level, the exercise is a muscular expression of the closer defence partnership that Prime Ministers Johnson and Modi envisaged when they agreed to the UK-India Roadmap 2030 in May. Our naval facilities in Bahrain and Oman already serve as a springboard for more frequent Royal Navy deployments across the IOR," CSG-21 commander Commodore Steve Moorhouse told TOI.
Asked about China's belligerence in Indo-Pacific, especially in the South China Sea, the senior officer said "freedom of navigation" was the "root" of maritime law. The UN Convention on the Law of the Sea (UNCLOS) is clear, and the Royal Navy will continue to exercise its right to freedom of navigation in international waters.
"As the UK defence secretary Ben Wallace recently said, we do so in a spirit of confidence, not confrontation. And just as we respect China, so we expect China to respect us in return," said Commodore Moorhouse.
"The UK wants a mature, positive relationship with China, based on mutual respect and trust. There is considerable scope for constructive engagement and cooperation. But, as we strive for that positive relationship, we will not sacrifice either our values or our security," he added.
Quite simply, the seas and oceans of the world should be open and free for everyone to use. "It doesn't matter whether it's the English Channel or the western Indian Ocean, it applies equally the world over and this is why the UK is committed to working with like-minded nations to uphold these rules and values not only here in the Indo-Pacific, but in all oceans," he added.