Health
Virus Expert Just Issued This "Dramatic" Warning — Eat This Not That
The COVID-19 pandemic just entered its third year. Dec. 31 marked the two-year anniversary of reports of a mysterious pneumonia in Wuhan, China. "Unfortunately I think we still have, at our own peril, underestimated the impact of this virus and what it can do," said Dr. Michael Osterholm, an epidemiologist and director of the Center for Infectious Disease Research and Policy at the University of Minnesota, on the latest episode of his podcast. Noting that "we've still got a ways to go with this virus," this week Osterholm gave his impressions of where the pandemic stands now and where it will go in the immediate future—including one "dramatic" warning. Read on to find out more—and to ensure your health and the health of others, don't miss these Sure Signs You've Already Had COVID.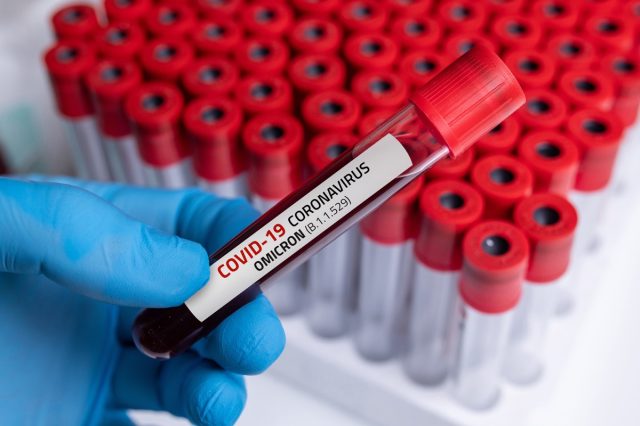 "We have to avoid what I call the extreme views of the world," said Osterholm, noting that the current situation wasn't a call for "rose-colored glasses" or "doomsday" thinking.
"I worry as these case numbers increased dramatically without linking it to seriousness of illness that we're accepting the fact that, 'Oh my God, this is a doomsday event.'," he said. "And I've seen that happen—when people talk about a million cases being reported today, compared to 100,000 cases that had been reported—as if somehow this was doomsday."
"It's not okay," he added. "We are in a better place because of vaccines. We are in a different place because is not acting like Delta. And I hope that somehow we can find that middle place where I think we really are and how we need to approach this issue." 
RELATED: Sure Signs You Caught Omicron, Say Experts
Osterholm addressed the controversy over changing estimates about how prevalent Omicron is versus Delta. "It doesn't really matter to me from a scientific standpoint because I know that within a few weeks it is going to be virtually all Omicron," said Osterholm. "There's just no denying that Omicron is much more transmissible than the previous variants." 
RELATED: Over 60? Reverse Aging With These Health Habits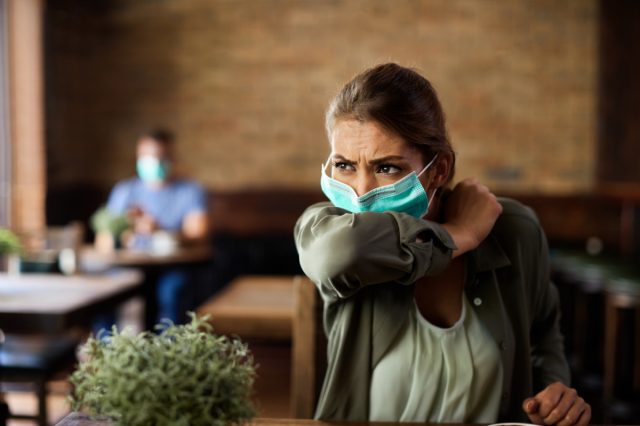 "Having spent 46 years in this business, I can tell you that the transmission we're seeing with Omicron is unlike anything I've ever dealt with in my public health career," said Osterholm. "We are going to experience a viral blizzard, amid the news of these dramatic Omicron case surges." 
At the same time, "We're also seeing more and more signs suggesting that the risk of severe disease and death has been reduced with this variant."
RELATED: What Smoking Marijuana Every Day Does to You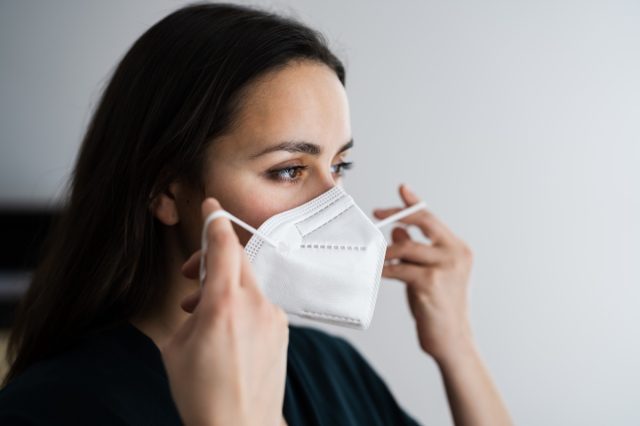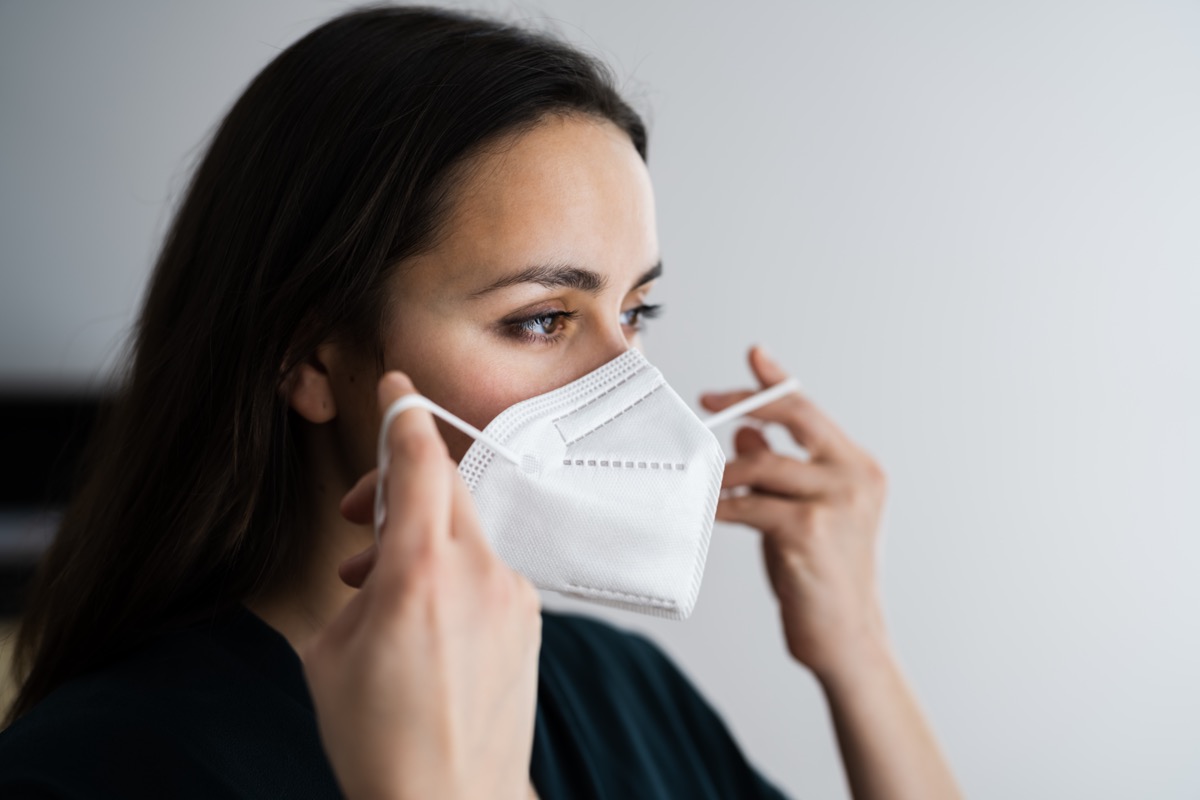 "This pandemic will not be over in eight weeks," predicted Osterholm. "Vaccinations now will protect against the next surge, but recommendations made in the meantime should acknowledge our current reality that the immediate increase in vaccinations is going to have only a very limited impact on this surge. It's going to happen no matter what."
"Masking can be helpful," he said, "but only if you're routinely using high quality respiratory protection"—meaning an N95, KN95, or KF94 mask.
"Face cloth coverings, even surgical masks, are nothing more than fashion statements," he warned. "They do not protect you in any meaningful way."  
RELATED: New Year Resolutions To Live Longer, Say Experts
"We do have light at the end of the tunnel," said Osterholm on MSNBC this week. "But for right now, you're going to have to hunker down."
"We are going to see the number of cases in this country rise so dramatically, we are going to have a hard time keeping everyday life operating," he said. "The next month is going to be a viral blizzard. All of society is going to be pressured by this."
RELATED: If You Make These Mistakes, You May Have Dementia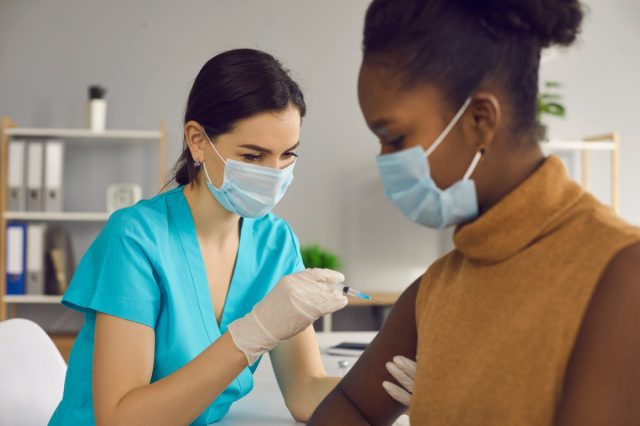 Follow the fundamentals and help end this pandemic, no matter where you live—get vaccinated ASAP; if you live in an area with low vaccination rates, wear an N95 face mask, don't travel, social distance, avoid large crowds, don't go indoors with people you're not sheltering with (especially in bars), practice good hand hygiene, and to protect your life and the lives of others, don't visit any of these 35 Places You're Most Likely to Catch COVID.
Source link