MLB
Wrigley Field to host limited numbers of Cubs fans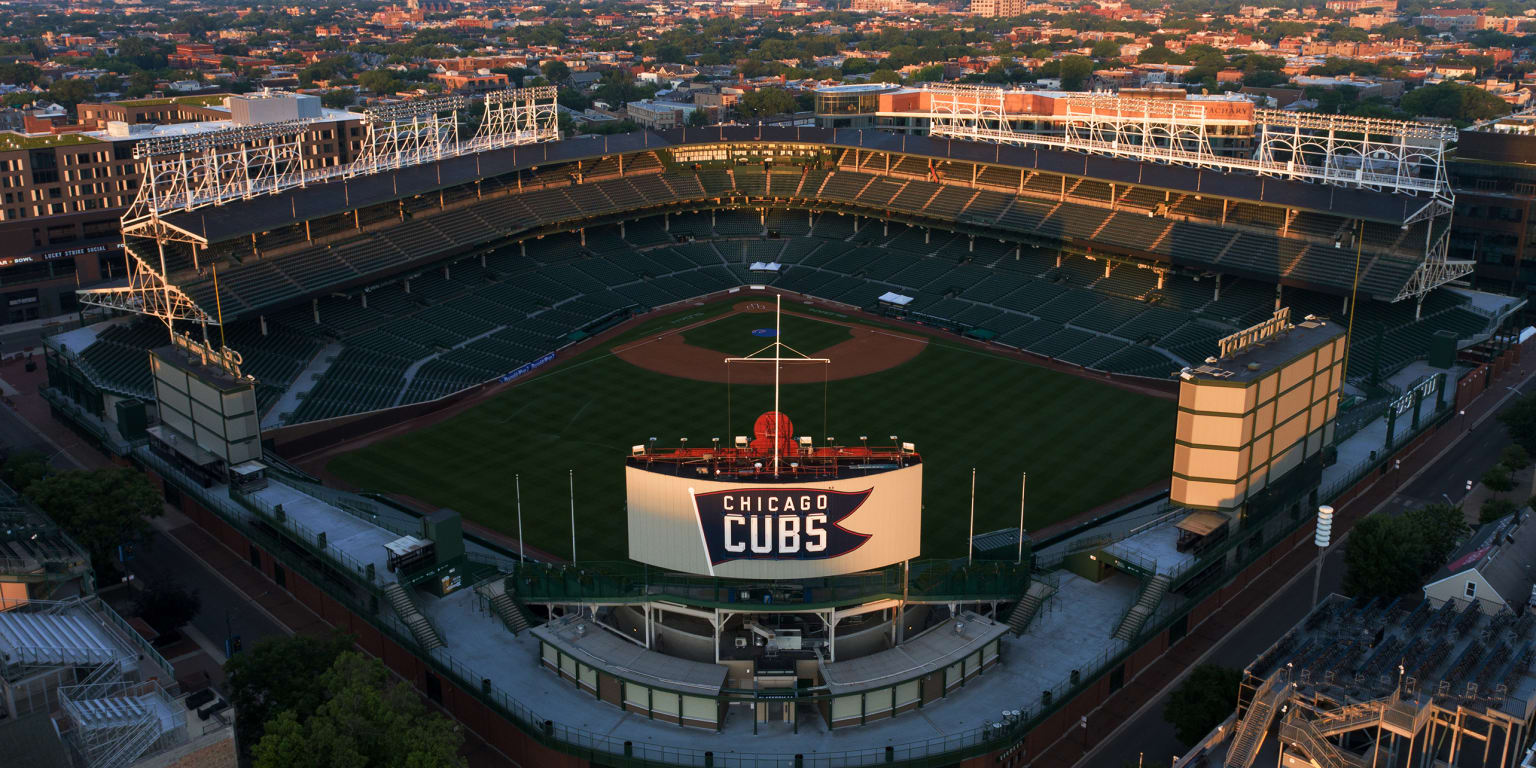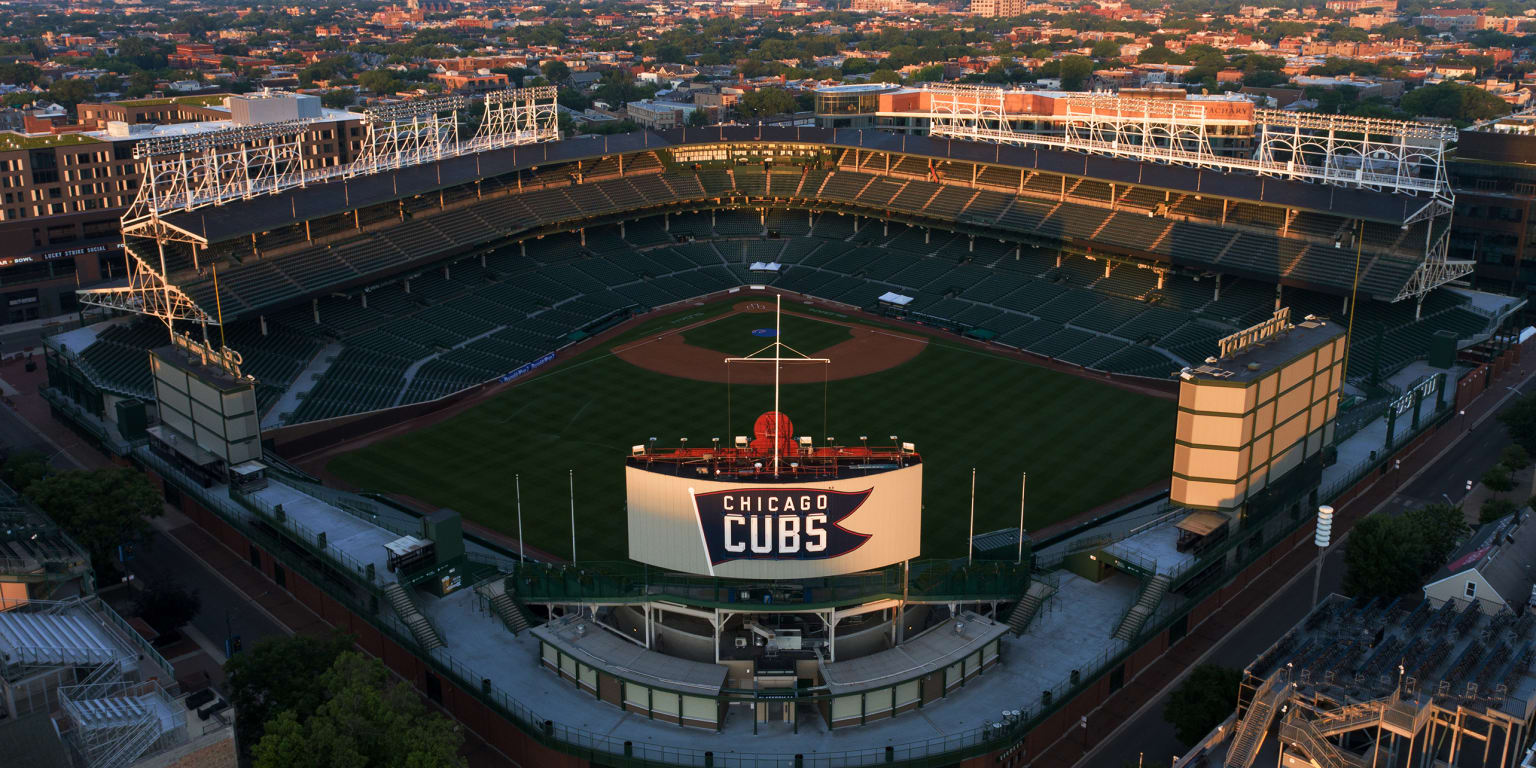 n","providerName":"Twitter","providerUrl":"https://twitter.com","type":"rich","width":550,"__typename":"ExternalEmbedContent"},"$ROOT_QUERY.getForgeContentBySlug({"locale":"en-us","slug":"wrigley-field-to-host-limited-numbers-of-cubs-fans","type":"story"}).parts.2″:{"data":{"type":"id","generated":true,"id":"$ROOT_QUERY.getForgeContentBySlug({"locale":"en-us","slug":"wrigley-field-to-host-limited-numbers-of-cubs-fans","type":"story"}).parts.2.data","typename":"ExternalEmbedContent"},"type":"oembed","__typename":"ExternalEmbed"},"$ROOT_QUERY.getForgeContentBySlug({"locale":"en-us","slug":"wrigley-field-to-host-limited-numbers-of-cubs-fans","type":"story"}).parts.3″:{"content":"The Cubs plan on starting off with limited-capacity, pod-style seating to adhere to social-distancing guidelines. Masks will be required for all Wrigley Field guests who are two years or older. There will be a touchless entry screening process, tickets available exclusively via mobile ticketing and cashless retail and concessions.nn"Our goal is to create a safe, clean and friendly environment for everyone to enjoy Cubs baseball beginning Opening Day," Kenney said.nnLast year, Ross lived walking distance from Wrigley Field and said there was a dramatic difference in the neighborhood compared to previous seasons on game days.nn"It was just an empty feeling, just because it was," Ross said.nnKnown for his high level of energy and emotion, Javier Báez has been vocal about how he felt the lack of fans may have actually impacted his play on the field. Needless to say, everyone around the team is looking forward to getting more fans safely back into Wrigleyville and into the seats this year.nn"Even though it's only 20 percent, that's a good start," Cubs veteran Jake Arrieta said. "Wrigley is such an amazing attraction for the city. And to have that taken away from not only the fans and the players, but just the local businesses and the local economy — it was tough all around the country, all around the world for a lot of people. For our sport, it kind of hit closer to home for all of us.nn"Hopefully, we're able to slowly get back into a situation where we can get close to capacity at Wrigley. And get back to normal. But, we have to take it slow and we've been dealing with something very serious."nnAs a thank you for all the work done over the past year during the ongoing COVID-19 pandemic, the Cubs plan on hosting vaccinated healthcare workers and employees from Advocate Aurora Health in the bleachers as part of the Opening Day celebration.nnThe Cubs will give season-ticket holders priority access to secure tickets in advance of the general public, beginning March 15. The team is also offering a Return to Wrigley Presale Access Program, giving fans a chance to register for random ticket drawings in an effort to provide more fans with a chance to get to Wrigley Field in 2021.nnThe Cubs have set March 19 as the cutoff date for the first drawing. Winners will have a chance to purchase a limited number of tickets on March 23 for the first homestand, with remaining tickets going on sale to the general public the following day. The Cubs are also planning on having spaces for groups of eight or more (details to come).nn"You've got this museum there that nobody could get in and appreciate except for players," Ross said. "It's exciting to get back to some sense of normal and having some fans there, and just cheers and getting a little bit of that atmosphere back around that area will be great for everybody."","type":"markdown","__typename":"Markdown"},"$ROOT_QUERY.getForgeContentBySlug({"locale":"en-us","slug":"wrigley-field-to-host-limited-numbers-of-cubs-fans","type":"story"}).tags.0.data":{"__typename":"UnsupportedTagType"},"$ROOT_QUERY.getForgeContentBySlug({"locale":"en-us","slug":"wrigley-field-to-host-limited-numbers-of-cubs-fans","type":"story"}).tags.0″:{"data":{"type":"id","generated":true,"id":"$ROOT_QUERY.getForgeContentBySlug({"locale":"en-us","slug":"wrigley-field-to-host-limited-numbers-of-cubs-fans","type":"story"}).tags.0.data","typename":"UnsupportedTagType"},"externalSourceName":null,"slug":"storytype-article","title":"Article","type":"article","__typename":"Tag"},"Team:112″:{"id":"112″,"__typename":"Team"},"$ROOT_QUERY.getForgeContentBySlug({"locale":"en-us","slug":"wrigley-field-to-host-limited-numbers-of-cubs-fans","type":"story"}).tags.1″:{"data":{"type":"id","generated":false,"id":"Team:112″,"typename":"Team"},"externalSourceName":"team","slug":"teamid-112″,"title":"Chicago Cubs","type":"team","__typename":"Tag"},"$ROOT_QUERY.getForgeContentBySlug({"locale":"en-us","slug":"wrigley-field-to-host-limited-numbers-of-cubs-fans","type":"story"}).tags.2.data":{"__typename":"UnsupportedTagType"},"$ROOT_QUERY.getForgeContentBySlug({"locale":"en-us","slug":"wrigley-field-to-host-limited-numbers-of-cubs-fans","type":"story"}).tags.2″:{"data":{"type":"id","generated":true,"id":"$ROOT_QUERY.getForgeContentBySlug({"locale":"en-us","slug":"wrigley-field-to-host-limited-numbers-of-cubs-fans","type":"story"}).tags.2.data","typename":"UnsupportedTagType"},"externalSourceName":"customentity.contributor","slug":"jordan-bastian","title":"Jordan Bastian","type":"contributor","__typename":"Tag"}},"appConfig":{"graphqlServiceUrl":"https://content-service.mlb.com"},"appState":{"adDomain":"mlb.mlb","appId":"","basePath":"news","club":"mlb","contentfulProperties":{"organismHeadlineFont":null,"urlLogo":null,"favicon":null,"headerMastheadTagline":null,"headerPrimaryLogo":null,"headerMastheadTaglineContainerWidth":"512px","headerMastheadTaglineContainerHeight":"56px","organismLogoVersion":"caplogo","organismLogoStyle":"light","headerMastheadLogoVersion":"cap","headerMastheadLogoStyle":"dark","footerLogoVersion":"primary","footerLogoStyle":"dark","headlineTextTransform":"none","headlineFontFamily":null,"headlineFontFamilySizeMultiplier":1,"articleVideoAutoPlay":true,"articleVideoAutoPlaySound":false,"__typename":"CF_WebProperties"},"contextUrlPrefix":"","env":"production","footerState":{"clubId":"mlb","deviceProperties":{},"footerData":{"instanceId":"db2f8fb2-78c8-4d3c-a328-9e91c349dfee","name":"global-footer","variables":[],"menuItems":[{"itemId":"aec375d3-3afa-4491-ab28-60b736f38982″,"text":"Terms of Use","properties":{"link":"/official-information/terms-of-use","target":"_blank"},"menuItems":[]},{"itemId":"debe8dbf-de27-4eae-b7ec-adae43fc4642″,"text":"Privacy Policy","properties":{"link":"/official-information/privacy-policy"},"menuItems":[]},{"itemId":"345a1847-cac1-43a4-91bf-70c21ecee681″,"text":"Legal Notices","properties":{"link":"/official-information/legal-notices"},"menuItems":[]},{"itemId":"34014aad-1069-4bba-b22e-4b287a4f7df1″,"text":"Contact Us","properties":{"link":"/official-information/contact"},"menuItems":[]},{"itemId":"65e06970-7f8e-4328-ad82-9d90df0f3e87″,"text":"Do Not Sell My Personal Data","properties":{"link":"https://privacyportal.onetrust.com/webform/53a301ae-6882-46f9-af93-24f64f792aee/3251a424-8286-4725-9313-603f12c85a49″,"target":"_blank"},"menuItems":[]},{"itemId":"dd307e97-49c6-4f80-aff3-89a59696fb80″,"text":"Official Information","properties":{},"menuItems":[{"itemId":"bdf571d3-e8bb-403b-bb5f-7f28a7127c74″,"text":"Official Info","properties":{"link":"/official-information"},"menuItems":[]},{"itemId":"ecfd4d42-aa8d-4872-80a5-869c6b493018″,"text":"About MLB","properties":{"link":"/official-information/about-mlb"},"menuItems":[]},{"itemId":"bb62de22-5c84-4cab-b9fb-5429ea9d647c","text":"Team Information","properties":{"link":"https://www.mlb.com/team"},"menuItems":[]},{"itemId":"7cc37e2a-667c-4405-bd1f-87ad88bc4d9e","text":"Official Rules","properties":{"link":"https://content.mlb.com/documents/2/2/4/305750224/2019_Official_Baseball_Rules_FINAL_.pdf"},"menuItems":[]},{"itemId":"e658056b-608b-4eee-a04a-43772f9e6bb4″,"text":"Replay Review Regulations","properties":{"link":"http://m.mlb.com/glossary/rules/replay-review"},"menuItems":[]},{"itemId":"0b3fc77c-c7d1-4584-a184-90fd8c4959e9″,"text":"Umpires","properties":{"link":"/official-information/umpires"},"menuItems":[]},{"itemId":"23dde9d7-6aba-4bec-a449-b1b4d5a5767c","text":"Advertise with Us","properties":{"link":"/sponsorship"},"menuItems":[]},{"itemId":"ca43b715-5423-4314-ac5a-f9229bee6fb6″,"text":"Press Releases","properties":{"link":"/news/topic/mlb-press-releases"},"menuItems":[]}]},{"itemId":"7a60a8fc-0c3c-4c87-b04b-2b57b6c9894c","text":"Help/Contact Us","properties":{},"menuItems":[{"itemId":"efb27376-accc-4ca4-9017-c3309ee122d3″,"text":"Accessibility Information","properties":{"link":"/official-information/accessibility"},"menuItems":[]},{"itemId":"cf3490fc-f093-4457-99a7-d2bc3f4d4cef","text":"Auctions Customer Service","properties":{"link":"http://auctions.mlb.com/iSynApp/manageUserEmail!showEmailContactUsForm.action?sid=1101001″},"menuItems":[]},{"itemId":"c6867706-11b7-4634-a78e-b5d513948f43″,"text":"Harassment Policy","properties":{"link":"/official-information/harassment-policy"},"menuItems":[]},{"itemId":"0e3932c9-beec-43f2-b712-66879a51ab63″,"text":"Help/Contact Us","properties":{"link":"/official-information/contact"},"menuItems":[]},{"itemId":"6d4ebef1-3168-4b79-a237-9f36931d3a2c","text":"MLB App FAQs","properties":{"link":"https://www.mlb.com/apps/mlb-app/faq-apple"},"menuItems":[]},{"itemId":"4b3c6ee8-d4ae-4265-a7e7-7e5bea8cde28″,"text":"MLB.com Account Information","properties":{"link":"/official-information/faqs"},"menuItems":[]},{"itemId":"4d33a7c1-38d5-4b3b-a999-53377f55738d","text":"MLB.TV Help Center","properties":{"link":"/live-stream-games/help-center"},"menuItems":[]},{"itemId":"36f01834-7979-4a42-aa12-52439c2e320b","text":"Shop Help","properties":{"link":"https://help-mlb.custhelp.com/"},"menuItems":[]},{"itemId":"bb6e7a31-4b7d-4e49-8c2e-00dda9e237ab","text":"Ticket Information","properties":{"link":"/official-information/ticket-faqs"},"menuItems":[]}]},{"itemId":"6ca8b189-8c54-428f-9f79-3c357ef18469″,"text":"More MLB Sites & Affiliates","properties":{},"menuItems":[{"itemId":"becc9309-94fc-491b-ad15-45f7c17f85a9″,"text":"MLB Players Alumni Association","properties":{"link":"/mlbpaa","target":""},"menuItems":[]},{"itemId":"9ff49c09-8a0d-41e6-b8b0-14f37f8e7f52″,"text":"MLB Players Association","properties":{"link":"http://www.mlbplayers.com/"},"menuItems":[]},{"itemId":"022ec2ca-bb20-4543-9cdc-95ba3a4443ca","text":"Minor League Baseball","properties":{"link":"https://www.milb.com/"},"menuItems":[]},{"itemId":"c6f9948e-3521-4788-83ed-b568f39e86aa","text":"MLB Network","properties":{"link":"https://www.mlb.com/network"},"menuItems":[]},{"itemId":"de2ea389-0a29-4600-8048-b4261916183d","text":"Baseball Assistance Team","properties":{"link":"/baseball-assistance-team"},"menuItems":[]},{"itemId":"e1a2af1c-ee36-4672-935b-17e62d0b4ddc","text":"Player Resource Center","properties":{"link":"/player-resource-center","target":""},"menuItems":[]},{"itemId":"75f0b763-612d-4557-ae38-227fb5b3b7f1″,"text":"Tickets.com","properties":{"link":"http://www.tickets.com/"},"menuItems":[]},{"itemId":"f8599d26-5069-4417-8c26-0965dd8d9435″,"text":"YES Network","properties":{"link":"https://www.yesnetwork.com/"},"menuItems":[]},{"itemId":"5c8f6196-a4d5-4ed5-b830-189580691d3e","text":"Australian Baseball League","properties":{"link":"https://theabl.com.au/"},"menuItems":[]},{"itemId":"ab6fc805-0bb7-439b-8c3c-92c61b035387″,"text":"World Baseball Classic","properties":{"link":"https://www.worldbaseballclassic.com/"},"menuItems":[]},{"itemId":"e218ed4d-89f9-4f7d-87e7-c05a3559cd74″,"text":"sabr.org","properties":{"link":"http://sabr.org/"},"menuItems":[]},{"itemId":"158a95a6-bd4f-4654-b57f-465d3c356a55″,"text":"College Baseball Hall of Fame","properties":{"link":"https://www.mlb.com/college-baseball-hall-of-fame"},"menuItems":[]},{"itemId":"5e602a1a-e518-455b-ac5f-5c0e80430e38″,"text":"Golden Spikes Award","properties":{"link":"https://www.usabaseball.com/golden-spikes-award"},"menuItems":[]},{"itemId":"ccd9020d-c619-45d2-bc1f-ef80ae2cd651″,"text":"USA Baseball","properties":{"link":"https://www.usabaseball.com"},"menuItems":[]},{"itemId":"75512a93-d52d-4d71-a6d3-70d6b44dfa0f","text":"LasMayores.com","properties":{"link":"https://www.mlb.com/es"},"menuItems":[]},{"itemId":"3b7bbad3-1ed5-468d-8703-205519315e04″,"text":"MLBCommunity.org","properties":{"link":"/mlb-community"},"menuItems":[]},{"itemId":"f8058121-3606-4ff2-be8a-d1a3d47642db","text":"AllStarGame.com","properties":{"link":"https://www.mlb.com/all-star"},"menuItems":[]},{"itemId":"a624b4e5-c8d8-44b9-9084-7522ed0cee59″,"text":"MLB.com/Kids","properties":{"link":"https://www.mlb.com/fans/kids"},"menuItems":[]},{"itemId":"43c6bc47-f7d9-445a-85a1-10b3cdc02ee0″,"text":"MLB Photostore","properties":{"link":"https://photostore.mlb.com/"},"menuItems":[]},{"itemId":"d9f4ea22-70a7-4085-a16e-83f70a5711b2″,"text":"Offseason Leagues","properties":{"link":"http://mlb.mlb.com/mlb/events/winterleagues/"},"menuItems":[]},{"itemId":"c574a4a2-45ec-47fe-8ca3-b5b99d1cb443″,"text":"PlayBall.org","properties":{"link":"https://www.playball.org"},"menuItems":[]}]},{"itemId":"e3a86593-6da0-4d00-a512-0b8c78c9b8a5″,"text":"Careers","properties":{"link":""},"menuItems":[{"itemId":"35caab61-51c7-4b17-a9b8-e9ecd201058a","text":"Careers Home","properties":{"link":"/careers/home"},"menuItems":[]}]}]},"headerData":{"instanceId":"fbde1dcd-c837-4740-991c-1087d1db26d1″,"name":"global-nav","variables":[],"menuItems":[{"itemId":"tickets","text":"Tickets","properties":{"link":"https://www.mlb.com/tickets","customProperties":"align:right;"},"menuItems":[{"itemId":"764d21d8-0f58-4d63-b57c-035ec47d193c","text":"General Ticket Information","properties":{"link":"https://www.mlb.com/tickets","customProperties":""},"menuItems":[]},{"itemId":"4e45f354-0ccd-4c89-ac5e-12f16dd11f3a","text":"Season Tickets","properties":{"link":"https://www.mlb.com/tickets/season-tickets","customProperties":""},"menuItems":[]},{"itemId":"020f5910-a69a-443a-b5a3-37b7664d8a4f","text":"Spring Training","properties":{"link":"https://www.mlb.com/tickets/spring-training"},"menuItems":[]},{"itemId":"0a8ddc10-4b69-4a97-a677-6301ac30971b","text":"Fan Value","properties":{"link":"https://www.mlb.com/tickets/fan-value","customProperties":""},"menuItems":[]},{"itemId":"417de43e-baa5-4ca1-802d-c0814be88688″,"text":"Ballpark Tours","properties":{"link":"https://www.mlb.com/tickets/ballpark-tours"},"menuItems":[]},{"itemId":"dc1ab63d-4195-4a41-8248-cfa5513a66e9″,"text":"StubHub.com","properties":{"link":"https://www.stubhub.com/mlb-tickets/grouping/81/?gcid=C12289x371″,"customProperties":""},"menuItems":[]},{"itemId":"92c55e19-5b07-4d4f-8bfe-ee6a86e64c8a","text":"World Baseball Classic","properties":{"link":"https://www.mlb.com/world-baseball-classic/schedule"},"menuItems":[]},{"itemId":"5d7d5f77-3b9d-4d21-bece-8b3245b7bf2a","text":"International Events","properties":{"link":"https://www.mlb.com/international"},"menuItems":[]}]},{"itemId":"7b24aad4-85fb-4206-b915-85dc84bf8046″,"text":"MLB.TV","properties":{"link":"https://www.mlb.com/tv?&affiliateId=mlbMENU","customProperties":"amp:true;align:right;","icon":"watch"},"menuItems":[{"itemId":"6e4bf96d-d9e2-4c33-8d42-3e94aae42607″,"text":"Buy MLB.TV","properties":{"link":"https://www.mlb.com/live-stream-games/subscribe?&affiliateId=mlbMENU"},"menuItems":[]},{"itemId":"f33ef990-5609-45cd-be24-0e40cb0a5368″,"text":"Buy MLB Audio","properties":{"link":"https://www.mlb.com/live-stream-games/subscribe/mlb-audio?&affiliateId=mlbMENU"},"menuItems":[]},{"itemId":"993d3d74-7886-48fd-9d9f-12d189ed5630″,"text":"Watch MLB.TV","properties":{"link":"/live-stream-games?&affiliateId=mlbMENU","customProperties":""},"menuItems":[]},{"itemId":"350c78fb-4db4-4c1c-8430-85c1dfc08fca","text":"MLB.TV Spring Training Schedule","properties":{"link":"https://www.mlb.com/live-stream-games/spring-training?&affiliateId=mlbMENU"},"menuItems":[]},{"itemId":"00132689-c7ce-46b0-bfac-228fa9f70a22″,"text":"Watch MLB.TV Docs & Features","properties":{"link":"https://www.mlb.com/tv/featured?&affiliateId=mlbMENU"},"menuItems":[]},{"itemId":"68b755ed-4f9d-4c0a-96ea-ffafb22ca5c5″,"text":"MLB.TV Help Center","properties":{"link":"/live-stream-games/help-center?&affiliateId=mlbMENU","customProperties":""},"menuItems":[]},{"itemId":"05b81a24-a196-4ee9-86f6-443cc7ce6934″,"text":"MLB.TV with Extra Innings","properties":{"link":"https://www.mlb.com/live-stream-games/third-party?&affiliateId=mlbMENU"},"menuItems":[]}]},{"itemId":"6bfaf88e-891c-4e05-a935-8a32bd23086a","text":"Shop","properties":{"link":"https://www.mlbshop.com/?_s=bm-mlbcom-hp","customProperties":"align:right;","icon":"shopping-cart"},"menuItems":[{"itemId":"d7b3c8e0-42c4-45c5-8278-c51adb21b47f","text":"Auction","properties":{"link":"http://auction.mlb.com/"},"menuItems":[]},{"itemId":"216d4562-456b-442d-b078-9e9be9b35b20″,"text":"Authentication","properties":{"link":"https://www.mlb.com/authentication"},"menuItems":[]},{"itemId":"20f4725a-5dc1-4543-a153-7795cd789463″,"text":"Autographed","properties":{"link":"http://auctions.mlb.com/iSynApp/allAuction.action?sid=1101001&rc=25&selectedCatId=17342&sort=timeleft_asc&pgmode2=catpage"},"menuItems":[]},{"itemId":"f4f69cd4-2549-45f2-ba63-d97ddb0b564c","text":"Jerseys","properties":{"link":"https://www.mlbshop.com/jerseys/d-1250336792+z-990485-1677480024?_s=bm-mlbcom-hp","customProperties":""},"menuItems":[]},{"itemId":"a67b9b28-c511-47a8-87e6-594cb719c787″,"text":"Caps","properties":{"link":"https://www.mlbshop.com/caps/d-3494554436+z-921549-1032840697?_s=bm-mlbcom-hp","customProperties":""},"menuItems":[]},{"itemId":"f5b9b657-5322-40c1-b2e8-1bd31e27abf6″,"text":"Men's","properties":{"link":"https://www.mlbshop.com/men/ga-12+z-9112397524-3608394688?_s=bm-mlbcom-hp","customProperties":""},"menuItems":[]},{"itemId":"dfa13a6f-17fd-4a4a-9963-f3e3734e28bf","text":"Women's","properties":{"link":"https://www.mlbshop.com/women/ga-57+z-822989763-3950492570?_s=bm-mlbcom-hp","customProperties":""},"menuItems":[]},{"itemId":"c2bf810b-0d1f-4135-b7f8-919c53fc8cc2″,"text":"Kids","properties":{"link":"https://www.mlbshop.com/kids/ga-36+z-861270405-1171990865?_s=bm-mlbcom-hp","customProperties":""},"menuItems":[]},{"itemId":"1b321c96-eb8a-4077-9868-9420205878bc","text":"Collectibles & Memorabilia","properties":{"link":"https://www.mlbshop.com/collectibles-and-memorabilia/d-7883550038+z-87646-4052890706?_s=bm-mlbcom-hp","customProperties":""},"menuItems":[]},{"itemId":"91dcfa1d-f4de-4bf9-93f8-8f91f4069272″,"text":"Home & Office","properties":{"link":"https://www.mlbshop.com/home-and-office/d-3449556733+z-992406-855732365?_s=bm-mlbcom-hp","customProperties":""},"menuItems":[]},{"itemId":"c69e35fc-900e-4fcc-9348-085aa0febeab","text":"Gift Certificates","properties":{"link":"https://www.mlbshop.com/gift-cards/x-462351+z-94899005-3509039474?_s=bm-mlbcom-Home","customProperties":""},"menuItems":[]},{"itemId":"44958e84-599e-44b1-96b4-44f38a477942″,"text":"European Shop","properties":{"link":"http://www.mlbshopeurope.com/stores/mlb/en?portal=MLTS66FS&CMP=PSC-MLTS66FS","customProperties":""},"menuItems":[]},{"itemId":"51d3278e-90fd-4462-aec0-7cfd8de1cb79″,"text":"Photo Store","properties":{"link":"https://photostore.mlb.com/"},"menuItems":[]}]},{"itemId":"5052bac6-3f1d-4847-8739-42021d7cfc2d","text":"News","properties":{"link":"https://www.mlb.com/news","customProperties":"amp:true;"},"menuItems":[{"itemId":"7b725a20-961b-4511-bd88-20600551baf2″,"text":"In this section","properties":{"visible":"true"},"menuItems":[{"itemId":"82d45c9a-d055-4ab4-b785-576d982a2077″,"text":"Probable pitchers","properties":{"link":"https://www.mlb.com/probable-pitchers/","visible":"true","enabled":"true"},"menuItems":[]},{"itemId":"4bfdb502-31e4-49dd-bae1-89a4772d0739″,"text":"Prospect Rankings","properties":{"link":"https://www.mlb.com/prospects"},"menuItems":[]},{"itemId":"831050d9-d4d2-427f-85a3-fe56aad2682a","text":"Injury report","properties":{"link":"https://www.mlb.com/injury-report"},"menuItems":[]},{"itemId":"02f947b5-cc72-40f9-9f37-a97b37dcaef3″,"text":"Transactions","properties":{"link":"http://mlb.mlb.com/mlb/transactions/?tcid=mm_mlb_news"},"menuItems":[]},{"itemId":"f499f46a-a51b-443e-82aa-3b6006f9b306″,"text":"Starting Lineups","properties":{"link":"https://www.mlb.com/starting-lineups"},"menuItems":[]},{"itemId":"53776d17-03af-4b04-8840-45b6c624df6b","text":"Hall of Fame","properties":{"link":"https://www.mlb.com/hall-of-fame"},"menuItems":[]},{"itemId":"6ee1c331-faa0-4865-a062-1c98a2f67c0d","text":"Longform","properties":{"link":"https://www.mlb.com/news/topic/longform"},"menuItems":[]},{"itemId":"844e328c-713f-46da-8183-965d19eb7dd8″,"text":"Awards","properties":{"link":"https://www.mlb.com/awards"},"menuItems":[]},{"itemId":"c1ac7886-1d18-4ad8-9fc4-326ab4753144″,"text":"MLB Draft","properties":{"link":"https://www.mlb.com/draft/2020″},"menuItems":[]},{"itemId":"a0e4c375-afb7-4fc2-8ba3-4faa668698b9″,"text":"All-Star Game","properties":{"link":"https://www.mlb.com/all-star"},"menuItems":[]}]},{"itemId":"dc121961-fe11-49ac-92b5-a8797acafa7c","text":"Featured","properties":{},"menuItems":[{"itemId":"230d1ec0-9d0a-4a3f-a04c-3cf16474390f","text":"Pipeline","properties":{"link":"https://www.mlb.com/pipeline"},"menuItems":[]},{"itemId":"216ae480-9b79-4faa-a748-98a8604e5cde","text":"Play Ball","properties":{"link":"https://www.playball.org/"},"menuItems":[]},{"itemId":"c2182d4d-c537-410e-a63d-267e593fbb74″,"text":"Trivia & Quizzes","properties":{"link":"https://www.mlb.com/news/topic/trivia","enabled":"true","visible":"true"},"menuItems":[]},{"itemId":"d7d653b8-5585-44b7-b94f-226b51681ed8″,"text":"MLB Photos","properties":{"link":"https://www.mlb.com/photos/home"},"menuItems":[]},{"itemId":"eb4bceb4-bb14-4a84-8b60-12e51dab40f8″,"text":"Offbeat","properties":{"link":"https://www.mlb.com/news/topic/offbeat"},"menuItems":[]},{"itemId":"28a2e573-86ba-4cdc-a924-86d3b6500979″,"text":"Glossary","properties":{"link":"https://www.mlb.com/glossary"},"menuItems":[]},{"itemId":"7e424446-ea76-4b0d-8dc0-e7ee108993ef","text":"Rare Feats","properties":{"link":"https://www.mlb.com/news/topic/rare-feats"},"menuItems":[]},{"itemId":"38b78c07-c2e2-40be-9172-fb2ddc1d1817″,"text":"Trade Trees","properties":{"link":"https://www.mlb.com/news/topic/trade-trees-coverage"},"menuItems":[]}]}]},{"itemId":"86b4ade1-0488-40d3-8472-b1e323f23914″,"text":"Video","properties":{"link":"https://www.mlb.com/video","customProperties":"mobile:true;amp:true;"},"menuItems":[{"itemId":"bbddb943-54df-4d88-a3ee-14265e727677″,"text":"In this section","properties":{"customProperties":""},"menuItems":[{"itemId":"d6f95b2e-b8ee-41f0-a313-e74537eff685″,"text":"Film Room","properties":{"link":"https://www.mlb.com/video/search"},"menuItems":[]},{"itemId":"a24a8e9d-471b-4626-9535-28e1b8f62bad","text":"Watch Live Games","properties":{"link":"https://www.mlb.com/live-stream-games?affiliateId=mlbMENU"},"menuItems":[]},{"itemId":"fb982f48-2253-46ec-84f2-ec3282782fb8″,"text":"Condensed Games","properties":{"link":"https://www.mlb.com/video/topic/condensed-games"},"menuItems":[]},{"itemId":"0f387774-edb6-4e09-84c1-3b6f9a8c65d5″,"text":"Game Recaps","properties":{"link":"https://www.mlb.com/video/topic/daily-recaps","enabled":"true"},"menuItems":[]},{"itemId":"3dcbafe8-f9f6-4a32-8534-7a00b6b07f4c","text":"Daily FastCast","properties":{"link":"https://www.mlb.com/video/topic/fastcast"},"menuItems":[]},{"itemId":"830b3ff1-c650-48a0-b8ee-6c910acc0204″,"text":"Instant Replay","properties":{"link":"https://www.mlb.com/video/topic/replay-review"},"menuItems":[]},{"itemId":"286ad1ca-abe4-4d67-b80a-9020e756750e","text":"MLB Network","properties":{"link":"https://www.mlb.com/network"},"menuItems":[]},{"itemId":"948d378c-7d73-49b1-b5ba-8729c59bca9a","text":"Podcasts","properties":{"link":"https://www.mlb.com/podcasts"},"menuItems":[]},{"itemId":"e95e19ff-2024-4d84-b9e5-d5f0d1831e5b","text":"Business of Baseball","properties":{"link":"https://www.mlb.com/video/topic/business-of-baseball"},"menuItems":[]},{"itemId":"bf659638-4fb7-4c46-be4c-49b736c0fd69″,"text":"Untouchable Pitches","properties":{"link":"https://www.mlb.com/es/video/topic/untouchable-pitches-cristal-products?cacheBurro"},"menuItems":[]}]},{"itemId":"74f35bdb-7baf-4fa5-abb5-3c3613fa00fe","text":"Featured","properties":{"customProperties":""},"menuItems":[{"itemId":"d87342bf-bac9-4811-9863-4a5d7ddabe94″,"text":"Most Popular","properties":{"link":"https://www.mlb.com/video"},"menuItems":[]},{"itemId":"b4deff8a-ac2f-46bd-924a-108c63e6d4a6″,"text":"Home Runs","properties":{"link":"https://www.mlb.com/video/topic/home-runs"},"menuItems":[]},{"itemId":"6a7e200b-2443-4e01-b95a-16bf6326a089″,"text":"Walk-Offs","properties":{"link":"https://www.mlb.com/video/topic/walk-offs"},"menuItems":[]},{"itemId":"b56c8c85-d75f-4511-8276-0246a51f83e6″,"text":"Comebacks","properties":{"link":"https://www.mlb.com/video/topic/comebacks"},"menuItems":[]},{"itemId":"e9fc5098-1904-4089-8fa2-c4b3d9a0feaf","text":"Top Defensive Plays","properties":{"link":"https://www.mlb.com/video/topic/top-defensive-plays"},"menuItems":[]},{"itemId":"d1a89b62-ed0e-4df5-a65d-9471b06eb3ad","text":"Grand Slams","properties":{"link":"https://www.mlb.com/video/topic/grand-slams"},"menuItems":[]},{"itemId":"c19fb88b-a3c7-4141-a616-0299dc17e774″,"text":"Best of Statcast","properties":{"link":"https://www.mlb.com/video/topic/statcast"},"menuItems":[]},{"itemId":"4cdb4f64-f058-43e3-a0f3-a078c3701cc9″,"text":"Let's Rally","properties":{"link":"https://www.mlb.com/video/topic/rallies"},"menuItems":[]},{"itemId":"3d4947a4-61d9-4ce6-9bec-5ef974a5aff1″,"text":"Must C","properties":{"link":"https://www.mlb.com/video/topic/curtain-calls"},"menuItems":[]},{"itemId":"ea8c81d8-3594-4318-b95e-7d7c4c92c1db","text":"Legendary Moments","properties":{"link":"https://www.mlb.com/video/topic/key-moments"},"menuItems":[]},{"itemId":"550155b7-3825-4c73-bf84-0250dec41903″,"text":"Carry the Freight","properties":{"link":"https://www.mlb.com/video/topic/carry-the-freight"},"menuItems":[]}]}]},{"itemId":"7c68f445-5095-46cc-bab3-73af6c921597″,"text":"Scores","properties":{"link":"https://www.mlb.com/scores","customProperties":"mobile:true;amp:true;","visible":"true"},"menuItems":[]},{"itemId":"9efaf5e3-6a93-4e4f-b8af-1219110ecb30″,"text":"Stats","properties":{"link":"https://www.mlb.com/stats","customProperties":"mobile:true;amp:true;"},"menuItems":[{"itemId":"c26bdb6a-e2f7-48dc-bd44-39e522f7b5ca","text":"2021 Spring Training Stats","properties":{"link":"https://www.mlb.com/stats/2021/spring-training"},"menuItems":[]},{"itemId":"f31b263b-34d4-46ab-aa46-9796e93b048b","text":"2020 Regular Season Stats","properties":{"link":"https://www.mlb.com/stats/2020″},"menuItems":[]},{"itemId":"62c5195b-2630-4d9e-9896-6aee0709aeee","text":"2020 Sortable Team Stats","properties":{"link":"https://www.mlb.com/stats/team/2020″},"menuItems":[]},{"itemId":"41566816-1cb8-421f-9a4a-9ccdefa7ed69″,"text":"Statcast Leaders","properties":{"link":"https://baseballsavant.mlb.com/statcast_leaderboard"},"menuItems":[]},{"itemId":"2d0a2684-64c6-4d9f-87a1-a7cf9f661e2f","text":"Baseball Savant","properties":{"link":"https://baseballsavant.mlb.com/"},"menuItems":[]},{"itemId":"b9d0ae31-f31d-449b-82fb-5a77f59293ba","text":"Top Prospect Stats","properties":{"link":"/prospects/stats/top-prospects?type=all&dateRange=Year2019&minPA=1″},"menuItems":[]},{"itemId":"2ae90479-df9d-458e-a47e-7acf851728e7″,"text":"Offseason Leagues","properties":{"link":"http://mlb.mlb.com/milb/stats/?tcid=mm_mlb_stats","customProperties":""},"menuItems":[]},{"itemId":"cf9eab1e-1dba-458c-949b-8db03f86d49e","text":"Glossary","properties":{"link":"http://m.mlb.com/glossary"},"menuItems":[]}]},{"itemId":"6af88ec1-9bfe-4494-abc0-898dc919a081″,"text":"Standings","properties":{"link":"https://www.mlb.com/standings","customProperties":"mobile:true;amp:true;"},"menuItems":[{"itemId":"a9713ec1-4849-41b5-8f0b-fa0746a205e4″,"text":"2021 Spring Training Standings","properties":{"link":"https://www.mlb.com/standings/spring-training/2021″,"customProperties":""},"menuItems":[]},{"itemId":"4c250046-6a0d-4352-b3f2-3059a5881c2a","text":"2020 Regular Season Standings","properties":{"link":"https://www.mlb.com/standings/regular-season/2020″},"menuItems":[]},{"itemId":"a84f52a4-d7d4-4661-b193-8c81901e8e7e","text":"2020 Advanced Standings","properties":{"link":"https://www.mlb.com/standings/regular-season/advanced-splits/2020″},"menuItems":[]}]},{"itemId":"248fea7e-1d19-452a-bb5c-999e1a09b7cd","text":"Schedule","properties":{"link":"https://www.mlb.com/schedule","customProperties":"amp:true;"},"menuItems":[{"itemId":"12fd9194-8902-43f1-9686-f9f321c90450″,"text":"2021 Regular Season","properties":{"link":"https://www.mlb.com/schedule/2021-04-01″},"menuItems":[]},{"itemId":"74ae0fd1-28f5-41ab-8861-23d056482243″,"text":"2021 Spring Training","properties":{"link":"https://www.mlb.com/schedule/2021-02-28″},"menuItems":[]},{"itemId":"6aae1937-f9bd-4929-847a-74c4808cc993″,"text":"2020 Postseason","properties":{"link":"https://www.mlb.com/postseason"},"menuItems":[]},{"itemId":"f4010b7a-902c-41e0-b405-e0fa695b5c64″,"text":"2020 Regular Season","properties":{"link":"https://www.mlb.com/schedule/2020-07-23″},"menuItems":[]},{"itemId":"94c9d7e4-3477-4217-87f3-008d2290b9ee","text":"Important Dates","properties":{"link":"https://www.mlb.com/schedule/events#important-dates"},"menuItems":[]},{"itemId":"d3566c69-34a7-4e6c-b2bb-28203c847f9e","text":"Probable Pitchers","properties":{"link":"https://www.mlb.com/probable-pitchers"},"menuItems":[]},{"itemId":"3747c1bc-9b3d-43f5-bd04-d1274c59c02a","text":"Team by Team Schedule","properties":{"link":"https://www.mlb.com/schedule/team-by-team"},"menuItems":[]},{"itemId":"e75ecc62-7e72-4b53-9705-a23e2b511f83″,"text":"National Broadcasts","properties":{"link":"http://mlb.mlb.com/mlb/official_info/broadcasts/national.jsp?tcid=mm_mlb_schedule"},"menuItems":[]},{"itemId":"bce30443-7f92-4c61-979f-058e5e6ebe17″,"text":"Sunday Night Broadcasts","properties":{"link":"http://m.mlb.com/promo/sunday-night-broadcasts"},"menuItems":[]}]},{"itemId":"8c842eeb-dedd-430c-a452-57a740d5c3df","text":"Players","properties":{"link":"https://www.mlb.com/players","customProperties":"","icon":"group"},"menuItems":[{"itemId":"650da3ef-b96d-4a7d-bf4b-47a55b2e6cb3″,"text":"Players A to Z","properties":{"link":"https://www.mlb.com/players"},"menuItems":[]},{"itemId":"b971e11e-c0ea-4f42-a693-a9e18e15447f","text":"Injury updates","properties":{"link":"https://www.mlb.com/injury-report"},"menuItems":[]},{"itemId":"76a61c3c-c73a-497a-9d6f-f762ad0fdecd","text":"Depth Charts","properties":{"link":"http://mlb.mlb.com/team/depth_chart/index.jsp"},"menuItems":[]},{"itemId":"b30fe902-714f-4f74-a901-d2397c750dab","text":"Transactions","properties":{"link":"http://mlb.mlb.com/mlb/transactions/?tcid=mm_mlb_players"},"menuItems":[]},{"itemId":"3e585331-af20-4e73-8419-2067bed2677c","text":"Starting Lineups","properties":{"link":"https://www.mlb.com/starting-lineups"},"menuItems":[]},{"itemId":"a327060e-962d-428e-91ee-40522edcda03″,"text":"Prospect Rankings","properties":{"link":"https://www.mlb.com/prospects"},"menuItems":[]},{"itemId":"a30f9694-b2cd-4a2a-9118-d3c7f00b39b1″,"text":"Mobile Player Alerts","properties":{"link":"http://mlb.mlb.com/mobile/text.jsp?tcid=mm_mlb_players"},"menuItems":[]},{"itemId":"f45e2471-de5a-4a07-b035-43f1b405f296″,"text":"MLB Players Association","properties":{"link":"http://mlb.mlb.com/pa/index.jsp"},"menuItems":[]},{"itemId":"6e855928-8a3d-41b6-8adc-71fe99a9508b","text":"Probable Pitchers","properties":{"link":"https://www.mlb.com/probable-pitchers"},"menuItems":[]},{"itemId":"e7ba059f-ad80-486d-bf9f-3992d718f129″,"text":"Negro Leagues","properties":{"link":"https://www.mlb.com/history/negro-leagues"},"menuItems":[]}]},{"itemId":"781f2bb2-a66a-44be-8fee-b0a0250d60e6″,"text":"Play Ball","properties":{"link":"https://www.playball.org/","target":"_blank","customProperties":"topNav:false;","icon":"baseball"},"menuItems":[{"itemId":"2a74747c-e482-42f5-b750-ce710dea6568″,"text":"PlayBall.org","properties":{"link":"https://www.playball.org/","target":"_blank"},"menuItems":[]},{"itemId":"9f5ab700-d2c0-43be-a398-6926ceef9e1c","text":"Hank Aaron Invitational","properties":{"link":"https://www.mlb.com/hank-aaron-invitational"},"menuItems":[]},{"itemId":"d7c7e170-573e-45c1-a1ab-b1bd3aec819f","text":"Videos","properties":{"link":"https://www.mlb.com/video/topic/play-ball"},"menuItems":[]},{"itemId":"5be26d3e-4ff2-4a84-8ea5-92aef9d759b2″,"text":"Photos","properties":{"link":"https://www.playball.org/photos"},"menuItems":[]},{"itemId":"14d9fdc8-ba24-44cf-9a77-7a867852f418″,"text":"News","properties":{"link":"https://www.mlb.com/news/topic/youth-baseball"},"menuItems":[]},{"itemId":"4c876067-e576-4874-b914-d86fe7f4a538″,"text":"Pitch Smart","properties":{"link":"https://www.mlb.com/pitch-smart"},"menuItems":[]},{"itemId":"6996ed01-d31d-4fc4-8d0d-a5baf177f69a","text":"Play Ball Near You","properties":{"link":"https://www.playball.org/playball-near-you"},"menuItems":[]},{"itemId":"4e66a4b2-0f27-483c-81d4-f27b0b630eac","text":"States Play","properties":{"link":"https://www.mlb.com/states-play"},"menuItems":[]},{"itemId":"aed729a5-4ff6-45cc-868c-f90b9b9190af","text":"MLB TOUR","properties":{"link":"https://www.mlb.com/mlb-tour"},"menuItems":[]},{"itemId":"28d79b33-aebd-4685-9cc9-c4ccce1262f8″,"text":"RBI","properties":{"link":"https://www.mlb.com/rbi"},"menuItems":[]},{"itemId":"18001329-d9d0-47b9-b2e0-5043b69cee9e","text":"Pitch, Hit & Run","properties":{"link":"https://www.mlb.com/pitch-hit-and-run"},"menuItems":[]},{"itemId":"df867e3c-db53-4d4f-9958-e10cb0939c8a","text":"Jr. Home Run Derby","properties":{"link":"https://www.mlb.com/junior-home-run-derby"},"menuItems":[]},{"itemId":"6af5ec56-5e26-45b3-93d6-2f79d929c046″,"text":"MLB Pipeline","properties":{"link":"https://www.mlb.com/pipeline"},"menuItems":[]},{"itemId":"bc715814-2692-4bde-9b1d-99cbd9ada5dc","text":"Youth Academies","properties":{"link":"https://www.mlb.com/mlb-youth-academy"},"menuItems":[]},{"itemId":"26715913-0ae8-4106-baa4-3d914b0a33b0″,"text":"Breakthrough Series","properties":{"link":"https://www.mlb.com/breakthrough-series"},"menuItems":[]},{"itemId":"56cb414b-eb00-4632-8acc-81d74ee4745e","text":"Elite Development Invitational","properties":{"link":"https://www.mlb.com/elite-development-invitational"},"menuItems":[]},{"itemId":"04697c74-2811-4d84-8150-aa1016aa6272″,"text":"USA Baseball","properties":{"link":"https://www.usabaseball.com/","target":"_blank"},"menuItems":[]},{"itemId":"ae77ea02-173a-4439-be6c-9ee75225bd50″,"text":"USA Softball","properties":{"link":"http://www.teamusa.org/USA-Softball","target":"_blank"},"menuItems":[]},{"itemId":"c293b7e0-f056-4102-89cd-d20649d4eff0″,"text":"Dream Series","properties":{"link":"https://www.mlb.com/dream-series"},"menuItems":[]},{"itemId":"181a47ba-9ea0-4a7a-8924-ccedef1cd372″,"text":"Trailblazer Series","properties":{"link":"https://www.mlb.com/trailblazer-series"},"menuItems":[]}]},{"itemId":"mlb-fans","text":"Fans","properties":{"link":"https://www.mlb.com/fans"},"menuItems":[{"itemId":"25c7540a-c3a3-42e8-a8f8-1e3be9f5d4fe","text":"MLB Kids","properties":{"link":"https://www.mlb.com/fans/kids"},"menuItems":[]},{"itemId":"8ee0a750-a1d7-4c8f-80ee-cb7beb4268ff","text":"MLB International","properties":{"link":"https://www.mlb.com/international/"},"menuItems":[]},{"itemId":"841025ef-a361-46e1-b5d0-c963c1a42827″,"text":"Postseason Publications","properties":{"link":"https://www.mlb.com/postseason/publications"},"menuItems":[]},{"itemId":"59ffbbaf-a56c-4cb4-b874-d5a5ce36c9f1″,"text":"MLB Newsletters","properties":{"link":"https://www.mlb.com/fans/newsletters"},"menuItems":[]},{"itemId":"9e37a80a-34da-4e92-ae40-8462146aef1c","text":"Virtual Backgrounds","properties":{"link":"https://www.mlb.com/fans/virtual-backgrounds"},"menuItems":[]},{"itemId":"ef7c9f4a-5e11-4700-aad3-b29a8c5acc4c","text":"Podcasts","properties":{"link":"https://www.mlb.com/fans/podcasts"},"menuItems":[]},{"itemId":"fcc0e750-dbe2-47b3-b681-0e3e379390c8″,"text":"Walk-Up Music","properties":{"link":"https://www.mlb.com/fans/music"},"menuItems":[]},{"itemId":"ad51f9be-9a3e-41d5-83aa-27d4351d583f","text":"Connect with MLB","properties":{"link":"https://www.mlb.com/social"},"menuItems":[]},{"itemId":"5d6dbbbf-fdff-41e7-b187-793bdb998ec8″,"text":"MLB Photos","properties":{"link":"https://www.mlb.com/photos/home"},"menuItems":[]}]},{"itemId":"832ad058-32b1-4fbd-940d-a68456ad3c25″,"text":"Fantasy","properties":{"link":"https://www.mlb.com/fantasy","customProperties":""},"menuItems":[{"itemId":"ee7dde99-2f2c-49e4-a5df-b319f51afa21″,"text":"Yahoo Fantasy Baseball","properties":{"target":"","link":"http://yhoo.it/3aK5QQw"},"menuItems":[]},{"itemId":"82ecd1d5-6055-4846-99de-2e5d99461009″,"text":"MLB Rally","properties":{"link":"https://www.mlb.com/apps/rally","visible":"true"},"menuItems":[]},{"itemId":"82b08ad3-ff33-4c90-8303-277dbf8190a3″,"text":"MLB Rally Quick Pick","properties":{"link":"https://www.mlb.com/apps/rally/quickpick"},"menuItems":[]},{"itemId":"4e35b374-27ca-40c1-8f4b-d0e861496179″,"text":"Postseason Bracket Challenge","properties":{"link":"https://www.mlb.com/brackets/postseason"},"menuItems":[]},{"itemId":"fa818f3d-e28a-4dce-8ed8-928d7000a1f6″,"text":"The Vault","properties":{"link":"https://www.mlb.com/the-vault"},"menuItems":[]},{"itemId":"5342efbb-aee3-4b7a-bd6b-da451509d65b","text":"Yahoo Fantasy Baseball","properties":{"link":"https://yhoo.it/2w7w4vr","visible":"false"},"menuItems":[]},{"itemId":"36bd3b31-a5df-4061-9abb-33d42ffa1818″,"text":"R.B.I. Baseball 21″,"properties":{"link":"https://www.rbigame.com"},"menuItems":[]},{"itemId":"3dab9102-cd2d-442e-ab8a-ad07d7b159f4″,"text":"MLB Home Run Derby 2020″,"properties":{"link":"https://www.mlb.com/fantasy/home-run-derby"},"menuItems":[]},{"itemId":"7af822e8-dc82-4b7e-818a-97080c0938f2″,"text":"Closer Report","properties":{"link":"https://www.mlb.com/closer-report"},"menuItems":[]},{"itemId":"c2b4eeef-ec9c-4c5b-831c-1edca0316768″,"text":"Prospect Rankings","properties":{"link":"https://www.mlb.com/prospects"},"menuItems":[]},{"itemId":"3b212a3b-4687-4ea7-a276-3e780e18210c","text":"MLB Champions","properties":{"link":"https://www.mlbc-app.com/?ref=mlbcom"},"menuItems":[]}]},{"itemId":"f857d698-35a3-4b1b-8e88-d92056ca5507″,"text":"Apps","properties":{"link":"https://www.mlb.com/apps","customProperties":"topNav:false;"},"menuItems":[{"itemId":"c974a38d-8537-4d03-9dfa-681ac5bd0f08″,"text":"MLB","properties":{"link":"https://www.mlb.com/apps/mlb-app"},"menuItems":[]},{"itemId":"13d77816-460d-4783-8ed7-f1ff1d3a97ed","text":"MLB Rally","properties":{"link":"https://www.mlb.com/apps/rally","visible":"true"},"menuItems":[]},{"itemId":"89f7398c-7a79-46e4-a8cd-843a44ceee13″,"text":"MLB Ballpark","properties":{"link":"https://www.mlb.com/apps/ballpark"},"menuItems":[]},{"itemId":"03c8451e-6437-4aa6-8b5d-50c3fedad25e","text":"MiLB First Pitch","properties":{"link":"https://www.milb.com/about/first-pitch"},"menuItems":[]},{"itemId":"5d19666b-0c26-48ad-8465-09ed9f28dfc2″,"text":"R.B.I. Baseball 21″,"properties":{"link":"https://www.rbigame.com"},"menuItems":[]},{"itemId":"94808840-9046-445e-9a6a-83016bdadb72″,"text":"MLB Home Run Derby 2020″,"properties":{"link":"https://www.mlb.com/fantasy/home-run-derby"},"menuItems":[]},{"itemId":"fbe4d233-e766-4207-8886-55a2fc1f7f74″,"text":"MLB FAQs","properties":{"link":"https://www.mlb.com/apps/mlb-app/faq-apple"},"menuItems":[]},{"itemId":"34d7bc2e-a216-4956-8105-b42f2ba4bea3″,"text":"MLB Ballpark FAQs","properties":{"link":"https://www.mlb.com/apps/ballpark/faq-apple"},"menuItems":[]},{"itemId":"c081befb-bde5-446d-a4d4-c9292d29d525″,"text":"MLB Rally FAQs","properties":{"link":"https://www.mlb.com/apps/rally/faq-apple","visible":"true"},"menuItems":[]}]},{"itemId":"57ec62ff-6517-49b7-8bef-7a3edc6874cb","text":"Auction","properties":{"link":"http://auction.mlb.com/","visible":"false","customProperties":"topNav:false;"},"menuItems":[{"itemId":"3ea7f7ac-0734-47d9-8804-967eba72da0e","text":"Authentication","properties":{"link":"https://www.mlb.com/authentication"},"menuItems":[]},{"itemId":"e3e18801-29de-4b11-86ac-a475342dff41″,"text":"Autographed","properties":{"link":"http://auctions.mlb.com/iSynApp/allAuction.action?sid=1101001&rc=25&selectedCatId=17342&sort=timeleft_asc&pgmode2=catpage"},"menuItems":[]},{"itemId":"f4c0200f-4437-47c0-8c15-1a54c26d22c0″,"text":"Baseball Cards","properties":{"link":"http://www.baseballcards.mlb.com/"},"menuItems":[]},{"itemId":"21b7a4a2-6c76-47b5-af79-51dc0334f2c9″,"text":"Baseballs","properties":{"link":"http://auctions.mlb.com/iSynApp/allAuction.action?sid=1101001&rc=25&selectedCatId=13020&sort=timeleft_asc&pgmode2=catpage"},"menuItems":[]},{"itemId":"6b056370-0888-43e4-9f8c-8100e2ee7653″,"text":"Bats","properties":{"link":"http://auctions.mlb.com/iSynApp/allAuction.action?sid=1101001&rc=25&selectedCatId=13041&sort=timeleft_asc&pgmode2=catpage"},"menuItems":[]},{"itemId":"1b036e35-5977-4af1-9cb0-736c76d18ec4″,"text":"Caps","properties":{"link":"http://auctions.mlb.com/iSynApp/allAuction.action?sid=1101001&rc=25&selectedCatId=13021&sort=timeleft_asc&pgmode2=catpage"},"menuItems":[]},{"itemId":"74ae99a1-5ed5-44e4-842c-b49dc99e982d","text":"Experiences","properties":{"link":"http://auctions.mlb.com/iSynApp/allAuction.action?sid=1101001&rc=25&selectedCatId=13060&sort=timeleft_asc&pgmode2=catpage"},"menuItems":[]},{"itemId":"d41a4007-2f65-4b0f-a0a8-7df58870e507″,"text":"Game-Used","properties":{"link":"http://auctions.mlb.com/iSynApp/allAuction.action?sid=1101001&rc=25&selectedCatId=13022&sort=timeleft_asc&pgmode2=catpage"},"menuItems":[]},{"itemId":"aafaf49c-cfb9-432d-9119-f86a64fdbb27″,"text":"Jerseys","properties":{"link":"http://auctions.mlb.com/iSynApp/allAuction.action?sid=1101001&rc=25&selectedCatId=13062&sort=timeleft_asc&pgmode2=catpage"},"menuItems":[]},{"itemId":"c0be3bdb-025a-42ac-b09d-c391d058342b","text":"Photos","properties":{"link":"http://auctions.mlb.com/iSynApp/allAuction.action?sid=1101001&rc=25&selectedCatId=13024&sort=timeleft_asc&pgmode2=catpage"},"menuItems":[]}]},{"itemId":"98430c25-7924-4112-a70f-0b32fd31594f","text":"Teams","properties":{"link":"https://www.mlb.com/team","customProperties":"amp:true;module:teammodule;align:right;"},"menuItems":[{"itemId":"9191834c-54c4-40a7-8aac-9745d3666084″,"text":"Team Module","properties":{"customProperties":"module:teammodule;"},"menuItems":[]}]},{"itemId":"397b9e10-6d65-4fc0-bbe6-8d07f5e8d3a8″,"text":"ES","properties":{"link":"https://www.mlb.com/es","customProperties":"align:right;","toolTip":"Español"},"menuItems":[{"itemId":"ceb83c80-eaf2-4dd4-bdc6-e23b1e11ae60″,"text":"日本語","properties":{"link":"http://www.mlb.jp/","customProperties":"lang:ja"},"menuItems":[]},{"itemId":"27ac6728-00c1-4965-963b-05d33268fb50″,"text":"한국어","properties":{"link":"http://mlb.mbcsportsplus.com/","customProperties":"lang:ko"},"menuItems":[]}]}]},"locale":"en","reqPath":"/news/wrigley-field-to-host-limited-numbers-of-cubs-fans","sharedNav":{"instanceId":"6c265854-d856-4f92-aea1-07dfe5cda020″,"name":"shared-nav","variables":[],"menuItems":[{"itemId":"93b3e9b2-65a9-4585-9185-03e255cb523c","text":"MLB.TV","properties":{"link":"https://www.mlb.com/tv?&affiliateId=clubMENU","icon":"watch","customProperties":"align:right;"},"menuItems":[{"itemId":"162f5687-7f5b-4422-a782-133dc3db8aa0″,"text":"Buy MLB.TV","properties":{"link":"https://www.mlb.com/live-stream-games/subscribe?&affiliateId=clubMENU"},"menuItems":[]},{"itemId":"f75d3e53-5cc5-4eb5-b64d-7e72c3f601b9″,"text":"Buy MLB Audio","properties":{"link":"https://www.mlb.com/live-stream-games/subscribe/mlb-audio?&affiliateId=clubMENU"},"menuItems":[]},{"itemId":"d54a2b21-9db9-4252-9ebe-e3a4b2a3cf83″,"text":"Watch MLB.TV","properties":{"link":"https://www.mlb.com/live-stream-games?&affiliateId=clubMENU"},"menuItems":[]},{"itemId":"2a0ee52e-dc18-4f5b-a5b2-9ab8bd1ee507″,"text":"MLB.TV Spring Training Schedule","properties":{"link":"https://www.mlb.com/live-stream-games/spring-training?&affiliateId=clubMENU"},"menuItems":[]},{"itemId":"2d8d6ad8-dc2a-4971-9b12-f1853530c5d3″,"text":"Watch MLB.TV Docs & Features","properties":{"link":"https://www.mlb.com/tv/featured?&affiliateId=clubMENU"},"menuItems":[]},{"itemId":"6254640c-2069-4447-822f-084d0a38f161″,"text":"MLB.TV Help Center","properties":{"link":"https://www.mlb.com/live-stream-games/help-center?&affiliateId=clubMENU"},"menuItems":[]},{"itemId":"6d167d3d-4063-43ae-b13c-283e83c0e91c","text":"MLB.TV with Extra Innings","properties":{"link":"https://www.mlb.com/live-stream-games/third-party?&affiliateId=clubMENU"},"menuItems":[]}]},{"itemId":"d54d0be0-f610-4f8b-90ac-c246c361e2e2″,"text":"Fantasy","properties":{"link":"https://www.mlb.com/fantasy"},"menuItems":[{"itemId":"5ec4bde4-6bc1-412b-a92b-6b7cb3b2f07c","text":"Yahoo Fantasy Baseball","properties":{"link":"http://yhoo.it/3aK5QQw","visible":"true"},"menuItems":[]},{"itemId":"b2a63b51-03fc-423d-971e-1e566f6008f4″,"text":"MLB Rally","properties":{"link":"https://www.mlb.com/apps/rally","visible":"true"},"menuItems":[]},{"itemId":"f6929b88-632d-4a6f-ba73-8a64fccba1b0″,"text":"MLB Rally Quick Pick","properties":{"link":"https://www.mlb.com/apps/rally/quickpick"},"menuItems":[]},{"itemId":"0ebe9e5d-3fc7-48d2-acb1-c33eb931b911″,"text":"Postseason Bracket Challenge","properties":{"link":"https://www.mlb.com/brackets/postseason"},"menuItems":[]},{"itemId":"14aa1d4b-0193-4670-a1fc-b4386d4977e8″,"text":"The Vault","properties":{"link":"https://www.mlb.com/the-vault"},"menuItems":[]},{"itemId":"1543c12c-66d1-4033-9e05-c025fcb71a6a","text":"R.B.I. Baseball 21″,"properties":{"link":"https://www.rbigame.com"},"menuItems":[]},{"itemId":"4e0abdd4-8a0f-4bc5-838f-91dd2796041e","text":"MLB Home Run Derby 2020″,"properties":{"link":"https://www.mlb.com/fantasy/home-run-derby"},"menuItems":[]},{"itemId":"9f1ff266-0ed8-4adb-ba77-428d1871b237″,"text":"Closer Report","properties":{"link":"https://www.mlb.com/closer-report"},"menuItems":[]},{"itemId":"4c4f57bd-e31a-46c9-8f73-0fa2227451d3″,"text":"Prospect Rankings","properties":{"link":"https://www.mlb.com/prospects"},"menuItems":[]},{"itemId":"1ebe4dc3-2c6a-469f-be59-474fe14dbbd7″,"text":"MLB Champions","properties":{"link":"https://www.mlbc-app.com/?ref=mlbcom"},"menuItems":[]}]},{"itemId":"d1f61f89-9fd0-4f03-be17-2c5e128711a4″,"text":"Apps","properties":{"link":"https://www.mlb.com/apps"},"menuItems":[{"itemId":"83ac2ddf-414b-47d1-afec-ffacd068ab57″,"text":"MLB","properties":{"link":"https://www.mlb.com/apps/mlb-app"},"menuItems":[]},{"itemId":"83dbba73-02ac-4ba0-bebf-2c62ef04c19e","text":"MLB Rally","properties":{"link":"https://www.mlb.com/apps/rally","visible":"true"},"menuItems":[]},{"itemId":"e09e6978-fcf7-4c2f-8387-59d83b7be38e","text":"MLB Ballpark","properties":{"link":"https://www.mlb.com/apps/ballpark"},"menuItems":[]},{"itemId":"5e7b8019-9484-4872-abd7-8b963cd5969e","text":"MiLB First Pitch","properties":{"link":"https://www.milb.com/about/first-pitch"},"menuItems":[]},{"itemId":"e3a0183d-1b5f-4e56-9b81-02632ba4ec60″,"text":"R.B.I. Baseball 21″,"properties":{"link":"https://www.rbigame.com"},"menuItems":[]},{"itemId":"4fd8c1f8-a753-4501-916c-663390f1a566″,"text":"MLB Home Run Derby 2020″,"properties":{"link":"https://www.mlb.com/fantasy/home-run-derby"},"menuItems":[]},{"itemId":"9d8dfe8b-be1a-4ebf-9509-6bd0165a868e","text":"MLB FAQs","properties":{"link":"https://www.mlb.com/apps/mlb-app/faq-apple"},"menuItems":[]},{"itemId":"df4e8527-e357-4272-bcf7-61876ed9455d","text":"MLB Ballpark FAQs","properties":{"link":"https://www.mlb.com/apps/ballpark/faq-apple","visible":"true"},"menuItems":[]},{"itemId":"c2943c65-a843-437a-9ef4-4ccfe5be088f","text":"MLB Rally FAQs","properties":{"link":"https://www.mlb.com/apps/rally/faq-apple","visible":"true"},"menuItems":[]}]}]},"styleProps":{},"teamNameSlug":"","teamsData":[{"id":133,"name":"Oakland Athletics","link":"/api/v1/teams/133″,"season":2021,"venue":{"id":10,"name":"Oakland Coliseum","link":"/api/v1/venues/10″,"location":{"city":"Oakland","state":"California","stateAbbrev":"CA","defaultCoordinates":{"latitude":37.751511,"longitude":-122.200698}},"timeZone":{"id":"America/Los_Angeles","offset":-8,"tz":"PST"}},"teamCode":"oak","fileCode":"oak","abbreviation":"OAK","teamName":"Athletics","locationName":"Oakland","firstYearOfPlay":"1901″,"league":{"id":103,"name":"American League","link":"/api/v1/league/103″},"division":{"id":200,"name":"American League West","link":"/api/v1/divisions/200″},"sport":{"id":1,"link":"/api/v1/sports/1″,"name":"Major League Baseball"},"shortName":"Oakland","springLeague":{"id":114,"name":"Cactus League","link":"/api/v1/league/114″,"abbreviation":"CL"},"allStarStatus":"N","active":true},{"id":134,"name":"Pittsburgh Pirates","link":"/api/v1/teams/134″,"season":2021,"venue":{"id":31,"name":"PNC Park","link":"/api/v1/venues/31″,"location":{"city":"Pittsburgh","state":"Pennsylvania","stateAbbrev":"PA","defaultCoordinates":{"latitude":40.446904,"longitude":-80.005753}},"timeZone":{"id":"America/New_York","offset":-5,"tz":"EST"}},"teamCode":"pit","fileCode":"pit","abbreviation":"PIT","teamName":"Pirates","locationName":"Pittsburgh","firstYearOfPlay":"1882″,"league":{"id":104,"name":"National League","link":"/api/v1/league/104″},"division":{"id":205,"name":"National League Central","link":"/api/v1/divisions/205″},"sport":{"id":1,"link":"/api/v1/sports/1″,"name":"Major League Baseball"},"shortName":"Pittsburgh","springLeague":{"id":115,"name":"Grapefruit League","link":"/api/v1/league/115″,"abbreviation":"GL"},"allStarStatus":"N","active":true},{"id":135,"name":"San Diego Padres","link":"/api/v1/teams/135″,"season":2021,"venue":{"id":2680,"name":"Petco Park","link":"/api/v1/venues/2680″,"location":{"city":"San Diego","state":"California","stateAbbrev":"CA","defaultCoordinates":{"latitude":32.707861,"longitude":-117.157278}},"timeZone":{"id":"America/Los_Angeles","offset":-8,"tz":"PST"}},"teamCode":"sdn","fileCode":"sd","abbreviation":"SD","teamName":"Padres","locationName":"San Diego","firstYearOfPlay":"1968″,"league":{"id":104,"name":"National League","link":"/api/v1/league/104″},"division":{"id":203,"name":"National League West","link":"/api/v1/divisions/203″},"sport":{"id":1,"link":"/api/v1/sports/1″,"name":"Major League Baseball"},"shortName":"San Diego","springLeague":{"id":114,"name":"Cactus League","link":"/api/v1/league/114″,"abbreviation":"CL"},"allStarStatus":"N","active":true},{"id":136,"name":"Seattle Mariners","link":"/api/v1/teams/136″,"season":2021,"venue":{"id":680,"name":"T-Mobile Park","link":"/api/v1/venues/680″,"location":{"city":"Seattle","state":"Washington","stateAbbrev":"WA","defaultCoordinates":{"latitude":47.591333,"longitude":-122.33251}},"timeZone":{"id":"America/Los_Angeles","offset":-8,"tz":"PST"}},"teamCode":"sea","fileCode":"sea","abbreviation":"SEA","teamName":"Mariners","locationName":"Seattle","firstYearOfPlay":"1977″,"league":{"id":103,"name":"American League","link":"/api/v1/league/103″},"division":{"id":200,"name":"American League West","link":"/api/v1/divisions/200″},"sport":{"id":1,"link":"/api/v1/sports/1″,"name":"Major League Baseball"},"shortName":"Seattle","springLeague":{"id":114,"name":"Cactus League","link":"/api/v1/league/114″,"abbreviation":"CL"},"allStarStatus":"N","active":true},{"id":137,"name":"San Francisco Giants","link":"/api/v1/teams/137″,"season":2021,"venue":{"id":2395,"name":"Oracle Park","link":"/api/v1/venues/2395″,"location":{"city":"San Francisco","state":"California","stateAbbrev":"CA","defaultCoordinates":{"latitude":37.778383,"longitude":-122.389448}},"timeZone":{"id":"America/Los_Angeles","offset":-8,"tz":"PST"}},"teamCode":"sfn","fileCode":"sf","abbreviation":"SF","teamName":"Giants","locationName":"San Francisco","firstYearOfPlay":"1883″,"league":{"id":104,"name":"National League","link":"/api/v1/league/104″},"division":{"id":203,"name":"National League West","link":"/api/v1/divisions/203″},"sport":{"id":1,"link":"/api/v1/sports/1″,"name":"Major League Baseball"},"shortName":"San Francisco","springLeague":{"id":114,"name":"Cactus League","link":"/api/v1/league/114″,"abbreviation":"CL"},"allStarStatus":"N","active":true},{"id":138,"name":"St. Louis Cardinals","link":"/api/v1/teams/138″,"season":2021,"venue":{"id":2889,"name":"Busch Stadium","link":"/api/v1/venues/2889″,"location":{"city":"St. Louis","state":"Missouri","stateAbbrev":"MO","defaultCoordinates":{"latitude":38.62256667,"longitude":-90.19286667}},"timeZone":{"id":"America/Chicago","offset":-6,"tz":"CST"}},"teamCode":"sln","fileCode":"stl","abbreviation":"STL","teamName":"Cardinals","locationName":"St. Louis","firstYearOfPlay":"1892″,"league":{"id":104,"name":"National League","link":"/api/v1/league/104″},"division":{"id":205,"name":"National League Central","link":"/api/v1/divisions/205″},"sport":{"id":1,"link":"/api/v1/sports/1″,"name":"Major League Baseball"},"shortName":"St. Louis","springLeague":{"id":115,"name":"Grapefruit League","link":"/api/v1/league/115″,"abbreviation":"GL"},"allStarStatus":"N","active":true},{"id":139,"name":"Tampa Bay Rays","link":"/api/v1/teams/139″,"season":2021,"venue":{"id":12,"name":"Tropicana Field","link":"/api/v1/venues/12″,"location":{"city":"St. Petersburg","state":"Florida","stateAbbrev":"FL","defaultCoordinates":{"latitude":27.767778,"longitude":-82.6525}},"timeZone":{"id":"America/New_York","offset":-5,"tz":"EST"}},"teamCode":"tba","fileCode":"tb","abbreviation":"TB","teamName":"Rays","locationName":"St. Petersburg","firstYearOfPlay":"1996″,"league":{"id":103,"name":"American League","link":"/api/v1/league/103″},"division":{"id":201,"name":"American League East","link":"/api/v1/divisions/201″},"sport":{"id":1,"link":"/api/v1/sports/1″,"name":"Major League Baseball"},"shortName":"Tampa Bay","springLeague":{"id":115,"name":"Grapefruit League","link":"/api/v1/league/115″,"abbreviation":"GL"},"allStarStatus":"N","active":true},{"id":140,"name":"Texas Rangers","link":"/api/v1/teams/140″,"season":2021,"venue":{"id":5325,"name":"Globe Life Field","link":"/api/v1/venues/5325″,"location":{"city":"Arlington","state":"Texas","stateAbbrev":"TX","defaultCoordinates":{"latitude":32.747299,"longitude":-97.081818}},"timeZone":{"id":"America/Chicago","offset":-6,"tz":"CST"}},"teamCode":"tex","fileCode":"tex","abbreviation":"TEX","teamName":"Rangers","locationName":"Arlington","firstYearOfPlay":"1961″,"league":{"id":103,"name":"American League","link":"/api/v1/league/103″},"division":{"id":200,"name":"American League West","link":"/api/v1/divisions/200″},"sport":{"id":1,"link":"/api/v1/sports/1″,"name":"Major League Baseball"},"shortName":"Texas","springLeague":{"id":114,"name":"Cactus League","link":"/api/v1/league/114″,"abbreviation":"CL"},"allStarStatus":"N","active":true},{"id":141,"name":"Toronto Blue Jays","link":"/api/v1/teams/141″,"season":2021,"venue":{"id":14,"name":"Rogers Centre","link":"/api/v1/venues/14″,"location":{"city":"Toronto","state":"Ontario","stateAbbrev":"ON","defaultCoordinates":{"latitude":43.64155,"longitude":-79.38915}},"timeZone":{"id":"America/Toronto","offset":-5,"tz":"EST"}},"teamCode":"tor","fileCode":"tor","abbreviation":"TOR","teamName":"Blue Jays","locationName":"Toronto","firstYearOfPlay":"1977″,"league":{"id":103,"name":"American League","link":"/api/v1/league/103″},"division":{"id":201,"name":"American League East","link":"/api/v1/divisions/201″},"sport":{"id":1,"link":"/api/v1/sports/1″,"name":"Major League Baseball"},"shortName":"Toronto","springLeague":{"id":115,"name":"Grapefruit League","link":"/api/v1/league/115″,"abbreviation":"GL"},"allStarStatus":"N","active":true},{"id":142,"name":"Minnesota Twins","link":"/api/v1/teams/142″,"season":2021,"venue":{"id":3312,"name":"Target Field","link":"/api/v1/venues/3312″,"location":{"city":"Minneapolis","state":"Minnesota","stateAbbrev":"MN","defaultCoordinates":{"latitude":44.981829,"longitude":-93.277891}},"timeZone":{"id":"America/Chicago","offset":-6,"tz":"CST"}},"teamCode":"min","fileCode":"min","abbreviation":"MIN","teamName":"Twins","locationName":"Minneapolis","firstYearOfPlay":"1901″,"league":{"id":103,"name":"American League","link":"/api/v1/league/103″},"division":{"id":202,"name":"American League Central","link":"/api/v1/divisions/202″},"sport":{"id":1,"link":"/api/v1/sports/1″,"name":"Major League Baseball"},"shortName":"Minnesota","springLeague":{"id":115,"name":"Grapefruit League","link":"/api/v1/league/115″,"abbreviation":"GL"},"allStarStatus":"N","active":true},{"id":143,"name":"Philadelphia Phillies","link":"/api/v1/teams/143″,"season":2021,"venue":{"id":2681,"name":"Citizens Bank Park","link":"/api/v1/venues/2681″,"location":{"city":"Philadelphia","state":"Pennsylvania","stateAbbrev":"PA","defaultCoordinates":{"latitude":39.90539086,"longitude":-75.16716957}},"timeZone":{"id":"America/New_York","offset":-5,"tz":"EST"}},"teamCode":"phi","fileCode":"phi","abbreviation":"PHI","teamName":"Phillies","locationName":"Philadelphia","firstYearOfPlay":"1883″,"league":{"id":104,"name":"National League","link":"/api/v1/league/104″},"division":{"id":204,"name":"National League East","link":"/api/v1/divisions/204″},"sport":{"id":1,"link":"/api/v1/sports/1″,"name":"Major League Baseball"},"shortName":"Philadelphia","springLeague":{"id":115,"name":"Grapefruit League","link":"/api/v1/league/115″,"abbreviation":"GL"},"allStarStatus":"N","active":true},{"id":144,"name":"Atlanta Braves","link":"/api/v1/teams/144″,"season":2021,"venue":{"id":4705,"name":"Truist Park","link":"/api/v1/venues/4705″,"location":{"city":"Atlanta","state":"Georgia","stateAbbrev":"GA","defaultCoordinates":{"latitude":33.890672,"longitude":-84.467641}},"timeZone":{"id":"America/New_York","offset":-5,"tz":"EST"}},"teamCode":"atl","fileCode":"atl","abbreviation":"ATL","teamName":"Braves","locationName":"Atlanta","firstYearOfPlay":"1871″,"league":{"id":104,"name":"National League","link":"/api/v1/league/104″},"division":{"id":204,"name":"National League East","link":"/api/v1/divisions/204″},"sport":{"id":1,"link":"/api/v1/sports/1″,"name":"Major League Baseball"},"shortName":"Atlanta","springLeague":{"id":115,"name":"Grapefruit League","link":"/api/v1/league/115″,"abbreviation":"GL"},"allStarStatus":"N","active":true},{"id":145,"name":"Chicago White Sox","link":"/api/v1/teams/145″,"season":2021,"venue":{"id":4,"name":"Guaranteed Rate Field","link":"/api/v1/venues/4″,"location":{"city":"Chicago","state":"Illinois","stateAbbrev":"IL","defaultCoordinates":{"latitude":41.83,"longitude":-87.634167}},"timeZone":{"id":"America/Chicago","offset":-6,"tz":"CST"}},"teamCode":"cha","fileCode":"cws","abbreviation":"CWS","teamName":"White Sox","locationName":"Chicago","firstYearOfPlay":"1901″,"league":{"id":103,"name":"American League","link":"/api/v1/league/103″},"division":{"id":202,"name":"American League Central","link":"/api/v1/divisions/202″},"sport":{"id":1,"link":"/api/v1/sports/1″,"name":"Major League Baseball"},"shortName":"Chi White Sox","springLeague":{"id":114,"name":"Cactus League","link":"/api/v1/league/114″,"abbreviation":"CL"},"allStarStatus":"N","active":true},{"id":146,"name":"Miami Marlins","link":"/api/v1/teams/146″,"season":2021,"venue":{"id":4169,"name":"Marlins Park","link":"/api/v1/venues/4169″,"location":{"city":"Miami","state":"Florida","stateAbbrev":"FL","defaultCoordinates":{"latitude":25.77796236,"longitude":-80.21951795}},"timeZone":{"id":"America/New_York","offset":-5,"tz":"EST"}},"teamCode":"mia","fileCode":"mia","abbreviation":"MIA","teamName":"Marlins","locationName":"Miami","firstYearOfPlay":"1991″,"league":{"id":104,"name":"National League","link":"/api/v1/league/104″},"division":{"id":204,"name":"National League East","link":"/api/v1/divisions/204″},"sport":{"id":1,"link":"/api/v1/sports/1″,"name":"Major League Baseball"},"shortName":"Miami","springLeague":{"id":115,"name":"Grapefruit League","link":"/api/v1/league/115″,"abbreviation":"GL"},"allStarStatus":"N","active":true},{"id":147,"name":"New York Yankees","link":"/api/v1/teams/147″,"season":2021,"venue":{"id":3313,"name":"Yankee Stadium","link":"/api/v1/venues/3313″,"location":{"city":"Bronx","state":"New York","stateAbbrev":"NY","defaultCoordinates":{"latitude":40.82919482,"longitude":-73.9264977}},"timeZone":{"id":"America/New_York","offset":-5,"tz":"EST"}},"teamCode":"nya","fileCode":"nyy","abbreviation":"NYY","teamName":"Yankees","locationName":"Bronx","firstYearOfPlay":"1903″,"league":{"id":103,"name":"American League","link":"/api/v1/league/103″},"division":{"id":201,"name":"American League East","link":"/api/v1/divisions/201″},"sport":{"id":1,"link":"/api/v1/sports/1″,"name":"Major League Baseball"},"shortName":"NY Yankees","springLeague":{"id":115,"name":"Grapefruit League","link":"/api/v1/league/115″,"abbreviation":"GL"},"allStarStatus":"N","active":true},{"id":158,"name":"Milwaukee Brewers","link":"/api/v1/teams/158″,"season":2021,"venue":{"id":32,"name":"American Family Field","link":"/api/v1/venues/32″,"location":{"city":"Milwaukee","state":"Wisconsin","stateAbbrev":"WI","defaultCoordinates":{"latitude":43.02838,"longitude":-87.97099}},"timeZone":{"id":"America/Chicago","offset":-6,"tz":"CST"}},"teamCode":"mil","fileCode":"mil","abbreviation":"MIL","teamName":"Brewers","locationName":"Milwaukee","firstYearOfPlay":"1968″,"league":{"id":104,"name":"National League","link":"/api/v1/league/104″},"division":{"id":205,"name":"National League Central","link":"/api/v1/divisions/205″},"sport":{"id":1,"link":"/api/v1/sports/1″,"name":"Major League Baseball"},"shortName":"Milwaukee","springLeague":{"id":114,"name":"Cactus League","link":"/api/v1/league/114″,"abbreviation":"CL"},"allStarStatus":"N","active":true},{"id":108,"name":"Los Angeles Angels","link":"/api/v1/teams/108″,"season":2021,"venue":{"id":1,"name":"Angel Stadium","link":"/api/v1/venues/1″,"location":{"city":"Anaheim","state":"California","stateAbbrev":"CA","defaultCoordinates":{"latitude":33.80019044,"longitude":-117.8823996}},"timeZone":{"id":"America/Los_Angeles","offset":-8,"tz":"PST"}},"teamCode":"ana","fileCode":"ana","abbreviation":"LAA","teamName":"Angels","locationName":"Anaheim","firstYearOfPlay":"1961″,"league":{"id":103,"name":"American League","link":"/api/v1/league/103″},"division":{"id":200,"name":"American League West","link":"/api/v1/divisions/200″},"sport":{"id":1,"link":"/api/v1/sports/1″,"name":"Major League Baseball"},"shortName":"LA Angels","springLeague":{"id":114,"name":"Cactus League","link":"/api/v1/league/114″,"abbreviation":"CL"},"allStarStatus":"N","active":true},{"id":109,"name":"Arizona Diamondbacks","link":"/api/v1/teams/109″,"season":2021,"venue":{"id":15,"name":"Chase Field","link":"/api/v1/venues/15″,"location":{"city":"Phoenix","state":"Arizona","stateAbbrev":"AZ","defaultCoordinates":{"latitude":33.445302,"longitude":-112.066687}},"timeZone":{"id":"America/Phoenix","offset":-7,"tz":"MST"}},"teamCode":"ari","fileCode":"ari","abbreviation":"ARI","teamName":"D-backs","locationName":"Phoenix","firstYearOfPlay":"1996″,"league":{"id":104,"name":"National League","link":"/api/v1/league/104″},"division":{"id":203,"name":"National League West","link":"/api/v1/divisions/203″},"sport":{"id":1,"link":"/api/v1/sports/1″,"name":"Major League Baseball"},"shortName":"Arizona","springLeague":{"id":114,"name":"Cactus League","link":"/api/v1/league/114″,"abbreviation":"CL"},"allStarStatus":"N","active":true},{"id":110,"name":"Baltimore Orioles","link":"/api/v1/teams/110″,"season":2021,"venue":{"id":2,"name":"Oriole Park at Camden Yards","link":"/api/v1/venues/2″,"location":{"city":"Baltimore","state":"Maryland","stateAbbrev":"MD","defaultCoordinates":{"latitude":39.283787,"longitude":-76.621689}},"timeZone":{"id":"America/New_York","offset":-5,"tz":"EST"}},"teamCode":"bal","fileCode":"bal","abbreviation":"BAL","teamName":"Orioles","locationName":"Baltimore","firstYearOfPlay":"1901″,"league":{"id":103,"name":"American League","link":"/api/v1/league/103″},"division":{"id":201,"name":"American League East","link":"/api/v1/divisions/201″},"sport":{"id":1,"link":"/api/v1/sports/1″,"name":"Major League Baseball"},"shortName":"Baltimore","springLeague":{"id":115,"name":"Grapefruit League","link":"/api/v1/league/115″,"abbreviation":"GL"},"allStarStatus":"N","active":true},{"id":111,"name":"Boston Red Sox","link":"/api/v1/teams/111″,"season":2021,"venue":{"id":3,"name":"Fenway Park","link":"/api/v1/venues/3″,"location":{"city":"Boston","state":"Massachusetts","stateAbbrev":"MA","defaultCoordinates":{"latitude":42.346456,"longitude":-71.097441}},"timeZone":{"id":"America/New_York","offset":-5,"tz":"EST"}},"teamCode":"bos","fileCode":"bos","abbreviation":"BOS","teamName":"Red Sox","locationName":"Boston","firstYearOfPlay":"1901″,"league":{"id":103,"name":"American League","link":"/api/v1/league/103″},"division":{"id":201,"name":"American League East","link":"/api/v1/divisions/201″},"sport":{"id":1,"link":"/api/v1/sports/1″,"name":"Major League Baseball"},"shortName":"Boston","springLeague":{"id":115,"name":"Grapefruit League","link":"/api/v1/league/115″,"abbreviation":"GL"},"allStarStatus":"N","active":true},{"id":112,"name":"Chicago Cubs","link":"/api/v1/teams/112″,"season":2021,"venue":{"id":17,"name":"Wrigley Field","link":"/api/v1/venues/17″,"location":{"city":"Chicago","state":"Illinois","stateAbbrev":"IL","defaultCoordinates":{"latitude":41.948171,"longitude":-87.655503}},"timeZone":{"id":"America/Chicago","offset":-6,"tz":"CST"}},"teamCode":"chn","fileCode":"chc","abbreviation":"CHC","teamName":"Cubs","locationName":"Chicago","firstYearOfPlay":"1874″,"league":{"id":104,"name":"National League","link":"/api/v1/league/104″},"division":{"id":205,"name":"National League Central","link":"/api/v1/divisions/205″},"sport":{"id":1,"link":"/api/v1/sports/1″,"name":"Major League Baseball"},"shortName":"Chi Cubs","springLeague":{"id":114,"name":"Cactus League","link":"/api/v1/league/114″,"abbreviation":"CL"},"allStarStatus":"N","active":true},{"id":113,"name":"Cincinnati Reds","link":"/api/v1/teams/113″,"season":2021,"venue":{"id":2602,"name":"Great American Ball Park","link":"/api/v1/venues/2602″,"location":{"city":"Cincinnati","state":"Ohio","stateAbbrev":"OH","defaultCoordinates":{"latitude":39.097389,"longitude":-84.506611}},"timeZone":{"id":"America/New_York","offset":-5,"tz":"EST"}},"teamCode":"cin","fileCode":"cin","abbreviation":"CIN","teamName":"Reds","locationName":"Cincinnati","firstYearOfPlay":"1882″,"league":{"id":104,"name":"National League","link":"/api/v1/league/104″},"division":{"id":205,"name":"National League Central","link":"/api/v1/divisions/205″},"sport":{"id":1,"link":"/api/v1/sports/1″,"name":"Major League Baseball"},"shortName":"Cincinnati","springLeague":{"id":114,"name":"Cactus League","link":"/api/v1/league/114″,"abbreviation":"CL"},"allStarStatus":"N","active":true},{"id":114,"name":"Cleveland Indians","link":"/api/v1/teams/114″,"season":2021,"venue":{"id":5,"name":"Progressive Field","link":"/api/v1/venues/5″,"location":{"city":"Cleveland","state":"Ohio","stateAbbrev":"OH","defaultCoordinates":{"latitude":41.495861,"longitude":-81.685255}},"timeZone":{"id":"America/New_York","offset":-5,"tz":"EST"}},"teamCode":"cle","fileCode":"cle","abbreviation":"CLE","teamName":"Indians","locationName":"Cleveland","firstYearOfPlay":"1901″,"league":{"id":103,"name":"American League","link":"/api/v1/league/103″},"division":{"id":202,"name":"American League Central","link":"/api/v1/divisions/202″},"sport":{"id":1,"link":"/api/v1/sports/1″,"name":"Major League Baseball"},"shortName":"Cleveland","springLeague":{"id":114,"name":"Cactus League","link":"/api/v1/league/114″,"abbreviation":"CL"},"allStarStatus":"N","active":true},{"id":115,"name":"Colorado Rockies","link":"/api/v1/teams/115″,"season":2021,"venue":{"id":19,"name":"Coors Field","link":"/api/v1/venues/19″,"location":{"city":"Denver","state":"Colorado","stateAbbrev":"CO","defaultCoordinates":{"latitude":39.756042,"longitude":-104.994136}},"timeZone":{"id":"America/Denver","offset":-7,"tz":"MST"}},"teamCode":"col","fileCode":"col","abbreviation":"COL","teamName":"Rockies","locationName":"Denver","firstYearOfPlay":"1992″,"league":{"id":104,"name":"National League","link":"/api/v1/league/104″},"division":{"id":203,"name":"National League West","link":"/api/v1/divisions/203″},"sport":{"id":1,"link":"/api/v1/sports/1″,"name":"Major League Baseball"},"shortName":"Colorado","springLeague":{"id":114,"name":"Cactus League","link":"/api/v1/league/114″,"abbreviation":"CL"},"allStarStatus":"N","active":true},{"id":116,"name":"Detroit Tigers","link":"/api/v1/teams/116″,"season":2021,"venue":{"id":2394,"name":"Comerica Park","link":"/api/v1/venues/2394″,"location":{"city":"Detroit","state":"Michigan","stateAbbrev":"MI","defaultCoordinates":{"latitude":42.3391151,"longitude":-83.048695}},"timeZone":{"id":"America/Detroit","offset":-5,"tz":"EST"}},"teamCode":"det","fileCode":"det","abbreviation":"DET","teamName":"Tigers","locationName":"Detroit","firstYearOfPlay":"1901″,"league":{"id":103,"name":"American League","link":"/api/v1/league/103″},"division":{"id":202,"name":"American League Central","link":"/api/v1/divisions/202″},"sport":{"id":1,"link":"/api/v1/sports/1″,"name":"Major League Baseball"},"shortName":"Detroit","springLeague":{"id":115,"name":"Grapefruit League","link":"/api/v1/league/115″,"abbreviation":"GL"},"allStarStatus":"N","active":true},{"id":117,"name":"Houston Astros","link":"/api/v1/teams/117″,"season":2021,"venue":{"id":2392,"name":"Minute Maid Park","link":"/api/v1/venues/2392″,"location":{"city":"Houston","state":"Texas","stateAbbrev":"TX","defaultCoordinates":{"latitude":29.756967,"longitude":-95.355509}},"timeZone":{"id":"America/Chicago","offset":-6,"tz":"CST"}},"teamCode":"hou","fileCode":"hou","abbreviation":"HOU","teamName":"Astros","locationName":"Houston","firstYearOfPlay":"1962″,"league":{"id":103,"name":"American League","link":"/api/v1/league/103″},"division":{"id":200,"name":"American League West","link":"/api/v1/divisions/200″},"sport":{"id":1,"link":"/api/v1/sports/1″,"name":"Major League Baseball"},"shortName":"Houston","springLeague":{"id":115,"name":"Grapefruit League","link":"/api/v1/league/115″,"abbreviation":"GL"},"allStarStatus":"N","active":true},{"id":118,"name":"Kansas City Royals","link":"/api/v1/teams/118″,"season":2021,"venue":{"id":7,"name":"Kauffman Stadium","link":"/api/v1/venues/7″,"location":{"city":"Kansas City","state":"Missouri","stateAbbrev":"MO","defaultCoordinates":{"latitude":39.051567,"longitude":-94.480483}},"timeZone":{"id":"America/Chicago","offset":-6,"tz":"CST"}},"teamCode":"kca","fileCode":"kc","abbreviation":"KC","teamName":"Royals","locationName":"Kansas City","firstYearOfPlay":"1968″,"league":{"id":103,"name":"American League","link":"/api/v1/league/103″},"division":{"id":202,"name":"American League Central","link":"/api/v1/divisions/202″},"sport":{"id":1,"link":"/api/v1/sports/1″,"name":"Major League Baseball"},"shortName":"Kansas City","springLeague":{"id":114,"name":"Cactus League","link":"/api/v1/league/114″,"abbreviation":"CL"},"allStarStatus":"N","active":true},{"id":119,"name":"Los Angeles Dodgers","link":"/api/v1/teams/119″,"season":2021,"venue":{"id":22,"name":"Dodger Stadium","link":"/api/v1/venues/22″,"location":{"city":"Los Angeles","state":"California","stateAbbrev":"CA","defaultCoordinates":{"latitude":34.07368,"longitude":-118.24053}},"timeZone":{"id":"America/Los_Angeles","offset":-8,"tz":"PST"}},"teamCode":"lan","fileCode":"la","abbreviation":"LAD","teamName":"Dodgers","locationName":"Los Angeles","firstYearOfPlay":"1884″,"league":{"id":104,"name":"National League","link":"/api/v1/league/104″},"division":{"id":203,"name":"National League West","link":"/api/v1/divisions/203″},"sport":{"id":1,"link":"/api/v1/sports/1″,"name":"Major League Baseball"},"shortName":"LA Dodgers","springLeague":{"id":114,"name":"Cactus League","link":"/api/v1/league/114″,"abbreviation":"CL"},"allStarStatus":"N","active":true},{"id":120,"name":"Washington Nationals","link":"/api/v1/teams/120″,"season":2021,"venue":{"id":3309,"name":"Nationals Park","link":"/api/v1/venues/3309″,"location":{"city":"Washington","state":"District of Columbia","stateAbbrev":"DC","defaultCoordinates":{"latitude":38.872861,"longitude":-77.007501}},"timeZone":{"id":"America/New_York","offset":-5,"tz":"EST"}},"teamCode":"was","fileCode":"was","abbreviation":"WSH","teamName":"Nationals","locationName":"Washington","firstYearOfPlay":"1968″,"league":{"id":104,"name":"National League","link":"/api/v1/league/104″},"division":{"id":204,"name":"National League East","link":"/api/v1/divisions/204″},"sport":{"id":1,"link":"/api/v1/sports/1″,"name":"Major League Baseball"},"shortName":"Washington","springLeague":{"id":115,"name":"Grapefruit League","link":"/api/v1/league/115″,"abbreviation":"GL"},"allStarStatus":"N","active":true},{"id":121,"name":"New York Mets","link":"/api/v1/teams/121″,"season":2021,"venue":{"id":3289,"name":"Citi Field","link":"/api/v1/venues/3289″,"location":{"city":"Flushing","state":"New York","stateAbbrev":"NY","defaultCoordinates":{"latitude":40.75753012,"longitude":-73.84559155}},"timeZone":{"id":"America/New_York","offset":-5,"tz":"EST"}},"teamCode":"nyn","fileCode":"nym","abbreviation":"NYM","teamName":"Mets","locationName":"Flushing","firstYearOfPlay":"1962″,"league":{"id":104,"name":"National League","link":"/api/v1/league/104″},"division":{"id":204,"name":"National League East","link":"/api/v1/divisions/204″},"sport":{"id":1,"link":"/api/v1/sports/1″,"name":"Major League Baseball"},"shortName":"NY Mets","springLeague":{"id":115,"name":"Grapefruit League","link":"/api/v1/league/115″,"abbreviation":"GL"},"allStarStatus":"N","active":true}]},"graphqlVariables":{"getInitialData":{"contentfulLocale":"en-US","forgeLocale":"en-us","isApp":false,"preview":false,"storySlug":"wrigley-field-to-host-limited-numbers-of-cubs-fans","teamId":"mlb","teamPropertiesId":"mlb-global-properties"},"getRelatedContent":{"slug":"wrigley-field-to-host-limited-numbers-of-cubs-fans","options":{"locale":"en-us","teamId":"mlb","topicSlug":""}},"getTopic":{"forgeLocale":"en-us","topicSlug":""}},"headerState":{"clubId":"mlb","deviceProperties":{},"footerData":{"instanceId":"db2f8fb2-78c8-4d3c-a328-9e91c349dfee","name":"global-footer","variables":[],"menuItems":[{"itemId":"aec375d3-3afa-4491-ab28-60b736f38982″,"text":"Terms of Use","properties":{"link":"/official-information/terms-of-use","target":"_blank"},"menuItems":[]},{"itemId":"debe8dbf-de27-4eae-b7ec-adae43fc4642″,"text":"Privacy Policy","properties":{"link":"/official-information/privacy-policy"},"menuItems":[]},{"itemId":"345a1847-cac1-43a4-91bf-70c21ecee681″,"text":"Legal Notices","properties":{"link":"/official-information/legal-notices"},"menuItems":[]},{"itemId":"34014aad-1069-4bba-b22e-4b287a4f7df1″,"text":"Contact Us","properties":{"link":"/official-information/contact"},"menuItems":[]},{"itemId":"65e06970-7f8e-4328-ad82-9d90df0f3e87″,"text":"Do Not Sell My Personal Data","properties":{"link":"https://privacyportal.onetrust.com/webform/53a301ae-6882-46f9-af93-24f64f792aee/3251a424-8286-4725-9313-603f12c85a49″,"target":"_blank"},"menuItems":[]},{"itemId":"dd307e97-49c6-4f80-aff3-89a59696fb80″,"text":"Official Information","properties":{},"menuItems":[{"itemId":"bdf571d3-e8bb-403b-bb5f-7f28a7127c74″,"text":"Official Info","properties":{"link":"/official-information"},"menuItems":[]},{"itemId":"ecfd4d42-aa8d-4872-80a5-869c6b493018″,"text":"About MLB","properties":{"link":"/official-information/about-mlb"},"menuItems":[]},{"itemId":"bb62de22-5c84-4cab-b9fb-5429ea9d647c","text":"Team Information","properties":{"link":"https://www.mlb.com/team"},"menuItems":[]},{"itemId":"7cc37e2a-667c-4405-bd1f-87ad88bc4d9e","text":"Official Rules","properties":{"link":"https://content.mlb.com/documents/2/2/4/305750224/2019_Official_Baseball_Rules_FINAL_.pdf"},"menuItems":[]},{"itemId":"e658056b-608b-4eee-a04a-43772f9e6bb4″,"text":"Replay Review Regulations","properties":{"link":"http://m.mlb.com/glossary/rules/replay-review"},"menuItems":[]},{"itemId":"0b3fc77c-c7d1-4584-a184-90fd8c4959e9″,"text":"Umpires","properties":{"link":"/official-information/umpires"},"menuItems":[]},{"itemId":"23dde9d7-6aba-4bec-a449-b1b4d5a5767c","text":"Advertise with Us","properties":{"link":"/sponsorship"},"menuItems":[]},{"itemId":"ca43b715-5423-4314-ac5a-f9229bee6fb6″,"text":"Press Releases","properties":{"link":"/news/topic/mlb-press-releases"},"menuItems":[]}]},{"itemId":"7a60a8fc-0c3c-4c87-b04b-2b57b6c9894c","text":"Help/Contact Us","properties":{},"menuItems":[{"itemId":"efb27376-accc-4ca4-9017-c3309ee122d3″,"text":"Accessibility Information","properties":{"link":"/official-information/accessibility"},"menuItems":[]},{"itemId":"cf3490fc-f093-4457-99a7-d2bc3f4d4cef","text":"Auctions Customer Service","properties":{"link":"http://auctions.mlb.com/iSynApp/manageUserEmail!showEmailContactUsForm.action?sid=1101001″},"menuItems":[]},{"itemId":"c6867706-11b7-4634-a78e-b5d513948f43″,"text":"Harassment Policy","properties":{"link":"/official-information/harassment-policy"},"menuItems":[]},{"itemId":"0e3932c9-beec-43f2-b712-66879a51ab63″,"text":"Help/Contact Us","properties":{"link":"/official-information/contact"},"menuItems":[]},{"itemId":"6d4ebef1-3168-4b79-a237-9f36931d3a2c","text":"MLB App FAQs","properties":{"link":"https://www.mlb.com/apps/mlb-app/faq-apple"},"menuItems":[]},{"itemId":"4b3c6ee8-d4ae-4265-a7e7-7e5bea8cde28″,"text":"MLB.com Account Information","properties":{"link":"/official-information/faqs"},"menuItems":[]},{"itemId":"4d33a7c1-38d5-4b3b-a999-53377f55738d","text":"MLB.TV Help Center","properties":{"link":"/live-stream-games/help-center"},"menuItems":[]},{"itemId":"36f01834-7979-4a42-aa12-52439c2e320b","text":"Shop Help","properties":{"link":"https://help-mlb.custhelp.com/"},"menuItems":[]},{"itemId":"bb6e7a31-4b7d-4e49-8c2e-00dda9e237ab","text":"Ticket Information","properties":{"link":"/official-information/ticket-faqs"},"menuItems":[]}]},{"itemId":"6ca8b189-8c54-428f-9f79-3c357ef18469″,"text":"More MLB Sites & Affiliates","properties":{},"menuItems":[{"itemId":"becc9309-94fc-491b-ad15-45f7c17f85a9″,"text":"MLB Players Alumni Association","properties":{"link":"/mlbpaa","target":""},"menuItems":[]},{"itemId":"9ff49c09-8a0d-41e6-b8b0-14f37f8e7f52″,"text":"MLB Players Association","properties":{"link":"http://www.mlbplayers.com/"},"menuItems":[]},{"itemId":"022ec2ca-bb20-4543-9cdc-95ba3a4443ca","text":"Minor League Baseball","properties":{"link":"https://www.milb.com/"},"menuItems":[]},{"itemId":"c6f9948e-3521-4788-83ed-b568f39e86aa","text":"MLB Network","properties":{"link":"https://www.mlb.com/network"},"menuItems":[]},{"itemId":"de2ea389-0a29-4600-8048-b4261916183d","text":"Baseball Assistance Team","properties":{"link":"/baseball-assistance-team"},"menuItems":[]},{"itemId":"e1a2af1c-ee36-4672-935b-17e62d0b4ddc","text":"Player Resource Center","properties":{"link":"/player-resource-center","target":""},"menuItems":[]},{"itemId":"75f0b763-612d-4557-ae38-227fb5b3b7f1″,"text":"Tickets.com","properties":{"link":"http://www.tickets.com/"},"menuItems":[]},{"itemId":"f8599d26-5069-4417-8c26-0965dd8d9435″,"text":"YES Network","properties":{"link":"https://www.yesnetwork.com/"},"menuItems":[]},{"itemId":"5c8f6196-a4d5-4ed5-b830-189580691d3e","text":"Australian Baseball League","properties":{"link":"https://theabl.com.au/"},"menuItems":[]},{"itemId":"ab6fc805-0bb7-439b-8c3c-92c61b035387″,"text":"World Baseball Classic","properties":{"link":"https://www.worldbaseballclassic.com/"},"menuItems":[]},{"itemId":"e218ed4d-89f9-4f7d-87e7-c05a3559cd74″,"text":"sabr.org","properties":{"link":"http://sabr.org/"},"menuItems":[]},{"itemId":"158a95a6-bd4f-4654-b57f-465d3c356a55″,"text":"College Baseball Hall of Fame","properties":{"link":"https://www.mlb.com/college-baseball-hall-of-fame"},"menuItems":[]},{"itemId":"5e602a1a-e518-455b-ac5f-5c0e80430e38″,"text":"Golden Spikes Award","properties":{"link":"https://www.usabaseball.com/golden-spikes-award"},"menuItems":[]},{"itemId":"ccd9020d-c619-45d2-bc1f-ef80ae2cd651″,"text":"USA Baseball","properties":{"link":"https://www.usabaseball.com"},"menuItems":[]},{"itemId":"75512a93-d52d-4d71-a6d3-70d6b44dfa0f","text":"LasMayores.com","properties":{"link":"https://www.mlb.com/es"},"menuItems":[]},{"itemId":"3b7bbad3-1ed5-468d-8703-205519315e04″,"text":"MLBCommunity.org","properties":{"link":"/mlb-community"},"menuItems":[]},{"itemId":"f8058121-3606-4ff2-be8a-d1a3d47642db","text":"AllStarGame.com","properties":{"link":"https://www.mlb.com/all-star"},"menuItems":[]},{"itemId":"a624b4e5-c8d8-44b9-9084-7522ed0cee59″,"text":"MLB.com/Kids","properties":{"link":"https://www.mlb.com/fans/kids"},"menuItems":[]},{"itemId":"43c6bc47-f7d9-445a-85a1-10b3cdc02ee0″,"text":"MLB Photostore","properties":{"link":"https://photostore.mlb.com/"},"menuItems":[]},{"itemId":"d9f4ea22-70a7-4085-a16e-83f70a5711b2″,"text":"Offseason Leagues","properties":{"link":"http://mlb.mlb.com/mlb/events/winterleagues/"},"menuItems":[]},{"itemId":"c574a4a2-45ec-47fe-8ca3-b5b99d1cb443″,"text":"PlayBall.org","properties":{"link":"https://www.playball.org"},"menuItems":[]}]},{"itemId":"e3a86593-6da0-4d00-a512-0b8c78c9b8a5″,"text":"Careers","properties":{"link":""},"menuItems":[{"itemId":"35caab61-51c7-4b17-a9b8-e9ecd201058a","text":"Careers Home","properties":{"link":"/careers/home"},"menuItems":[]}]}]},"headerData":{"instanceId":"fbde1dcd-c837-4740-991c-1087d1db26d1″,"name":"global-nav","variables":[],"menuItems":[{"itemId":"tickets","text":"Tickets","properties":{"link":"https://www.mlb.com/tickets","customProperties":"align:right;"},"menuItems":[{"itemId":"764d21d8-0f58-4d63-b57c-035ec47d193c","text":"General Ticket Information","properties":{"link":"https://www.mlb.com/tickets","customProperties":""},"menuItems":[]},{"itemId":"4e45f354-0ccd-4c89-ac5e-12f16dd11f3a","text":"Season Tickets","properties":{"link":"https://www.mlb.com/tickets/season-tickets","customProperties":""},"menuItems":[]},{"itemId":"020f5910-a69a-443a-b5a3-37b7664d8a4f","text":"Spring Training","properties":{"link":"https://www.mlb.com/tickets/spring-training"},"menuItems":[]},{"itemId":"0a8ddc10-4b69-4a97-a677-6301ac30971b","text":"Fan Value","properties":{"link":"https://www.mlb.com/tickets/fan-value","customProperties":""},"menuItems":[]},{"itemId":"417de43e-baa5-4ca1-802d-c0814be88688″,"text":"Ballpark Tours","properties":{"link":"https://www.mlb.com/tickets/ballpark-tours"},"menuItems":[]},{"itemId":"dc1ab63d-4195-4a41-8248-cfa5513a66e9″,"text":"StubHub.com","properties":{"link":"https://www.stubhub.com/mlb-tickets/grouping/81/?gcid=C12289x371″,"customProperties":""},"menuItems":[]},{"itemId":"92c55e19-5b07-4d4f-8bfe-ee6a86e64c8a","text":"World Baseball Classic","properties":{"link":"https://www.mlb.com/world-baseball-classic/schedule"},"menuItems":[]},{"itemId":"5d7d5f77-3b9d-4d21-bece-8b3245b7bf2a","text":"International Events","properties":{"link":"https://www.mlb.com/international"},"menuItems":[]}]},{"itemId":"7b24aad4-85fb-4206-b915-85dc84bf8046″,"text":"MLB.TV","properties":{"link":"https://www.mlb.com/tv?&affiliateId=mlbMENU","customProperties":"amp:true;align:right;","icon":"watch"},"menuItems":[{"itemId":"6e4bf96d-d9e2-4c33-8d42-3e94aae42607″,"text":"Buy MLB.TV","properties":{"link":"https://www.mlb.com/live-stream-games/subscribe?&affiliateId=mlbMENU"},"menuItems":[]},{"itemId":"f33ef990-5609-45cd-be24-0e40cb0a5368″,"text":"Buy MLB Audio","properties":{"link":"https://www.mlb.com/live-stream-games/subscribe/mlb-audio?&affiliateId=mlbMENU"},"menuItems":[]},{"itemId":"993d3d74-7886-48fd-9d9f-12d189ed5630″,"text":"Watch MLB.TV","properties":{"link":"/live-stream-games?&affiliateId=mlbMENU","customProperties":""},"menuItems":[]},{"itemId":"350c78fb-4db4-4c1c-8430-85c1dfc08fca","text":"MLB.TV Spring Training Schedule","properties":{"link":"https://www.mlb.com/live-stream-games/spring-training?&affiliateId=mlbMENU"},"menuItems":[]},{"itemId":"00132689-c7ce-46b0-bfac-228fa9f70a22″,"text":"Watch MLB.TV Docs & Features","properties":{"link":"https://www.mlb.com/tv/featured?&affiliateId=mlbMENU"},"menuItems":[]},{"itemId":"68b755ed-4f9d-4c0a-96ea-ffafb22ca5c5″,"text":"MLB.TV Help Center","properties":{"link":"/live-stream-games/help-center?&affiliateId=mlbMENU","customProperties":""},"menuItems":[]},{"itemId":"05b81a24-a196-4ee9-86f6-443cc7ce6934″,"text":"MLB.TV with Extra Innings","properties":{"link":"https://www.mlb.com/live-stream-games/third-party?&affiliateId=mlbMENU"},"menuItems":[]}]},{"itemId":"6bfaf88e-891c-4e05-a935-8a32bd23086a","text":"Shop","properties":{"link":"https://www.mlbshop.com/?_s=bm-mlbcom-hp","customProperties":"align:right;","icon":"shopping-cart"},"menuItems":[{"itemId":"d7b3c8e0-42c4-45c5-8278-c51adb21b47f","text":"Auction","properties":{"link":"http://auction.mlb.com/"},"menuItems":[]},{"itemId":"216d4562-456b-442d-b078-9e9be9b35b20″,"text":"Authentication","properties":{"link":"https://www.mlb.com/authentication"},"menuItems":[]},{"itemId":"20f4725a-5dc1-4543-a153-7795cd789463″,"text":"Autographed","properties":{"link":"http://auctions.mlb.com/iSynApp/allAuction.action?sid=1101001&rc=25&selectedCatId=17342&sort=timeleft_asc&pgmode2=catpage"},"menuItems":[]},{"itemId":"f4f69cd4-2549-45f2-ba63-d97ddb0b564c","text":"Jerseys","properties":{"link":"https://www.mlbshop.com/jerseys/d-1250336792+z-990485-1677480024?_s=bm-mlbcom-hp","customProperties":""},"menuItems":[]},{"itemId":"a67b9b28-c511-47a8-87e6-594cb719c787″,"text":"Caps","properties":{"link":"https://www.mlbshop.com/caps/d-3494554436+z-921549-1032840697?_s=bm-mlbcom-hp","customProperties":""},"menuItems":[]},{"itemId":"f5b9b657-5322-40c1-b2e8-1bd31e27abf6″,"text":"Men's","properties":{"link":"https://www.mlbshop.com/men/ga-12+z-9112397524-3608394688?_s=bm-mlbcom-hp","customProperties":""},"menuItems":[]},{"itemId":"dfa13a6f-17fd-4a4a-9963-f3e3734e28bf","text":"Women's","properties":{"link":"https://www.mlbshop.com/women/ga-57+z-822989763-3950492570?_s=bm-mlbcom-hp","customProperties":""},"menuItems":[]},{"itemId":"c2bf810b-0d1f-4135-b7f8-919c53fc8cc2″,"text":"Kids","properties":{"link":"https://www.mlbshop.com/kids/ga-36+z-861270405-1171990865?_s=bm-mlbcom-hp","customProperties":""},"menuItems":[]},{"itemId":"1b321c96-eb8a-4077-9868-9420205878bc","text":"Collectibles & Memorabilia","properties":{"link":"https://www.mlbshop.com/collectibles-and-memorabilia/d-7883550038+z-87646-4052890706?_s=bm-mlbcom-hp","customProperties":""},"menuItems":[]},{"itemId":"91dcfa1d-f4de-4bf9-93f8-8f91f4069272″,"text":"Home & Office","properties":{"link":"https://www.mlbshop.com/home-and-office/d-3449556733+z-992406-855732365?_s=bm-mlbcom-hp","customProperties":""},"menuItems":[]},{"itemId":"c69e35fc-900e-4fcc-9348-085aa0febeab","text":"Gift Certificates","properties":{"link":"https://www.mlbshop.com/gift-cards/x-462351+z-94899005-3509039474?_s=bm-mlbcom-Home","customProperties":""},"menuItems":[]},{"itemId":"44958e84-599e-44b1-96b4-44f38a477942″,"text":"European Shop","properties":{"link":"http://www.mlbshopeurope.com/stores/mlb/en?portal=MLTS66FS&CMP=PSC-MLTS66FS","customProperties":""},"menuItems":[]},{"itemId":"51d3278e-90fd-4462-aec0-7cfd8de1cb79″,"text":"Photo Store","properties":{"link":"https://photostore.mlb.com/"},"menuItems":[]}]},{"itemId":"5052bac6-3f1d-4847-8739-42021d7cfc2d","text":"News","properties":{"link":"https://www.mlb.com/news","customProperties":"amp:true;"},"menuItems":[{"itemId":"7b725a20-961b-4511-bd88-20600551baf2″,"text":"In this section","properties":{"visible":"true"},"menuItems":[{"itemId":"82d45c9a-d055-4ab4-b785-576d982a2077″,"text":"Probable pitchers","properties":{"link":"https://www.mlb.com/probable-pitchers/","visible":"true","enabled":"true"},"menuItems":[]},{"itemId":"4bfdb502-31e4-49dd-bae1-89a4772d0739″,"text":"Prospect Rankings","properties":{"link":"https://www.mlb.com/prospects"},"menuItems":[]},{"itemId":"831050d9-d4d2-427f-85a3-fe56aad2682a","text":"Injury report","properties":{"link":"https://www.mlb.com/injury-report"},"menuItems":[]},{"itemId":"02f947b5-cc72-40f9-9f37-a97b37dcaef3″,"text":"Transactions","properties":{"link":"http://mlb.mlb.com/mlb/transactions/?tcid=mm_mlb_news"},"menuItems":[]},{"itemId":"f499f46a-a51b-443e-82aa-3b6006f9b306″,"text":"Starting Lineups","properties":{"link":"https://www.mlb.com/starting-lineups"},"menuItems":[]},{"itemId":"53776d17-03af-4b04-8840-45b6c624df6b","text":"Hall of Fame","properties":{"link":"https://www.mlb.com/hall-of-fame"},"menuItems":[]},{"itemId":"6ee1c331-faa0-4865-a062-1c98a2f67c0d","text":"Longform","properties":{"link":"https://www.mlb.com/news/topic/longform"},"menuItems":[]},{"itemId":"844e328c-713f-46da-8183-965d19eb7dd8″,"text":"Awards","properties":{"link":"https://www.mlb.com/awards"},"menuItems":[]},{"itemId":"c1ac7886-1d18-4ad8-9fc4-326ab4753144″,"text":"MLB Draft","properties":{"link":"https://www.mlb.com/draft/2020″},"menuItems":[]},{"itemId":"a0e4c375-afb7-4fc2-8ba3-4faa668698b9″,"text":"All-Star Game","properties":{"link":"https://www.mlb.com/all-star"},"menuItems":[]}]},{"itemId":"dc121961-fe11-49ac-92b5-a8797acafa7c","text":"Featured","properties":{},"menuItems":[{"itemId":"230d1ec0-9d0a-4a3f-a04c-3cf16474390f","text":"Pipeline","properties":{"link":"https://www.mlb.com/pipeline"},"menuItems":[]},{"itemId":"216ae480-9b79-4faa-a748-98a8604e5cde","text":"Play Ball","properties":{"link":"https://www.playball.org/"},"menuItems":[]},{"itemId":"c2182d4d-c537-410e-a63d-267e593fbb74″,"text":"Trivia & Quizzes","properties":{"link":"https://www.mlb.com/news/topic/trivia","enabled":"true","visible":"true"},"menuItems":[]},{"itemId":"d7d653b8-5585-44b7-b94f-226b51681ed8″,"text":"MLB Photos","properties":{"link":"https://www.mlb.com/photos/home"},"menuItems":[]},{"itemId":"eb4bceb4-bb14-4a84-8b60-12e51dab40f8″,"text":"Offbeat","properties":{"link":"https://www.mlb.com/news/topic/offbeat"},"menuItems":[]},{"itemId":"28a2e573-86ba-4cdc-a924-86d3b6500979″,"text":"Glossary","properties":{"link":"https://www.mlb.com/glossary"},"menuItems":[]},{"itemId":"7e424446-ea76-4b0d-8dc0-e7ee108993ef","text":"Rare Feats","properties":{"link":"https://www.mlb.com/news/topic/rare-feats"},"menuItems":[]},{"itemId":"38b78c07-c2e2-40be-9172-fb2ddc1d1817″,"text":"Trade Trees","properties":{"link":"https://www.mlb.com/news/topic/trade-trees-coverage"},"menuItems":[]}]}]},{"itemId":"86b4ade1-0488-40d3-8472-b1e323f23914″,"text":"Video","properties":{"link":"https://www.mlb.com/video","customProperties":"mobile:true;amp:true;"},"menuItems":[{"itemId":"bbddb943-54df-4d88-a3ee-14265e727677″,"text":"In this section","properties":{"customProperties":""},"menuItems":[{"itemId":"d6f95b2e-b8ee-41f0-a313-e74537eff685″,"text":"Film Room","properties":{"link":"https://www.mlb.com/video/search"},"menuItems":[]},{"itemId":"a24a8e9d-471b-4626-9535-28e1b8f62bad","text":"Watch Live Games","properties":{"link":"https://www.mlb.com/live-stream-games?affiliateId=mlbMENU"},"menuItems":[]},{"itemId":"fb982f48-2253-46ec-84f2-ec3282782fb8″,"text":"Condensed Games","properties":{"link":"https://www.mlb.com/video/topic/condensed-games"},"menuItems":[]},{"itemId":"0f387774-edb6-4e09-84c1-3b6f9a8c65d5″,"text":"Game Recaps","properties":{"link":"https://www.mlb.com/video/topic/daily-recaps","enabled":"true"},"menuItems":[]},{"itemId":"3dcbafe8-f9f6-4a32-8534-7a00b6b07f4c","text":"Daily FastCast","properties":{"link":"https://www.mlb.com/video/topic/fastcast"},"menuItems":[]},{"itemId":"830b3ff1-c650-48a0-b8ee-6c910acc0204″,"text":"Instant Replay","properties":{"link":"https://www.mlb.com/video/topic/replay-review"},"menuItems":[]},{"itemId":"286ad1ca-abe4-4d67-b80a-9020e756750e","text":"MLB Network","properties":{"link":"https://www.mlb.com/network"},"menuItems":[]},{"itemId":"948d378c-7d73-49b1-b5ba-8729c59bca9a","text":"Podcasts","properties":{"link":"https://www.mlb.com/podcasts"},"menuItems":[]},{"itemId":"e95e19ff-2024-4d84-b9e5-d5f0d1831e5b","text":"Business of Baseball","properties":{"link":"https://www.mlb.com/video/topic/business-of-baseball"},"menuItems":[]},{"itemId":"bf659638-4fb7-4c46-be4c-49b736c0fd69″,"text":"Untouchable Pitches","properties":{"link":"https://www.mlb.com/es/video/topic/untouchable-pitches-cristal-products?cacheBurro"},"menuItems":[]}]},{"itemId":"74f35bdb-7baf-4fa5-abb5-3c3613fa00fe","text":"Featured","properties":{"customProperties":""},"menuItems":[{"itemId":"d87342bf-bac9-4811-9863-4a5d7ddabe94″,"text":"Most Popular","properties":{"link":"https://www.mlb.com/video"},"menuItems":[]},{"itemId":"b4deff8a-ac2f-46bd-924a-108c63e6d4a6″,"text":"Home Runs","properties":{"link":"https://www.mlb.com/video/topic/home-runs"},"menuItems":[]},{"itemId":"6a7e200b-2443-4e01-b95a-16bf6326a089″,"text":"Walk-Offs","properties":{"link":"https://www.mlb.com/video/topic/walk-offs"},"menuItems":[]},{"itemId":"b56c8c85-d75f-4511-8276-0246a51f83e6″,"text":"Comebacks","properties":{"link":"https://www.mlb.com/video/topic/comebacks"},"menuItems":[]},{"itemId":"e9fc5098-1904-4089-8fa2-c4b3d9a0feaf","text":"Top Defensive Plays","properties":{"link":"https://www.mlb.com/video/topic/top-defensive-plays"},"menuItems":[]},{"itemId":"d1a89b62-ed0e-4df5-a65d-9471b06eb3ad","text":"Grand Slams","properties":{"link":"https://www.mlb.com/video/topic/grand-slams"},"menuItems":[]},{"itemId":"c19fb88b-a3c7-4141-a616-0299dc17e774″,"text":"Best of Statcast","properties":{"link":"https://www.mlb.com/video/topic/statcast"},"menuItems":[]},{"itemId":"4cdb4f64-f058-43e3-a0f3-a078c3701cc9″,"text":"Let's Rally","properties":{"link":"https://www.mlb.com/video/topic/rallies"},"menuItems":[]},{"itemId":"3d4947a4-61d9-4ce6-9bec-5ef974a5aff1″,"text":"Must C","properties":{"link":"https://www.mlb.com/video/topic/curtain-calls"},"menuItems":[]},{"itemId":"ea8c81d8-3594-4318-b95e-7d7c4c92c1db","text":"Legendary Moments","properties":{"link":"https://www.mlb.com/video/topic/key-moments"},"menuItems":[]},{"itemId":"550155b7-3825-4c73-bf84-0250dec41903″,"text":"Carry the Freight","properties":{"link":"https://www.mlb.com/video/topic/carry-the-freight"},"menuItems":[]}]}]},{"itemId":"7c68f445-5095-46cc-bab3-73af6c921597″,"text":"Scores","properties":{"link":"https://www.mlb.com/scores","customProperties":"mobile:true;amp:true;","visible":"true"},"menuItems":[]},{"itemId":"9efaf5e3-6a93-4e4f-b8af-1219110ecb30″,"text":"Stats","properties":{"link":"https://www.mlb.com/stats","customProperties":"mobile:true;amp:true;"},"menuItems":[{"itemId":"c26bdb6a-e2f7-48dc-bd44-39e522f7b5ca","text":"2021 Spring Training Stats","properties":{"link":"https://www.mlb.com/stats/2021/spring-training"},"menuItems":[]},{"itemId":"f31b263b-34d4-46ab-aa46-9796e93b048b","text":"2020 Regular Season Stats","properties":{"link":"https://www.mlb.com/stats/2020″},"menuItems":[]},{"itemId":"62c5195b-2630-4d9e-9896-6aee0709aeee","text":"2020 Sortable Team Stats","properties":{"link":"https://www.mlb.com/stats/team/2020″},"menuItems":[]},{"itemId":"41566816-1cb8-421f-9a4a-9ccdefa7ed69″,"text":"Statcast Leaders","properties":{"link":"https://baseballsavant.mlb.com/statcast_leaderboard"},"menuItems":[]},{"itemId":"2d0a2684-64c6-4d9f-87a1-a7cf9f661e2f","text":"Baseball Savant","properties":{"link":"https://baseballsavant.mlb.com/"},"menuItems":[]},{"itemId":"b9d0ae31-f31d-449b-82fb-5a77f59293ba","text":"Top Prospect Stats","properties":{"link":"/prospects/stats/top-prospects?type=all&dateRange=Year2019&minPA=1″},"menuItems":[]},{"itemId":"2ae90479-df9d-458e-a47e-7acf851728e7″,"text":"Offseason Leagues","properties":{"link":"http://mlb.mlb.com/milb/stats/?tcid=mm_mlb_stats","customProperties":""},"menuItems":[]},{"itemId":"cf9eab1e-1dba-458c-949b-8db03f86d49e","text":"Glossary","properties":{"link":"http://m.mlb.com/glossary"},"menuItems":[]}]},{"itemId":"6af88ec1-9bfe-4494-abc0-898dc919a081″,"text":"Standings","properties":{"link":"https://www.mlb.com/standings","customProperties":"mobile:true;amp:true;"},"menuItems":[{"itemId":"a9713ec1-4849-41b5-8f0b-fa0746a205e4″,"text":"2021 Spring Training Standings","properties":{"link":"https://www.mlb.com/standings/spring-training/2021″,"customProperties":""},"menuItems":[]},{"itemId":"4c250046-6a0d-4352-b3f2-3059a5881c2a","text":"2020 Regular Season Standings","properties":{"link":"https://www.mlb.com/standings/regular-season/2020″},"menuItems":[]},{"itemId":"a84f52a4-d7d4-4661-b193-8c81901e8e7e","text":"2020 Advanced Standings","properties":{"link":"https://www.mlb.com/standings/regular-season/advanced-splits/2020″},"menuItems":[]}]},{"itemId":"248fea7e-1d19-452a-bb5c-999e1a09b7cd","text":"Schedule","properties":{"link":"https://www.mlb.com/schedule","customProperties":"amp:true;"},"menuItems":[{"itemId":"12fd9194-8902-43f1-9686-f9f321c90450″,"text":"2021 Regular Season","properties":{"link":"https://www.mlb.com/schedule/2021-04-01″},"menuItems":[]},{"itemId":"74ae0fd1-28f5-41ab-8861-23d056482243″,"text":"2021 Spring Training","properties":{"link":"https://www.mlb.com/schedule/2021-02-28″},"menuItems":[]},{"itemId":"6aae1937-f9bd-4929-847a-74c4808cc993″,"text":"2020 Postseason","properties":{"link":"https://www.mlb.com/postseason"},"menuItems":[]},{"itemId":"f4010b7a-902c-41e0-b405-e0fa695b5c64″,"text":"2020 Regular Season","properties":{"link":"https://www.mlb.com/schedule/2020-07-23″},"menuItems":[]},{"itemId":"94c9d7e4-3477-4217-87f3-008d2290b9ee","text":"Important Dates","properties":{"link":"https://www.mlb.com/schedule/events#important-dates"},"menuItems":[]},{"itemId":"d3566c69-34a7-4e6c-b2bb-28203c847f9e","text":"Probable Pitchers","properties":{"link":"https://www.mlb.com/probable-pitchers"},"menuItems":[]},{"itemId":"3747c1bc-9b3d-43f5-bd04-d1274c59c02a","text":"Team by Team Schedule","properties":{"link":"https://www.mlb.com/schedule/team-by-team"},"menuItems":[]},{"itemId":"e75ecc62-7e72-4b53-9705-a23e2b511f83″,"text":"National Broadcasts","properties":{"link":"http://mlb.mlb.com/mlb/official_info/broadcasts/national.jsp?tcid=mm_mlb_schedule"},"menuItems":[]},{"itemId":"bce30443-7f92-4c61-979f-058e5e6ebe17″,"text":"Sunday Night Broadcasts","properties":{"link":"http://m.mlb.com/promo/sunday-night-broadcasts"},"menuItems":[]}]},{"itemId":"8c842eeb-dedd-430c-a452-57a740d5c3df","text":"Players","properties":{"link":"https://www.mlb.com/players","customProperties":"","icon":"group"},"menuItems":[{"itemId":"650da3ef-b96d-4a7d-bf4b-47a55b2e6cb3″,"text":"Players A to Z","properties":{"link":"https://www.mlb.com/players"},"menuItems":[]},{"itemId":"b971e11e-c0ea-4f42-a693-a9e18e15447f","text":"Injury updates","properties":{"link":"https://www.mlb.com/injury-report"},"menuItems":[]},{"itemId":"76a61c3c-c73a-497a-9d6f-f762ad0fdecd","text":"Depth Charts","properties":{"link":"http://mlb.mlb.com/team/depth_chart/index.jsp"},"menuItems":[]},{"itemId":"b30fe902-714f-4f74-a901-d2397c750dab","text":"Transactions","properties":{"link":"http://mlb.mlb.com/mlb/transactions/?tcid=mm_mlb_players"},"menuItems":[]},{"itemId":"3e585331-af20-4e73-8419-2067bed2677c","text":"Starting Lineups","properties":{"link":"https://www.mlb.com/starting-lineups"},"menuItems":[]},{"itemId":"a327060e-962d-428e-91ee-40522edcda03″,"text":"Prospect Rankings","properties":{"link":"https://www.mlb.com/prospects"},"menuItems":[]},{"itemId":"a30f9694-b2cd-4a2a-9118-d3c7f00b39b1″,"text":"Mobile Player Alerts","properties":{"link":"http://mlb.mlb.com/mobile/text.jsp?tcid=mm_mlb_players"},"menuItems":[]},{"itemId":"f45e2471-de5a-4a07-b035-43f1b405f296″,"text":"MLB Players Association","properties":{"link":"http://mlb.mlb.com/pa/index.jsp"},"menuItems":[]},{"itemId":"6e855928-8a3d-41b6-8adc-71fe99a9508b","text":"Probable Pitchers","properties":{"link":"https://www.mlb.com/probable-pitchers"},"menuItems":[]},{"itemId":"e7ba059f-ad80-486d-bf9f-3992d718f129″,"text":"Negro Leagues","properties":{"link":"https://www.mlb.com/history/negro-leagues"},"menuItems":[]}]},{"itemId":"781f2bb2-a66a-44be-8fee-b0a0250d60e6″,"text":"Play Ball","properties":{"link":"https://www.playball.org/","target":"_blank","customProperties":"topNav:false;","icon":"baseball"},"menuItems":[{"itemId":"2a74747c-e482-42f5-b750-ce710dea6568″,"text":"PlayBall.org","properties":{"link":"https://www.playball.org/","target":"_blank"},"menuItems":[]},{"itemId":"9f5ab700-d2c0-43be-a398-6926ceef9e1c","text":"Hank Aaron Invitational","properties":{"link":"https://www.mlb.com/hank-aaron-invitational"},"menuItems":[]},{"itemId":"d7c7e170-573e-45c1-a1ab-b1bd3aec819f","text":"Videos","properties":{"link":"https://www.mlb.com/video/topic/play-ball"},"menuItems":[]},{"itemId":"5be26d3e-4ff2-4a84-8ea5-92aef9d759b2″,"text":"Photos","properties":{"link":"https://www.playball.org/photos"},"menuItems":[]},{"itemId":"14d9fdc8-ba24-44cf-9a77-7a867852f418″,"text":"News","properties":{"link":"https://www.mlb.com/news/topic/youth-baseball"},"menuItems":[]},{"itemId":"4c876067-e576-4874-b914-d86fe7f4a538″,"text":"Pitch Smart","properties":{"link":"https://www.mlb.com/pitch-smart"},"menuItems":[]},{"itemId":"6996ed01-d31d-4fc4-8d0d-a5baf177f69a","text":"Play Ball Near You","properties":{"link":"https://www.playball.org/playball-near-you"},"menuItems":[]},{"itemId":"4e66a4b2-0f27-483c-81d4-f27b0b630eac","text":"States Play","properties":{"link":"https://www.mlb.com/states-play"},"menuItems":[]},{"itemId":"aed729a5-4ff6-45cc-868c-f90b9b9190af","text":"MLB TOUR","properties":{"link":"https://www.mlb.com/mlb-tour"},"menuItems":[]},{"itemId":"28d79b33-aebd-4685-9cc9-c4ccce1262f8″,"text":"RBI","properties":{"link":"https://www.mlb.com/rbi"},"menuItems":[]},{"itemId":"18001329-d9d0-47b9-b2e0-5043b69cee9e","text":"Pitch, Hit & Run","properties":{"link":"https://www.mlb.com/pitch-hit-and-run"},"menuItems":[]},{"itemId":"df867e3c-db53-4d4f-9958-e10cb0939c8a","text":"Jr. Home Run Derby","properties":{"link":"https://www.mlb.com/junior-home-run-derby"},"menuItems":[]},{"itemId":"6af5ec56-5e26-45b3-93d6-2f79d929c046″,"text":"MLB Pipeline","properties":{"link":"https://www.mlb.com/pipeline"},"menuItems":[]},{"itemId":"bc715814-2692-4bde-9b1d-99cbd9ada5dc","text":"Youth Academies","properties":{"link":"https://www.mlb.com/mlb-youth-academy"},"menuItems":[]},{"itemId":"26715913-0ae8-4106-baa4-3d914b0a33b0″,"text":"Breakthrough Series","properties":{"link":"https://www.mlb.com/breakthrough-series"},"menuItems":[]},{"itemId":"56cb414b-eb00-4632-8acc-81d74ee4745e","text":"Elite Development Invitational","properties":{"link":"https://www.mlb.com/elite-development-invitational"},"menuItems":[]},{"itemId":"04697c74-2811-4d84-8150-aa1016aa6272″,"text":"USA Baseball","properties":{"link":"https://www.usabaseball.com/","target":"_blank"},"menuItems":[]},{"itemId":"ae77ea02-173a-4439-be6c-9ee75225bd50″,"text":"USA Softball","properties":{"link":"http://www.teamusa.org/USA-Softball","target":"_blank"},"menuItems":[]},{"itemId":"c293b7e0-f056-4102-89cd-d20649d4eff0″,"text":"Dream Series","properties":{"link":"https://www.mlb.com/dream-series"},"menuItems":[]},{"itemId":"181a47ba-9ea0-4a7a-8924-ccedef1cd372″,"text":"Trailblazer Series","properties":{"link":"https://www.mlb.com/trailblazer-series"},"menuItems":[]}]},{"itemId":"mlb-fans","text":"Fans","properties":{"link":"https://www.mlb.com/fans"},"menuItems":[{"itemId":"25c7540a-c3a3-42e8-a8f8-1e3be9f5d4fe","text":"MLB Kids","properties":{"link":"https://www.mlb.com/fans/kids"},"menuItems":[]},{"itemId":"8ee0a750-a1d7-4c8f-80ee-cb7beb4268ff","text":"MLB International","properties":{"link":"https://www.mlb.com/international/"},"menuItems":[]},{"itemId":"841025ef-a361-46e1-b5d0-c963c1a42827″,"text":"Postseason Publications","properties":{"link":"https://www.mlb.com/postseason/publications"},"menuItems":[]},{"itemId":"59ffbbaf-a56c-4cb4-b874-d5a5ce36c9f1″,"text":"MLB Newsletters","properties":{"link":"https://www.mlb.com/fans/newsletters"},"menuItems":[]},{"itemId":"9e37a80a-34da-4e92-ae40-8462146aef1c","text":"Virtual Backgrounds","properties":{"link":"https://www.mlb.com/fans/virtual-backgrounds"},"menuItems":[]},{"itemId":"ef7c9f4a-5e11-4700-aad3-b29a8c5acc4c","text":"Podcasts","properties":{"link":"https://www.mlb.com/fans/podcasts"},"menuItems":[]},{"itemId":"fcc0e750-dbe2-47b3-b681-0e3e379390c8″,"text":"Walk-Up Music","properties":{"link":"https://www.mlb.com/fans/music"},"menuItems":[]},{"itemId":"ad51f9be-9a3e-41d5-83aa-27d4351d583f","text":"Connect with MLB","properties":{"link":"https://www.mlb.com/social"},"menuItems":[]},{"itemId":"5d6dbbbf-fdff-41e7-b187-793bdb998ec8″,"text":"MLB Photos","properties":{"link":"https://www.mlb.com/photos/home"},"menuItems":[]}]},{"itemId":"832ad058-32b1-4fbd-940d-a68456ad3c25″,"text":"Fantasy","properties":{"link":"https://www.mlb.com/fantasy","customProperties":""},"menuItems":[{"itemId":"ee7dde99-2f2c-49e4-a5df-b319f51afa21″,"text":"Yahoo Fantasy Baseball","properties":{"target":"","link":"http://yhoo.it/3aK5QQw"},"menuItems":[]},{"itemId":"82ecd1d5-6055-4846-99de-2e5d99461009″,"text":"MLB Rally","properties":{"link":"https://www.mlb.com/apps/rally","visible":"true"},"menuItems":[]},{"itemId":"82b08ad3-ff33-4c90-8303-277dbf8190a3″,"text":"MLB Rally Quick Pick","properties":{"link":"https://www.mlb.com/apps/rally/quickpick"},"menuItems":[]},{"itemId":"4e35b374-27ca-40c1-8f4b-d0e861496179″,"text":"Postseason Bracket Challenge","properties":{"link":"https://www.mlb.com/brackets/postseason"},"menuItems":[]},{"itemId":"fa818f3d-e28a-4dce-8ed8-928d7000a1f6″,"text":"The Vault","properties":{"link":"https://www.mlb.com/the-vault"},"menuItems":[]},{"itemId":"5342efbb-aee3-4b7a-bd6b-da451509d65b","text":"Yahoo Fantasy Baseball","properties":{"link":"https://yhoo.it/2w7w4vr","visible":"false"},"menuItems":[]},{"itemId":"36bd3b31-a5df-4061-9abb-33d42ffa1818″,"text":"R.B.I. Baseball 21″,"properties":{"link":"https://www.rbigame.com"},"menuItems":[]},{"itemId":"3dab9102-cd2d-442e-ab8a-ad07d7b159f4″,"text":"MLB Home Run Derby 2020″,"properties":{"link":"https://www.mlb.com/fantasy/home-run-derby"},"menuItems":[]},{"itemId":"7af822e8-dc82-4b7e-818a-97080c0938f2″,"text":"Closer Report","properties":{"link":"https://www.mlb.com/closer-report"},"menuItems":[]},{"itemId":"c2b4eeef-ec9c-4c5b-831c-1edca0316768″,"text":"Prospect Rankings","properties":{"link":"https://www.mlb.com/prospects"},"menuItems":[]},{"itemId":"3b212a3b-4687-4ea7-a276-3e780e18210c","text":"MLB Champions","properties":{"link":"https://www.mlbc-app.com/?ref=mlbcom"},"menuItems":[]}]},{"itemId":"f857d698-35a3-4b1b-8e88-d92056ca5507″,"text":"Apps","properties":{"link":"https://www.mlb.com/apps","customProperties":"topNav:false;"},"menuItems":[{"itemId":"c974a38d-8537-4d03-9dfa-681ac5bd0f08″,"text":"MLB","properties":{"link":"https://www.mlb.com/apps/mlb-app"},"menuItems":[]},{"itemId":"13d77816-460d-4783-8ed7-f1ff1d3a97ed","text":"MLB Rally","properties":{"link":"https://www.mlb.com/apps/rally","visible":"true"},"menuItems":[]},{"itemId":"89f7398c-7a79-46e4-a8cd-843a44ceee13″,"text":"MLB Ballpark","properties":{"link":"https://www.mlb.com/apps/ballpark"},"menuItems":[]},{"itemId":"03c8451e-6437-4aa6-8b5d-50c3fedad25e","text":"MiLB First Pitch","properties":{"link":"https://www.milb.com/about/first-pitch"},"menuItems":[]},{"itemId":"5d19666b-0c26-48ad-8465-09ed9f28dfc2″,"text":"R.B.I. Baseball 21″,"properties":{"link":"https://www.rbigame.com"},"menuItems":[]},{"itemId":"94808840-9046-445e-9a6a-83016bdadb72″,"text":"MLB Home Run Derby 2020″,"properties":{"link":"https://www.mlb.com/fantasy/home-run-derby"},"menuItems":[]},{"itemId":"fbe4d233-e766-4207-8886-55a2fc1f7f74″,"text":"MLB FAQs","properties":{"link":"https://www.mlb.com/apps/mlb-app/faq-apple"},"menuItems":[]},{"itemId":"34d7bc2e-a216-4956-8105-b42f2ba4bea3″,"text":"MLB Ballpark FAQs","properties":{"link":"https://www.mlb.com/apps/ballpark/faq-apple"},"menuItems":[]},{"itemId":"c081befb-bde5-446d-a4d4-c9292d29d525″,"text":"MLB Rally FAQs","properties":{"link":"https://www.mlb.com/apps/rally/faq-apple","visible":"true"},"menuItems":[]}]},{"itemId":"57ec62ff-6517-49b7-8bef-7a3edc6874cb","text":"Auction","properties":{"link":"http://auction.mlb.com/","visible":"false","customProperties":"topNav:false;"},"menuItems":[{"itemId":"3ea7f7ac-0734-47d9-8804-967eba72da0e","text":"Authentication","properties":{"link":"https://www.mlb.com/authentication"},"menuItems":[]},{"itemId":"e3e18801-29de-4b11-86ac-a475342dff41″,"text":"Autographed","properties":{"link":"http://auctions.mlb.com/iSynApp/allAuction.action?sid=1101001&rc=25&selectedCatId=17342&sort=timeleft_asc&pgmode2=catpage"},"menuItems":[]},{"itemId":"f4c0200f-4437-47c0-8c15-1a54c26d22c0″,"text":"Baseball Cards","properties":{"link":"http://www.baseballcards.mlb.com/"},"menuItems":[]},{"itemId":"21b7a4a2-6c76-47b5-af79-51dc0334f2c9″,"text":"Baseballs","properties":{"link":"http://auctions.mlb.com/iSynApp/allAuction.action?sid=1101001&rc=25&selectedCatId=13020&sort=timeleft_asc&pgmode2=catpage"},"menuItems":[]},{"itemId":"6b056370-0888-43e4-9f8c-8100e2ee7653″,"text":"Bats","properties":{"link":"http://auctions.mlb.com/iSynApp/allAuction.action?sid=1101001&rc=25&selectedCatId=13041&sort=timeleft_asc&pgmode2=catpage"},"menuItems":[]},{"itemId":"1b036e35-5977-4af1-9cb0-736c76d18ec4″,"text":"Caps","properties":{"link":"http://auctions.mlb.com/iSynApp/allAuction.action?sid=1101001&rc=25&selectedCatId=13021&sort=timeleft_asc&pgmode2=catpage"},"menuItems":[]},{"itemId":"74ae99a1-5ed5-44e4-842c-b49dc99e982d","text":"Experiences","properties":{"link":"http://auctions.mlb.com/iSynApp/allAuction.action?sid=1101001&rc=25&selectedCatId=13060&sort=timeleft_asc&pgmode2=catpage"},"menuItems":[]},{"itemId":"d41a4007-2f65-4b0f-a0a8-7df58870e507″,"text":"Game-Used","properties":{"link":"http://auctions.mlb.com/iSynApp/allAuction.action?sid=1101001&rc=25&selectedCatId=13022&sort=timeleft_asc&pgmode2=catpage"},"menuItems":[]},{"itemId":"aafaf49c-cfb9-432d-9119-f86a64fdbb27″,"text":"Jerseys","properties":{"link":"http://auctions.mlb.com/iSynApp/allAuction.action?sid=1101001&rc=25&selectedCatId=13062&sort=timeleft_asc&pgmode2=catpage"},"menuItems":[]},{"itemId":"c0be3bdb-025a-42ac-b09d-c391d058342b","text":"Photos","properties":{"link":"http://auctions.mlb.com/iSynApp/allAuction.action?sid=1101001&rc=25&selectedCatId=13024&sort=timeleft_asc&pgmode2=catpage"},"menuItems":[]}]},{"itemId":"98430c25-7924-4112-a70f-0b32fd31594f","text":"Teams","properties":{"link":"https://www.mlb.com/team","customProperties":"amp:true;module:teammodule;align:right;"},"menuItems":[{"itemId":"9191834c-54c4-40a7-8aac-9745d3666084″,"text":"Team Module","properties":{"customProperties":"module:teammodule;"},"menuItems":[]}]},{"itemId":"397b9e10-6d65-4fc0-bbe6-8d07f5e8d3a8″,"text":"ES","properties":{"link":"https://www.mlb.com/es","customProperties":"align:right;","toolTip":"Español"},"menuItems":[{"itemId":"ceb83c80-eaf2-4dd4-bdc6-e23b1e11ae60″,"text":"日本語","properties":{"link":"http://www.mlb.jp/","customProperties":"lang:ja"},"menuItems":[]},{"itemId":"27ac6728-00c1-4965-963b-05d33268fb50″,"text":"한국어","properties":{"link":"http://mlb.mbcsportsplus.com/","customProperties":"lang:ko"},"menuItems":[]}]}]},"locale":"en","reqPath":"/news/wrigley-field-to-host-limited-numbers-of-cubs-fans","sharedNav":{"instanceId":"6c265854-d856-4f92-aea1-07dfe5cda020″,"name":"shared-nav","variables":[],"menuItems":[{"itemId":"93b3e9b2-65a9-4585-9185-03e255cb523c","text":"MLB.TV","properties":{"link":"https://www.mlb.com/tv?&affiliateId=clubMENU","icon":"watch","customProperties":"align:right;"},"menuItems":[{"itemId":"162f5687-7f5b-4422-a782-133dc3db8aa0″,"text":"Buy MLB.TV","properties":{"link":"https://www.mlb.com/live-stream-games/subscribe?&affiliateId=clubMENU"},"menuItems":[]},{"itemId":"f75d3e53-5cc5-4eb5-b64d-7e72c3f601b9″,"text":"Buy MLB Audio","properties":{"link":"https://www.mlb.com/live-stream-games/subscribe/mlb-audio?&affiliateId=clubMENU"},"menuItems":[]},{"itemId":"d54a2b21-9db9-4252-9ebe-e3a4b2a3cf83″,"text":"Watch MLB.TV","properties":{"link":"https://www.mlb.com/live-stream-games?&affiliateId=clubMENU"},"menuItems":[]},{"itemId":"2a0ee52e-dc18-4f5b-a5b2-9ab8bd1ee507″,"text":"MLB.TV Spring Training Schedule","properties":{"link":"https://www.mlb.com/live-stream-games/spring-training?&affiliateId=clubMENU"},"menuItems":[]},{"itemId":"2d8d6ad8-dc2a-4971-9b12-f1853530c5d3″,"text":"Watch MLB.TV Docs & Features","properties":{"link":"https://www.mlb.com/tv/featured?&affiliateId=clubMENU"},"menuItems":[]},{"itemId":"6254640c-2069-4447-822f-084d0a38f161″,"text":"MLB.TV Help Center","properties":{"link":"https://www.mlb.com/live-stream-games/help-center?&affiliateId=clubMENU"},"menuItems":[]},{"itemId":"6d167d3d-4063-43ae-b13c-283e83c0e91c","text":"MLB.TV with Extra Innings","properties":{"link":"https://www.mlb.com/live-stream-games/third-party?&affiliateId=clubMENU"},"menuItems":[]}]},{"itemId":"d54d0be0-f610-4f8b-90ac-c246c361e2e2″,"text":"Fantasy","properties":{"link":"https://www.mlb.com/fantasy"},"menuItems":[{"itemId":"5ec4bde4-6bc1-412b-a92b-6b7cb3b2f07c","text":"Yahoo Fantasy Baseball","properties":{"link":"http://yhoo.it/3aK5QQw","visible":"true"},"menuItems":[]},{"itemId":"b2a63b51-03fc-423d-971e-1e566f6008f4″,"text":"MLB Rally","properties":{"link":"https://www.mlb.com/apps/rally","visible":"true"},"menuItems":[]},{"itemId":"f6929b88-632d-4a6f-ba73-8a64fccba1b0″,"text":"MLB Rally Quick Pick","properties":{"link":"https://www.mlb.com/apps/rally/quickpick"},"menuItems":[]},{"itemId":"0ebe9e5d-3fc7-48d2-acb1-c33eb931b911″,"text":"Postseason Bracket Challenge","properties":{"link":"https://www.mlb.com/brackets/postseason"},"menuItems":[]},{"itemId":"14aa1d4b-0193-4670-a1fc-b4386d4977e8″,"text":"The Vault","properties":{"link":"https://www.mlb.com/the-vault"},"menuItems":[]},{"itemId":"1543c12c-66d1-4033-9e05-c025fcb71a6a","text":"R.B.I. Baseball 21″,"properties":{"link":"https://www.rbigame.com"},"menuItems":[]},{"itemId":"4e0abdd4-8a0f-4bc5-838f-91dd2796041e","text":"MLB Home Run Derby 2020″,"properties":{"link":"https://www.mlb.com/fantasy/home-run-derby"},"menuItems":[]},{"itemId":"9f1ff266-0ed8-4adb-ba77-428d1871b237″,"text":"Closer Report","properties":{"link":"https://www.mlb.com/closer-report"},"menuItems":[]},{"itemId":"4c4f57bd-e31a-46c9-8f73-0fa2227451d3″,"text":"Prospect Rankings","properties":{"link":"https://www.mlb.com/prospects"},"menuItems":[]},{"itemId":"1ebe4dc3-2c6a-469f-be59-474fe14dbbd7″,"text":"MLB Champions","properties":{"link":"https://www.mlbc-app.com/?ref=mlbcom"},"menuItems":[]}]},{"itemId":"d1f61f89-9fd0-4f03-be17-2c5e128711a4″,"text":"Apps","properties":{"link":"https://www.mlb.com/apps"},"menuItems":[{"itemId":"83ac2ddf-414b-47d1-afec-ffacd068ab57″,"text":"MLB","properties":{"link":"https://www.mlb.com/apps/mlb-app"},"menuItems":[]},{"itemId":"83dbba73-02ac-4ba0-bebf-2c62ef04c19e","text":"MLB Rally","properties":{"link":"https://www.mlb.com/apps/rally","visible":"true"},"menuItems":[]},{"itemId":"e09e6978-fcf7-4c2f-8387-59d83b7be38e","text":"MLB Ballpark","properties":{"link":"https://www.mlb.com/apps/ballpark"},"menuItems":[]},{"itemId":"5e7b8019-9484-4872-abd7-8b963cd5969e","text":"MiLB First Pitch","properties":{"link":"https://www.milb.com/about/first-pitch"},"menuItems":[]},{"itemId":"e3a0183d-1b5f-4e56-9b81-02632ba4ec60″,"text":"R.B.I. Baseball 21″,"properties":{"link":"https://www.rbigame.com"},"menuItems":[]},{"itemId":"4fd8c1f8-a753-4501-916c-663390f1a566″,"text":"MLB Home Run Derby 2020″,"properties":{"link":"https://www.mlb.com/fantasy/home-run-derby"},"menuItems":[]},{"itemId":"9d8dfe8b-be1a-4ebf-9509-6bd0165a868e","text":"MLB FAQs","properties":{"link":"https://www.mlb.com/apps/mlb-app/faq-apple"},"menuItems":[]},{"itemId":"df4e8527-e357-4272-bcf7-61876ed9455d","text":"MLB Ballpark FAQs","properties":{"link":"https://www.mlb.com/apps/ballpark/faq-apple","visible":"true"},"menuItems":[]},{"itemId":"c2943c65-a843-437a-9ef4-4ccfe5be088f","text":"MLB Rally FAQs","properties":{"link":"https://www.mlb.com/apps/rally/faq-apple","visible":"true"},"menuItems":[]}]}]},"styleProps":{},"teamNameSlug":"","teamsData":[{"id":133,"name":"Oakland Athletics","link":"/api/v1/teams/133″,"season":2021,"venue":{"id":10,"name":"Oakland Coliseum","link":"/api/v1/venues/10″,"location":{"city":"Oakland","state":"California","stateAbbrev":"CA","defaultCoordinates":{"latitude":37.751511,"longitude":-122.200698}},"timeZone":{"id":"America/Los_Angeles","offset":-8,"tz":"PST"}},"teamCode":"oak","fileCode":"oak","abbreviation":"OAK","teamName":"Athletics","locationName":"Oakland","firstYearOfPlay":"1901″,"league":{"id":103,"name":"American League","link":"/api/v1/league/103″},"division":{"id":200,"name":"American League West","link":"/api/v1/divisions/200″},"sport":{"id":1,"link":"/api/v1/sports/1″,"name":"Major League Baseball"},"shortName":"Oakland","springLeague":{"id":114,"name":"Cactus League","link":"/api/v1/league/114″,"abbreviation":"CL"},"allStarStatus":"N","active":true},{"id":134,"name":"Pittsburgh Pirates","link":"/api/v1/teams/134″,"season":2021,"venue":{"id":31,"name":"PNC Park","link":"/api/v1/venues/31″,"location":{"city":"Pittsburgh","state":"Pennsylvania","stateAbbrev":"PA","defaultCoordinates":{"latitude":40.446904,"longitude":-80.005753}},"timeZone":{"id":"America/New_York","offset":-5,"tz":"EST"}},"teamCode":"pit","fileCode":"pit","abbreviation":"PIT","teamName":"Pirates","locationName":"Pittsburgh","firstYearOfPlay":"1882″,"league":{"id":104,"name":"National League","link":"/api/v1/league/104″},"division":{"id":205,"name":"National League Central","link":"/api/v1/divisions/205″},"sport":{"id":1,"link":"/api/v1/sports/1″,"name":"Major League Baseball"},"shortName":"Pittsburgh","springLeague":{"id":115,"name":"Grapefruit League","link":"/api/v1/league/115″,"abbreviation":"GL"},"allStarStatus":"N","active":true},{"id":135,"name":"San Diego Padres","link":"/api/v1/teams/135″,"season":2021,"venue":{"id":2680,"name":"Petco Park","link":"/api/v1/venues/2680″,"location":{"city":"San Diego","state":"California","stateAbbrev":"CA","defaultCoordinates":{"latitude":32.707861,"longitude":-117.157278}},"timeZone":{"id":"America/Los_Angeles","offset":-8,"tz":"PST"}},"teamCode":"sdn","fileCode":"sd","abbreviation":"SD","teamName":"Padres","locationName":"San Diego","firstYearOfPlay":"1968″,"league":{"id":104,"name":"National League","link":"/api/v1/league/104″},"division":{"id":203,"name":"National League West","link":"/api/v1/divisions/203″},"sport":{"id":1,"link":"/api/v1/sports/1″,"name":"Major League Baseball"},"shortName":"San Diego","springLeague":{"id":114,"name":"Cactus League","link":"/api/v1/league/114″,"abbreviation":"CL"},"allStarStatus":"N","active":true},{"id":136,"name":"Seattle Mariners","link":"/api/v1/teams/136″,"season":2021,"venue":{"id":680,"name":"T-Mobile Park","link":"/api/v1/venues/680″,"location":{"city":"Seattle","state":"Washington","stateAbbrev":"WA","defaultCoordinates":{"latitude":47.591333,"longitude":-122.33251}},"timeZone":{"id":"America/Los_Angeles","offset":-8,"tz":"PST"}},"teamCode":"sea","fileCode":"sea","abbreviation":"SEA","teamName":"Mariners","locationName":"Seattle","firstYearOfPlay":"1977″,"league":{"id":103,"name":"American League","link":"/api/v1/league/103″},"division":{"id":200,"name":"American League West","link":"/api/v1/divisions/200″},"sport":{"id":1,"link":"/api/v1/sports/1″,"name":"Major League Baseball"},"shortName":"Seattle","springLeague":{"id":114,"name":"Cactus League","link":"/api/v1/league/114″,"abbreviation":"CL"},"allStarStatus":"N","active":true},{"id":137,"name":"San Francisco Giants","link":"/api/v1/teams/137″,"season":2021,"venue":{"id":2395,"name":"Oracle Park","link":"/api/v1/venues/2395″,"location":{"city":"San Francisco","state":"California","stateAbbrev":"CA","defaultCoordinates":{"latitude":37.778383,"longitude":-122.389448}},"timeZone":{"id":"America/Los_Angeles","offset":-8,"tz":"PST"}},"teamCode":"sfn","fileCode":"sf","abbreviation":"SF","teamName":"Giants","locationName":"San Francisco","firstYearOfPlay":"1883″,"league":{"id":104,"name":"National League","link":"/api/v1/league/104″},"division":{"id":203,"name":"National League West","link":"/api/v1/divisions/203″},"sport":{"id":1,"link":"/api/v1/sports/1″,"name":"Major League Baseball"},"shortName":"San Francisco","springLeague":{"id":114,"name":"Cactus League","link":"/api/v1/league/114″,"abbreviation":"CL"},"allStarStatus":"N","active":true},{"id":138,"name":"St. Louis Cardinals","link":"/api/v1/teams/138″,"season":2021,"venue":{"id":2889,"name":"Busch Stadium","link":"/api/v1/venues/2889″,"location":{"city":"St. Louis","state":"Missouri","stateAbbrev":"MO","defaultCoordinates":{"latitude":38.62256667,"longitude":-90.19286667}},"timeZone":{"id":"America/Chicago","offset":-6,"tz":"CST"}},"teamCode":"sln","fileCode":"stl","abbreviation":"STL","teamName":"Cardinals","locationName":"St. Louis","firstYearOfPlay":"1892″,"league":{"id":104,"name":"National League","link":"/api/v1/league/104″},"division":{"id":205,"name":"National League Central","link":"/api/v1/divisions/205″},"sport":{"id":1,"link":"/api/v1/sports/1″,"name":"Major League Baseball"},"shortName":"St. Louis","springLeague":{"id":115,"name":"Grapefruit League","link":"/api/v1/league/115″,"abbreviation":"GL"},"allStarStatus":"N","active":true},{"id":139,"name":"Tampa Bay Rays","link":"/api/v1/teams/139″,"season":2021,"venue":{"id":12,"name":"Tropicana Field","link":"/api/v1/venues/12″,"location":{"city":"St. Petersburg","state":"Florida","stateAbbrev":"FL","defaultCoordinates":{"latitude":27.767778,"longitude":-82.6525}},"timeZone":{"id":"America/New_York","offset":-5,"tz":"EST"}},"teamCode":"tba","fileCode":"tb","abbreviation":"TB","teamName":"Rays","locationName":"St. Petersburg","firstYearOfPlay":"1996″,"league":{"id":103,"name":"American League","link":"/api/v1/league/103″},"division":{"id":201,"name":"American League East","link":"/api/v1/divisions/201″},"sport":{"id":1,"link":"/api/v1/sports/1″,"name":"Major League Baseball"},"shortName":"Tampa Bay","springLeague":{"id":115,"name":"Grapefruit League","link":"/api/v1/league/115″,"abbreviation":"GL"},"allStarStatus":"N","active":true},{"id":140,"name":"Texas Rangers","link":"/api/v1/teams/140″,"season":2021,"venue":{"id":5325,"name":"Globe Life Field","link":"/api/v1/venues/5325″,"location":{"city":"Arlington","state":"Texas","stateAbbrev":"TX","defaultCoordinates":{"latitude":32.747299,"longitude":-97.081818}},"timeZone":{"id":"America/Chicago","offset":-6,"tz":"CST"}},"teamCode":"tex","fileCode":"tex","abbreviation":"TEX","teamName":"Rangers","locationName":"Arlington","firstYearOfPlay":"1961″,"league":{"id":103,"name":"American League","link":"/api/v1/league/103″},"division":{"id":200,"name":"American League West","link":"/api/v1/divisions/200″},"sport":{"id":1,"link":"/api/v1/sports/1″,"name":"Major League Baseball"},"shortName":"Texas","springLeague":{"id":114,"name":"Cactus League","link":"/api/v1/league/114″,"abbreviation":"CL"},"allStarStatus":"N","active":true},{"id":141,"name":"Toronto Blue Jays","link":"/api/v1/teams/141″,"season":2021,"venue":{"id":14,"name":"Rogers Centre","link":"/api/v1/venues/14″,"location":{"city":"Toronto","state":"Ontario","stateAbbrev":"ON","defaultCoordinates":{"latitude":43.64155,"longitude":-79.38915}},"timeZone":{"id":"America/Toronto","offset":-5,"tz":"EST"}},"teamCode":"tor","fileCode":"tor","abbreviation":"TOR","teamName":"Blue Jays","locationName":"Toronto","firstYearOfPlay":"1977″,"league":{"id":103,"name":"American League","link":"/api/v1/league/103″},"division":{"id":201,"name":"American League East","link":"/api/v1/divisions/201″},"sport":{"id":1,"link":"/api/v1/sports/1″,"name":"Major League Baseball"},"shortName":"Toronto","springLeague":{"id":115,"name":"Grapefruit League","link":"/api/v1/league/115″,"abbreviation":"GL"},"allStarStatus":"N","active":true},{"id":142,"name":"Minnesota Twins","link":"/api/v1/teams/142″,"season":2021,"venue":{"id":3312,"name":"Target Field","link":"/api/v1/venues/3312″,"location":{"city":"Minneapolis","state":"Minnesota","stateAbbrev":"MN","defaultCoordinates":{"latitude":44.981829,"longitude":-93.277891}},"timeZone":{"id":"America/Chicago","offset":-6,"tz":"CST"}},"teamCode":"min","fileCode":"min","abbreviation":"MIN","teamName":"Twins","locationName":"Minneapolis","firstYearOfPlay":"1901″,"league":{"id":103,"name":"American League","link":"/api/v1/league/103″},"division":{"id":202,"name":"American League Central","link":"/api/v1/divisions/202″},"sport":{"id":1,"link":"/api/v1/sports/1″,"name":"Major League Baseball"},"shortName":"Minnesota","springLeague":{"id":115,"name":"Grapefruit League","link":"/api/v1/league/115″,"abbreviation":"GL"},"allStarStatus":"N","active":true},{"id":143,"name":"Philadelphia Phillies","link":"/api/v1/teams/143″,"season":2021,"venue":{"id":2681,"name":"Citizens Bank Park","link":"/api/v1/venues/2681″,"location":{"city":"Philadelphia","state":"Pennsylvania","stateAbbrev":"PA","defaultCoordinates":{"latitude":39.90539086,"longitude":-75.16716957}},"timeZone":{"id":"America/New_York","offset":-5,"tz":"EST"}},"teamCode":"phi","fileCode":"phi","abbreviation":"PHI","teamName":"Phillies","locationName":"Philadelphia","firstYearOfPlay":"1883″,"league":{"id":104,"name":"National League","link":"/api/v1/league/104″},"division":{"id":204,"name":"National League East","link":"/api/v1/divisions/204″},"sport":{"id":1,"link":"/api/v1/sports/1″,"name":"Major League Baseball"},"shortName":"Philadelphia","springLeague":{"id":115,"name":"Grapefruit League","link":"/api/v1/league/115″,"abbreviation":"GL"},"allStarStatus":"N","active":true},{"id":144,"name":"Atlanta Braves","link":"/api/v1/teams/144″,"season":2021,"venue":{"id":4705,"name":"Truist Park","link":"/api/v1/venues/4705″,"location":{"city":"Atlanta","state":"Georgia","stateAbbrev":"GA","defaultCoordinates":{"latitude":33.890672,"longitude":-84.467641}},"timeZone":{"id":"America/New_York","offset":-5,"tz":"EST"}},"teamCode":"atl","fileCode":"atl","abbreviation":"ATL","teamName":"Braves","locationName":"Atlanta","firstYearOfPlay":"1871″,"league":{"id":104,"name":"National League","link":"/api/v1/league/104″},"division":{"id":204,"name":"National League East","link":"/api/v1/divisions/204″},"sport":{"id":1,"link":"/api/v1/sports/1″,"name":"Major League Baseball"},"shortName":"Atlanta","springLeague":{"id":115,"name":"Grapefruit League","link":"/api/v1/league/115″,"abbreviation":"GL"},"allStarStatus":"N","active":true},{"id":145,"name":"Chicago White Sox","link":"/api/v1/teams/145″,"season":2021,"venue":{"id":4,"name":"Guaranteed Rate Field","link":"/api/v1/venues/4″,"location":{"city":"Chicago","state":"Illinois","stateAbbrev":"IL","defaultCoordinates":{"latitude":41.83,"longitude":-87.634167}},"timeZone":{"id":"America/Chicago","offset":-6,"tz":"CST"}},"teamCode":"cha","fileCode":"cws","abbreviation":"CWS","teamName":"White Sox","locationName":"Chicago","firstYearOfPlay":"1901″,"league":{"id":103,"name":"American League","link":"/api/v1/league/103″},"division":{"id":202,"name":"American League Central","link":"/api/v1/divisions/202″},"sport":{"id":1,"link":"/api/v1/sports/1″,"name":"Major League Baseball"},"shortName":"Chi White Sox","springLeague":{"id":114,"name":"Cactus League","link":"/api/v1/league/114″,"abbreviation":"CL"},"allStarStatus":"N","active":true},{"id":146,"name":"Miami Marlins","link":"/api/v1/teams/146″,"season":2021,"venue":{"id":4169,"name":"Marlins Park","link":"/api/v1/venues/4169″,"location":{"city":"Miami","state":"Florida","stateAbbrev":"FL","defaultCoordinates":{"latitude":25.77796236,"longitude":-80.21951795}},"timeZone":{"id":"America/New_York","offset":-5,"tz":"EST"}},"teamCode":"mia","fileCode":"mia","abbreviation":"MIA","teamName":"Marlins","locationName":"Miami","firstYearOfPlay":"1991″,"league":{"id":104,"name":"National League","link":"/api/v1/league/104″},"division":{"id":204,"name":"National League East","link":"/api/v1/divisions/204″},"sport":{"id":1,"link":"/api/v1/sports/1″,"name":"Major League Baseball"},"shortName":"Miami","springLeague":{"id":115,"name":"Grapefruit League","link":"/api/v1/league/115″,"abbreviation":"GL"},"allStarStatus":"N","active":true},{"id":147,"name":"New York Yankees","link":"/api/v1/teams/147″,"season":2021,"venue":{"id":3313,"name":"Yankee Stadium","link":"/api/v1/venues/3313″,"location":{"city":"Bronx","state":"New York","stateAbbrev":"NY","defaultCoordinates":{"latitude":40.82919482,"longitude":-73.9264977}},"timeZone":{"id":"America/New_York","offset":-5,"tz":"EST"}},"teamCode":"nya","fileCode":"nyy","abbreviation":"NYY","teamName":"Yankees","locationName":"Bronx","firstYearOfPlay":"1903″,"league":{"id":103,"name":"American League","link":"/api/v1/league/103″},"division":{"id":201,"name":"American League East","link":"/api/v1/divisions/201″},"sport":{"id":1,"link":"/api/v1/sports/1″,"name":"Major League Baseball"},"shortName":"NY Yankees","springLeague":{"id":115,"name":"Grapefruit League","link":"/api/v1/league/115″,"abbreviation":"GL"},"allStarStatus":"N","active":true},{"id":158,"name":"Milwaukee Brewers","link":"/api/v1/teams/158″,"season":2021,"venue":{"id":32,"name":"American Family Field","link":"/api/v1/venues/32″,"location":{"city":"Milwaukee","state":"Wisconsin","stateAbbrev":"WI","defaultCoordinates":{"latitude":43.02838,"longitude":-87.97099}},"timeZone":{"id":"America/Chicago","offset":-6,"tz":"CST"}},"teamCode":"mil","fileCode":"mil","abbreviation":"MIL","teamName":"Brewers","locationName":"Milwaukee","firstYearOfPlay":"1968″,"league":{"id":104,"name":"National League","link":"/api/v1/league/104″},"division":{"id":205,"name":"National League Central","link":"/api/v1/divisions/205″},"sport":{"id":1,"link":"/api/v1/sports/1″,"name":"Major League Baseball"},"shortName":"Milwaukee","springLeague":{"id":114,"name":"Cactus League","link":"/api/v1/league/114″,"abbreviation":"CL"},"allStarStatus":"N","active":true},{"id":108,"name":"Los Angeles Angels","link":"/api/v1/teams/108″,"season":2021,"venue":{"id":1,"name":"Angel Stadium","link":"/api/v1/venues/1″,"location":{"city":"Anaheim","state":"California","stateAbbrev":"CA","defaultCoordinates":{"latitude":33.80019044,"longitude":-117.8823996}},"timeZone":{"id":"America/Los_Angeles","offset":-8,"tz":"PST"}},"teamCode":"ana","fileCode":"ana","abbreviation":"LAA","teamName":"Angels","locationName":"Anaheim","firstYearOfPlay":"1961″,"league":{"id":103,"name":"American League","link":"/api/v1/league/103″},"division":{"id":200,"name":"American League West","link":"/api/v1/divisions/200″},"sport":{"id":1,"link":"/api/v1/sports/1″,"name":"Major League Baseball"},"shortName":"LA Angels","springLeague":{"id":114,"name":"Cactus League","link":"/api/v1/league/114″,"abbreviation":"CL"},"allStarStatus":"N","active":true},{"id":109,"name":"Arizona Diamondbacks","link":"/api/v1/teams/109″,"season":2021,"venue":{"id":15,"name":"Chase Field","link":"/api/v1/venues/15″,"location":{"city":"Phoenix","state":"Arizona","stateAbbrev":"AZ","defaultCoordinates":{"latitude":33.445302,"longitude":-112.066687}},"timeZone":{"id":"America/Phoenix","offset":-7,"tz":"MST"}},"teamCode":"ari","fileCode":"ari","abbreviation":"ARI","teamName":"D-backs","locationName":"Phoenix","firstYearOfPlay":"1996″,"league":{"id":104,"name":"National League","link":"/api/v1/league/104″},"division":{"id":203,"name":"National League West","link":"/api/v1/divisions/203″},"sport":{"id":1,"link":"/api/v1/sports/1″,"name":"Major League Baseball"},"shortName":"Arizona","springLeague":{"id":114,"name":"Cactus League","link":"/api/v1/league/114″,"abbreviation":"CL"},"allStarStatus":"N","active":true},{"id":110,"name":"Baltimore Orioles","link":"/api/v1/teams/110″,"season":2021,"venue":{"id":2,"name":"Oriole Park at Camden Yards","link":"/api/v1/venues/2″,"location":{"city":"Baltimore","state":"Maryland","stateAbbrev":"MD","defaultCoordinates":{"latitude":39.283787,"longitude":-76.621689}},"timeZone":{"id":"America/New_York","offset":-5,"tz":"EST"}},"teamCode":"bal","fileCode":"bal","abbreviation":"BAL","teamName":"Orioles","locationName":"Baltimore","firstYearOfPlay":"1901″,"league":{"id":103,"name":"American League","link":"/api/v1/league/103″},"division":{"id":201,"name":"American League East","link":"/api/v1/divisions/201″},"sport":{"id":1,"link":"/api/v1/sports/1″,"name":"Major League Baseball"},"shortName":"Baltimore","springLeague":{"id":115,"name":"Grapefruit League","link":"/api/v1/league/115″,"abbreviation":"GL"},"allStarStatus":"N","active":true},{"id":111,"name":"Boston Red Sox","link":"/api/v1/teams/111″,"season":2021,"venue":{"id":3,"name":"Fenway Park","link":"/api/v1/venues/3″,"location":{"city":"Boston","state":"Massachusetts","stateAbbrev":"MA","defaultCoordinates":{"latitude":42.346456,"longitude":-71.097441}},"timeZone":{"id":"America/New_York","offset":-5,"tz":"EST"}},"teamCode":"bos","fileCode":"bos","abbreviation":"BOS","teamName":"Red Sox","locationName":"Boston","firstYearOfPlay":"1901″,"league":{"id":103,"name":"American League","link":"/api/v1/league/103″},"division":{"id":201,"name":"American League East","link":"/api/v1/divisions/201″},"sport":{"id":1,"link":"/api/v1/sports/1″,"name":"Major League Baseball"},"shortName":"Boston","springLeague":{"id":115,"name":"Grapefruit League","link":"/api/v1/league/115″,"abbreviation":"GL"},"allStarStatus":"N","active":true},{"id":112,"name":"Chicago Cubs","link":"/api/v1/teams/112″,"season":2021,"venue":{"id":17,"name":"Wrigley Field","link":"/api/v1/venues/17″,"location":{"city":"Chicago","state":"Illinois","stateAbbrev":"IL","defaultCoordinates":{"latitude":41.948171,"longitude":-87.655503}},"timeZone":{"id":"America/Chicago","offset":-6,"tz":"CST"}},"teamCode":"chn","fileCode":"chc","abbreviation":"CHC","teamName":"Cubs","locationName":"Chicago","firstYearOfPlay":"1874″,"league":{"id":104,"name":"National League","link":"/api/v1/league/104″},"division":{"id":205,"name":"National League Central","link":"/api/v1/divisions/205″},"sport":{"id":1,"link":"/api/v1/sports/1″,"name":"Major League Baseball"},"shortName":"Chi Cubs","springLeague":{"id":114,"name":"Cactus League","link":"/api/v1/league/114″,"abbreviation":"CL"},"allStarStatus":"N","active":true},{"id":113,"name":"Cincinnati Reds","link":"/api/v1/teams/113″,"season":2021,"venue":{"id":2602,"name":"Great American Ball Park","link":"/api/v1/venues/2602″,"location":{"city":"Cincinnati","state":"Ohio","stateAbbrev":"OH","defaultCoordinates":{"latitude":39.097389,"longitude":-84.506611}},"timeZone":{"id":"America/New_York","offset":-5,"tz":"EST"}},"teamCode":"cin","fileCode":"cin","abbreviation":"CIN","teamName":"Reds","locationName":"Cincinnati","firstYearOfPlay":"1882″,"league":{"id":104,"name":"National League","link":"/api/v1/league/104″},"division":{"id":205,"name":"National League Central","link":"/api/v1/divisions/205″},"sport":{"id":1,"link":"/api/v1/sports/1″,"name":"Major League Baseball"},"shortName":"Cincinnati","springLeague":{"id":114,"name":"Cactus League","link":"/api/v1/league/114″,"abbreviation":"CL"},"allStarStatus":"N","active":true},{"id":114,"name":"Cleveland Indians","link":"/api/v1/teams/114″,"season":2021,"venue":{"id":5,"name":"Progressive Field","link":"/api/v1/venues/5″,"location":{"city":"Cleveland","state":"Ohio","stateAbbrev":"OH","defaultCoordinates":{"latitude":41.495861,"longitude":-81.685255}},"timeZone":{"id":"America/New_York","offset":-5,"tz":"EST"}},"teamCode":"cle","fileCode":"cle","abbreviation":"CLE","teamName":"Indians","locationName":"Cleveland","firstYearOfPlay":"1901″,"league":{"id":103,"name":"American League","link":"/api/v1/league/103″},"division":{"id":202,"name":"American League Central","link":"/api/v1/divisions/202″},"sport":{"id":1,"link":"/api/v1/sports/1″,"name":"Major League Baseball"},"shortName":"Cleveland","springLeague":{"id":114,"name":"Cactus League","link":"/api/v1/league/114″,"abbreviation":"CL"},"allStarStatus":"N","active":true},{"id":115,"name":"Colorado Rockies","link":"/api/v1/teams/115″,"season":2021,"venue":{"id":19,"name":"Coors Field","link":"/api/v1/venues/19″,"location":{"city":"Denver","state":"Colorado","stateAbbrev":"CO","defaultCoordinates":{"latitude":39.756042,"longitude":-104.994136}},"timeZone":{"id":"America/Denver","offset":-7,"tz":"MST"}},"teamCode":"col","fileCode":"col","abbreviation":"COL","teamName":"Rockies","locationName":"Denver","firstYearOfPlay":"1992″,"league":{"id":104,"name":"National League","link":"/api/v1/league/104″},"division":{"id":203,"name":"National League West","link":"/api/v1/divisions/203″},"sport":{"id":1,"link":"/api/v1/sports/1″,"name":"Major League Baseball"},"shortName":"Colorado","springLeague":{"id":114,"name":"Cactus League","link":"/api/v1/league/114″,"abbreviation":"CL"},"allStarStatus":"N","active":true},{"id":116,"name":"Detroit Tigers","link":"/api/v1/teams/116″,"season":2021,"venue":{"id":2394,"name":"Comerica Park","link":"/api/v1/venues/2394″,"location":{"city":"Detroit","state":"Michigan","stateAbbrev":"MI","defaultCoordinates":{"latitude":42.3391151,"longitude":-83.048695}},"timeZone":{"id":"America/Detroit","offset":-5,"tz":"EST"}},"teamCode":"det","fileCode":"det","abbreviation":"DET","teamName":"Tigers","locationName":"Detroit","firstYearOfPlay":"1901″,"league":{"id":103,"name":"American League","link":"/api/v1/league/103″},"division":{"id":202,"name":"American League Central","link":"/api/v1/divisions/202″},"sport":{"id":1,"link":"/api/v1/sports/1″,"name":"Major League Baseball"},"shortName":"Detroit","springLeague":{"id":115,"name":"Grapefruit League","link":"/api/v1/league/115″,"abbreviation":"GL"},"allStarStatus":"N","active":true},{"id":117,"name":"Houston Astros","link":"/api/v1/teams/117″,"season":2021,"venue":{"id":2392,"name":"Minute Maid Park","link":"/api/v1/venues/2392″,"location":{"city":"Houston","state":"Texas","stateAbbrev":"TX","defaultCoordinates":{"latitude":29.756967,"longitude":-95.355509}},"timeZone":{"id":"America/Chicago","offset":-6,"tz":"CST"}},"teamCode":"hou","fileCode":"hou","abbreviation":"HOU","teamName":"Astros","locationName":"Houston","firstYearOfPlay":"1962″,"league":{"id":103,"name":"American League","link":"/api/v1/league/103″},"division":{"id":200,"name":"American League West","link":"/api/v1/divisions/200″},"sport":{"id":1,"link":"/api/v1/sports/1″,"name":"Major League Baseball"},"shortName":"Houston","springLeague":{"id":115,"name":"Grapefruit League","link":"/api/v1/league/115″,"abbreviation":"GL"},"allStarStatus":"N","active":true},{"id":118,"name":"Kansas City Royals","link":"/api/v1/teams/118″,"season":2021,"venue":{"id":7,"name":"Kauffman Stadium","link":"/api/v1/venues/7″,"location":{"city":"Kansas City","state":"Missouri","stateAbbrev":"MO","defaultCoordinates":{"latitude":39.051567,"longitude":-94.480483}},"timeZone":{"id":"America/Chicago","offset":-6,"tz":"CST"}},"teamCode":"kca","fileCode":"kc","abbreviation":"KC","teamName":"Royals","locationName":"Kansas City","firstYearOfPlay":"1968″,"league":{"id":103,"name":"American League","link":"/api/v1/league/103″},"division":{"id":202,"name":"American League Central","link":"/api/v1/divisions/202″},"sport":{"id":1,"link":"/api/v1/sports/1″,"name":"Major League Baseball"},"shortName":"Kansas City","springLeague":{"id":114,"name":"Cactus League","link":"/api/v1/league/114″,"abbreviation":"CL"},"allStarStatus":"N","active":true},{"id":119,"name":"Los Angeles Dodgers","link":"/api/v1/teams/119″,"season":2021,"venue":{"id":22,"name":"Dodger Stadium","link":"/api/v1/venues/22″,"location":{"city":"Los Angeles","state":"California","stateAbbrev":"CA","defaultCoordinates":{"latitude":34.07368,"longitude":-118.24053}},"timeZone":{"id":"America/Los_Angeles","offset":-8,"tz":"PST"}},"teamCode":"lan","fileCode":"la","abbreviation":"LAD","teamName":"Dodgers","locationName":"Los Angeles","firstYearOfPlay":"1884″,"league":{"id":104,"name":"National League","link":"/api/v1/league/104″},"division":{"id":203,"name":"National League West","link":"/api/v1/divisions/203″},"sport":{"id":1,"link":"/api/v1/sports/1″,"name":"Major League Baseball"},"shortName":"LA Dodgers","springLeague":{"id":114,"name":"Cactus League","link":"/api/v1/league/114″,"abbreviation":"CL"},"allStarStatus":"N","active":true},{"id":120,"name":"Washington Nationals","link":"/api/v1/teams/120″,"season":2021,"venue":{"id":3309,"name":"Nationals Park","link":"/api/v1/venues/3309″,"location":{"city":"Washington","state":"District of Columbia","stateAbbrev":"DC","defaultCoordinates":{"latitude":38.872861,"longitude":-77.007501}},"timeZone":{"id":"America/New_York","offset":-5,"tz":"EST"}},"teamCode":"was","fileCode":"was","abbreviation":"WSH","teamName":"Nationals","locationName":"Washington","firstYearOfPlay":"1968″,"league":{"id":104,"name":"National League","link":"/api/v1/league/104″},"division":{"id":204,"name":"National League East","link":"/api/v1/divisions/204″},"sport":{"id":1,"link":"/api/v1/sports/1″,"name":"Major League Baseball"},"shortName":"Washington","springLeague":{"id":115,"name":"Grapefruit League","link":"/api/v1/league/115″,"abbreviation":"GL"},"allStarStatus":"N","active":true},{"id":121,"name":"New York Mets","link":"/api/v1/teams/121″,"season":2021,"venue":{"id":3289,"name":"Citi Field","link":"/api/v1/venues/3289″,"location":{"city":"Flushing","state":"New York","stateAbbrev":"NY","defaultCoordinates":{"latitude":40.75753012,"longitude":-73.84559155}},"timeZone":{"id":"America/New_York","offset":-5,"tz":"EST"}},"teamCode":"nyn","fileCode":"nym","abbreviation":"NYM","teamName":"Mets","locationName":"Flushing","firstYearOfPlay":"1962″,"league":{"id":104,"name":"National League","link":"/api/v1/league/104″},"division":{"id":204,"name":"National League East","link":"/api/v1/divisions/204″},"sport":{"id":1,"link":"/api/v1/sports/1″,"name":"Major League Baseball"},"shortName":"NY Mets","springLeague":{"id":115,"name":"Grapefruit League","link":"/api/v1/league/115″,"abbreviation":"GL"},"allStarStatus":"N","active":true}]},"isApp":false,"isPremium":false,"lang":"en","queryString":"","shareOptions":{"shareUrl":"https://www.mlb.com/news/wrigley-field-to-host-limited-numbers-of-cubs-fans","twitterHandle":"mlb"},"storySlug":"wrigley-field-to-host-limited-numbers-of-cubs-fans","topicSlug":""}}
window.adobeAnalytics = {"reportingSuiteId":"mlbglobal08,mlbcom08″,"linkInternalFilters":"mlb"}
window.globalState = {"tracking_title":"Major League Baseball","lang":"en"}
window.appId = "
/*–>*/
Cubs approved by state and city to welcome 20 percent capacity
a few seconds ago
MESA, Ariz. — Cubs players have expressed this spring that having fans in the stands has brought a much welcomed feeling of normalcy. Come Opening Day, they will be welcomed home by fans at Wrigley Field.
On Monday, the Cubs announced that they have been approved to host a limited-capacity crowd (20 percent) to begin the regular season, following approvals from the State of Illinois and the City of Chicago. The Cubs will have an opportunity to increase the number of fans at the Friendly Confines throughout the year.
"You can't get any better than that. Fans back in the stands," Cubs manager David Ross said after hearing the news on Monday. "It's already been nice here in Arizona, just to hear the cheers and the heckling. Yeah, I'm super excited about that."
The Cubs gained clearance from Gov. J.B. Pritzker and Chicago mayor Lori Lightfoot, and they will be subject to further approvals in the team's efforts to increase capacity. The club has developed a detailed plan for welcoming players, staff and fans back in a safe manner in the upcoming campaign.
The Cubs used guidelines from MLB, the Centers for Disease Control and Prevention, the State of Illinois and the City of Chicago in order to put together their sanitation plans, rules and protocols for all those entering the Friendly Confines this summer.
"To welcome Cubs fans home to Wrigley Field and bring back one of the joys of spring after a challenging year is incredibly rewarding," Cubs president of business operations Crane Kenney said in a release. "We'd like to thank Governor Pritzker and Mayor Lightfoot for their tremendous leadership in carefully navigating this important milestone and partnering with us on our plan to safely return fans to the ballpark."
The Cubs plan on starting off with limited-capacity, pod-style seating to adhere to social-distancing guidelines. Masks will be required for all Wrigley Field guests who are two years or older. There will be a touchless entry screening process, tickets available exclusively via mobile ticketing and cashless retail and concessions.
"Our goal is to create a safe, clean and friendly environment for everyone to enjoy Cubs baseball beginning Opening Day," Kenney said.
Last year, Ross lived walking distance from Wrigley Field and said there was a dramatic difference in the neighborhood compared to previous seasons on game days.
"It was just an empty feeling, just because it was," Ross said.
Known for his high level of energy and emotion, Javier Báez has been vocal about how he felt the lack of fans may have actually impacted his play on the field. Needless to say, everyone around the team is looking forward to getting more fans safely back into Wrigleyville and into the seats this year.
"Even though it's only 20 percent, that's a good start," Cubs veteran Jake Arrieta said. "Wrigley is such an amazing attraction for the city. And to have that taken away from not only the fans and the players, but just the local businesses and the local economy — it was tough all around the country, all around the world for a lot of people. For our sport, it kind of hit closer to home for all of us.
"Hopefully, we're able to slowly get back into a situation where we can get close to capacity at Wrigley. And get back to normal. But, we have to take it slow and we've been dealing with something very serious."
As a thank you for all the work done over the past year during the ongoing COVID-19 pandemic, the Cubs plan on hosting vaccinated healthcare workers and employees from Advocate Aurora Health in the bleachers as part of the Opening Day celebration.
The Cubs will give season-ticket holders priority access to secure tickets in advance of the general public, beginning March 15. The team is also offering a Return to Wrigley Presale Access Program, giving fans a chance to register for random ticket drawings in an effort to provide more fans with a chance to get to Wrigley Field in 2021.
The Cubs have set March 19 as the cutoff date for the first drawing. Winners will have a chance to purchase a limited number of tickets on March 23 for the first homestand, with remaining tickets going on sale to the general public the following day. The Cubs are also planning on having spaces for groups of eight or more (details to come).
"You've got this museum there that nobody could get in and appreciate except for players," Ross said. "It's exciting to get back to some sense of normal and having some fans there, and just cheers and getting a little bit of that atmosphere back around that area will be great for everybody."